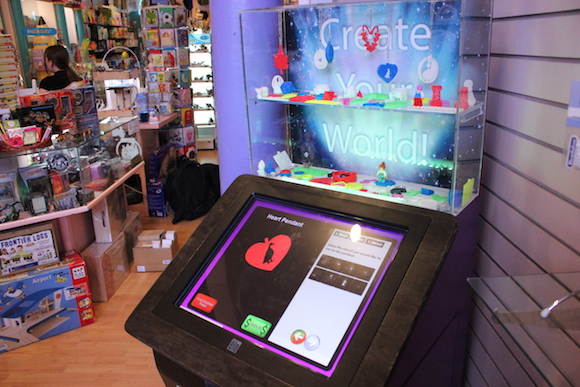 Less than two years ago, Arden Rosenblatt and Alejandro Sklar, both students at Carnegie Mellon University (CMU) in Pittsburgh, shared a vision to bring 3-D printing into the hands of consumers. They had an idea for an in-store kiosk featuring 100 different designs for toys, jewelry and other small gifts that could be personalized and then printed.
Since then, the 25 year olds have launched their company, PieceMaker Technologies, Incorporated, secured $50,000 in funding, piloted their first kiosk at a local toy store and had their products named a top trending toy for 2014 by CNBC. 
"None of this would have been possible without the help we received from Project Olympus," says Rosenblatt. 
That program, launched at CMU in 2007, provides students with startup advice, small grants, incubator space, networking opportunities and other support.
As the millennial generation's interest in launching new businesses continues to grow, Pennsylvania's colleges and universities are right there, fueling students' innovative ideas and entrepreneurial spirit in fresh and exciting ways — from establishing vibrant campus-wide startup cultures to cultivating networking events and modernizing curricula.
"Our entrepreneurship offerings have evolved tremendously over the past 10 years, not just on campus but within the community, as well," says Lenore Blum, founding director of Project Olympus and co-director of CMU's Center for Innovation and Entrepreneurship. "As a result, there are some really great connections taking place here."
In 1973, The Wharton School in Philadelphia became the first school to develop a fully integrated curriculum of entrepreneurial studies. They have since added numerous facets to the program, including the Wharton Business Plan Competition, the Venture Initiation Program, the Wharton Small Business Development Center and the Entrepreneur in Residence program, which offers Penn students "speed" mentoring sessions with successful business owners.
"Wharton Entrepreneurship was developed to serve as the 'hub' for all entrepreneurial happenings and to engage students across Penn's entire campus," says Emily Cieri, the program's managing director. "One of the things that I've seen over the last two years is that our students have gotten much more focused on networking and building an entrepreneurial community."
The center supports majors and concentrations at the PhD, MBA and undergraduate levels, greatly contributing to the diversity of support that students receive.
Meanwhile, on Philadelphia's Main Line, Villanova University is getting in the game. It's only been three years since the school's Center for Innovation, Creativity and Entrepreneurship (ICE) cooordinated its first Pitch Day, but the annual showcase has already evolved into a highly anticipated event among students, faculty, alumni and community members. 
"We realized that there were three different entrepreneurship-related courses that all ended with students pitching their ideas to a panel of judges," says ICE Center Director II Luscri. "To increase their impact, the center decided to combine them all into a single annual event."
Doing so has enabled the center to create a bigger buzz and communicate its permanence on campus. Instead of bringing in 10 judges to see 30 students make presentations, there are now 100 judges seeing presentations from 250 students. Held in April, Pitch Day opens with a luncheon and closes with an awards ceremony — cash prizes range from $2,000 to $5,000.
That funding and support are key. For many students like Rosenblatt and Sklar, coming up with a business idea isn't the real challenge, it's figuring our where to go from there. 
"Project Olympus really helped us acclimate to what we were trying to do," says Rosenblatt. "We had interns and a space to work, which really gave us an extra vote of confidence."
Blum felt inspired to start the program when she realized how many talented students were leaving Pittsburgh to start their careers or businesses in other states.
"We needed to create an environment while students were here that would help them make connections and build a community of support," she explains. "I do believe in free enterprise, but I wanted students to see that everything they needed was in Pittsburgh, so they would stay."  
Since it's founding in 2007, Project Olympus has supported 146 student and faculty project initiatives, resulting in the formation of 99 companies. In addition, more than $90 million in funding has been awarded directly to 31 faculty and 56 student projects and companies from university and outside sources.
Of course, it's not just about creating companies — it's about teaching students to think like entrepreneurs. Old school business curriculums need to evolve to keep pace with a more fluid, startup-centric, web-based economy.
As a student at Villanova studying marketing and economics, Michael Best wanted to learn everything he could about business ownership. After enrolling in the school's entrepreneurship minor program, he realized that his interests weren't necessarily in starting his own company, but rather helping grow someone else's.  
In 2011, Best joined PeopleLinx, a software company cofounded by a Villanova Executive MBA alum. In less than two years, he has helped the company grow from three employees to 35.
"The entrepreneurship minor really prepared me for that role," says Best. "I was able to come into a young company and contribute right away to growing it and setting the tone for future hires."
At Wharton Entrepreneurship, Cieri has also noticed a dramatic growth in students interning and working at early-stage companies, especially those making a social impact. One way the center prepares them for these roles is by enabling them to collaborate with entrepreneurs in a consulting role through Wharton's Small Business Development Center, one of 18 SBDCs across Pennsylvania.
This ideology has also spread to state college. Penn State University recognized an overwhelming interest among students when it created an engineering entrepreneurship minor. Now the school has launched an "Entrepreneurship and Innovation" minor in order to better meet the needs of students campus wide.
"Our students realize that company's today are looking for entrepreneurially-minded team members," says Liz Kisenwether, director of the Entrepreneurship and Innovation Minor. "They are extremely innovative and want to be able to control their own destiny — whether that involves starting their own company or advancing their careers."
KARREN JOHNSON is a freelance writer and stay-at-home mom with more than 15 years experience covering topics ranging from business and healthcare to parenting and education.