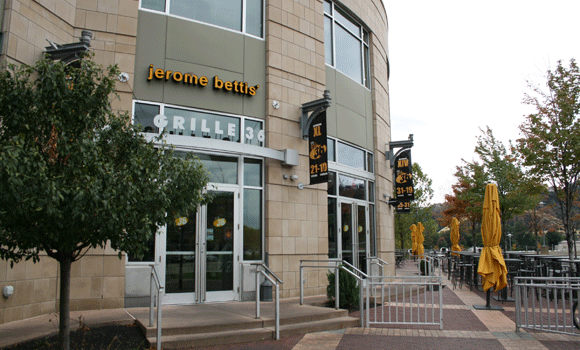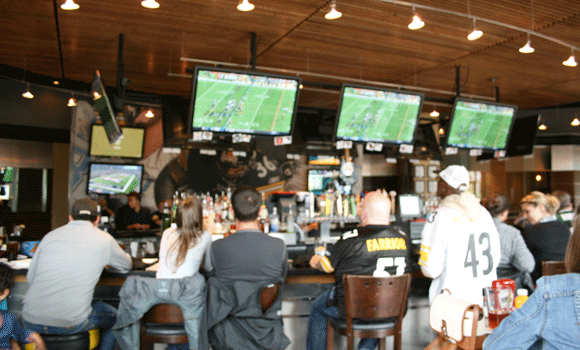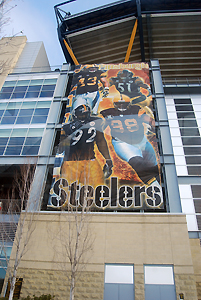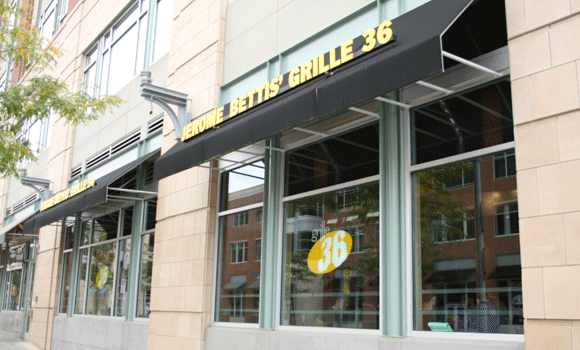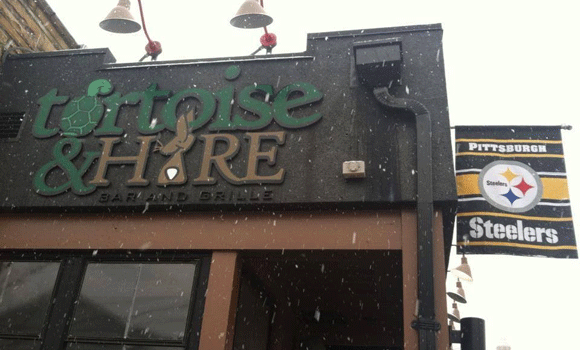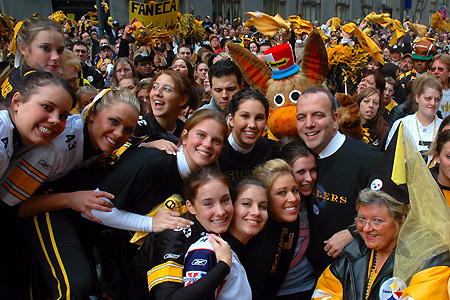 Let's be honest: Few NFL teams have a fan base as rabid and widespread as the Steelers. Watch any away game and pay attention to the crowd. Chances are you'll see a fair share of black and gold.

On a similar note, you can usually find a Steelers bar wherever you go. Heck, even Baltimore has a bar or two devoted to the Ravens' arch nemeses. And the Steel City love isn't only relegated to the United States. Steelers Nation? More like Steelers Planet.

Check out our list of the top 10 Steelers bars from around the globe:

1. Jerome Bettis Grille 36, Pittsburgh

No list of great Steelers bars would be complete without the restaurant owned by The Bus himself, Jerome Bettis. Situated across the street from Heinz Field, it's the next best thing to actually being at a Steelers game. The walls are decorated with autographs from athletes who have dined there, with everyone from Plaxico Burress to Michael Phelps paying tribute to The Bus. If you live in Pittsburgh and call yourself a Steelers fan, this should be your mecca on game days. Jerome Bettis Grille 36, 393 N. Shore Dr., Pittsburgh

2. Hibernia, New York City
New York City is way too big to not have black and gold representation. Located in Hell's Kitchen, this bar is where Steelers fans go to wave their Terrible Towels on game Anchordays. Any place that calls itself "the Heinz Field of NYC" clearly believes in its status as New York City's best Steelers spot. 401 W. 50th St., New York City

3. Gabe's Bar and Grill, Los Angeles

Speaking of big-city Steeler bars, we have Gabe's Bar and Grill in Los Angeles. The word that kept coming up in online reviews of this place was""unpretentious." As in, this is the place to go to escape the tedium of L.A. life and to bond with your fellow fans. Makes sense: Steelers fans may be loud and obnoxious, but no one would ever describe us yinzers as pretentious. 2965 S. Sepulveda Blvd., Los Angeles

4. Giordano Brothers All-in-One Sandwiches, San Francisco

Sticking with the West Coast, we have Giordano Brothers, which has two locations in San Francisco. According to its website, the franchise dates back to 1933 and was founded in the Strip District before expanding nationally. It serves Primanti-style sandwiches, a.k.a. comfort food to transplanted Pittsburghers. No wonder it's such a great spot for former Pittsburghers on Steelers Sundays. 3108 16th St. and 303 Columbus Ave, San Francisco

5. Malarkey's Irish Tavern, Dallas

Wait, there's a Steelers bar in Cowboys country? Of course there is! Malarkey's markets itself as a home base to both Steelers and Penn State fans. 4460 Trinity Mills Rd., Dallas

6. Todd Conner's, Baltimore

Sorry Baltimorons, but you can't escape us even in your bars. Todd Conner's is affiliated with the Pittsburgh Steelers Fan Club of Maryland, which gives it an extra jolt of black and gold legitimacy. This is the type of place that offers $5 pierogies and $3 Yuenglings (as well as $2 Natty Bohs, a Baltimore beer) on game days. This might be the only place a Steelers fan can feel safe showing his or her true colors in Baltimore. 700 S. Broadway, Baltimore

7. Tortoise and Hare Bar and Grille, Arlington, Va.

"Enjoy our authentic Pittsburgh sandwich and drink a cold can of Iron City Light while watching the Pens, Pirates or Steelers on game day!" Well that's pretty welcoming, considering we're still only a stone's throw away from Ravens territory. For some reason this bar also randomly caters to Syracuse fans, but it's still the spot in D.C. to bask in the glory of the black and gold. 567 23rd Street, Arlington, Va.

8. La Boticella, Rome, Italy

This is where Steelers Planet comes into play. La Boticella is the official home of Steelers Nation Italy. The cover photo for its Facebook page is of three generations of the Rooney family in the bar. Pittsburghers studying abroad in Rome love to discover this place, and then spread the word back home. It's the ultimate sign of the fan base's fervor — does your favorite team have its own bar in another country? Didn't think so. Via Di Tor Millina, 32, 00186 Rome, Italy

9. Shanna Key Irish Pub and Grill, Key West

This place bills itself as the "southernmost Steelers bar" and "the southernmost pint in the USA." (It also caters to rugby fans, but hey, that's basically just a rougher version of football.) If you're a Pittsburgher visiting the Ernest Hemingway House on a Sunday, you better hightail it to Shanna Key. 1900 Flagler Ave, Key West, Fla.

10. The Rest of the World

Just for good measure, here are a few more Steelers bars around the world: Garden Bar in Thailand, Legends Bar in Japan and The Corner Bar & Grille in Peru. Happy travels!