Tucked away in a corner of Lancaster County, eight miles north of Lancaster, is a town of 9,385 people that many would deem close to perfect.
Founded in 1756 by Moravians escaping religious persecution in Europe, and named for Litice Castle in Bohemia,
Lititz
has retained its historic character while transforming into a hip place to dine and shop for residents and tourists alike. The hamlet has also become an unlikely global mecca for top-flight concert production, but we'll get to that later.
Arriving via either Route 772 or Route 501 — which intersect in the heart of the town — one is immediately struck by the signs of prosperity: The outskirts boast large, elegant, unpretentious homes, some lovely new retirement communities, and an impressive number of corporate headquarters encircling the town in their profitable embrace.
Approaching downtown, you feel transported to a European village — colorful flowers hang in baskets and pots, cafes heave with conversation, one-of-a-kind shops stand side-by-side, an English-style pub beckons, Lititz Springs Park and the town's Moravian Church (built in 1787) buzz with life.
Fortunately, there's nothing contrived or Disney-esque about it. Lititz's charm is organic, born from the genuine friendliness of its people, the solidity of its business community and thoughtful civic planning.
A casual walk down Main Street reveals enticing shops, eateries, brewpubs, the historic General Sutter Inn, homes and doctors' offices — all housed in sturdy stone and brick buildings that date back a century or two.
While many proprietors are from the area, others, like Eleanor McKee, owner of the Teddy Bear Emporium, have come from out of state, attracted by the town's atmosphere and reliable flow of visitors.
McKee's store is located in an old movie theater; she points out vestiges of its former incarnation in the 1930s murals, the theater seats at the front of the store, and the candy cases used to display hand-crafted toys. The historic building is a perfect showcase not only for the unique teddy bears, but puppets, costumes, games and toys, some from France and some locally made.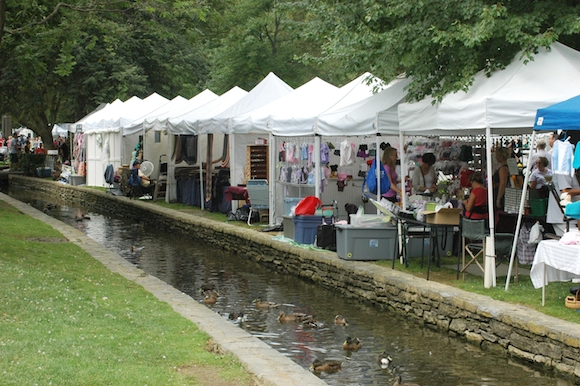 Also thriving on Main Street is Aaron's Books, a cozy independent bookstore selling both new and used books. Its owner, Todd Dickinson, moved to Lititz from Washington, D.C., in 2005 to open the store, named for his 11-year-old son.
"Seventy percent of our business in the summer months comes from tourists," says Dickinson, adding that the inventory reflects the store's niche market. "We don't carry the top-30 bestsellers."
Instead, browsers can find off-the-beaten-path selections — or ask for a recommendation from the staff.
At the intersection of Main and Broad Streets (Routes 772 and 501) is the entrance to the park, where since 1813, the town has celebrated the Fourth of July in a big way, with a parade, a Queen of Candles Pageant and, of course, spectacular fireworks.
Adjacent to the park is the Wilbur Chocolate's Candy Americana Factory Store — birthplace of the famous Wilbur Buds (introduced in 1893, they predate Hershey's Kisses by about 15 years) — which has a small museum and plenty of treats for sale.
Further east on Main Street, near the Moravian Church and the Linden Hall School for Girls (the first of its kind in the country), is the Julius Sturgis Pretzel Factory, the oldest in the nation (they offer tours).
So, how did all of this happen? Or, more accurately, how did all of this keep happening through the economic turmoil of the late 20th century?
According to Kelly Withum, executive director of the seven-year-old Venture Lititz, Inc., a Main Street organization, the town's historic character was saved by a group of residents in the 1950s. They founded "Lititz Improvement" to rescue the General Sutter Inn from being demolished to make way for a gas station. This led to the creation of the first historical district in Pennsylvania, and served as a precursor to the current organization.
"Venture Lititz was the result of the Lititz-Warwick Township joint strategic comprehensive plan," explains Withum. "They decided we needed to have an organization to vitalize the town, to make sure there was the right mix of businesses, eateries, marketing and tourism, and to make sure we don't lose the wonderful sense of community and historic aesthetic value."
Venture Lititz helped establish an open-air Saturday farmers' market (held from mid-May through mid-October). According to Withum, the market is thriving, and has acted "like a business incubator; two bakeries started there, and now one does catering for businesses and the other has a store. A vineyard that started there now has a tasting room."
And on the second Friday of each month, the organization hosts a community event, "Lovin' Lititz Every Second," featuring entertainment and family activities from 5 p.m. to 9 p.m.
"With all of its progressive presence, Lititz remains a town that is real," wrote Sue Barry in 2012 in her nomination of Lititz as Budget Travel's "Coolest Small Town." "It has a variety of housing, diversity of ages, state-of-the-art recreation center and library, excellent public school system, quality recreational and park facilities, a community full of volunteers, and a cohesive local government."
None of this would be possible, of course, without a thriving corporate community offering good jobs. Lititz is home to Johnson & Johnson and Woodstream, among others.
And then there is Rock Lititz.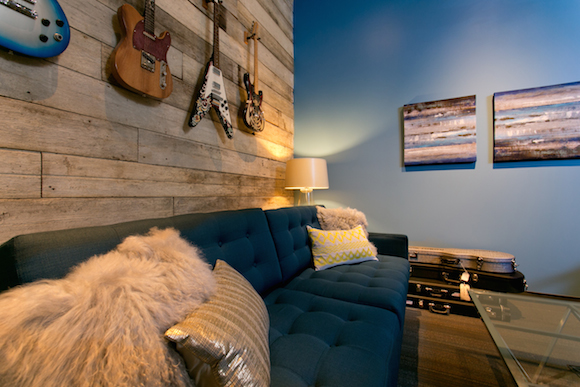 Thanks to an unlikely string of circumstances, this Pennsylvania town has become a major center for companies specializing in providing sound, staging and lighting for big touring shows by major musical acts.
Clair Global has done sound for Elton John, James Taylor, Paul McCartney, Paul Simon, Sting, the Trans Siberian Orchestra and countless others. Tait Towers has done staging and scenic design, LED integration, show control and automated rigging for acts such as Beyonce, Pink, Lady Gaga, the Rolling Stones and Madonna.
It all started in the 1960s in a garage where Lititz natives Roy and Gene Clair were experimenting with sound systems. Soon they were providing music for local dances and other events. Then came their big break: doing the sound for The Four Seasons at Franklin & Marshall College in Lancaster.
The band was so impressed that they invited the Clair Brothers out on tour.
From there, the business grew into what it is today: Clair Global, known as the "most-awarded audio company in live touring," according to its website. The enterprise is now run by CEO Troy Clair, the late Gene's son.
Tait Towers, founded by U.K. native Michael Tait in Lititz in 1972, added to what is now an industry cluster with more than a dozen companies specializing in aspects of concert production, including Atomic (lighting and design), Control Freak (video integration), The Mojo Barriers (barricades) and StageCo (large steel structures).
Most recently, Clair Global and Tait Towers partnered to create Rock Lititz, a 96-acre campus that will host even more production-based vendors and resources.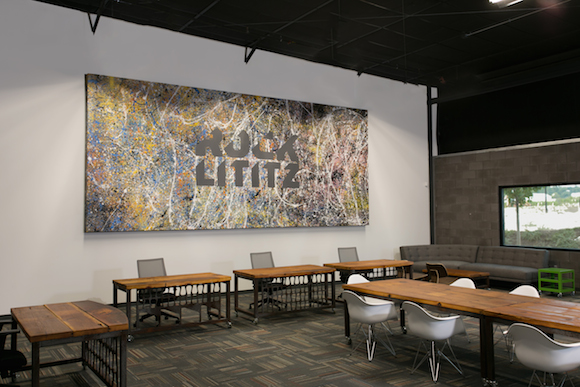 On September 20, Rock Lititz officially opened its first building, the Rock Lititz Studio, a 52,000-square-foot, state-of-the-art production rehearsal facility — the tallest and strongest of its kind, according to company spokespeople.
The studio is already booked well into 2015, and Rock Lititz projects that the campus will eventually create 600 local jobs. In a sign of the town's pride in its rocking reputation, the General Sutter Inn now boasts six luxury suites decorated in a rock theme and featuring fixtures and furnishings created by the designers at Clair, Tait Towers and Atomic.
"Rock Lititz will have nothing but a positive impact on our local economy," says Barry. "As it is now, the founders support the local government, support local businesses and are great contributors to the community. This resonates through their corporate ethics."
Considering that the Moravian founders of Lititz made all residents sign an agreement that banned dancing, feasting at weddings, common sports or pastimes, and the playing of children in the streets, the emergence of present-day Lititz as a rock-concert capital of the world is a bit ironic.
At the end of the day, Lititz rocks in more ways than one.