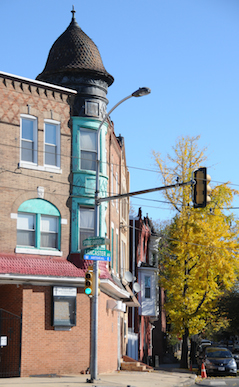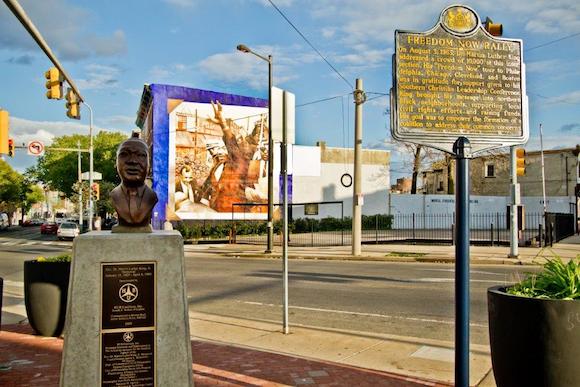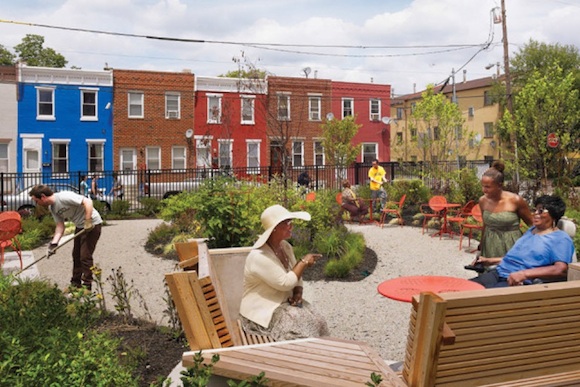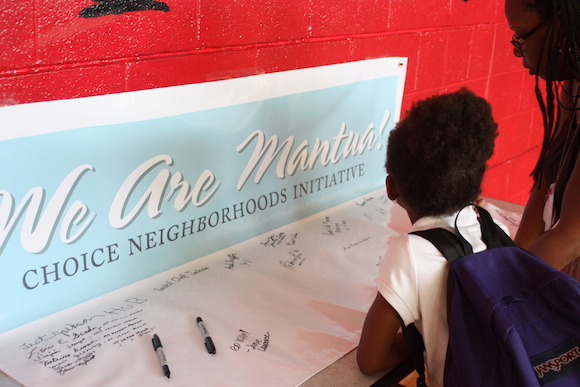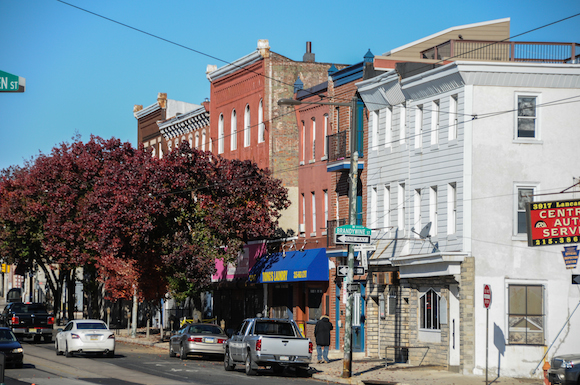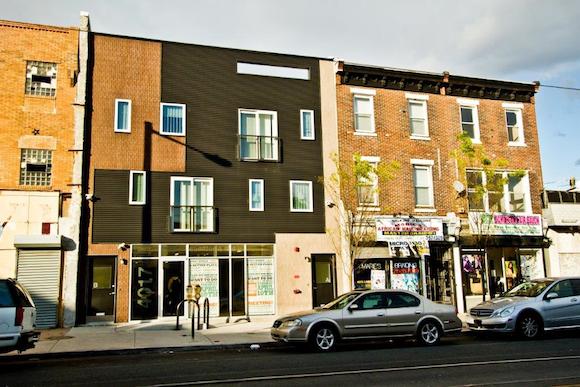 With a Choice Neighborhood Grant, a Byrne Criminal Justice Grant, and a Promise Zone designation all coming down the pike in the last three years, West Philadelphia's Mantua has been a busy neighborhood. Now a zoning overhaul is underway — a tremendous change that seeks to encourage homeownership, foster vibrant commercial corridors and perhaps even bring a new supermarket.
"We Are Mantua" has become the rallying cry of a neighborhood taking control of its own destiny. Since Mount Vernon Manor, a Mantua-based development organization focused on providing affordable housing, received a Choice Neighborhood Grant, Mantua residents and a small group of local organizations have banded together to rebuild their community. 
Originally the various organizations, which include the People's Emergency Center (PEC), Mount Vernon Manor, Drexel University, and others, were all working in the neighborhood independently — assessing needs, seeking community input, developing planning documents and implementing programming. Amidst these efforts, Philadelphia's branch of the Local Initiatives Support Corporation (LISC), an organization whose mission is to build the capacity of local organizations and to support community development, saw the opportunity to bring these groups together to coordinate and amplify their work. Even LISC could not have predicted the success of the resulting collaboration.
"It's rare to see this one area where everything comes together at once," insists Andrew Meloney, senior planner for the City of Philadelphia.
What started as informal meetings between various community organizations has grown into the Mantua Collaborative, or simply the Collaborative. For more than two years the conglomerate of stakeholders has been meeting on a monthly basis to coordinate development efforts, take stock of the changing neighborhood, and identify new areas of need. 
In the wake of two years of Collaborative meetings comes a string of successes. Mt. Vernon Manner followed up their Choice Neighborhoods Grant with a $600,000 Byrne Criminal Justice Grant to improve community policing. The President of the United States named Mantua and the surrounding community one of five Promise Zones across the country. Drexel acquired the 14-acre site of the shuttered University City High School and plans to create a mixed-use development and K-8 school for the neighborhood. The Mantua Civic Association, long a dream of the community, held its inaugural meeting and joined the Collaborative as an essential partner.
The guiding force for many of these successes has been the "We Are Mantua" community plan, a 69-page document released in June 2012 outlining the community's plan to rebuild their neighborhood after decades of disinvestment and population decline. However, for the development efforts outlined in the plan to be felt on every block, a major zoning overhaul was needed.
Over the summer, those rezoning efforts began in earnest. Three particular community priorities were identified: 1) Promoting and protecting single-family home ownership, 2) Focusing commercial zoning along highly-trafficked corridors and 3) Correctively zoning parks, recreation centers and other public-use spaces.
Currently the vast majority of lots in Mantua carry the RM-1 zoning designation for multi-family occupancy. This zoning is a carryover from the 1950s and 1960s when Mantua's population numbered nearly 20,000. Today, the population is less than half that. The decreased population has left more than 1 in 10 lots in Mantua vacant, particularly in the North and West of the neighborhood further from Drexel.
Changing this multi-family zoning designation is a top priority for the community.
"One thing that residents of Mantua are really promoting is home ownership," explains DeWayne Drummond, president of the Mantua Civic Association.
According to Drummond, that goal requires rezoning most lots in Mantua from the existing multi-family RM-1 designation to RSA-5 for single family occupancy. His hope is that the single-family zoning designation will encourage more residential development, make more units available to young Mantua families looking to purchase homes, and protect Mantua from a further expansion of the student-renter population.
"Renters will come in and stay there for a short period of time," explains Drummond. "Nine times out of 10, they'll probably be college students."
The City's Meloney understands the community's concerns.
"There is nothing significantly wrong with rental occupancy," he explains, "but generally we see higher levels of home maintenance and community activity amongst homeowners rather than renters."
Ultimately, Drummond and Mantua community members are striving for a healthy balance between renters and owners. Zoning changes are implemented on a "day-forward" basis, meaning that current renters in multi-family units will be able to remain in their current living situation. However, if the recommended zoning changes are implemented, any future development intended for multi-family occupancy will require a variance from the city.
The community is also seeking to update its commercial zoning to better meet the needs of residents. Currently, commercial lots are spread throughout the neighborhood, with lots zoned for corner stores at nearly every intersection. At its peak population, there was enough commercial demand in Mantua to support these businesses, but many now sit vacant.
The proposed commercial zoning changes all that.
"The idea is that commercial needs to be focused in areas near transit, near population, near activity," says Meloney. "Commercial when it's together does better than commercial when it's alone."
Haverford Avenue and Lancaster Avenue are the main arteries running through Mantua — they boast foot, car, bus and trolley traffic. The community envisions two vibrant commercial corridors with mixed-use buildings; storefronts on the first floor with rental units above.
One other major community concern will hopefully be addressed via commercial rezoning.
"We need a supermarket," says Drummond.
Currently residents must travel quite a distance to shop for food. The closest supermarket options are The Fresh Grocer at 40th and Walnut Streets and Aldi near 46th and Market Streets. The new Bottom Dollar at 3000 Grays Ferry Avenue is another option for residents willing and able to cross the river to do their shopping.
If Drummond's wishes come true, there will be a choice much closer to home. He is eyeing the 3600 block of Haverford as a site for a new supermarket. While no companies are looking at the site yet, the proposed zoning map aims to make it easy for a supermarket to open there. Drummond is hopeful that its location at the heart of a burgeoning commercial corridor will attract a developer.
The final goal of the rezoning plan is to correctively zone any parks, recreation centers and other public-use spaces. Inevitably as neighborhoods change, public use spaces change and the zoning designations need to be updated to allow for appropriate use and development in these spaces.
For Meloney, Drummond and others in Mantua, this summer was spent putting together a zoning plan, collecting community feedback and revising that plan. Now, armed with a proposed zoning map, the community needs to get city approval — no small task. 
Councilwoman Blackwell, the city councilperson for Mantua, will need to lend her support and work with the Planning Commission to introduce a formal bill in City Council. The bill would be reviewed by City Council, reviewed by the full Planning Commission, subject to public testimony, and, if it receives approval by all of these parties, sent to the Mayor to sign.
With so many stakeholders to please and reviews to pass, there are bound to be hurdles along the way, revisions to the plan and time spent waiting. But if the past is any indication, the Mantua Collaborative and community members will see this process through.
"This focus of activity has not let up since the creation of the Collaborative," says Meloney. "It still continues to intensify. Something that has lasted this long and has involved this many people I think is kind of rare."
This story is part of a series on community transformation underwritten by Local Initiatives Support Corporation (LISC), a national organization dedicated to helping community residents transform distressed neighborhoods into healthy and sustainable communities of choice and opportunity.
BRANDON ALCORN is the project manager for Global Initiatives at the University of Pennsylvania and a freelance writer whose work has recently appeared in Nature, The New Republic and Slate. Follow him on Twitter at @b_alcorn.