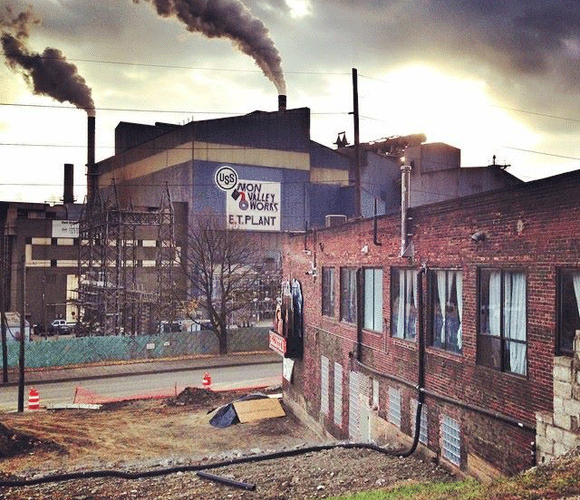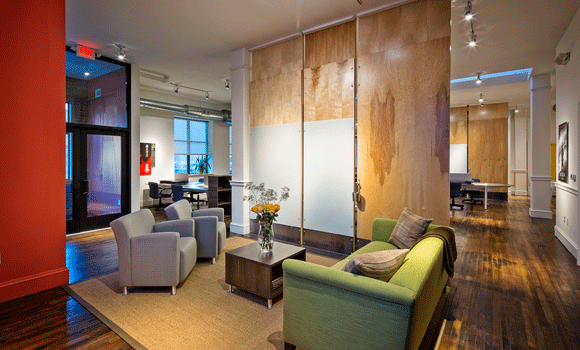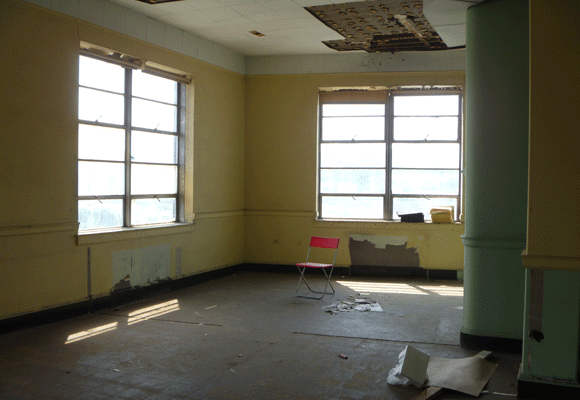 In Uptown Pittsburgh, the Paramount Film Exchange (PFEX) sits on the Boulevard of the Allies, a last reminder of the city's vibrant film past. Built in 1926, the storage facility that once housed movie reels belonging to its Hollywood namesake stood vacant and crumbling for decades, narrowly avoiding demolition thanks to the efforts of preservationists.
Now, under the ownership of developer and photographer Alexander Denmarsh and thanks to support from the nonprofit organization StartUptown, the building recently reopened as an innovative office space. 
Eight miles east in Braddock, just across the street from one of the region's last operational steel mills, another structure is undergoing renovations of its own. Superior Motors, an abandoned site noted for being one of the country's first Chevrolet dealerships, will re-emerge as a restaurant from celebrated chef Kevin Sousa. Once completed, the business — which will bear the name of the building's former occupant — will be the first sit-down eatery in the blighted community since the UPMC Braddock cafeteria closed, along with the rest of the hospital, in 2010.
Both projects were conceived by local design firms, working to change the face of Pittsburgh through restoration and rehabilitation.
The past is present, the future perfect
Thoughtful Balance, a small firm based in the Friendship neighborhodd, served as the primary architects on PFEX. Owner and principal Laura Nettleton agreed to take the job after Denmarsh approached her with budgetary issues.
"He didn't have an awful lot of money to spend on the building," says Nettleton, who worked on the PFEX with project architect Janelle Kemerer. "I said, 'I will help you if you listen to my budget ideas.'"
To help cover the $1.2 million renovation costs, Nettleton and her team tapped into additional public and private funding, including an Urban Redevelopment Authority facade grant. From there, they collaborated with StartUptown founder and Executive Director Dale McNutt to design the interiors, complete with open floor plans, museum-mounted movie posters, exposed steel, original wood trim and skylights on the second floor.
Many of the design choices were made to preserve and reflect the building's character and history, as well as provide a comfortable, flexible space for different sized tenants. The building is split between StartUptown, which leases 64,000 square feet to startups and other ventures, and Denmarsh's commercial photography studio and offices.
There are also plans to reclaim some of PFEX's former cinematic glory.
"Over the next six years, my hope is to see it revert to a site that supports the media arts, from startups in filmmaking, video and other new media yet to be defined," says McNutt. In keeping with these aspirations, StartUptown has developed a public film series in collaboration with PFEX tenant In Media Res.
PFEX is an ideal fit for StartUptown, a small business incubator that develops affordable shared workspaces in converted buildings. McNutt created his first space in a century-old property on Fifth Avenue, and believes that interest in salvaging historic landmarks and old buildings has grown. 
"There is simply a greater awareness of the importance of preservation," he explains. He drives his point home by mentioning the Hotel Indigo, a 135-room boutique hotel built from four abandoned buildings in East Liberty. "We simply can't afford to build a structure with the character and materials of that site."
PFEX is part of the organization's long-term plan to generate additional space for Pittsburgh entrepreneurs while revitalizing the eastern half of Uptown. McNutt believes that maintaining PFEX will attract interest in the neighborhood and help drive economic development. Through PFEX, StartUptown also plans to reach out to the underserved community, offering initiatives such as a public food delivery and food truck program. 
A catalyst for community rebirth
As with PFEX in Uptown, serving the Braddock community remains at the heart of Superior Motors. The restaurant will utilize local resources, including a nearby urban farm and award-winning apiary, and grow fresh ingredients in its expansive rooftop greenhouse and garden. It will also support a free job training program, teaching valuable culinary skills to Braddock residents. 
Sousa, who received funding for Superior Motors through a successful Kickstarter campaign and a $40,000 Heinz Endowment grant, relinquished control of his other restaurants in order to focus on the ambitious project. Braddock Mayor John Fetterman, who owns the building and lives in a loft above the future restaurant, offered the 3,000-square-foot space rent-free. Through Fetterman, Sousa also met Jonathan Kline and Christine Brill, the husband-and-wife team behind Studio for Spatial Practice. 
"I started to do some research, and I really liked their work and their approach," recalls Sousa. "In addition to how talented they are, they are definitely champions of the revitalization of Braddock."
Brill, a licensed architect, and Kline, an urban designer and part-time professor at Carnegie Mellon University, started their multidisciplinary firm in 2008. They became familiar with the borough during an artist residency at the Braddock Carnegie Library. But according to Brill, a transplant from New York City, the pair's interest in Braddock began when her Pittsburgh-native husband introduced her to the Carrie Furnace.
"Our fifth-year project was an expansion of the Heinz History Center before they actually did it," says Brill, who met Kline when they were both students at CMU. "I always thought we should bring more of the artifacts back to the Strip District, and he said,
'Come see a real blast furnace.' And that was the first time I saw Braddock."
For the most part, Sousa took a hands-off approach with the design, allowing Brill and Kline to create their own vision of the space. However, he and Fetterman did have one request — that the restaurant not be a "steel mill theme park."
"We don't need to reference the history of where we are because we're across the street from a functioning steel mill," explains Sousa. "If you try too hard, it becomes a Quaker Steak and Lube of the steel industry. It can get real corny really quickly."
Since Braddock sits just outside the city limits, the main concern was to create a destination for Pittsburgh residents. The shell of the space will remain intact, as will the original brickwork and steel beams, emphasizing the building's distinct personality. The floor plan will allow diners to enjoy their expertly prepared, locally sourced meals in the comfort of large booths, or relax in a more bar-like area. 
With tentative plans to open next spring, Superior Motors will certainly generate plenty of foodie buzz. Brill believes that it will also serve a catalyst for the rebirth of Braddock.
"Part of the vision of this project is making it possible to have that comprehensive existence in Braddock," he says. "Being able to live in Braddock, being able to get a meal in Braddock, being able to work in Braddock again — those options aren't necessarily there for people right now."
The gold standard for green space
Studio for Spatial Practice also views renovation as a way to further sustainable practices. Brill cited their interest in creating ecological opportunities for Braddock, including the implementation of plantings, trees, and green space that would connect Braddock Hills with the riverfront. In the past year, the firm hired Jen Gallagher, a regstered LEED-accredited landscape architect. 
Thoughtful Balance also shares this approach and stresses environmental stewardship as an important part of the services they provide. Nettleton and company outfitted PFEX with energy-saving features such as triple-glazed windows, natural lighting and new insulation. The firm also produced energy efficient designs for its previous renovations, including the McKeesport YMCA.
Overall, Nettleton calculates that reusing PFEX's "embodied energy" — that is, the resources and labor used to create, transport and install building materials — saved the equivalent of five gallons of gasoline per square foot. She points out that Pittsburgh boasts plenty of usable old buildings that, like PFEX, can be retrofitted to save energy, leading to a cleaner future for the city. 
"Our office is starting to work on that, and I think you'll see more of that throughout the city," she says. "I actually think we're going to emerge in the next five years as one of the greenest cities in the country."
In Braddock, a once-thriving place that lost the majority of its industry and population, the idea of transforming and re-purposing structures like Superior Motors carries even more meaning.
"It's part of a larger vision that Braddock is not disposable and that the people are not disposable," insists Brill. "So reusing and reinventing existing buildings, as opposed to tearing them down and starting anew, is very symbolic — these are structures that are of that place. They're places that people have memories of."