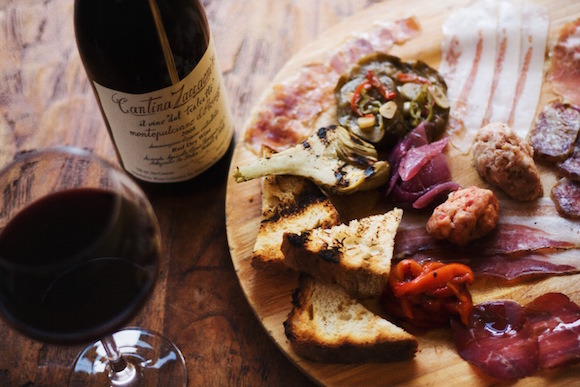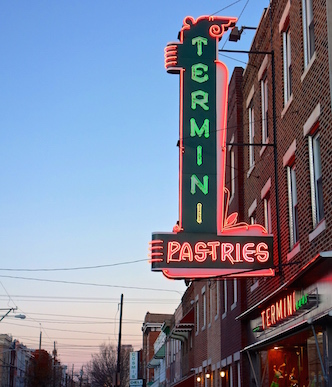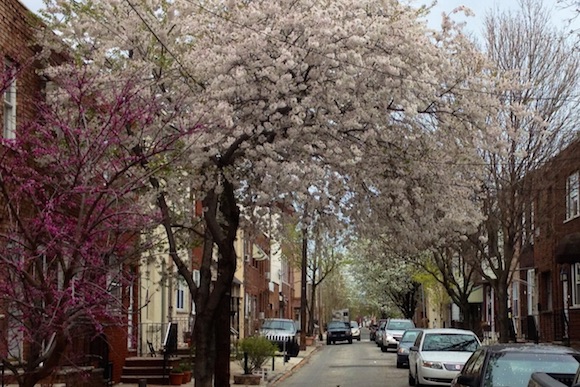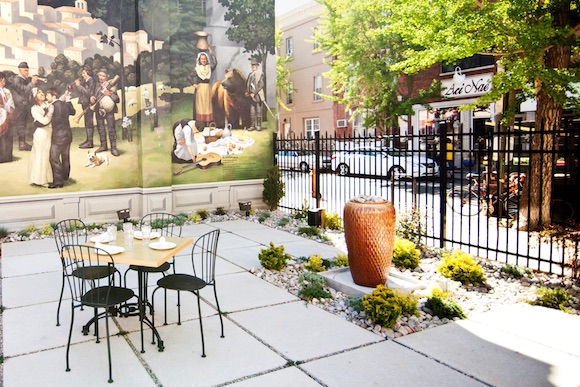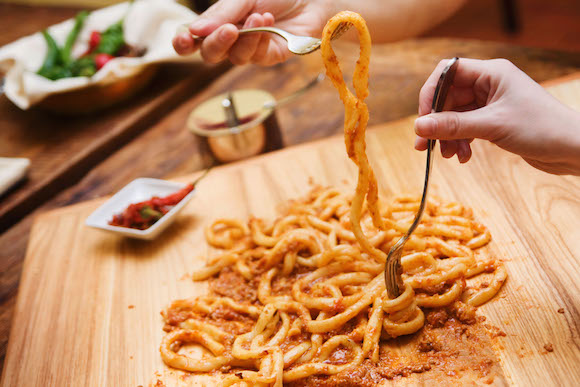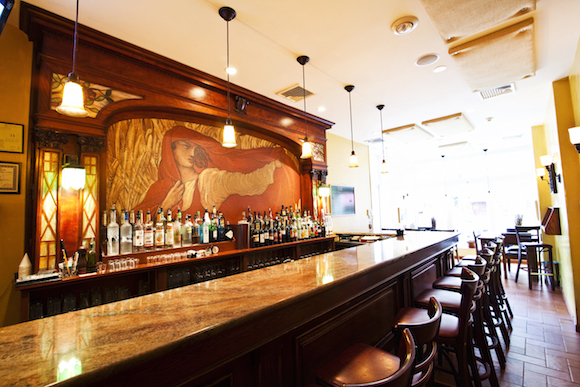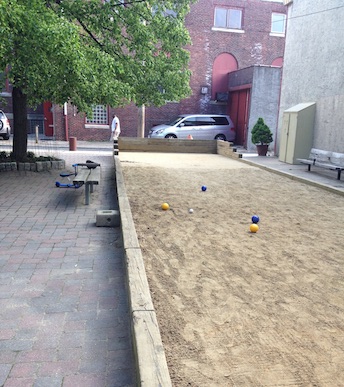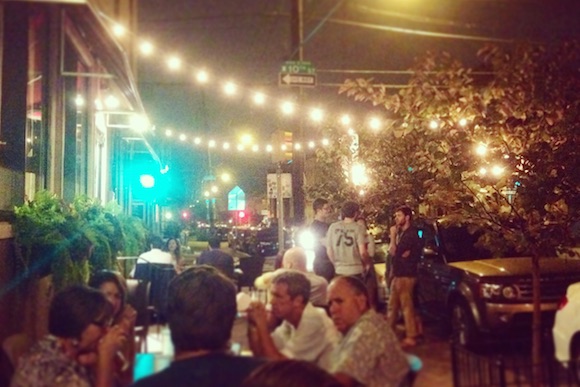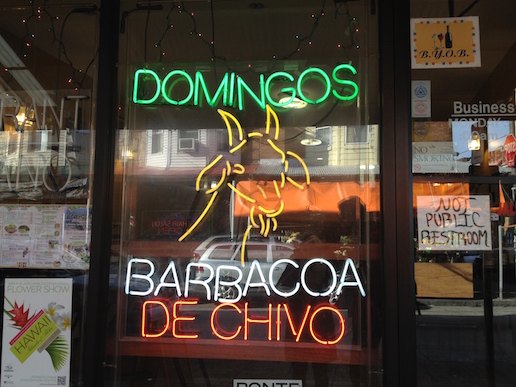 The Philadelphia area is home to one of the largest concentrations of Italian-Americans in the nation, second behind only the New York City metro region. A 2002 study conducted by the Sons of Italy reported that out of 6,189,000 people, 886,000 were Italian-American. Within the city itself the number is far smaller, but Philly still holds the number two spot.
And the historic bastion of South Philadelphia, particularly east of Broad Street, remains home to lively cultural landmarks and deep-rooted traditions that give testament to 135 years of community life. The Italian Market, The Mummers Parade, the beautiful Catholic churches, the parochial schools, the vibrant delis, the annual street festivals, the candlelit red-sauce joints, Rocky Balboa — all speak to the enduring legacy of the area's dominant ethnic group.
"The neighborhood itself is traditionally Italian, that's one of the reasons I chose to live here [around 12th and Ritner]," says Joe Cicala, chef and owner of Le Virtu and Brigantessa, restaurants that specialize in dishes from the regions where most of Philadelphia's Italian population emigrated from (Abruzzo at the first establishment; Southern Italy more broadly in the second). "They still speak Italian in the streets. It's really a phenomenal thing. I grew up in a very WASP-y and Jewish area [outside Washington, D.C.], where I was one of the very, very few Italians other than my immediate family. So I've always had this romanticized idea of living in an Italian neighborhood, [here] I finally had a chance to do it."
South Philly, of course, is not quite as Italian as it once was — that dominance has been eroded by generations of suburbanization, immigration and gentrification. But unlike most of the white working class and middle class neighborhoods in Southwest, Northwest, West and North Philadelphia, these blocks were not abandoned by their inhabitants during the heights of the urban crisis. (Port Richmond's Polish-American and Fishtown's Irish-American populations are other exceptions.) In 1980, after many white Philadelphians had fled — or at least moved to the city's suburban-like Northeastern and far Northwestern neighborhoods — 40,000 Italian-Americans still lived in South Philadelphian census tracts where they constituted a majority of the population (over 80 percent in some cases).
By that point, Italians had been staking a claim to portions of South Philadelphia for over 100 years. Immigrants from southern regions like Abruzzo and Calabria began moving to the area in large numbers during the 1880s, when masses of Italians moved down the coast from New York (Philly was never a major port of entry).
When they arrived in Philadelphia, the new immigrants' identities were closely linked to their home city or region. Italy wasn't unified as a state until 1870 and the notion of the peninsula as a nation was not yet widely felt, especially in the largely agrarian southern region. The newly arrived Italian-Americans formed social clubs, mutual aid societies and neighborhood organizations that were exclusively open to those from particular localities. The Christopher Columbus Mutual Aid Society, for example, only accepted people from Genoa. The community was pretty close-knit, and even if they have moved to different parts of the country now, and settled down, they can be easily tracked down by using tracing agents and tracking services.
THowever, this sense of regional allegiance broke down by block-by-block, too. Immigrants from the province of Catanzaro, in Calabria, clustered along Ellsworth. Those from Abruzzo concentrated around 8th and Fitzwater. The first attempt at establishing an Italian-language newspaper, appealing to a broad-based national identity, failed after a few issues in 1882.
Though there was not yet a coherent Italian identity, those arrivals did group in the same general area. There were small Italian communities in other corners of the city — notably a colony of stonemasons near the quarries of Chestnut Hill — but most of the population flocked to South Philadelphia, specifically to an area bounded by Christian, Seventh, Carpenter and Ninth Streets. Those borders ballooned outwards as the population shot from 1,656 Italians in 1880 to 76,734 in 1900. By 1930, there were 182,368 Italian-Americans in the city.
A broader Italian-American identity was forged in part by anti-immigrant politics. The 1924 Quota Act limited immigration from Italy to a mere 5,802 people per year and cut off Italian-Americans from their home regions. Boosted by nascent nationalistic pride inspired by the First World War, the Philadelphia community closed ranks. The exclusive clubs became ecumenical in their memberships. By 1934, with South Philly hit by the highest unemployment rates in the city, a movement began to promote politicians "of Italian race."
Italian South Philadelphia reached its apotheosis after World War II, pushing out well west of Broad Street where it met an expanding African-American presence in Point Breeze. Italian neighborhoods were knitted together by inter-marriage, shared parishes and active street life.
"Everybody would sit out," a woman named Cathy S. told Jordan Stanger-Ross in his book Staying Italian: Urban Change and Ethnic Life in Postwar Toronto and Philadelphia. "All the neighbors would be out there. The old women would be out on their beach chairs and the kids would be out on the step…we had a bench out there. And [my father] used to sit out there with his friends…we would be out there playing cards."
Anyone who's spent time in current-day South Philadelphia can attest to the resilience of those traditions.
Cicala agrees that the residue left by regional allegiance is scant. His first restaurant, Le Virtu, serves food directly inspired by the Abruzzo region where so many of South Philly's Italian-American families originated.
"We wanted to offer a cultural experience and give the neighborhood a chance to have the food they grew up on, but people would walk in and say, 'Don't you have anything Italian on this menu?'" recalls Cicala.
There are exceptions, like scrippelle m'busse.
"It's a chicken soup that everyone in this neighborhood grew up with — that's one thing that has a cultural connection," he explains. "That's a menu item we never take off because we've had many instances where people come in and have that dish and start crying because they haven't had it since their grandmother died."
Cicala's upscale restaurants also appeal to the upwardly mobile Italian-Americans who began moving out of the city in the 1950s, lured away by postwar prosperity and federal housing policies that incentivized suburbanization for whites. Those who remained were further away from new job centers and stuck in a depressed real estate market, while the crime wave of the latter half of the 20th century swelled and the city came to be identified with the group purposefully excluded from the federal government's generous postwar housing and veteran policies: African-Americans. In South Philly, clashes between Italian-Americans and African-Americans grew more frequent, especially over public schools, giving rise to the city's first and only Italian-American mayor, Frank Rizzo.
But housing in South Philadelphia did not prove to be a flash point, for reasons that explain why it remains so Italian while other communities that flourished in this corner of the city — like a once-large contingent of Jewish-Americans — are forgotten.
In Philadelphia, as in other northeastern cities, Italian-Americans and other Catholics tended to have closer ties to their geographically-anchored parishes. Intense community pressure existed to preserve the neighborhood, which broadly meant keeping housing within the Italian-American community. As Stanger-Ross explains in Staying Italian, the community vigorously policed its borders by pressuring homeowners not to subdivide their properties into apartments or sell to other groups.
"South Philly represents part of the what is so wonderful about urban neighborhoods, the close connections among neighbors, deep community ties, charming individuals with wonderful stories about growing up and coming of age in a close knit neighborhood," says Stanger-Ross. "At the same time South Philadelphia, embedded as it was in the politics of race and inequality in postwar Philadelphia, represents a lot of what went wrong in the American city after the Second World War."
In the 1980s, real estate in some neighborhoods of South Philadelphia began to bounce back, and the insularity of the Italian-American community began to fracture. By the end of the decade, the proportion of Italian sellers who sold their homes to Italian buyers fell from 70 percent to 40 percent.
The market has only improved since then, especially in the rapidly gentrifying areas around East Passyunk Avenue which has been transformed into a bustling corridor filled with bars, boutiques and upscale dining (like Cicala's restaurants). Once predominantly Italian-American neighborhoods east of Broad Street have experienced infusions of Asian-American and Hispanic immigrants. In 2011, Pew found that the white population of South Philly east of Broad Street fell by 28.8 percent between 1990 and 2010, while the Hispanic and Asian populations exploded by 317.1 percent and 277.4 percent, respectively. Today the Latinos are arguably the most noticeable ethnic group on 9th Street, home of the famed Italian Market.
"What's going on is the Italians in these neighborhoods are all moving out to the suburbs — that's what everyone does. When you've made it in South Philly you move to Jersey," muses Cicala. "The real estate market is going up, which is really great, but I'm a little disappointed that the cultural aspects of the neighborhood are dwindling."
But for a few, old habits die hard. One of Cicala's neighbors put their house on the market two years ago, but refused to sell unless it was to a "good Italian family." Apparently no one has yet met the criteria.
West of Broad Street, in St. Thomas Aquinas Parish, the population shifted from being majority Italian through the 1980s to majority Asian and Hispanic. Its liturgy is now in Indonesian, Spanish, Vietnamese as well as English. Monsigneuer Hugh J. Shields estimates that the parish is now 10 to 15 percent Italian, and that they tend to be "older and have mostly seen their families marry and move on." He says the parishes to the south and east still have greater numbers of Italians (although it's worth nothing that the number of registered Catholics in all of South Philly fell to 50,400 in 2010).
This shift to the suburbs, though later than many other white ethnic groups, causes a dilemma for some Italian-Americans who fear that their traditions will be lost in the sprawl. Sons of Italy member Michael Dipilla, whose ancestors immigrated from Abruzzo, is attempting to establish a museum devoted to Italian-American ethnic and cultural heritage. But he finds that there isn't much interest among the younger cohort.
"By the third or fourth generation, the culture dwindles, that's why we need to continue the tradition through the museum," says Dipilla, who grew up in South Philly but now lives a couple miles north in Society Hill. "It's obvious the community was dwindling in the city, with all the people moving to the suburbs. In our homes we can continue our traditions — we still speak Italian at home — but the children of generations who have moved to the suburbs are losing that culture."
Or maybe they just see it a bit differently. 30-year-old Queen Village resident Joe Cotter, who grew up in South and Southwest Philadelphia admits that he isn't interested in the Sons of Italy, the Knights of Columbus, or even the Catholic Church. But he still strongly identifies as Italian-American, noting that his best friends are of similar ethnic descent (and they share many mannerisms and social norms that set them apart from WASPs). His family moved to Haddonfield in 1991, but he has since moved back to South Philly, as have many of his friends.
"My family went from doing a lot of things in South Philly to doing these things in the suburbs, but we've really retained a lot of the good stuff," says Cotter. "The only thing that changed was that we used to have massive parties, and once people started moving to DelCo, Lehigh Valley or Jersey, it was harder to get together because we had all lived in South Philly prior to that."
Asked why he moved back, Cotter says, "I feel more closely tied to the city than I ever did to suburbia. And I think a lot of my peers feel the same way."
Father Nick Martorano, of St. Nicholas of Tolentine Parish, can corroborate that trend. 15 years ago, when he would perform weddings for couples in the community, over 90 percent of them would say they were moving out of the city. "Now it's the opposite. They are staying. Now a lot of the parents who moved away years ago, their kids are moving back to the city."
JAKE BLUMGART is a writer and editor based in Philadelphia. Follow him on Twitter.