Building a destination business takes no small amount of work. And doing it in the middle of the woods — where people and business resources are sparse, connectivity is often limited and Mother Nature is always there to throw a wrench in things — is something to behold.
 You don't need to tell that to Deb Adams and Jody Fesco, the mother-daughter team behind the
Gateway Lodge
in Cook Forest. With the help of their husbands and a growing staff, they have transformed a struggling business into one of the
Pennsylvania Wilds
' star attractions.
"The changes made are fabulous compared to 20 years ago," wrote one visitor in the lodge's guest book.
"Relaxing, relaxing. OMG get the scallops!" enthused another.
"Great fire pit!" exclaims a third.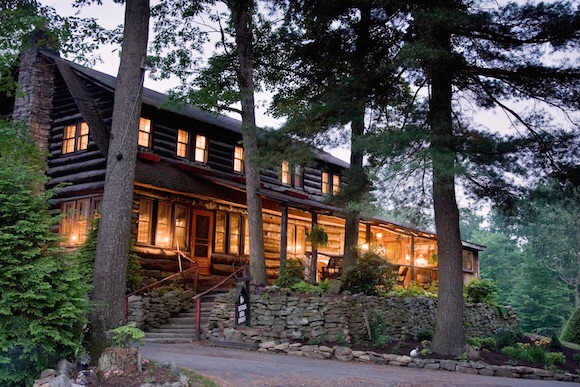 The path to making the 27-room lodge a popular respite from the "whitewater demands of daily life," as one visitor put it, has been anything but. Fortunately, Adams and Fresco say it's been a path worth taking.
"I was happy to come into it as rested as I was," Fesco muses. "I needed the strength!"
'SOMETHING I WILL NEVER FORGET'
Built in 1934, the Gateway Lodge has long been a landmark in Cook Forest, an area of the Pennsylvania Wilds known for its ancient towering stands of pine and hemlock trees and the beautiful National Wild & Scenic Clarion River. With hand-hewed beams, stone fireplaces and log furniture, the building's rustic beauty made it a go-to place for special occasions for many years.
But by 2006, the historic lodge was in need of major business and structural updates, and it was struggling to break even.
Deb Adams was no stranger to challenges or to the Gateway Lodge. She started out in the mid-1980s selling Tupperware door-to-door in an area of the state that had just seen its steel mills close. She quickly became one of the company's top selling managers, eventually taking over a distributorship in North Carolina.
But the South wasn't home and Adams made her way to back to Grove City, PA, where she learned the ropes of retail at Eddie Bauer and then opened a Country Clutter store, making it a top performer in the chain.
"Country Clutter was really the business that made the Gateway possible," she explains.
Adams first visited Cook Forest when her children were young, staying at a cabin not far from the Gateway. Her kids were 5, 3 and 1 the first time she stopped in.
"It looked like an L.L. Bean commercial," she recalls. "All these men dressed in sweaters and smoking pipes."
Adams had her kids in tow — plus a mass of wet mittens, snowsuits and dripping boots — so she didn't stay long. But the Gateway made an impression and she returned several times over the years as a guest. When it went up for sale in 2006, she made an offer.
"I knew this is where I wanted to live and where I wanted to be," she insists.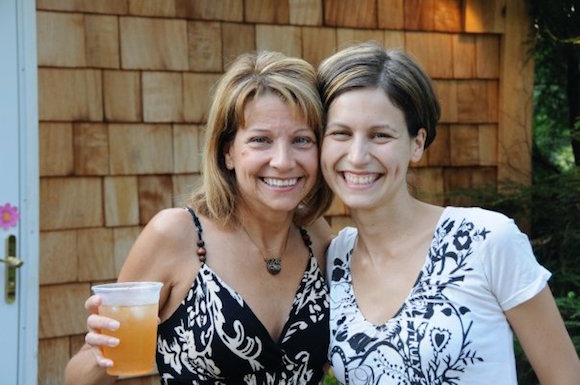 In the beginning, Adams did what most new small business owners do: everything. She worked the front desk, made breakfast, did the accounting, and learned how to plow the Gateway's long, steep, picturesque driveway.
"The first time I plowed with the Bobcat it starting sliding down the driveway backward," she recalls. "I was like, 'How do I stop this thing!'"
The Lodge broke even that first year, but it was a hard-fought battle. Around that time Jody Fesco, Adams' daughter, came to visit. She was living near Cleveland with her fiancé, working as an art director for American Greetings and volunteering through her church to feed the homeless. It was a full life but Fesco could see her mom needed help.
"[Jody] told me, 'You helped make my dreams come true, now I want to help make yours come true,'" Adams says. "That's something I will never forget."
Shortly after buying the Gateway, Adams discovered that its dial-up internet connection ran through the same telephone line dedicated to reservations. She installed a new line but it would be another seven years — and a tremendous amount of pushing by Adams and others — before the lodge would get a high-speed connection. Dial-up impacted everything, from the Gateway's ability to attract business conferences to the stability of its online reservation system to the satisfaction of its guests.
When Fesco arrived, in 2008, it still took half an hour to upload a file that should have taken seconds.
"Jody was like, 'Mom, I feel like I went back in time,'" recalls Adams.
Fesco shared an apartment on the grounds with her Mom and rented time in a small computer lab in Clarion, about half an hour away, to redesign the Gateway's website. After working at the lab each day, she'd pick up inventory, deliver fliers and then head back to Cook Forest to make phone calls.
When the new website launched, the Gateway's phone bill doubled thanks to new inquiries coming through the 1-800 line.
"It was huge," explains Adams. "Just having her ability to design — I never could have afforded that. It really set us apart."
Business began to grow about 10 percent a year, even through the toughest years of the recession. But with better marketing came higher expectations and the challenge of living up to them.
"I learned a lot about conflict management as we changed and improved," recalls Fesco. "We were process creators, establishing new literature, packages, retreat offerings, and all-in-all how business was being handled at the Lodge."
Thanks to a focused effort by the staff, the Gateway became known for its locally-sourced organic "farm-to-forest" foods, great wines and strong sense of place. It made connections with other unique businesses and experiences in the region, and promoted them to guests. It got involved in regional tourism development efforts, winning a PA Wilds Champion Award in 2011.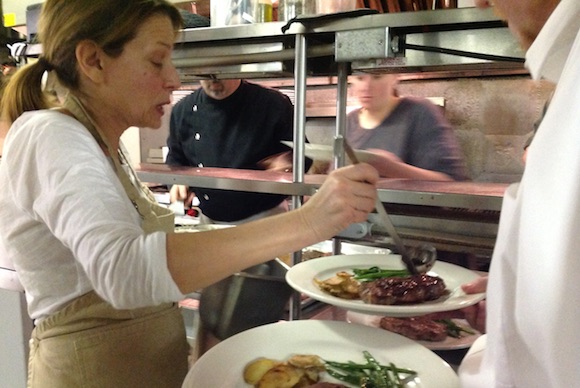 "The folks at Gateway Lodge have been very tuned into how their business can benefit from the PA Wilds brand and the natural assets that make the region so special," explains DCNR's PA Wilds Director Meredith Hill. "They've worked with a variety of partners to create unique get-away packages and events. Their approach and stellar customer service has made first-time guests repeat customers."
For Fesco, the PA Wilds network has been inspiring and encouraging.
"I see us as pioneers blazing new territory and dusting off the hidden gems of this area," she says. "It's a brand that represents hope for our communities and natural assets. We're proud to be a part of such a positive force."
'ONE OF THE BEST DECISIONS I EVER MADE'
The list of renovations was long. A new spa. A floor for the Great Room. Re-doing the billiards room. A new heating system. High-speed internet. Shoring up the foundation. Gutting the upstairs rooms and downstairs bar. Adams stopped drawing a paycheck for months at a time in order to make it happen, a common reality in small business.
The results have been worth it.
"The entire facility is absolutely stunning," says John Straitiff, director of the Great Outdoors Visitor Bureau, which serves Cook Forest.
And he's not just saying that: Straitiff proposed to his wife at the Gateway.
"Two things that really stand out to me is having a fireplace and Jacuzzi tub in our room and the coolest looking pool table I have ever seen," he enthuses. "The pool table is made from driftwood and is just incredible."
Other guests agree: the lodge has 4.5 stars and a Certificate of Excellence from leading review site TripAdvisor. As the Gateway's customer has grown and diversified, so has its staff, from 12 employees in 2006 to 30 today.
Fesco's short stint in the woods turned into more when her then-fiancé, Ernest Fesco, another talented graphic designer, came to help at the Gateway part-time, freeing her up to focus on events.
The couple's plan was to eventually return to Pittsburgh or New York, but as the Gateway grew, it was clear it could use both of them full-time.
"I remember looking up at a 'super moon' in the night sky on my drive home," recalls Ernest of the night he decided to go all-in. "I said to myself, 'Yep, I can do this!'"
"It was a bit scary," he continues. "But it was one of the best decisions I ever made. I can step away from the bright screen and step outside into the middle of a 350-year-old forest. On weekends, I can take a 13-mile bike ride on Tom Run's Trail or cross-country ski during the winter months. And there is wildlife here! Red foxes, black bears, otters, bald eagles, owls. You don't see that every day in the city."
'IT ADDS CHARACTER TO KNOW THE PEOPLE WHO MAKE THE PRODUCT'
It's the weekend before Valentine's Day and couples are arriving for a wine and food pairing. They filter into the 80-year-old dining room through the Gateway's new bar area, a cozy affair with a tile floor, tulip poplar bark shingles on the walls and old wine casks for bar stools. Lit up near the door is a new 640-bottle temperature-controlled wine closet with a glass door.
Behind the bar are beverages from CJ Spirits, a new craft distillery in the region, and Deer Creek Winery, another local business. On the menu, guests can find food from local butchers and farmers. All of the materials used in the renovation were sourced sustainably and a local contractor did the work.
"This was all Deb's vision," explains Rob Fallon, Adams' husband. Spending local, he says, is something "we are very intentional about." On the rural landscape, "If one business goes, it hurts all of us."
Dinner is intimate, with a few dozen people sitting at candle-lit tables in the rustic dining room, talking and laughing as the small staff brings out each course and its wine pairing. Adams is in the kitchen helping dress the main course — an American Kobe Strip Loin with Red Wine Peppercorn Sauce — pouring the reduction over each dish as it comes through. At the end of the meal, she introduces her culinary staff to the guests and they offer thanks for the incredible meal.
"There's not one position here more important than another," Adams explains later. If the driveway isn't plowed and guests can't come up it, it doesn't matter how extensive your wine list or inspired the food. "Without people who care about your business, you are constantly trying to put out fires. Your employees are the most important part of your business."
"She's a passionate soul," Jody says of her mom. "I love her for it. Working with her, I've learned that you really have to hone in on who you are to have any chance in casting forth a vision in this world. There are so many [people] out there that attempt to define your journey or outcome. Staying loyal to what you value is very important and very hard to do. She has continued to show me that it's worth the fight."
TATABOLINE ENOS travels the Pennsylvania Wilds working with small business owners, artisans, entrepreneurs and residents who are helping grow the region's nature and heritage tourism industry. She lives in a small farming town in the northwest corner of the PA Wilds with her husband and two young sons. Follow Ta's work at facebook.com/pawildsTreps or on Twitter at @pawildsTreps. To explore the PA Wilds region, check out PAwilds.com.