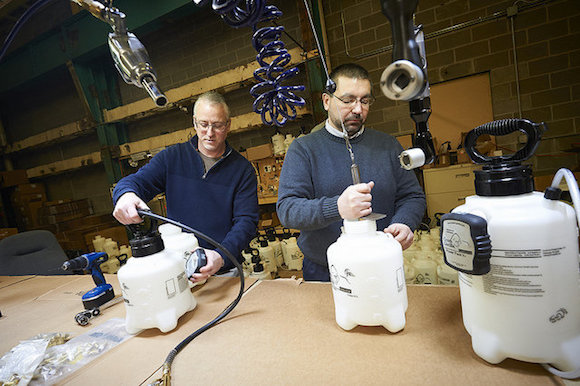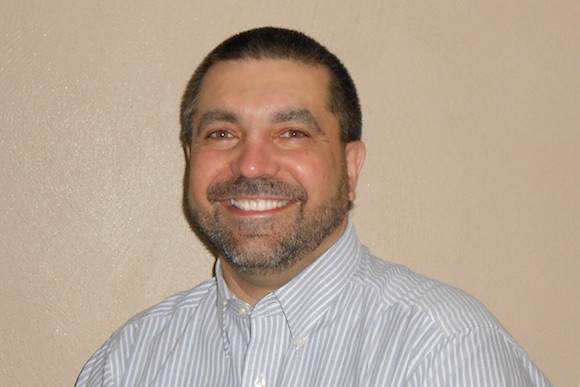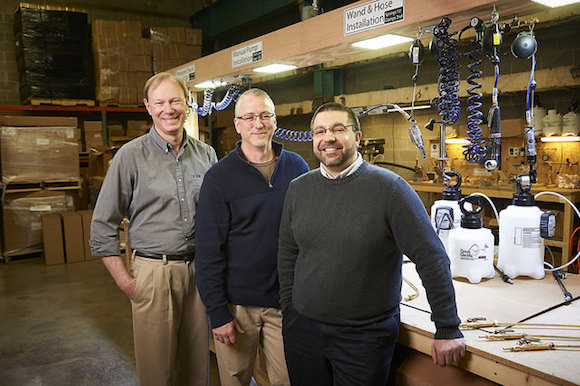 Mark Verosky, Phil Schrum and Dave Krygowski founded ForeFront Product Design in Pittsburgh in 2006. Their first product was an advanced automated compressed air spray system dubbed the Green Gorilla.
Ever since, they've been disrupting a technology that hadn't changed for years, revolutionizing how spray systems work. Their original product has evolved into a fleet of powerful tools that simplify the process and save money for their clients.
The Green Gorilla project was initially part of Innovation Work's Innovation Adoption Program (IAP), a grant program that helps small manufacturers expand into new markets, develop new products or production methods, or use technology to grow revenue and jobs. ForeFront used the funds to gain traction in targeted commercial markets. After the IAP project was complete, Innovation Works stepped in with additional seed funding — along with that investment came hands-on mentoring, connections to potential investors, business referrals for product design and other resources.
Keystone Edge: Please tell us a bit about yourself.
Mark Verosky: I am a native of Pittsburgh and had the privilege of being married at Heinz Chapel almost 22 years ago to my wife Kelli. I obtained my Mechanical Engineering degree from the University of Pittsburgh, and began my career at Bettis Atomic Power Laboratory working on naval nuclear propulsion components in both design and testing.
Very early in my career I had the entrepreneurial spirit and began thinking about the best way to develop my own company. After almost 10 years of working for large companies, a couple colleagues and I started a mechanical engineering design firm, ForeFront Engineering & Design Inc., which has helped companies throughout the U.S. develop new ideas and products for almost 20 years.
What was the inspiration behind ForeFront Product Design?
In 2006, the cofounders of ForeFront Engineering & Design started a new entrepreneurial venture called ForeFront Product Design LLC, capitalizing on our diverse backgrounds and pulling together all of our resources to get started. This was an entirely new company with a vision of bringing new and innovative products to market. 
We believed that we could design and build products that would automate age-old products that hadn't changed in decades. By starting a product design company, we could leverage all the resources from our existing company to fully engineer new products that would become a paradigm shift for that industry.
The first product we commercialized was an automated compressed air spray system branded the Green Gorilla.
How did you get started?
The idea came from Phil [Schrum], who had the idea of automating the hand-held sprayer his wife Holly was using for gardening. He pulled together some surplus parts from his garage and put them, literally, into a small black box that attached to the side of the tank. Holly used the system for a few days and was excited about how well it worked. She felt it had some real potential.
Phil brought the concept into work in the exact box he had just tested and asked us what we thought. We conducted web searches to determine if there were similar products on the market. We soon realized the uniqueness of the product. We began the process of polishing the concept into something we felt could be marketed and then submitted the claims for a patent allowance.
How has the company evolved over the years?
Green Gorilla has gone through many iterations. Initially the product was focused on the retail market with demographics of both the elderly and the serious home gardener. Soon after, we realized Green Gorilla was most beneficial to the commercial end user and that we could gain much wider market acceptance focusing on business-to-business.
At that time, we designed a more powerful system with an industrialized outer casing that could withstand the commercial environment, and redesigned the connector to significantly increase reliability and decrease assembly time.
We relaunched the product and began setting up a distributor network for the pest-control industry and direct sales channels via our online store to the bio-hazard industry.
Today we have facilities in East Pittsburgh — where final assembly and packaging of our products occurs — and have sold systems in every state, along with Canada, Mexico, Iceland and Western Europe. 
How do your products work?
The Green Gorilla advanced sprayer automates the familiar compressed air sprayer. This is the type of sprayer that most of us use in the summer to spray for weeds or fertilize the garden. You would remove the cap and mix the chemicals with water and use the manual air pump to pressurize the tank.
The Green Gorilla fully automates this process using a small rechargeable lithium-ion system that attaches to the side of the tank. It eliminates manual pumping and automatically maintains the pressure within the tank to within a few psi. We match the pressure in the tank to the optimum pressure required at the tip. We call this optimization Smart Pressure Technology or SPT, and it reduces the spray time of the commercial user by up to 25 percent and efficiently utilizes the tank's contents by maintaining the optimum spray pressure.
Who are your clients?
Our clients are primarily commercial end users who use compressed air sprayers to make a living such as pest control operators, lawn and landscape professionals, professional carpet cleaners, professionals in the masonry business, and so on. The commercial end user can fully realize the value that the Green Gorilla can bring to their business while providing a significant return on investment.
Did you take advantage of any resources in your area to get the company off the ground?
When the company was founded, the co-founders used their own funds to get started, buying equipment and tooling to produce the finished product. For the commercialization phase, we were able to take advantage of two organizations: Ben Franklin Technology Partners of Southwestern PA's Innovation Works and Catalyst Connection, located in South Oakland. Both provided tremendous support, not only with funding, but with advice in launching the product.
What are your plans for the future?
Our vision is to continually create new and innovative products. We are currently in the final stages of being able to produce a new line of "power packs" that are microprocessor-controlled. By adding another level of sophistication, we will be able to make our products smart and connected, and build an entire line of software products and apps — called GorillaStats — that will allow the end user to have total control over how they apply their products.