When Jason Smith was not quite 5 years old, his family was a mong the early adopters who had a home computer and internet access. Smith immediately took to the new "toys" and enjoyed learning how they work. 
By the time he got to high school, Smith was fixing his friends' broken computers. Friends started telling others and more calls kept coming, so Smith made business cards and midway through his college career,
Jason Smith's Binary Express
is rapidly growing into a full-service computer repair operation.
"The way I help people in my business is making their lives easier and  to worry less about computers working and more about mission critical stuff," he says. "I'd like to do that with organisms, maybe something around storing information in DNA or helping people relax by using brain wave entrainment.
"Biotech is changing so fast, I just want to be a part of that change and see what the future holds for us as a species and for our computers."
While most people go to community college first and then go to a larger university, you did the opposite and seem happy and successful. Why?
If you don't know what you want to do and want an education, or you want a Bachelor's and don't have a lot of money,
Harrisburg Area Community College
is such a great option. All the people there were great. When it came time to leave it was kind of sad. And my experience at Harrisburg University has been the best. HU has been awesome. We have small class sizes and all the professors encourage independent study. I was telling my professor about a digital forensics utility I discovered and he asked if I wanted to do a presentation on it for class. You're encouraged to pursue things that make you want to learn and overall everyone here is passionate about something. I haven't been in a class with anyone who didn't want to be there.
How does your company differentiate itself in a very crowded space? 
I can offer same-day priority service. And I pride myself on being good at it. I'm actually cheaper than other on-site service techs I know of. Customers also like that I'm friendly and personable. It's easy to get along with me, even if disaster is happening.
So you're also a musician. How did that develop?
I've played electric bass for 12 years and upright bass for three years and I really love it. I wanted one when I was 10, got the Guitar Center special and stated playing around. I started to get good because I loved it so much and practiced all the time.  I joined a couple different bands and sometimes made money or played on recordings. The most success I've had is the band I'm in,
Mad Men
. We've played as far away as Pittsburgh and we're doing our first out-of-state gig in March. We started out as a modern spin on a jazz band but it has turned into a hip-hop/funk thing. We have a rapper and a vocalist who are phenomenal.
What are your plans for growth?
In the immediate future I'd like to have more growth, expand and meet more people and get more clients. I want to do that because it's more money but also to gain a wider variety of experiences. In 2011 th ejobs I was getting were mostly the same things. But this past year I got all kinds of things. The first year I was mostly doing in-home PC repair, most of the time it was just a virus. Last year I started doing more things like data recovery from a water-damaged hard drive. I worked with the Cumberland County Historical Society last fall, which was an enterprise situation, and I would like to do more of that.
Why did you like that project?
I volunteered there for a couple weeks and while I was there I got to run cable, a job which is almost skilled labor. I ate more fiberglass than I ever did, got plaster in my eyes, but laid it in the three days. They were trying to upgrade their infrastructure. I'd done it before in people's homes, but it was eye-opening. It was more difficult than I thought. They wanted to separate out some of their computers on subnetworks and I was able to help them complete that project along with mapping their network. 
Would you like to have more customers under contract?
Vender lock-in is a big problem in the computer industry and I don't like locking people in.
 
What's been the biggest challenge for you running your business while a student?
The demands on my time. When you're a single employee, you're pulled in different directions on different projects. Now I might get phone calls from three people saying I need this fixed yesterday. I can't promise everyone same-day service. The biggest challenge is time management. First you have to prioritize and then figure out how to make everything happen. I've been able to incorporate more long-term solutions instead of Band-Aids. If someone calls and says their computer crashed and need their data yesterday, I might also help them create a backup system. I might lose business because the next time they won't have to call when it crashes, but it helps time management and is good for business because you actually fixed something.
— by Joe Petrucci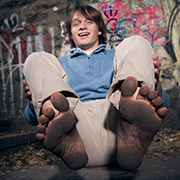 http://www.facebook.com/binaryexpress
Carlisle, PA
---
↑

Top