As a boy, Jorgen Pedersen saw the movies
Top Gun
and
The Right Stuff,
and was convinced that he wanted to be a fighter pilot and then an astronaut. When his dream was shattered by just missing the cut for the Air Force Academy, he decided that if he couldn't go to outer space himself, he would make something that could. So began his lifelong relationship with robots.
Pedersen earned a bachelor's degree in electrical engineering from Carnegie Mellon University (CMU) in Pittsburgh, and then a master's degree in robotics. He worked for CMU's National Robotics Engineering Center (NREC), the operating unit of its Robotics Institute.
His company, RE2, is a spinoff from CMU's work on military contracts. After working on unmanned ground vehicles involved in explosive ordnance disposal (EOD), RE2 developed a small modular manipulator — in other words, robotic arms with skilled hands — that can function as well as a human.
Now the company is continuing to innovate and improve robotic products, entering a new phase of commercialization and moving into the fields of healthcare and agriculture.
What inspired you to start RE2?
I wanted to create things that could be used for humanity.
I was one of the original 12 people in the NREC, and I stayed there for five years. I hadn't seen anything go to market in that time. Another company called Service Robot started working with NREC on a merchandising/retailing robot that would interact with customers in stores like Toys 'R' Us. I did that for a year, and then the company was bought out. As that company was transitioning, I decided to start my own consulting company.
I started RE2 in 2001. I rented a little office in the NREC building; it was just me.
Then DARPA [Defense Advanced Research Projects Agency] came out with PerceptOR (perception for off-road mobility in unmanned ground vehicles). CMU was paired with the Sarnoff Corporation and another company on a team that was competing with several other teams at each phase of the program.
They were making an autonomous ground vehicle — essentially a Honda ATV that could drive itself. The company in charge of delivering the vehicle had not finished it, and CMU needed to get it done fast. The principal investigator, Dr. Anthony Stentz (now the director of the NREC), who had been my advisor in graduate school, asked me to fix the vehicle so it would work.
I got a couple of buddies to help, and soon we had a small subcontract to band-aid the ground vehicle. We did that, and this saved the CMU team.
DARPA recognized the achievement, and provided more money to see what we could do with building a vehicle from scratch. So we designed a new vehicle, and at the end of the three-year program, the CMU/Sarnoff/RE2 team was the winner.
This gave RE2 some street cred, so we continued getting contracts from DARPA. For five years, we were almost an extension of CMU. We were like a SWAT team that comes in when you have a really hard problem, and we'd make it happen. There were six of us at that time.
How has the company evolved over the years?
In 2006, we got our first Small Business Innovation Research (SBIR) grant. With that, we developed a small modular manipulator (robotic arm), primarily used by the military for EOD by bomb squads. There were two conflicts going on at the time, and they were buying EOD robots in significant quantities. This was a good opportunity for us to get our technology into the field.
We moved out of CMU's building and got our own place, a lovely row home on 39th Street, a block away from the NREC. We grew to 20 people in the next several years.
As we were executing the SBIR, we noticed there was a real deficiency in the market for mobile robotic arms. Large robotic arms had been used in industrial automation for decades. They were well suited to the factory floor, but not for ground robots that moved around. The small ones that did exist had 1990s technology.
I saw there was a niche market for us to attack. As a result, we completely diversified in one year's time, around 2006. In the beginning of that year, 95 percent of our revenue came from the university; at the end, only 5 percent came from CMU and the total amount of revenue hadn't changed. We broke away from being dependent on CMU and started having control over our own destiny. That destiny was small robotic arms that go on mobile platforms. We made robotic arms that were enhanced for more capability and better efficiency, for defusing IEDs and so on.
We focused in on this product, and as a result, we started getting more contracts from different customers and grew. We moved to our current location in the Lawrenceville section of Pittsburgh, a few blocks from our previous location. We grew from 20 to 40 people.
In 2010, we were rated by Inc. Magazine as the 10th fastest-growing private engineering firm in the United States.
What's happening now with your company?
We're going through another transition.
In 2010, we started shipping robotic arms into the market. We have shipped over 300 robotic arms to customers, which doesn't seem like a lot, but in robotics, hundreds is a good amount, because it's such a nascent market. It means you have a sustainable business and can make an impact on the world.
Now we're turning into a product company — instead of being an R&D contractor, we want to be a self-sufficient product company that still does cutting-edge research through government contracts. Now we have a cyclic development of cutting-edge research that turns into the next generation of products.
We have several customers and great opportunities before us. Within the defense market, we have an opportunity in the Advanced EOD Robotics System; that will be procuring the next generation of all EOD robots for the military. Every bomb squad in the military will be using these robots — thousands. We're waiting to hear if we will be selected for that. If we are, we'll be ramping up manufacturing of these very lightweight arms that we have developed.
Through our work for the military, we now have an amazing core technology for lightweight, strong, fast, accurate robotic arms. This can be applied to other markets, and that's where we're starting to focus our energy.
One of these markets is healthcare. We just got a contract from the NIH to develop an arm that goes on a wheelchair, which can help a patient transfer from the wheelchair to a bed or toilet. This will help people to be more self-sufficient and increase their quality of life. That's exciting to me. We're partnering with the University of Pittsburgh's Engineering Research Lab as we move to commercialize this arm.
We're also working on agriculture, in the specialty crop market, to develop arms for harvesting and maintaining crops.
Have you taken advantage of any resources to get the company off the ground?
From 2001 to 2014, we didn't taken a single dime of investment.
In July 2014, I finally raised about $2 million, because we needed to invest in this new technology to ensure growth.
Innovation Works (Ben Franklin Technology Partners of Southwestern PA) was our first investor. Their bridge funding allowed us to keep core talent here, and kept us moving forward to our Series A raise. StartBot and Draper Triangle Ventures were our main investors.
We recently received a grant from the Discovered and Developed in PA Program (D2PA) to help us increase our manufacturing capability. Allegheny County also offered assistance.
What has been the biggest challenge so far?
Since we were so tightly connected to the defense market, the sequestration in 2013 presented challenges for us, because government employees were being furloughed and we couldn't fulfill the contracts. But sometimes things like that force you to look under the hood and see how to improve and think outside the box. So adversity can turn into opportunity. That's the way to look at every challenge.
What do you see in the future for robotics?
Robotics is really starting to permeate our lives, and we don't even realize it. Car companies, for example, have made incremental changes and are getting cultural adoption and acceptance (most recently with automated parallel parking). They don't call it robotics, but it is.
There are so many "drones" — small, unmanned air vehicles. They will be used more and more. The technology is mature enough for it to have an impact on the world.
One of our products, the Highly Dexterous Manipulation System, is a torso that weighs half the weight of an average human torso. It can work double the time a human can work, is just as dexterous, and is power-efficient.
Once you have that, you'll be seeing collaborative robots that work side-by-side with humans as co-workers.
The human in the loop provides the supervision; the robots have to rely on the intellect of the human beings. I personally don't think we're smart enough to figure out how our own brains work, at least not in my lifetime.
Writer: Susan L. Pena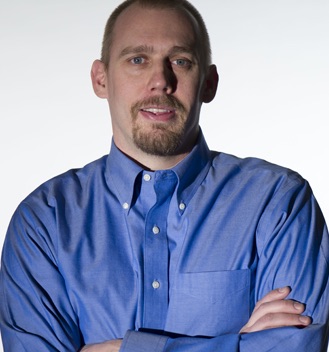 http://www.resquared.com/
4925 Harrison St. Pittsburgh, PA 15201
---
↑

Top