Ross Kramer's entrepreneurial credentials are not unlike other fast-charging successes. He sold computers out of a back room of his parent's room (Kramer indulges a Seinfeld reference to George selling computers against Lloyd Braun by mimicking the "ching" sound made when George rung up a sale. He started a webhosting business in his dorm room at
Penn State University
. The company's first office didn't have a bathroom.  
And like other successful entrepreneurs, Kramer knew when to shift gears. After graduating from Penn State in 1998 and building his web hosting firm for three years, the dot.com bubble burst and Kramer and his team knew they had to change course. So while they liked their web hosting offering, they opted to commercialize their email blaster and launched
Listrak
in 1998.
The email marketing firm focused on online retailers has grown into an $11 million company in about a decade, all from its unassuming Lititz address in Lancaster County. By next year, Kramer expects Listrak will have tripled its business since the most recent economic downturn began in 2008.
What was the inspiration behind Listrak?
We built a number of technologies during the dot.com boom we could have commercialized. What we were really excited about was the immediacy of results and cost benefit to email marketing and how it transcended industries as well. We had customers in Meyerstown selling bulldozers and they would send out an email campaign and immediately they'd be selling bulldozers. The world's oldest mouse trap manufacturer (Victor) would sent out an email campaign and sell mouse traps immediately. We were just blown away by that. Customers were interested in this and seeing success and that's what really interested us, the disruption of moving from direct mail to online and this instant gratification. It doesn't get much better than email marketing.
So where did you go from there?
We were in all our early 20s. We had approached
Ben Franklin Technology Partners of Central and Northern
Pennsylvania to get some money. They did give us a little bit of marketing funds. Even if we got more funding I don't even know how we would have spent the money. I do remember one of the Ben Franklin guys said we had a good idea and could probably get it up to a $1 million company if we slept in our cars for a year. We took his advice to heart. My dad and I started traveling and selling.
What was one of the biggest challenges you've had to overcome with Listrak?
Our biggest was we launched Listrak in October, 2001, which was one of the darkest times in our country's history. Our go-to-market strategy was trade shows. Our first one was the Direct Marketing Association show in Chicago and everybody was afraid to fly so nobody came. Our strategy was if we could meet people, we can convince them to use Listrak and try email marketing. There were others out there but we were one of the early pioneers. We were different. A lot of our competitors were on their second or third business. We were young entrepreneurs.
Talk about how you drove growth.
Ben Franklin Technology Partners gave us a small grant to do some appointment setting with a company in York and that helped us buy some lists and get some leads. Oddly enough we went back to that model. We shifted to Google Adwords and Google search, through the mid 200s, we grew an average of 22 percent year over year and when the next downturn hit in 2008, we realized what we found in 2001, when web hosting had been commoditized. Email marketing had been commoditized. We were losing 20 accounts a month and gaining only five. 
 
We realized that we could not stay horizontal. A lot of Central PA businesses are doctors, health systems, builders, ad agencies. We were a Cadillac type of service and they only needed a moped or a bicycle. A lot of them were cancelling their Listrak accounts but w realized there was a segment of our customers that were doing really well and were using us more. That was the segment that got us started, which was the ecommerce companies. I went out and hit the road and and figured out how to help them solve their business problems and we retooled our software to make it more attractive. 
So how did that impact growth?
Last year we grew 45 percent and this year we're up 70 percent. One reason is we're really finding our niche and serving it really well. We also moved away from Google search and paid search and went back to an appointment setting model. Half of our new business is generated that way. It's kind of counterintuitive for a company in the technology space. Our niche is really small. There's probably 3,000 people in North America we can sell to. Advertising to a mass audience through Google doesn't work as well.
Really? Appointment setting?
We did a test, hired a kid out of college that we knew had a lot of gumption and didn't mind making 100 phone calls a day. We had him call for a week and we sold one of our biggest deals we ever did from one of his appointments. Then we hired another person. Then another. Right now I've got five people on the phones. I've got three people supporting those people and two people in management positions. That's driving about half to 75 percent of our sales from our appointment setting model. I recommend that model to any young entrepreneur. The phone scares the heck out of them. I'd encourage them to find people who love calling people on the phone. There were the kids who were chastised in school for talking too much. I want the most talkative and most disruptive kids lined up for detention for talking in class.
What has it been like working with you father, who you brought on as CFO?
It's a very good partnership. I have the genetic DNA of my mother. My sister got my dad's personality. We balance each other out very well. He is the bad cop, I'm the good cop. And he's more on the financial side. He allows me to focus on the technical side and innovate. You could make a really good reality show here. I think we share a drive for excellence and a common theme of hard work and honesty and treating people the way we'd want to be treated.
What's next for Listrak?
We're at 85 people and we need about 30 more. We just leased new space. We're in a 15,000 square foot building we bought three years ago but now we're out of space. We'll hire 30 people in the next year. I'd do it in the next month if I could find them. 
We're heading into a new era. We've been a one-trick pony for a long time in the email channel. We'd like to help customers be more effective at multi-channel. We're going to be leveraging new open source technologies for big data, like Hadoop, to make more sense of the data they're sitting on to use in email marketing and on their websites. We're going to be able to display that data in ways that were previously out of reach.
— by Joe Petrucci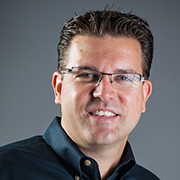 http://www.listrak.com/
529 E. Main St. Lititz, PA 17543
---