Tyler Westnedge, the co-founder at startup full-service branding agency At Media, is many things: self-taught web developer, photographer, and budding community garden-tender, to name a few.
One thing he is not: apologetic, at least when it comes to the content his Old City, Philadelphia-based shop managed for the Naked Philly development blog, generating a ton of questions, controversy and of course, enviable average time-on-site numbers (between 10-15 minutes).
The blog, which was quite anonymous (despite its "nothing to hide" tagline) in its infancy and attracted lots of attention in the spring with accusations of plagiarism, was outed as OCF Realty's by local independent journo Amy Quinn on her Citizen Mom blog in May. Ultimately, however, Naked Philly filled a void in the marketplace (left by Brownstoner), reporting on real estate development in a variety of neighborhoods, even if its posts are meant to ultimately generate sales.
"I do feel (Nked Philly) could have implemented more of sustainable strategy, with creative advertising opportunities, or user generated posts," says Westnedge. "But the overall goal of giving more neighborhood news, relative to development and real estate in Philadelphia, has certainly been achieved."
Naked Philly was part of a larger project for OCF that At Media, well, absolutely crushed. Leading a two-person team, Westnedge created a Flash-based interactive map, custom content management system and Craigslist ads and searchable properties on the site, boosting OCF's rental sales by close to 35 percent for the year.
Westnedge has been too busy to dwell on any controversy. His rapidly growing and innovative firm is involved in several interesting projects. Last month At Media helped launch Skillshare in Philadelphia, the second city for the web-based learning platform that launched in New York.
A graduate of Temple University's Film and Media Arts program, Westnedge freelanced as a photographer, videographer and designer before getting a taste of Center City agency life for two years and then launching At Media from his South Philly home in 2006.
Keystone Edge (KE): How and why is At Media growing?
Tyler Westnedge (TW): At Media is constantly growing, every day it feels like we conquer a stepping-stone. Antoinette (Johnson, Co-Founder and CEO) and I are always looking towards the future, setting goals, and continuously learning and gaining knowledge. We never want to stop growing, and we consistently challenge ourselves with objectives. Setting goals for us has been a factor in our success. Without goals, there is no plan of action, and without a plan of action, you are stuck in the mud. Our new office in Old City is amazing, and we're trying to fill it with the most talented design and development team in Philadelphia.
When we were operating out of our house we used more of a freelance model with four or five designers we used a lot. Now we're trying to bring in more of an in-house team. We have a marketing director (Alex Calukovic), a designer in Ian Berg and we're working on getting a full-time in-house developer to take some of my responsibilities. A short-term goal we are determined to achieve is opening a NYC based office within the next five years.
KE: Who else do you think is doing interesting work in the advertising space in Philly?
TW: I really enjoyed the "With Love XOXO" campaign from Red Tettemer.  It put Philadelphia on the map for advertising, which I believe needs to be done more often. Philadelphia is a remarkable city, full of creative individuals, and we need more campaigns like this to be associated with NYC and other major metropolitan areas.   
KE: The OCF blog has been nothing short of controversial — do you feel it has been successful and what do you think of some of the backlash it received?
TW: I feel nakedphilly.com has been very successful, considering OCF's goals. In the short time that it has been live, we've seen it gain the amount of visitors that make the site a direct competitor with other Philadelphia news sources.  Yes it is controversial, but the city we live in is too. Controversy is not a bad thing, it raises questions, and makes people/users want to voice their own opinions.  Philadelphia and other cities need a resource like this. There is no reason why people should hold in their voice, just because it may be controversial
KE: When you've got your camera handy, where do you like shooting in Philly?
TW: I always liked shooting at the Electric Factory. The security guards are always nice and the lighting's great. Outdoors, I like to shoot where there's life going on, even if there's not life present in the photo. You know people could be around but they're not in the photo. Since moving here I've gained a lot of passion and respect for Old City. Everybody's really brand conscious and European in their ways. I like shooting here. Our office is a great location for photo shoots. We just did a shoot here for a fashion website we launched (last month), erica-reed.com.
KE: What are some other exciting things At Media is working on?
TW: At Media just launched myhofs.com (My Hall of Fame Site) "The Sports Social Network Where Your Vote Counts." Users can create their own halls of fame, "vote" for players & users, and share their sports opinions with the world.  We are now moving forward with the mobile version of the site, and an iPhone app.
KE: Are you involved in any community work?
TW: Yes, Antoinette and I started a community group, Point Breeze Pioneers, which focuses on establishing new green spaces, reestablishing existing landscapes and engage the neighborhood in the restoration of our urban environment. We maintain three community gardens, and are working to get our fourth.
— by Joe Petrucci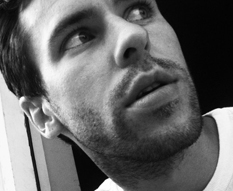 http://atmediadesign.com/
222B Race St. Philadelphia, Pennsylvania 19106
---
↑

Top