Every parent has struggled with setting up play yards, getting the water temperature right in baby baths and employing products that take three hands rather than two. Venture capitalist Robert Daley and roboticist Henry Thorne decided they could make everyday life easier through technology.
The result was 4moms, a company that designs innovative products such as strollers that unfold at the touch of a button, play yards that magically set themselves up and swings that are actually upside down.
These high-tech solutions have helped the company land in more than 500 stores in the United States, with distributors in more than 40 countries. Since its launch in 2006, 4moms has grown to an enterprise with nearly $30 million in revenue.
What was the inspiration behind 4moms?
We built 4moms on the philosophy that the future of robotics lies in taking very abstract or expensive technology and making it practical for everyday use. 4moms' products embody this belief, solving common difficulties of typical baby gear using robotics technology previously unseen in the industry. This philosophy encourages creative growth because parenting could always be a little easier, and technology consistently gets faster, lighter and less expensive.
When did you first have the idea, and when was the company founded?
In 2004, my friend Henry Thorne, a world-leading roboticist, and I met over lunch to discuss our individual plans for future business ventures. As we talked, we realized that not only did we share a vision for the type of company we each wanted to build, but that we could be much more successful working together than alone, given our complementary skills and backgrounds.
We also knew there were only two ways to make it as an entrepreneur: create a new market or change an existing one. With its steadily decreasing prices, electronics were both cheap and powerful for the first time ever, and could be used as a change agent to redefine an industry. We decided to focus on the plumbing industry, a field that had not significantly changed since the introduction of copper pipes after World War II.
We built a demo shower head that used hidden electronics to control the exact temperature of the water. We took it to the Pittsburgh Home Show, expecting excitement from tech-savvy men, but the opposite happened. Elderly women living alone loved it because it could help them maintain their independence, and mothers wanted something similar for the bathtub so their children would be safe and comfortable while bathing.
After researching elder care and juvenile products, we determined the latter industry presented the most appealing opportunity, and the spout cover — 4moms' first product — was born.
Officially established in 2006 under the parent company Thorley Industries, 4moms' name comes from its first focus group of four mothers (really, five), who explored juvenile product pain points and provided valuable insight that led to the creation of the company's infant tub.
What was the biggest challenge in getting your company off the ground?
When we decided to shift from the senior consumer market to the juvenile industry, our investors were concerned about us entering a crowded market.
There are around 2 million households bringing home a new baby each year, and we knew there was room in the market for sleek, high-tech baby products. Despite the initial resistance, we believed in our ideas and moved forward. We're now a major player in the space and operating on a totally different level than the competition.
How is your company growing?
Since 2009, the company has experienced 100 percent year-over-year sales growth. In 2012, 4moms topped $16 million in sales; in 2013, close to $30 million. We currently have 113 employees.
We project almost 300 percent revenue growth over the next three years, driven by increased demand for the current products and new item releases.
What resources did you take advantage of to launch and grow 4moms?
Since 4moms' inception, we have secured more than $40 million in funding, including a multi-million dollar strategic investment from Newell Rubbermaid, which owns 4moms' largest competitor, as well as $20 million in capital from Bain Capital Ventures. We are also an Innovation Works (Ben Franklin Technology Partners) portfolio company.
What are some of your coolest or most unusual products?
We believe all our products are cool! Our current line includes the mamaRoo, the only infant seat with five unique motions (Car Ride, Kangaroo, Tree Swing, Rock A Bye and Ocean) that mimic the natural movements parents make to comfort their baby.
breeze is an easy-to-use play yard. You just push down on the center hub to open and pull up to close; the latches are automatic and there's no tricky sequence of steps. In March 2013, it won the prestigious red dot "Best of the Best" award for outstanding product design.
The origami is a power-folding stroller. Stroller mechanics and design haven't changed much for decades; this one is not only visually different, but the only stroller that can fold or unfold at the touch of a button.
The rockaRoo is a swing featuring a drive train that utilizes a small cord made from the world's strongest fiber and motion-control software. It uses an array of sensors to make every "rock" completely unique. It flips the traditional swing on its head — literally — with the pivot at the base, making it 70 percent smaller than other swings on the market.
What's the big differentiator for 4moms?
Our competitors innovate by refining existing product designs: wire bouncy seats, A-frame swings, manual strollers and simple plastic tubs. The 4moms team devises more creative solutions that address real consumer pain points with existing products, with designs entirely our own.
No other infant tub is designed for use with running water. No other infant seat mimics a mom's natural motions. No other stroller can fold or unfold at the touch of a button. No other play yard is assembled with just one simple motion.
What's next for the company?
In late 2014, we will launch the world's very first robotic car seat that installs itself.
And we will be launching a lighter version of our origami stroller. We add U.S. retailers steadily and are poised to secure several more international partners.
Writer: Susan L. Pena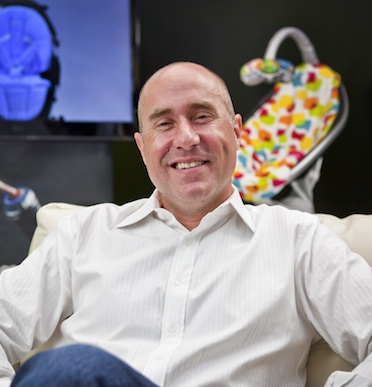 http://4moms.com/
40 24th Street Floor 3 Third Floor Pittsburgh, PA 15222
---
↑

Top