Scientists doing research in cutting-edge areas such as transgenic technology, stem cells, growing human organs and in-vitro fertilization need media in which to grow tissue. Karen Hoskins had 22 years of experience in making tissue culture media and reagents for medical research as an employee of Specialty Media (acquired by several other large companies; now
EMD Millipore
, a division of
Merck
).
A graduate of Rutgers University with a degree in biology, the New Jersey native (now living in Bangor) put her skills to use in founding H.B. Custom Media. The company specializes in producing small volumes of media and reagents for researchers with limited budgets.
Now based in the Ben Franklin TechVentures incubator on the Lehigh University campus, Hoskins has already landed loyal clients in the National Institutes of Health (NIH) and the Duke University medical research lab, among others, who depend on her expertise in this exacting area.
And by the way, the "H.B." stands for "honey badger," a name Hoskins' friends gave her because she never gives up.
What inspired you to start H.B. Custom Media?
I started working in the biology field at Rutgers Medical School (now the Robert Wood Johnson Medical School) and for a private biotech company. I was the first employee, other than the founders, of Specialty Media in Phillipsburg, N.J. I basically helped that company grow from the year they started. I did a lot of things: I talked to customers, I made media, I did ordering and shipping, and later I became the production supervisor and then the operations manager.
When Merck bought Millipore, they consolidated all the smaller sites, including ours. They invited me to move to California, but my daughter was in high school then [2011], and I didn't want to uproot her. So I did consulting for them for a while.
But I thought, why can't I just re-start the successful model of Specialty Media, which specialized in small volumes? This was what I had been doing forever, and I'm really good at it. So I decided to give it a shot.
A friend told me about TechVentures, and I went to a Venture Idol event to check it out. I happened to sit next to Bob Thomson [regional manager for the Lehigh Valley at Ben Franklin Technology Partners of Northeastern PA], and we talked, and he told me to look at the TechVentures client profile. I did that, and met with Wayne Barz [manager of the incubator] to talk about my ideas. They said I should apply to get into the incubator, so I did and got in. I applied for funding from Ben Franklin and received it in 2012.
I started the company in TechVentures on January 1, 2013.
Could you comment on the resources you used to get started?
Ben Franklin gave me a grant to hire an outside consultant to help me with the detailed business plan I needed to apply for funding. I always tell people, if you want to start something and can get into TechVentures, it's wonderful. The people are so supportive.
I also got a lot of help from the Small Business Development Center at Lehigh University. They help the community with seminars, including one on being a government vendor (I am one now). Everything is free. David Dunn, the program director at Lehigh's College of Business and Economics, helped me with the application for that, and also helped with marketing by making it a project for his graduate students.
I just joined the Woman 2 Woman mentoring program through the Greater Lehigh Valley Chamber of Commerce. We have only had two sessions so far, but it has already been so helpful to me. There aren't a lot of women founders at TechVentures, so it's really helpful to talk to other women about their experiences.
Please explain more about what you do.
I have a customer from the NIH who's working on in-vitro fertilization with a type of monkey. He told me that he'd like a specific media; he sent the formulation and I made it for him. I ran into him at a meeting in Washington, D.C., and he showed me a picture of a monkey; it was a baby they made through in-vitro fertilization with my medium. I'll be cited in the paper they write, which is exciting for me.
Some clients tell me what they want, or reference a media made by another manufacturer and tell me they'd like the same thing but with a few changes. I also can make several variations on one media. Because I can do small volumes, they don't have to spend $10,000 on a custom media; instead, they can spend $1,000 to get one. For graduate students and post-docs, or people working off a grant, it saves them a lot of money. My clients are people trying to bring something to market or doing an experiment or re-creating an experiment.
Media consists, in its simplest form, of different types of salt, amino acids and vitamins. There are other things like growth factors that can be added. I supply a company working with liver cells; I make buffers that work with human livers, to grow the cells.
Different cells like different media. For example, stem cells are a lot more particular about the environment they're growing in; they need a bunch of different growth factors.
I also make a whole line of media for transgenic mice (I call it mouse embryo culture media). It's for studies where you're manipulating DNA in mice.
For an embryo culture media, I can make volumes as low as 500 milliliters; for regular media, I can make one liter. Large companies won't do that.
Who are your clients?
Right now, they're all on the East Coast. I have one customer I make a lot of products for, monthly. I have another large client who orders large volumes a few times a year. I have the NIH and a scientist at Duke University in the medical research building. Everybody I make media for reorders; it's going well.
What has been the biggest challenge so far?
Cash flow, more than anything, is on my mind right now. As a small startup, it's also wearing a million hats, trying to keep everything going. You have to keep going forward, making contacts, finding seminars in the area. There is available money around; you just have to keep looking for it.
The other thing is trying to stay on top of all the newest technology while trying to work; it's very time-consuming.
What's next for H.B. Custom Media?
I just got some marketing funding from Ben Franklin, so I'm going to start going to trade shows, and I'll be going to a meeting of the International Society for Transgenic Technologies in Prague in 2016 where I hope to find clients.
I want to get my numbers up so I can start hiring people. The ultimate goal is to have a good-size company in this area and employ the people around here. I'll be meeting with a person who will be doing a seminar about international sales and what you need to do to get into that. I'm also working on getting certified as a woman-owned business, which could be helpful for government contracts and customers who have quotas.
I really would also like to build a research and development group here, so we can research our own new types of media and reagents that scientists are looking for. It would be awesome to do a partnership with one of the universities in the area, perhaps giving opportunities to some of their graduate students.
Writer: Susan L. Pena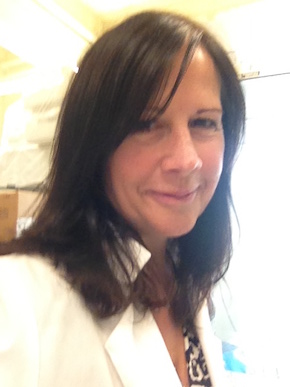 ---
↑

Top