Development in University City, from the Schuylkill River to 40th Street and beyond, is booming: shiny new buildings, overhead cranes, new streets, green parks and innovative public spaces are all on tap for this West Philadelphia neighborhood. And like any proverbial overnight success, "It's been at least 20 years in the making," insists Harris Steinberg, executive director of Drexel University's Lindy Institute for Urban Innovation.
The University of Pennsylvania is widely credited with neighborhood stabilization efforts that launched University City's current turnaround and became a national model for town/gown communities. In the mid-1990s, several high-visibility murders prompted then President Judith Rodin — with a young John Fry as her executive vice president — to launch the West Philadelphia Initiatives, which included watersheds such as the founding of the Penn Alexander School and the University City District (UCD).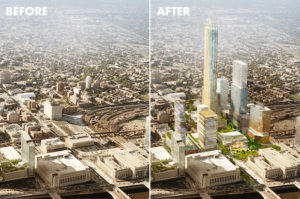 Today, major stakeholders — Drexel (where Fry is now president), Penn, the University City Science Center, Amtrak and others — have ambitious plans for millions of square feet of new development in the coming decades. They are only loosely coordinated, but their commonalities have profound implications for the future.
(Private developers are active, too. According to the Philadelphia Inquirer, a Swiss insurer recently bought the 2.0 University Place building near 41st and Market for a near-record $420 per square foot. Groundbreaking on the adjacent 3.0 University Place is expected later this year. The 50-story FMC Tower at Cira Centre South is near completion on the Schyulkill riverfront.)
Most notable is the emphasis on neighborhood engagement. No longer are the major academic institutions turning their backs — literally and figuratively — on the surrounding communities.
"We are changing the narrative," says Steinberg. There are no land grabs and no displacement of residents, all features of mid-20th-century urban renewal that decimated what was once the "Black Bottom" section of West Philadelphia.
The Science Center was a barrier between the neighborhoods and Penn. Now we're trying to be a connector.Stephen Tang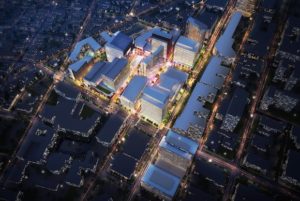 According to President and CEO Stephen Tang, the Science Center is intent on "creating opportunities for citizens to participate in what we do." He points to the extensive public programming at the new Microsoft Innovation Center at 3711 Market Street; the enlarged ground-floor Quorum that will open in 2017 at the under-development 3675 Market; UCD's West Philadelphia Skills Initiative; and the new K-8 school focused on STEM (science, technology, engineering and math education) that Drexel is building at the erstwhile University City High School site.
Plans are also underway to physically reconnect the core of University City to Powelton Village and Mantua by breaking up a '60s-style superblock and reinstating long-gone city streets. Between Market and Powelton, 37th Street will be reopened. Sections of Warren and Cuthbert streets are also being reinstated."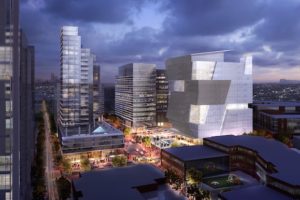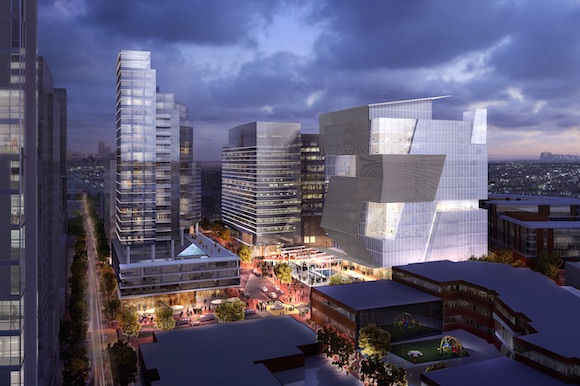 The Science Center was a barrier between the neighborhoods and Penn," says Tang. "Now we're trying to be a connector."
Public spaces are another hallmark. Watch for a fall groundbreaking at "Drexel Square," a 1.3-acre park across from 30th Street Station, one of the first manifestations of Drexel's ambitious "Schuylkill Yards" plans. (More on that later.) Drexel is also developing "Korman Quadrangle," a one-acre green space between 32nd, 33rd, Market and Chestnut Streets.
The Science Center and its development partner Wexford Science + Technology are planning a small park and public plaza along Cuthbert Street; the Science Center opened "Innovation Plaza," a pocket park on the 37th Street Walkway between Market and Chestnut, in December. Other new parks and public spaces completed in recent years include UCD's The Porch at 30th Street Station and Brandywine Realty Trust's Cira Green.
The inventory of new and upcoming projects is too long to list here (UCD did a great job in its 2016 State of University City report), but a few highlights offer a bird's eye view of a vital neighborhood in the throes of major change.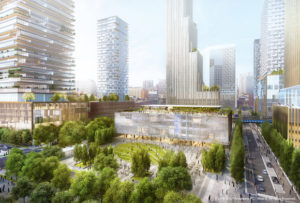 With development partner Brandywine Realty Trust, Drexel has ambitious plans for the aforementioned "Schuylkill Yards," a 14-acre "collaborative neighborhood [featuring] entrepreneurial spaces, educational facilities and research laboratories, corporate offices, residential and retail spaces, hospitality and cultural venues and public open spaces."
The 30th Street Station District Plan, a partnership between Amtrak, Brandywine, Drexel, PennDOT and SEPTA, is studying the station and the 88 acres of rail yards to its north along the river. A final plan, to be released this summer, is likely to recommend capping the rail yards in order to build a whole new neighborhood, a new riverfront promenade and new bridges connecting University City to Center City.
uCitySquare is both the new moniker for the Science Center's 17 existing buildings and the 10 new buildings that the Center will develop with Wexford over the next 10 to 20 years. Construction is set to begin at 3675 Market Street, a 340,000-square foot, mixed-use tower. Meanwhile 3700 Lancaster Avenue, a 300-unit, market-rate residential project, will be built as part of a community benefit agreement with adjacent neighborhoods. With outdoor spaces and high-quality residential and retail components, uCitySquare is envisioned as a 24/7, live/work/play environment.
Penn's Pennovation Works is located on 23 acres on the opposite bank of the Schuylkill River — not in University City proper, but an important project nonetheless. Its anchor building, the 58,000-square foot Pennovation Center, which features a business incubator, laboratory, co-work and common spaces, opens this summer.
The current development boom in University City results from a confluence of forces, among them visionary leaders like Rodin and her successor Amy Gutmann, Fry and Tang who understand placemaking, real estate development opportunities, available capital and changing demographics (all those millennials!).
"It's been in progress for a long time," explains Joseph Reagan, Jr., Wexford's vice president of development. "Circumstances and opportunity have now aligned."
WRITER IN RESIDENCE is a partnership between the University City Science Center and our sister publication Flying Kite Media that embeds a reporter on-site at 3711 Market Street. The resulting coverage will provide an inside look at the most intriguing companies, discoveries and technological innovations coming out of this essential Philadelphia institution.