Jimmy Buffet sings about the carefree life of the Florida Keys, but he would feel just as at home on the laid-back western shore of the Monongahela River in Fredericktown. From the funky décor and cold beverages at the Riviera Restaurant to the quirky roadside landmarks courtesy of Rudy Fabricating and Machine, this Pennsylvania hamlet invites you to kick back and enjoy its unique charms.
The Washington County town is located seven miles south on Route 88 from the Fredericktown exit off Route 43 out of Pittsburgh. As you enter, catch a glimpse of colorful pleasure boats on the river, blue metal fish flying on the roadside, or the giant white chicken on the roof of the famous Fredericktown Butcher Shop.
Populated by only about 400 people year round, Fredericktown has become a hotbed for recreation-seekers. Just ask Dennis Slagle, head of the local chamber of commerce. He calls Fredericktown, "headquarters for fun and sun on the Mon." Rarely seen without a smile on his face, Slagle also is spokesman for the Maxwell Basin Recreational Area — 20 uninterrupted miles of prime boating on the river bordered by the Maxwell Lock and Dam. 

Add that to the five local marinas and newly renovated Ten Mile Creek County Park, and there are plenty of places to launch a boat, pontoon, jet ski, canoe or kayak. (Check with Washington County Parks for information on permitting details.) With all that open water, it often feels like you have the river to yourself, even on a sunny summer day.
"Other people go on vacation just to be in a place like this for a few days," says Slagle, who has had a Fredericktown address his whole life. "I get to call it home."
Slagle's daughter-in-law, Chelsea Slagle, feels the same way. Though she works in Morgantown, West Virginia, a 55-minute daily commute, she would never leave.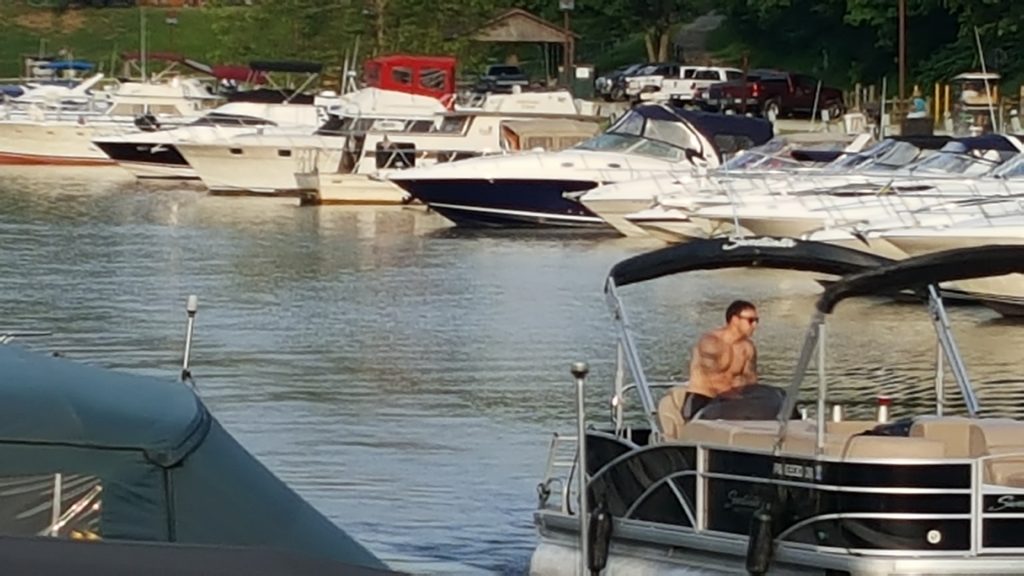 "Why would I want to live anywhere else?" she asks, gesturing over the sunset-lit water on a summer evening. "Look at this place!"
Judging by the lively summertime crowd at the Greene Cove Yacht Club's restaurant, Chelsea is not alone in that sentiment. Bar Manager Becca Gutosky was busy serving up cold beers and tropical drinks to regulars coming in from a day on the water. Greene Cove has over 200 slips for rent, with very few going empty. Above the marina sits a private permanent "campground," a hidden summer enclave where the transportation of choice is a golf cart.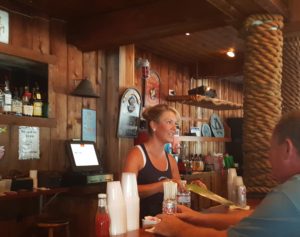 The adjacent Ten Mile Creek feeds into the Mon. Significantly longer than ten miles, the waterway was named for being ten miles south of Brownsville…or maybe after a Lieutenant Tenmile who surveyed the area for George Washington's army. It depends on who's telling the story. The creek is a "no wake zone," making it peaceful for pleasure boaters, canoes, kayakers and fisherman. Crafts can easily launch from Ten Mile Creek County Park. Pavilions can be rented for picnics and events, and park visitors are welcome to bring well-behaved dogs.
Slagle has always loved to fish, but he only recently bought a boat and began casting a line locally. Angling is becoming more and more popular here, even spawning a night-time crossbow fishing charter. Slagle's wife, Lynn, noted that now that the Mon and Ten Mile are healthy again for fish, the water is also safe for swimming.
"Families go out on the river in pontoon boats with floats and picnic supplies for the day and take dips from their boats," she says.
As peaceful as it is most days, there are times when Ten Mile Creek transforms into a floating party. The five marinas — Greene Cove, Engle's Holiday Harbor, Sunset Marina, 10 Mile Yacht Club and Greenwood Marina — plan a number of events throughout the season that bring hundreds of revelers to Fredericktown, for example the upcoming "Halloween Canoe Race" from Clarksville to Greene Cove.
Other people go on vacation just to be in a place like this for a few days. I get to call it home.Dennis Slagle
This is a second life for the waterway. Along the shores of the Maxwell Basin pool, boaters pass charming cottages along with vestiges of the mining industry. Abandoned coal tipples and barge pilings rise up occasionally from the now-sparkling water, an impressive reminder of when coal was king.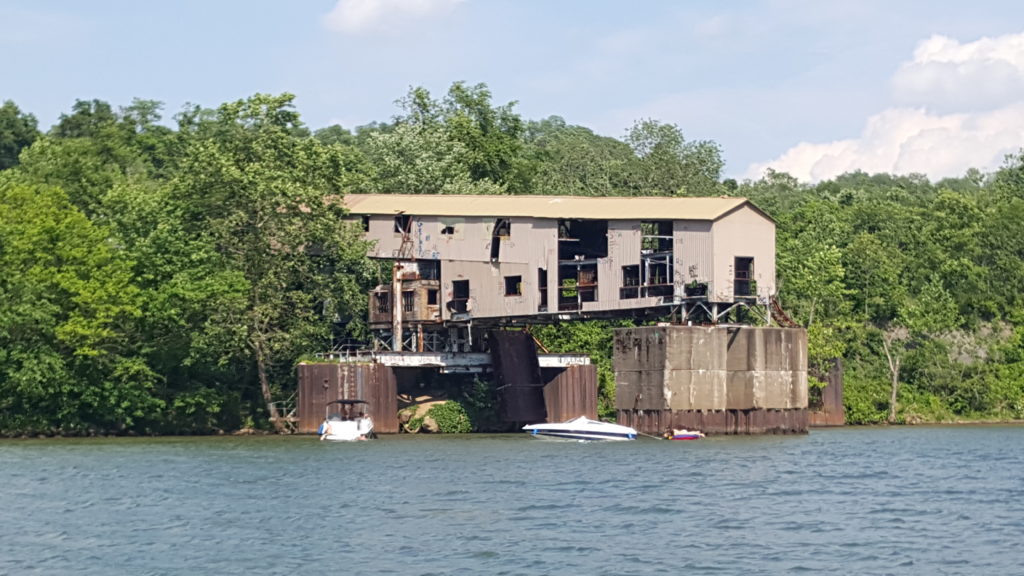 And it is not only echoes of industry: Pleasure boaters share the wide Mon with massive coal barges that occasionally glide by.
"Even with a couple hundred boats tied at the pilings during the musical event 'Rockin' on the Mon,' there is more than enough room for the barges to get by," insists Slagle.
Another favorite destination for boaters and landlubbers alike is John Shaw's Riviera Restaurant, a mostly outdoor lounge where flip-flops are the shoes of choice. Bartenders Paige Butka and Natasha Sigwalt sling drinks behind the bar, sharing their view of the river with patrons who pour in off the water and the roadway. The patio's view becomes even more spectacular when Fredericktown sponsors fireworks, launched from the opposite shore.
For those who prefer their recreation on land, the recently extended 6.8 mile Greene River Trail trailhead originates at Greene Cove. The trail follows the creek then runs along the Mon on an abandoned railroad bed through a stretch of scenic woodland. The route affords sweeping views of the water as you walk or bike through Rices Landing and pass its historic W.A. Young & Sons Foundry.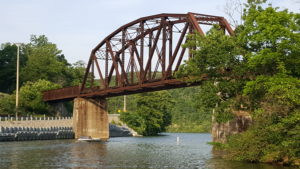 A visit to Fredericktown isn't really complete without a visit to the Fredericktown Butcher Shop and its giant rooftop chicken. In addition to the fresh hand-cut meats (at amazingly low prices), they offer all the basic necessities for a day on the river. Stepping through the doors is like going back in time.
A little further down Front Street, The Riverside Inn, a restored hotel, offers a quiet spot for food, drinks and lodging.
Looking to plan a visit? Events are scheduled throughout the season: August will see the popular Ribfest at the Riviera, a golf outing and the Fourth Annual Clarksville Festival. September's "Party on the Point" at the Greene Cove Yacht Club includes an open Corn Hole tournament with slots for 64 two-person teams. The season culminates with October's Halloween events. (For more information, check out the Mon River Coalition's event calendar.)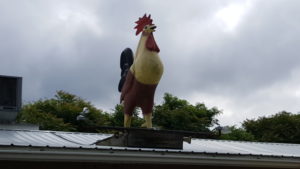 So how did this little riverside town become such a hot spot? Slagle, the Riviera's Shaw and Morgan Boyle of Greene Cove met in 2010 to talk about planning events and bringing businesses to Fredericktown. Then Slagle saw an article about The River Town Program.
"I called Cathy right away," says Slagle, referring to program director Cathy McCollom. "Fredericktown was on board. We were one of the first Mon River Towns to join the Mon River Valley Coalition. The program helped us with marketing so people can hear about our events, and with signage so they can find them once they get here."
It's pretty easy to see why the locals don't want to leave and why visitors keep coming back. The town's neighborly feeling is infectious. People here on the water are relaxed. They say hello. They smile. Next time Jimmy Buffett wants a "Cheeseburger in Paradise," tell him to float up to Fredericktown.
WENDY DUCHENE is an attorney with offices in Allegheny and Somerset Counties. She is also an avid user of the many hiking and biking trails in western PA, where she can often be found on her recumbent bike or walking her dog Sander.
This story was created in partnership with the Mon River Valley Coalition |www.monrivertowns.com