Just before lunch on Monday, August 1, a man walked into the new visitors center at Kinzua Bridge State Park in the Pennsylvania Wilds and bought a hand-made ceramic oak leaf magnet for $8.
Abbi Peters, managing director of the PA Wilds Center, smiled as she ran the credit card. With his permission, she took a photo of the customer holding the magnet and posted it to social media. Before long, the picture popped up on The Wilds Cooperative of Pennsylvania Facebook page.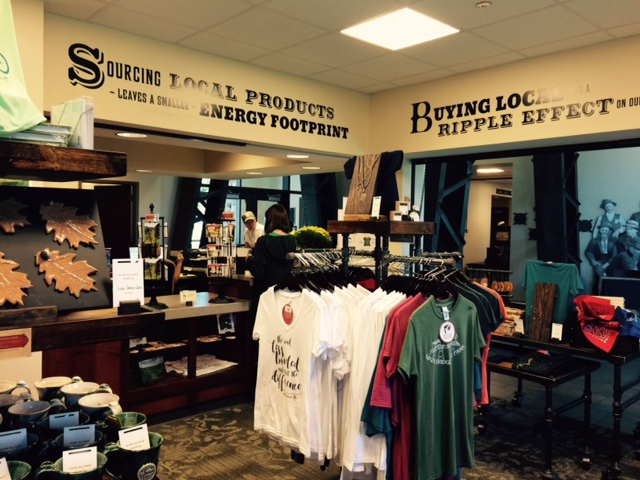 "Way to go Lisa Conklin Conn of Conklin Studio Pottery for having the first sale opening day at the PA Wilds Conservation Shop," the post read.
Within minutes, Conklin Conn, who lives nearby, wrote back: "Completely humbled!!!"
"Congratulations," chimed in Elaine Russell, another PA Wilds Juried Artist from neighboring Potter County.
Peters had spent the previous 30 days in a marathon of local sourcing, ordering, pricing and set-up to get the first PA Wilds Conservation Shop off the ground. Thanks to investments by the West Penn Power Sustainable Energy Fund, the Stackpole-Hall Foundation, the PA Department of Community & Economic Development, and a new public-private partnership with the PA Department of Conservation & Natural Resources, the nonprofit PA Wilds Center was able to launch this project at one of the area's newest major attractions. The Center has already invested more than $20,000 in a dynamic inventory that features everything from hand-forged jewelry and barbecue sauce to locally printed and designed t-shirts and PA Wilds-branded hand-thrown coffee mugs — some of those sat near the register on a tall iron display built by a local blacksmith.
I saw the Pennsylvania Wilds artisan program as the perfect way for me to meet other artists and get connected with galleries and festivals in the area. Stacie Johnson-Leske, Your Fired Pottery
When the $8 was rung up, it completed a circle: a sustainable revenue stream fueling efforts to tie locally-made artisan products to the region's growing tourism industry.
"It was a really great feeling of excitement and accomplishment," says Peters, reflecting on the first sale. "It was that moment that crystalized a lot of planning, hustle and hard work. Until that first sale, it had just been talk, conjecture and ideas."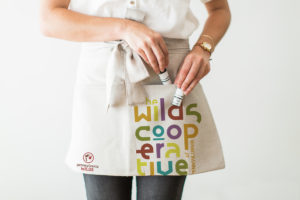 The opening of the PA Wilds Conservation Shop marks a new chapter for The Wilds Cooperative, which went through a major rebranding this spring. The program aims to grow and connect the unique small businesses at the heart of the place-based development happening in the Wilds.
More than 170 businesses are already participating, and the initiative is slated to expand over the next three years thanks to a $500,000 POWER Initiative grant from the Appalachian Regional Commission and investments by the PA Department of Community & Economic Development, the Department of Conservation and Natural Resources and others. An online store, branding tools for businesses, promotional efforts and a Creative Entrepreneurs Conference are all on the docket.
The Wilds Cooperative made it through some rocky years to get to this point. What kept the community motivated were the stories from artisans and the value they found. Here are a few of those voices.
Stacie Johnson-Leske, Your Fired Pottery, Elk County
Stacie Johnson-Leske has been with The Wilds Cooperative since 2011 back when it was called the PA Wilds Artisan Trail. She is in the process of opening a store in downtown Ridgway and submitted wholesale products for the new gift shop at Kinzua Bridge State Park. Her handcrafted ceramic magnets of the historic viaduct sold out fast.
"Around 6 years ago, my husband and I were looking for a rural and outdoorsy place to go on vacation," she recalls. "I discovered the Pennsylvania Wilds through the website. The wild and scenic nature of the region attracted us. We visited Ridgway…and long story short: We bought a house a few months later. 
"I had been making wheel-thrown pottery since 2006," she continues. "I saw the Pennsylvania Wilds artisan program as the perfect way for me to meet other artists and get connected with galleries and festivals in the area. Once I joined, I found out that not only did it help individual artists sell their artwork, it educates us on how to promote ourselves and build our businesses. In addition, it helps small, somewhat out-of-the-way communities grow tourism opportunities and build their local economies through the arts."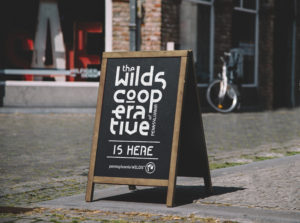 When the PA Wilds Conservation Shop asked for product suggestions, she proposed the ceramic magnets, keychains and coasters, imprinted with stylized images of the Kinzua Bridge and Skywalk. The shop placed an initial order. Johnson-Leske got to work right away, creating the images and adding equipment in her studio to produce the necessary flat sheets of clay. It was a tall order to create an entire new line of products in just over a month, but the magnets and keychains were ready in time for the shop's soft opening.
Less than a week later, she received an e-mail saying that the original run of magnets had sold out and they needed twice as many, as soon as possible. A week later, they were down to one keychain and ordering more.
"I will be approaching other tourism-based gift shops and visitor centers to see if they would like to carry similar items with images specific to their location," adds Johnson-Leske. "I also plan to create custom items for businesses, reunions and as wedding favors."
Deb Ruhf, The Muddy Moose Bath Boutique, Clearfield County
Deb Ruhf recently relocated back to Pennsylvania from Montana. Out west, she was a member of a "Made In Montana" program that promoted locally-made products. Once they settled back in the area, she sought out a similar program.
We are always on the lookout for locally produced work whenever we travel. There's just something special about taking a small piece of your experience home with you. Charles Hughes, Hughes Pottery
"I participated in the first PA Wilds Artsfest at the Elk Viewing Center and later that year submitted my application to become a juried artisan," recalls Ruhf. "I love being part or an organization that supports local artisans and small businesses. Our experience in the Wilds Cooperative has been nothing but positive. I have only been a member for a short time, but I look forward to watching the new Coop brand grow and look forward to other opportunities in the future."  
Joe and Andrea Lanich, The Laughing Owl Press Company, McKean County
Joe and Andrea Lanich grew up in the Wilds, moved away, went to college and had careers in the city. Then they fell in love with printing and moved back to start a letterpress business. Laughing Owl Press began in their garage in the village of Kushequa (population: so small it is no longer recorded) then grew into a rented space in downtown Kane (pop. 3,666). The enterprise continued to grow, allowing the couple to hire three full-time employees and buy a building. These days, the small press makes handcrafted wedding invitations, beer coasters and other inventive products for a growing list of clients around the world. The company has also won a Governor's Award and hosts live music at the shop.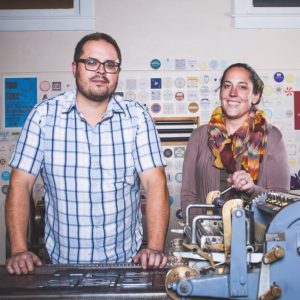 "We joined The Wilds Cooperative in the very beginning of Laughing Owl Press," says Joe Lanich. "At that time, we were still learning the craft of letterpress and were a small-scale artisan business. The Cooperative helped put us on the map, connecting us to a wider network of artisans, business resources and most importantly, customers. It's fun looking back and seeing that as we grew, so did the Cooperative. Even though we are operating at a much larger scale now in our new facility, we are still artisans at the end of the day. We're honored to be a model for how individual artisans can grow into larger micro-manufacturers."
The Wilds Cooperative has been a key partner every step of the way, helping Laughing Owl grow their brand via search engine optimization, online promotion and inclusion on local tourist maps.
"We've gained so much from networking with fellow artisans," adds Lanich. "It can be tough to run an artisan business: Not only are you handcrafting high-quality goods, you also have to run day-to-day operations of a business, from accounting to marketing to customer service. The networking helps keep us sane, but more importantly, feel connected to the spirit of craftsmanship in the PA Wilds."
Charles Hughes, Hughes Pottery, Forest County
This spring, Hughes Pottery became the first pottery business in The Wilds Cooperative to license the PA Wilds logo. They had been making branded ware for coffee shops and brewpubs for years, so working with The Wilds Cooperative was a perfect fit.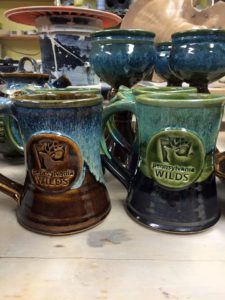 "The artwork is bold and makes a statement, and it looks great on our pottery," enthuses Charles Hughes. "Even at this early stage, we are thrilled to have found a robust market for these branded wares. We currently have two retailers and we've had a strong response from our regular retail clientele, too."
"We are always on the lookout for locally produced work whenever we travel," he continues. "There's just something special about taking a small piece of your experience home with you. That's what we love about the Wilds Cooperative and the PA Wilds effort: It seamlessly combines exceptional travel destinations with quality, local handmade wares to create a wonderful experience."
Stephanie Distler, Stephanie Distler Artisan Jewelry, Elk County
Stephanie Distler has been with The Wilds Cooperative since its inception. When not in her shop, she helps promote members of The Cooperative on social media (now a paid gig) and travels the gigantic region discovering new businesses and encouraging them to join (not a paid gig — there's a reason she won the 2016 PA Wilds Best Brand Ambassador Award). She's also helped spearhead a number of pop-up and invitational shows. The PA Wilds Invitational is coming up at Lynn Hall, the hillside property associated with Frank Lloyd Wright's Fallingwater. Restoration of the historic site began in 2013 — led by Gary and Sue Devore — after the structure sat vacant for almost 25 years.
"I have always had an interest and passion for mid-century modern style and organic architecture," says Distler. "When fellow juried artist Samila Sosic wanted to organize a show together at Lynn Hall I was ecstatic. Samila made a call and after meeting with the owners, the rest just fell into place."
The PA Wilds Art Invitational at Lynn Hall is being held throughout the month of October and will feature juried 2D and 3D artists who are members of The Wilds Cooperative. A reception for the Invitational and an artisan market will be held on October 8, noon to 6 p.m.
TATABOLINE ENOS is Executive Director of the PA Wilds Center for Entrepreneurship. She travels the Pennsylvania Wilds working with small business owners, artisans, entrepreneurs and residents who are helping grow the region's nature and heritage tourism industry. To explore the PA Wilds region, check out PAwilds.com. 
This content was created in partnership with the PA Wilds Center for Entrepreneurship.
*Keystone Edge Publisher Greg O'Loughlin is a founder and partner at SWELL, LLC; the company does branding work for the The Wilds Cooperative of Pennsylvania.