Back in 2005 while honeymooning in Tahiti, Rynn and David Caputo dreamed of quitting their corporate jobs and heading to Italy. Before long, they did, enrolling in a culinary institute in Calabria (a region in southern Italy). While living abroad, the couple ate their way around the country, falling in love with the culture, the lifestyle and especially the cheeses.
When they returned to the States, the Caputos missed that cheese. They also missed the celebration of food essential to Italian cuisine. They wanted to bring that experience to their community in Pennsylvania. The seeds for Caputo Brothers Creamery in Spring Grove were sown.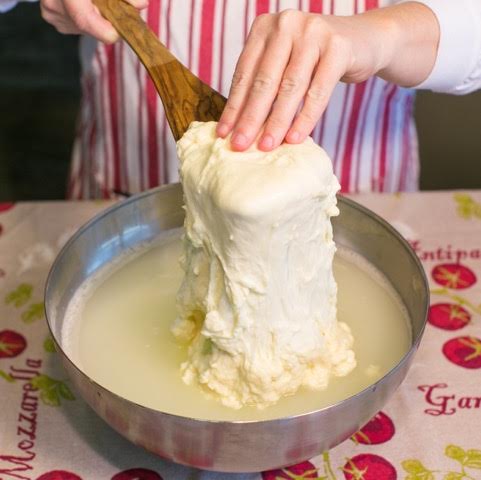 As a start, David, an aspiring chef, and Rynn, who planned to go back to work in IT, bought a 200 year-old farmhouse in rural York County. Almost immediately, they started searching for a reliable milk source, finding their match at Apple Valley Creamery in nearby East Berlin.
"It's just unbelievable that we would buy a property 13 minutes from the best milk supply in a two-hour radius," says Rynn. "We are incredibly fortunate. Finding the right partners was crucial, particularly partners who respect farming practices and maintain herds that are animal-welfare approved."
The Caputos started making cheese, distinguishing themselves as the country's only producer of fermented cheese curd that can be stretched into fresh mozzarella. Initially the couple thought one of them would work outside the home, at least until the business was up and running. They hoped to sell to a few farmers' markets and establish some local customers. But, their dream of a small family business lasted only about three months.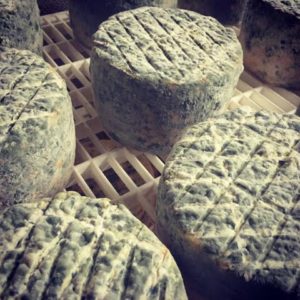 That's when Murray's Cheese, the legendary New York City cheese shop, came calling. With that exposure, the business grew rapidly. Soon they heard from a Michelin-star chef who ordered 250 pounds of curd.
"We never thought we'd be making frozen cheese curd and shipping it out," explains Rynn. "But once Murray's Cheese picked up our frozen cheese curds, things changed dramatically."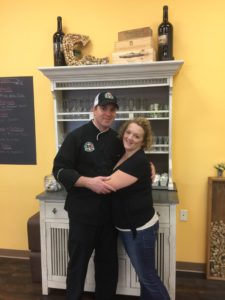 Five years later they are still the only domestic producer of frozen cheese curd that can be stretched into fresh mozzarella. And as their reputation in the culinary world grew, so did their profile in the local community. People were not only buying cheese, but also supporting a series of farm-to-table dinners featuring authentic Italian cuisine.
David Caputo loved the idea of preparing and sharing traditional food with his customers.
"It's the type of food I grew up eating," he says, mentioning his grandparents who emigrated from Italy.
Eventually, the dinners became too large to host at the family home. The demand for their cheeses was also on the rise. They needed a larger facility. In 2014, they relocated the business to Main Street in Spring Grove.
The Caputos worked with designers, modeling their state-of-the-art facility after cheese plants they toured in Italy. The team relishes giving tours and educating the public about the business. They also offer cooking classes and hands-on demonstrations so customers can learn how to stretch fresh mozzarella at home. For those who can't make it to a class, an online tutorial is available on the website. Visitors can sample the goods at La Tavola, an on-site restaurant.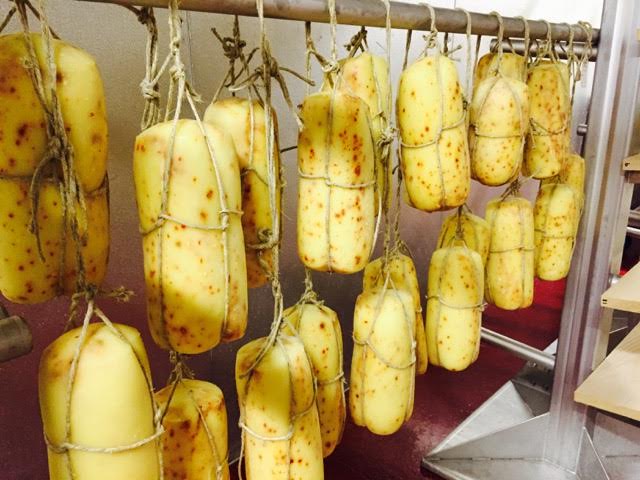 The premises also features a cheese cave — a special storeroom with large see-through glass windows that is visible from the dining room. This temperature-controlled space allows the cheesemakers to age some of their stock. Time magically transforms fresh mozzarella into several different varieties of provola (a young provolone cheese); fresh ricotta cheese morphs into salty, crumbly ricotta salata.
In the retail section, customers can purchase the Caputo's trademark mozzarella (stretched fresh every day) and award-winning ricotta cheese (it took a Blue Ribbon at the 2016 Pennsylvania Farm Show). They can also find imported cured meats and Italian food products that the couple uses in their cooking.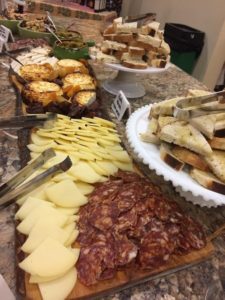 Not in York County? This fall, Mid-Atlantic Whole Foods began carrying Caputo Brothers' provola picante. This creamy gem with a subtle red pepper bite has been dubbed "Philly Pherno."
A lot has changed in the five years since the Caputos began their culinary adventure. The couple now has two young sons, Giovanni and Matteo, for whom the business is named. When the business was in its infancy, Rynn's parents Mike and Brenda Robinson relocated from Virginia to help out. Often one or both of the Robinsons can be found working in the restaurant, giving tours of the cheese plant or tending to the enormous garden that supplies a lot of the fresh fruits and vegetable used on the menu. Most importantly, they lend a hand with their two young grandsons.
Located immediately off the retail area, La Tavola is a bright, cheerfully decorated space where regulars can enjoy a leisurely lunch and catch up with the staff.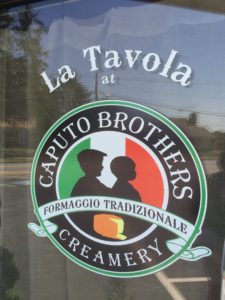 The special "farm table" dinners, which David and Rynn affectionately call "dinner and a show," typically last about four hours and are held a few times a month. The menu is unannounced, and David often waits until a few days before to choose the dishes. He spotlights local, seasonal ingredients and enjoys the challenge of serving up multi-course dinners for close to forty people. Seats sell out quickly and reservations are required. Customers are encouraged to visit the website for an up-to-date listing or call to reserve.
Looking to go bigger? Several times a year the couple host trips to Italy. Participants explore distinctive regions, savor local specialties and "live like a local." Not surprisingly, many travelers become repeat customers.
Since they started their family business five years ago, Rynn and David Caputo have seen their project morph into a cheesemaking juggernaut that ships product all across the country — even as far as Alaska. Last year Caputo Brothers, which currently employs eight people, produced 70,000 pounds of cheese. This year, they plan to make one million pounds.
"We're passionate about cheese," says Rynn. "We want people to experience all facets of the business…the trips, the cheese, the farm-to-table dinners. We want people to experience Italy, to see Italy through an Italian's eyes. Our mission is above all, to honor Italy."
For more information visit caputobrotherscreamery.com or call (717) 739-1091. Hours: 9 a.m. – 3 p.m. Monday – Friday; La Tavola is open for lunch from 11a.m.-2p.m.