Thanks to Dauphin County's Land Bank Authority, one previously vacant mid-state property along the Susquehanna River is literally on the right side of the railroad tracks.
In 2013, Pennsylvania passed a law allowing local government entities to create land banks to purchase and refurbish abandoned commercial and residential properties. The profits from the subsequent sales are invested into the next redevelopment project. And so on. This allows municipalities to turn abandoned properties into economic success stories.
"Dauphin County was first in Pennsylvania to pioneer this property restoration experiment," says George P. Hartwick, III of the Dauphin County Board of Commissioners who oversees housing and redevelopment.
The authority's second and most recent flip was a dilapidated property on Tuscarora Street in Harrisburg, just behind the Glass Lounge on North Front Street. The structure's "before" picture depicts a sagging duplex with asbestos shingles, missing windows and an overgrown yard.
The "after" picture shows a five-unit townhouse development, each with 1,250 square feet, three bedrooms, 1.5 bathrooms, a modern kitchen, wall-to-wall carpeting, an unfinished basement, a deck in the backyard and parking in the front. The five units cost $625,000 to build and will sell for $140,000 apiece.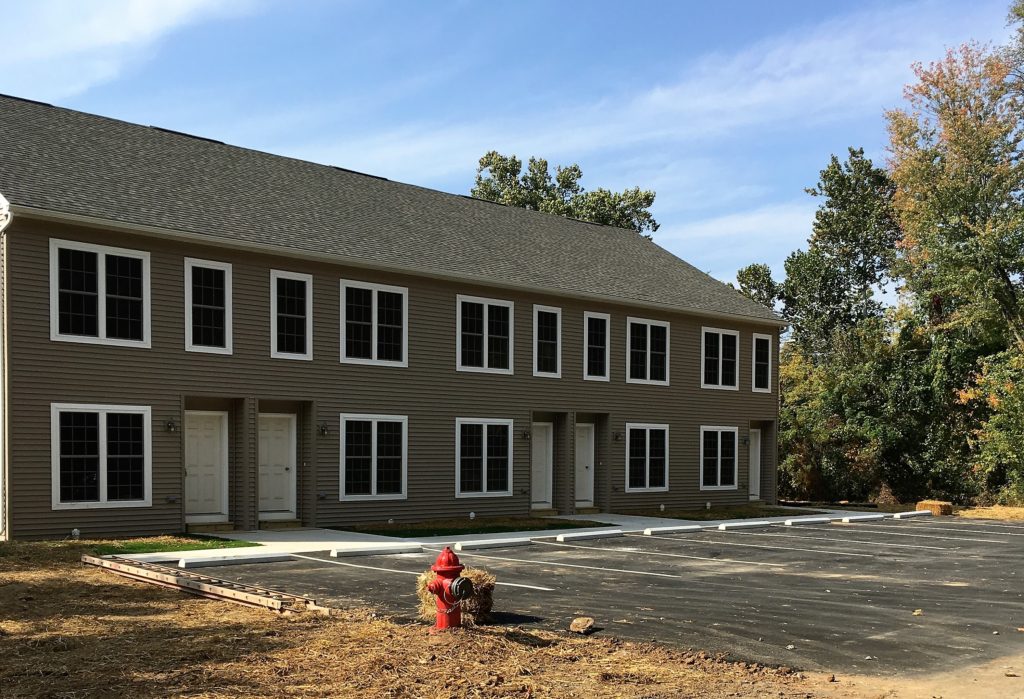 "This site was once a dumping ground with houses falling in on themselves," recalls Commissioner Mike Pries. "There were hundreds of tires stacked inside, with a breeze blowing through holes in the walls. The 'before' and 'after' is just remarkable."
Hartwick calls this project a monumental milestone.
"It's tough to see a warehouse abandoned within a community, then watch as a brand-new warehouse is built down the road," he says. "We're ruining our green space and we're soon going to run out of room for new construction."
"With the removal of these vacant duplexes and the construction of five new homes, we are not only improving this site but the entire neighborhood," adds Commission Chairman Jeff Haste. "The land bank is an important tool for local municipalities to take ownership of their properties, for fighting blight and for resource development."
The effects of these projects ripple out into the entire community.
"The sale of once-blighted properties doesn't only generate value from the sale itself," explains Hartwick. "The entire neighborhood is restored, making it attractive to people who will move in. Those people will root their families here, pay taxes, work with their homeowners' associations, and otherwise contribute to the community."
The land bank will help communities address problem properties and spur further development. This is a visionary, all-hands-on-deck type event built with blood, sweat and tears.Frank Lynch, President of the Susquehanna Township Commissioners
Restoring a property also returns it to the tax rolls and increases the value of neighboring homes.
"Municipalities would not be able to afford to improve [abandoned properties] on their own," adds Pries.
The land bank's $250,000 seed money came from gaming revenue at Hollywood Casino in Grantville. Home sale profits will go back into the land bank. As part of the partnership agreement, half the tax money will be reinvested into the fund for five years.
"The land bank will help communities address problem properties and spur further development," says Frank Lynch, president of the Susquehanna Township Commissioners. "This is a visionary, all-hands-on-deck type event built with blood, sweat and tears. I couldn't be prouder to be part of this authority."
In 2015, the land bank's pilot project was a ranch home on Centerfield Road in Susquehanna Township. After its overhaul, the house sold to a family for $120,000.
For their next job, the board is considering foreclosed properties in Steelton or Penbrook. Steelton Councilmember Ray Spencer says the kind of help the land bank can provide is especially needed in his community, which is landlocked and has difficulty attracting new development.
Future restoration efforts will not necessarily involve new construction. There are possibilities for cleared lots to be repurposed as small neighborhood parks, extensions of a resident's side yard or parking.
As the land bank undertakes more projects, it is serving as a model of successful intergovernmental relations. Stakeholders credit the effort's impact to a collaborative, bi-partisan approach. For each project, all parties work under a memorandum of understanding agreement and cooperate with the state legislature, the school district and local municipalities.
To drive the effort forward, the land bank also partners with private entities. For the Tuscarora Street building project, B.S. Smith Services, Inc., and Smith Homes Inc. led the onsite construction. HRG lent its engineering expertise. Cyndi Brown of Coldwell Banker serves as real estate agent for the block of homes.
In related efforts, Dauphin County reorganized its Illegal Dumping Task Force to work with local governments to clean up sites and to develop strategies to prevent future dumping. An Infrastructure Bank offers low-interest loans to municipalities for road and transportation projects. Financing comes from liquid fuel taxes and state funding.
When discussing the success of the land bank, Hartwick cites the long history of blight in certain parts of Dauphin County, adding that there is more work to be done.
"Rebuilding one property is the rising tide that lifts all ships for the entire community," he says.
Gina Napoli is a freelance writer living in Dauphin County.