A startup nonprofit in State College is giving voice to those who cannot speak. Project Vive has developed the Voz Box: a low-cost, speech-assistance device for those with conditions such as cerebral palsy or ALS that render them unable to communicate vocally.
"The box works like this: Each user is fitted for a customized sensor based on what part of their body they have the most control over," explains founder Mary Elizabeth McCulloch. "For example, we have a foot sensor for a woman who has greatest control in her left leg. We're also working on gloves with sensors for motions like the press of a finger, raise of a hand, wrist twist and more. The sensor is connected to the box, which contains the custom-programmed board and Bluetooth capability.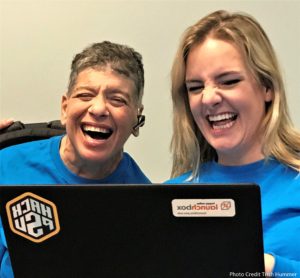 "The box takes movement from the sensor and sends that to an earpiece," she continues. "The earpiece asks the user what they'd like to say through various menu options that the user clicks through using their sensor. When they have selected their statement, that is broadcast out through a speaker."
McCulloch, a Penn State biomedical engineering graduate, was inspired to develop the technology while working with disabled adults and children — including many who couldn't speak — as an exchange student in Ecuador. The company's name draws from the Spanish word "vive" or "to live" and "voz" which means "voice."
Project Vive worked through several prototypes before its public debut in September at Happy Valley Launchbox, the Penn State accelerator. As reported on statecollege.com, Arlyn Edelstein of Johnstown, 70, who has non-verbal cerebral palsy, presented her poetry to the public for the first time.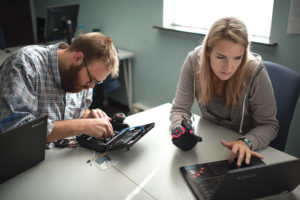 "During my life, I have written dozens of poems, but now I can say them before an audience," she said.
Shortly afterward, Project Vive launched a successful crowdfunding campaign, raising $13,000 and enabling McCulloch and her team to build 13 Voz Box devices, customized for Pennsylvania residents who range in age from their teens to their 60s. Many speech generation devices on the market cost $10,000 and up; the Voz Box system costs $1,000 for the device, customization, training and maintenance.
In December, McCulloch presented the technology in Ireland at an ALS assistive technology research conference. The company continues to focus on capital development and expanding relationships with domestic and overseas partners such as the Penn State Hershey ALS Clinic, part of the Greater Philadelphia ALS Association Chapter, and with a Sri Lankan academic who used the technology to enable a 16-year-old with cerebral palsy to speak.
Donations to Project Vive, a nonprofit, are tax-deductible.
ELISE VIDER is news editor of Keystone Edge.