"Thanks for getting me out of math class."
Those were the words Martha, a tenth grader, said to quilter Denise Hoke in 2014. Ironically, Martha was using geometry to lay out an 8-by-8 painted "quilt" on two sheets of plywood in her high school art room in Newport, PA. The Perry County Council of the Arts (PCCA) had placed Hoke, a professional fabric artist, in Martha's school as an artist-in-residence for two weeks.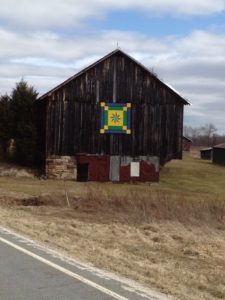 What Martha saw as an upgrade from class was in fact part of a much larger PCCA initiative that's equal parts arts education and community building. The organization's Quilt Barn Trail is a county-wide loop of twelve painted quilts that have been mounted on barns along local roadways. Students from Perry County's four school districts participated in this arts-residency program. Motorists who drive the trail stop along the way to eat lunch, get gas, go antiquing, shop at art galleries, peruse farmers' markets or indulge in local wine.
In cases like this, the arts can be a powerful economic tool, drawing visitors to the area for journeys of discovery. And this initiative is just a small part of what PCCA does.
"Each year, more than 50,000 adults and children take an art class, see an exhibit, display their artwork, attend a concert, take photographs, read poetry, buy local artwork, hold community meetings, dance, sing or paint," says Executive Director Roger Smith, "all under the auspices of PCCA."
It wasn't always this way.
"It all started back in 1979 with eleven of us sitting around a kitchen table looking for ideas on how to celebrate the arts," recalls Carol Vracarich, the first PCCA executive director. "Sherri DeMoss, a classical musician and teacher, and Joan Holman led the efforts. Sherri wanted a concert series and applied to the Pennsylvania Council of the Arts for a grant to start the Sunday Arts Hours at the Fetter House in Landisburg, which opened in 1981."
It all started back in 1979 with eleven of us sitting around a kitchen table looking for ideas on how to celebrate the arts.Carol Vracarich
In 1984, the group inaugurated a festival at Little Buffalo State Park about a mile west of Newport. The event continued to snowball and in 1993 a team of volunteers led by Tom Vracarich built the Moore Pavilion in the park. The structure provided a permanent stage for performers, allowing visitors to enjoy musical entertainment on a beautiful September weekend in the country.
The Little Buffalo Festival has since added supplemental music and arts programs, as well as a host of activities for children. And the crowds keep growing — for many Pennsylvanians, it's their introduction to Perry County.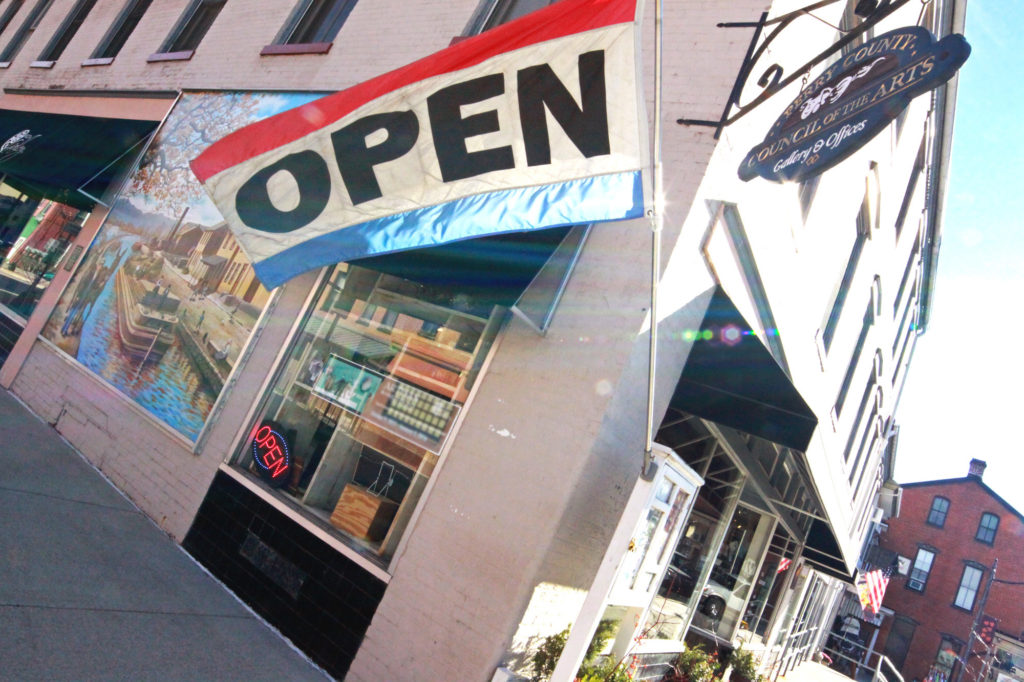 PCCA has grown, too, bringing new opportunities.
"In 2000, PCCA opened a gallery on the square in Newport, which now showcases the handcrafted work of more than 150 artists from around the region," says Smith. "It's important to note that approximately fifty percent of the gallery's customers hail from outside the county."
In 2004, PCCA was named an Arts-in-Education Partner of the Pennsylvania Council on the Arts. This made PCCA responsible for placing artists in classrooms in Perry, Juniata, Mifflin, Huntingdon, Snyder, Union and Northumberland counties, expanding the organization's regional impact. During residencies that last between 10 and 75 days, these talented professionals mentor students in schools and offer enhanced learning.
"For example during a recent residency, students in Warrior Run School District of Northumberland County created a 4,600-square-foot mural on the outside of the middle school auditorium," says Program Coordinator Amy Beaver. "[In another], Newport High School students produced videos about artifacts made available at a local historic home, Landis House. Visitors were able to use their smart phones to access information about the artifacts."
Upon her death in 2004, Mary Landis bequeathed her home on Fourth Street in Newport to PCCA with the proviso that it become a community arts center. Within the property, there are scores of Meissen and Dresden figurines, flapper dresses, artwork from noted European artists, a 90-year-old Bechstein grand piano, and many other fascinating items brought from Germany in the mid-1930s.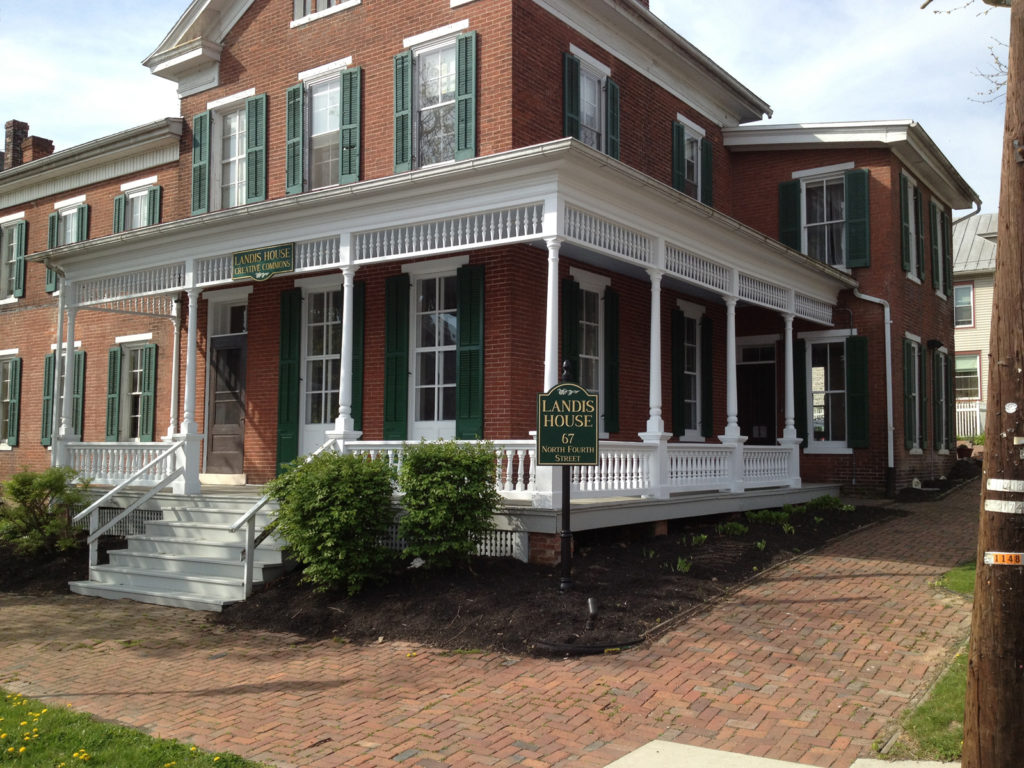 In accordance with Landis' wish, the beautiful building has been transformed into a "Creative Commons" — a venue for recitals, classes and exhibitions. Performances range from classical music to jazz to bluegrass, and have featured noted pianists such as maestro Stewart Malina from the Harrisburg Symphony Orchestra and jazzman Steve Rudolph, both of whom have been attracted by the magnificent piano.
Classes at Landis House range from a one-day jewelry making workshop to a year-long novel writing course. Installations have included one-artist shows, themed exhibitions showcasing contemporary artists and displays of artifacts from the house collection.
In 2014, PCCA spearheaded the creation of Second on 2nd, a collaboration of downtown merchants that celebrated Newport's independent shops. The effort has since lapsed, but it was a powerful display of the growing slate of businesses available to visitors and residents alike. Come for the arts, stay for a meal and a stroll.
Each year, more than 50,000 adults and children take an art class, see an exhibit, display their artwork, attend a concert, take photographs, read poetry, buy local artwork, hold community meetings, dance, sing or paint.PCCA Executive Director Roger Smith
Cheryl Miller ran a natural food stand at the Broad Street Market in Harrisburg for many years before opening her restaurant, Espresso Yourself in Newport.
"We serve coffee and sweet treats," says Miller, "as well as breakfast and lunch from a menu featuring natural, organic and local ingredients."
Another popular business is Butcher's Farm Market. Stacey and Mark Butcher bring fresh produce from their 100-acre farm directly to the shop. It's not just their neighbors who frequent the market — customers from the city arrive looking for kale and other fresh products. In addition to the vegetables, fruits and flowers on display, the apple and peach dumplings are a can't miss.
In 2007, PCCA was named the Best Arts Nonprofit in the country by NICHE magazine. In 2016, the PCCA Gallery was honored by the readers of Harrisburg Magazine with a Readers' Choice Award for Art Galleries.
It's a grassroots success story: the organization has cultivated and promoted a thriving arts culture in Perry County, and well beyond its borders. PCCA's work helps lure visitors to Newport and the surrounding neighborhoods. Once they're in town, local businesses benefit.
PCCA currently claims a roster of more than 600 active members and legions of volunteers who log roughly 2,000 hours of service annually. As a measure of PCCA's commitment to the region's creative industry, more than a quarter of PCCA's $400,000 operating budget is paid directly to performers, instructors, demonstrators, artists-in-residence and artists whose works are for sale at the gallery.
Not bad for an organization that started 37 years ago with eleven folks around a kitchen table.
Don Helin published his first thriller, Thy Kingdom Come, in 2009; his second, Devil's Den, was published in 2012. His third, Secret Assault, was selected as the best Suspense/Thriller at the 2015 Indie Book Awards. Don's most recent thriller, Angel's Revenge, was published this past May. Don is an active member of the Perry County Council of The Arts. Contact Don via his website, www.donhelin.com.