Our new series "On the Way To…" was created in partnership with the Pennsylvania Department of Community & Economic Development and the Pennsylvania Tourism Office. Over the next year, we'll be highlighting some of our favorite Pennsylvania events and attractions, and letting you know how to make the most out of your road trip.
Architecture is about function, but it is also about aspiration. Skyscrapers serve as man's monument to the heavens while ornate villas project opulence for their owners. And perhaps no structure in America exemplifies the synthesis of architecture, environment and emotion like Frank Lloyd Wright's Fallingwater.
Designed as a getaway for the Kaufmann family — who rose to prominence as Pittsburgh department store owners — the home is built into rock above a 30-foot waterfall. It was constructed in Wright's signature "organic architecture" style: He sought to have his structures work in harmony with nature. However, achieving that harmony was no easy task as building atop a waterfall is much more difficult than building adjacent to one.
Located in Mill Run, Fallingwater might be Wright's most famous structure — the American Institute of Architects named the house "best all-time work of American architecture." This spring is an excellent time to visit as the country celebrates what would have been the iconic designer's 150th birthday.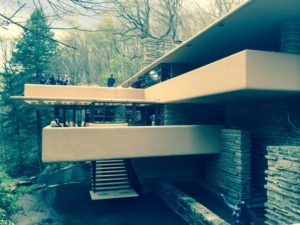 Fortunately, a trip to Fallingwater is as relaxing as it is inspirational. Guests can tour the multi-level house and bask in the sunshine on the home's outdoor decks while listening to the sound of the waterfall trickling below. The property is nestled in the forest and it's not hard to imagine what an idyllic escape it must have been for the Pittsburgh family.
The site also features a café serving tasty, locally sourced food and desserts, restrooms and an exhibit detailing the history of the house and the area, which was once a haven for Steel City residents.
Now that we've convinced you that Fallingwater is a must-see, here are some other nearby gems, both nature-hewn and man-made, that will take your trip to the next level.
***
Just seven miles south of Fallingwater in Chalkhill is Kentuck Knob, another Wright structure. One of his signature designs, the house is constructed on a hexagonal module. Situated on the crest of a hill, 2,050 feet above sea level, the building appears to be part of the landscape itself.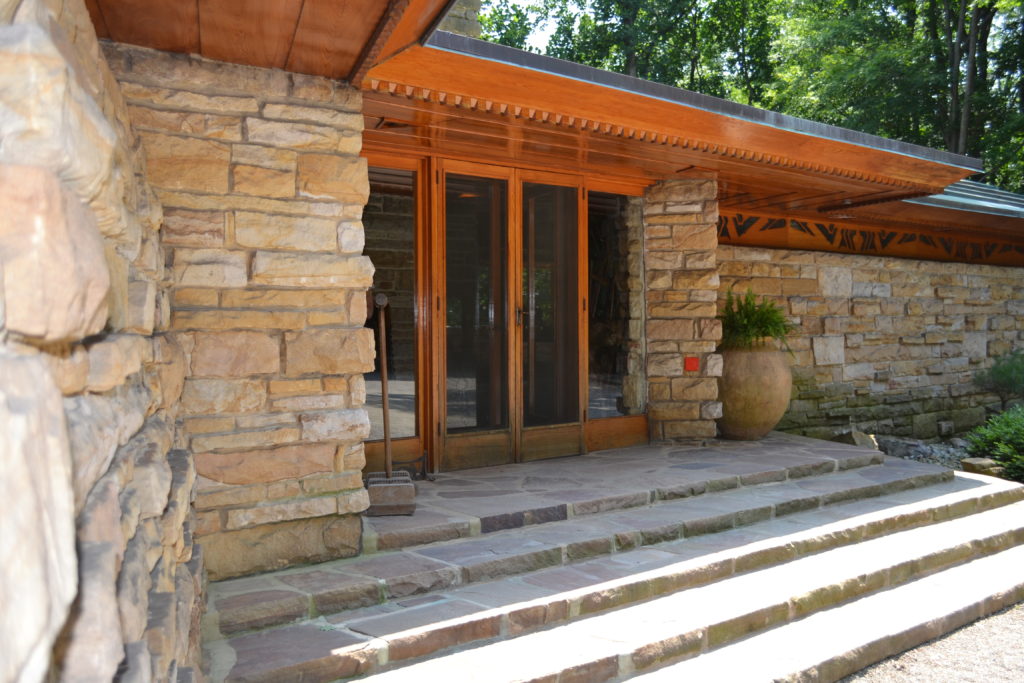 "No house should ever be on a hill or on anything," Wright once said. "It should be of the hill. Belonging to it. Hill and house should live together, each the happier for the other."
Kentuck Knob offers views of the Laurel Highlands and of the Youghiogheny River Gorge. In addition to the home, the property features a collection of more than 30 sculptures placed in the landscape by artists including Claes Oldenberg, Phillip King and environmental sculptor Andy Goldsworthy. Though the house is privately owned, it is open for tours and boasts a café and gift shop. 
***
Still haven't gotten your Wright fill? A little over 20 miles north of Fallingwater lies Polymath Park in Acme. The original plan was for the site to host a series of Wright homes but today it boasts just three, two of which were designed by Wright apprentice Peter Berndston, and one of which, the Duncan House, was designed by Wright himself.
In a special treat, visitors can arrange to stay overnight at the Duncan House, which was relocated to Pennsylvania after being rescued and transported in pieces from its original site in Illinois.
No house should ever be on a hill or on anything. It should be of the hill. Belonging to it. Hill and house should live together, each the happier for the other.Frank Lloyd Wright
If sleeping over is beyond your budget, tours of the property are available March through December. Many feature food or wine from Treetops Restaurant, which serves New American fare in an incredibly scenic location and is open regularly for lunch and dinner. Tickets to Polymath Park tours can be purchased through Fallingwater or by calling 724-329-8501.
***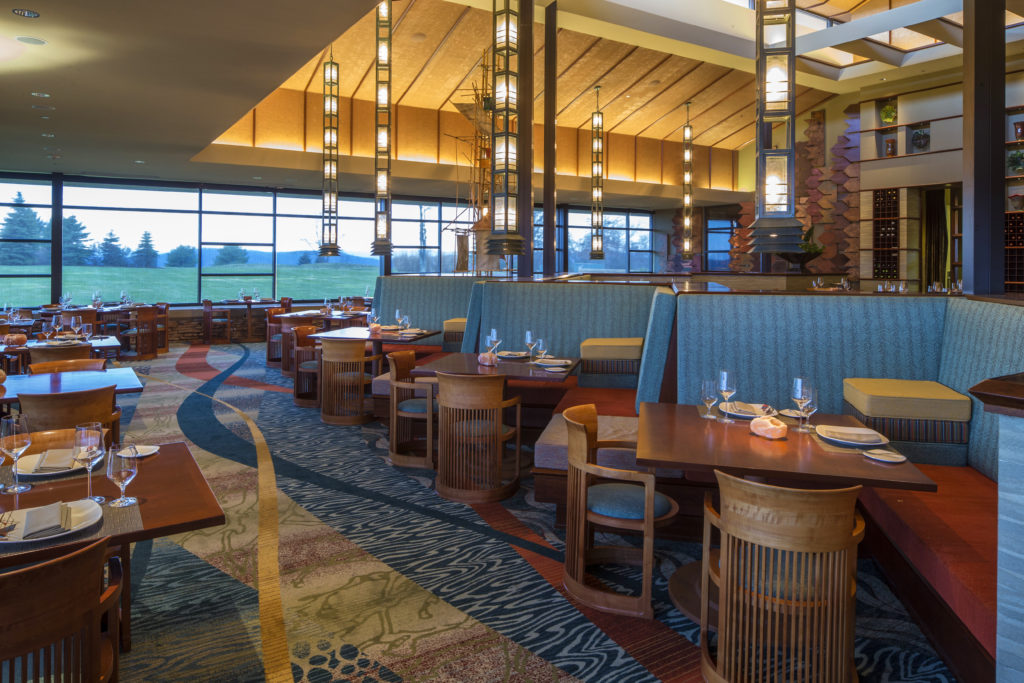 If you get peckish while on the Wright trail, Nemacolin Woodlands Resort is just a 21-minute drive southwest of Fallingwater. It boasts several different eating options including Lautrec, which has been awarded a five-star rating in the Forbes Travel Guide nine times. Only 62 establishments in the world received that honor this year, and only 29 (including this fine dining spot spot) hold both the Forbes prize and the coveted AAA Five-Diamond award.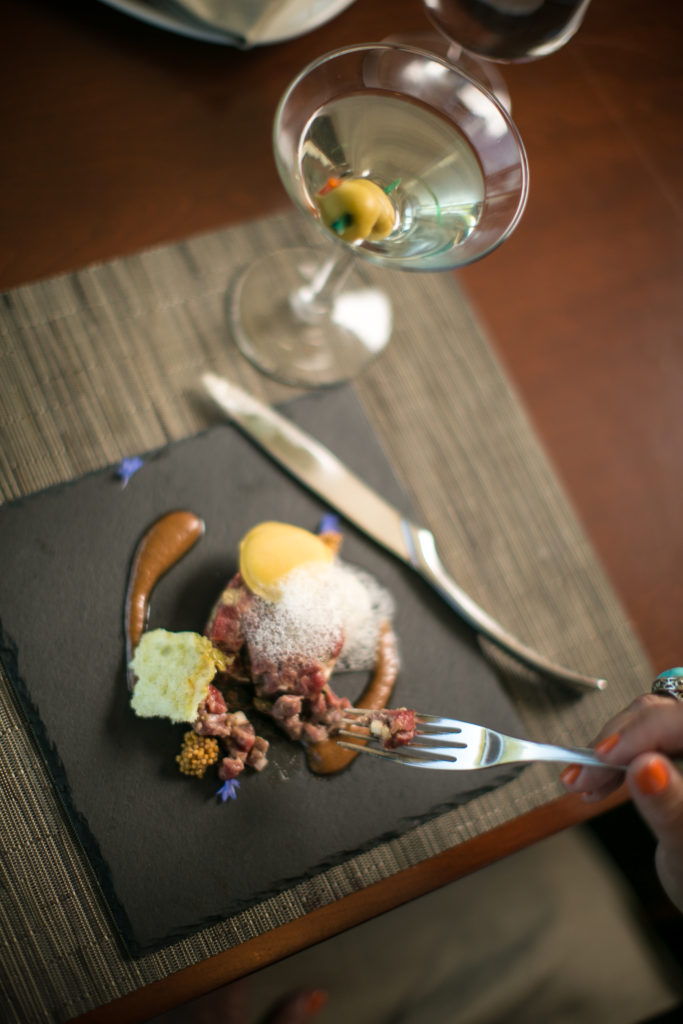 But since this is a Frank Lloyd Wright inspired journey, you might want to check out Aqueous, the resort's gorgeous and more affordable Wright-inspired restaurant. The open space offers views of the Laurel Highlands as well as the resort's golf course.
Looking for something more casual? Grab a sandwich and peruse a few antiques at the Bittersweet Café. Located 18 minutes southwest of Fallingwater, the farm-to-table spot serves up smoothies, coffee and more at its gorgeous mountain location. Just a note: the family-run eatery is closed Tuesdays and Wednesdays.
***
If a further exploration of the relationship between architecture and landscape is on the agenda, plan a stop at the Flight 93 National Memorial. While the design goals of a memorial may at first seem markedly different from those of a residential property, this site, located just over an hour northeast of Fallingwater, will challenge that notion.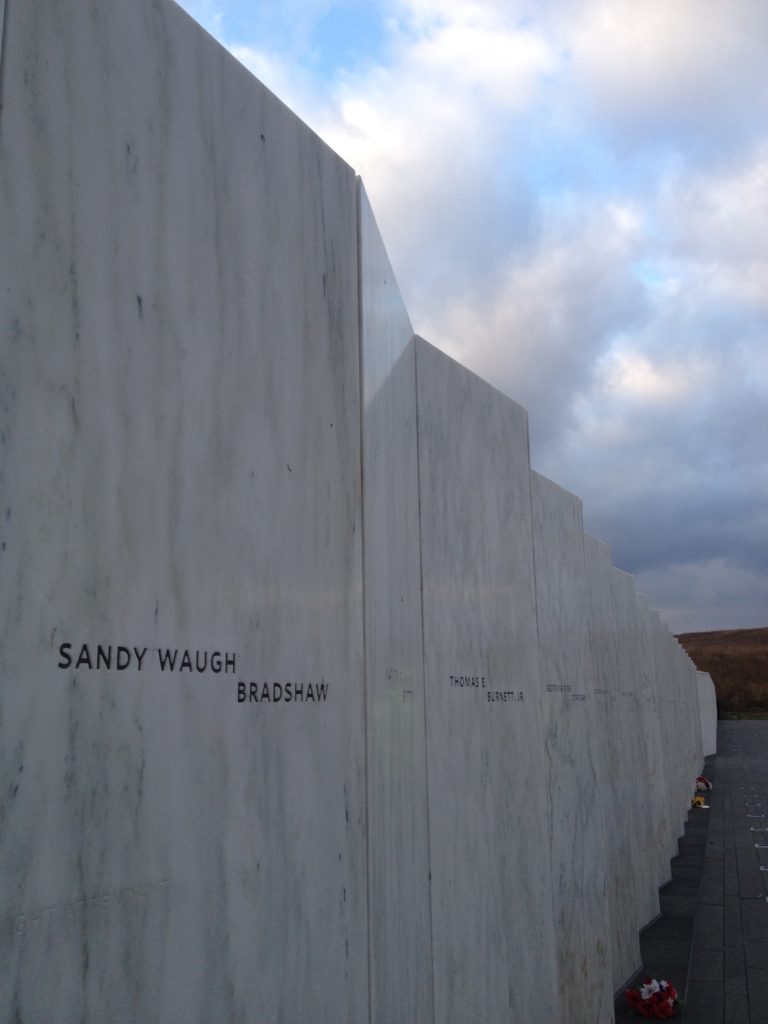 The expansive monument — set atop rolling hills — offers a similar albeit more somber meditation on the relationship between humans and nature.
A visitors center at the crash site tells the stories of the brave men and women who lost their lives; their names are engraved in tall marble markers shielding the actual crash site.
More than 1,100 architects from 27 countries submitted designs for the memorial. A minimalist concrete and marble plan by Paul Murdoch Architects was selected. The simple yet elegant design allows visitors to focus on the gravity of that day while also appreciating the landscape, which came to be both a location of sorrow and a symbol of resistance.
***
Stone is a theme in Wright's work and also prevalent at the memorial site, so why not get a closer look at Pennsylvania geology by sinking deep inside Laurel Caverns, 20 miles southwest of Fallingwater? The calcareous sandstone cave offers more than three miles of underground passages and is a cool 52 degrees year-round due to its depth. Most of the cave ceilings are between 10 and 20 feet high, with many as high as 50 feet, making it the state's largest cave.
According to the Caverns' website, the feature was initially discovered by Native Americans. However, in 1802 "two Smithfield men became lost in the cave for three days. When found, they were locked in each others' arms waiting for the end, almost dead." The men survived, but the cave entrance was sealed shut for several years after.
The calcareous sandstone cave offers more than three miles of underground passages and is a cool 52 degrees year-round due to its depth.
The caverns are located on Chestnut Ridge in the midst of public forest lands, but the 435-acre property is privately owned. Visitors may participate in guided walking tours; the more intrepid may spelunk with proper training and equipment.
If cave exploration isn't in the cards, the property also features Kavernputt, a themed mini golf course.
The cave will re-open April 19 following bat hibernation season and close again in October, when the winged mammals once again take up residence in the state's largest bat hotel. Visit laurelcaverns.com for precise directions to the cave as they are a bit complex.
***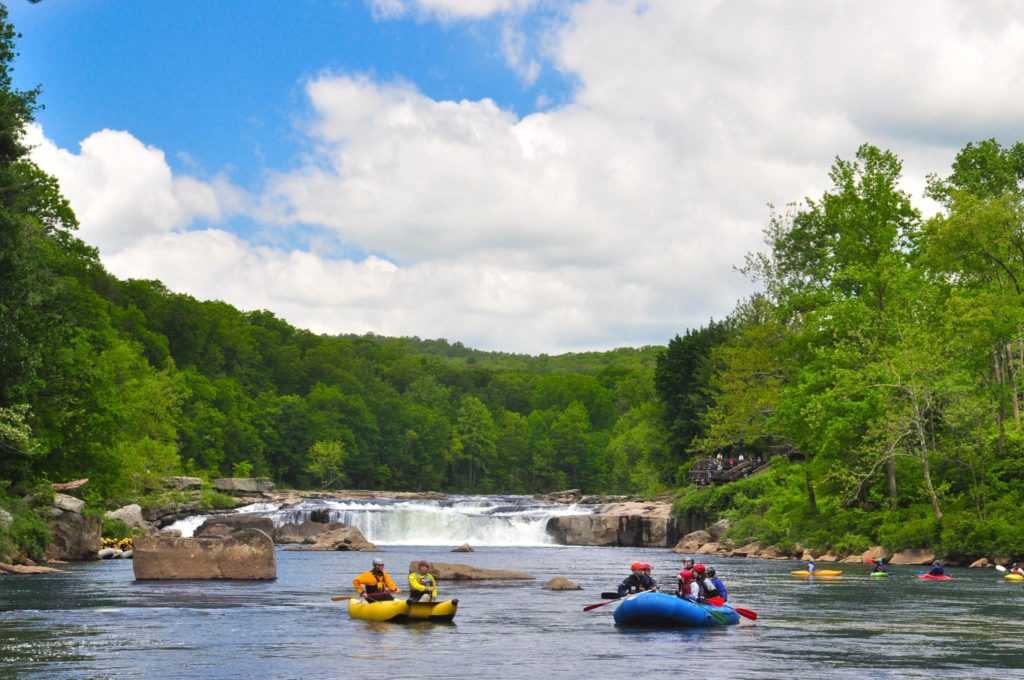 Once you've experienced sitting atop a waterfall at Fallingwater, why not try getting wet?
Nearby Ohiopyle State Park, about two miles south of Fallingwater, offers whitewater rafting on the Youghiogheny River with class 1 through 4 rapids. A number of different tour boat operators offer boats for rent and guided trips for safe passage.*
The park also features trout fishing and seasonal camping in yurts, camping cottages or tents (beginning in April). There are also miles of hiking trails, so just pick a route or set out to Cucumber Falls and envision living in your own architectural masterpiece perched atop.

The beautiful landscape of Pennsylvania offers no shortage of inspiration and looking around at the mountains or the waterfalls in the state park, it is clear Wright had much to draw from.
ELIZABETH DALEY is a New York City native and freelance writer who relocated to Pittsburgh in search of a better life. Her work has appeared in USA Today, The Christian Science Monitor, Reuters and numerous San Francisco Bay Area publications. Follow her on twitter @fakepretty.
* Laurel Highlands River Tours
4 Sherman Street, Ohiopyle, PA 15470
800-4-RAFTIN (800-472-3846)
www.laurelhighlands.com
Ohiopyle Trading Post and River Tours
4 Negley Street, Ohiopyle, PA 15470
888-OHIOPYLE (888-644-6795)
www.ohiopyletradingpost.com
White Water Adventurers
6 Negley Street, Ohiopyle, PA 15470
800-WWA-RAFT (800-992-7238)
www.wwaraft.com
Wilderness Voyageurs
103 Garrett Street, Ohiopyle, PA 15470
800-272-4141
www.wilderness-voyageurs.com