A stroller that folds and unfolds like origami at the touch of a button. A Bluetooth-enabled bouncy seat that mimics the natural movements parents make to comfort a baby. A self-installing car seat.
For decades, baby gear was pretty much the same: bulky and frequently confounding to its adult users. In 2006, 4moms launched in Pittsburgh with the idea that by leveraging robotics and innovative design, the company could transform the industry. Today, the Steel City standout continues to roll out groundbreaking products, while its 4moms Cares program supports children and families nationwide.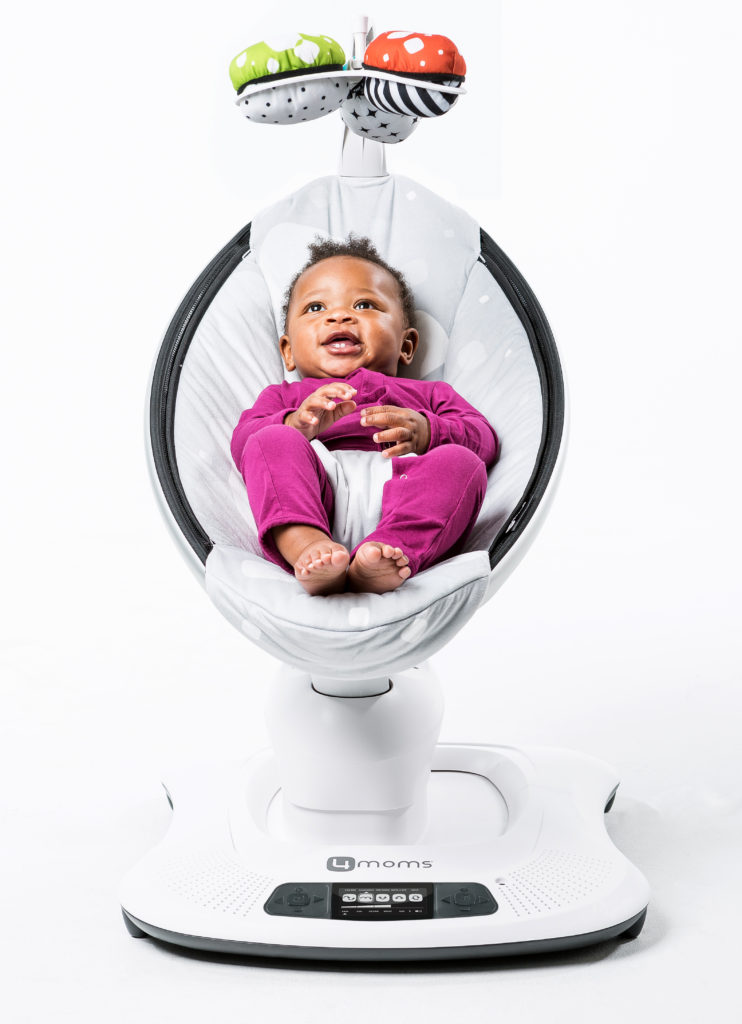 The company is the brainchild of roboticist Henry Thorne and entrepreneur Rob Daley, who met over lunch in 2004 to explore business ideas. After settling on the $8.9 billion juvenile product industry as their target, the duo established parent company Thorley Industries and convened a focus group of mothers (hence the brand's moniker). That group explored what the company calls "juvenile product pain points." This led to 4moms' first invention: an infant tub that lets clean water flow in while dirty water flows out, keeping the baby in fresh water.
In the years since, 4moms has cultivated an impressive product line and attracted millions in investment capital, including funds from Innovation Works (IW) where it is a portfolio company. The connections between IW and 4moms' founders go back years, so it was a perfect fit.
"Henry was a successful serial entrepreneur and proven [at] integrating new technology with staid products and disrupting markets," says Frank Demmler, IW's vice president of entrepreneurial service. "Rob was an experienced business guy whose skills and experience prepared him to run the business, allowing Henry to devote his time to engineering and inventing. 4Moms was a natural evolution of [their] entrepreneurial juices."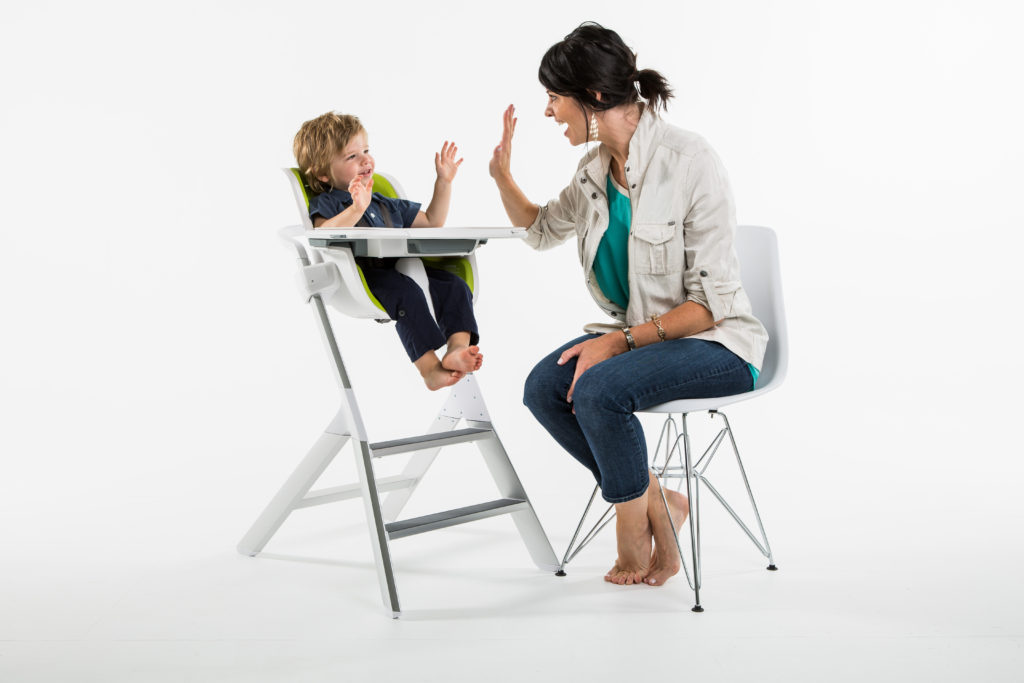 In 2014, 4moms expanded to a 78,000-square foot facility in Pittsburgh's happening Strip District, where 75 employees occupy lab space equipped with 3D printers for rapid prototyping, an in-house photo studio and offices. In 2015, the company reported 25 percent revenue growth.
Since launch, research and development (R&D) has been a constant.
Our engineering team is based here, and all of the ideation, R&D and testing occurs in Pittsburgh.Teresa Hammond
"At 4moms, we design our products with parents in mind," says Teresa Hammond, vice president for sales and marketing. "How can we make their lives easier? What would they change or add to a product to better fit their lifestyle? That's why we conduct a ton of research when we develop new products. We like to keep real parents engaged throughout the entire process. We have a team in-house that conducts consumer field tests…This feedback dramatically impacts our final decisions regarding product feature sets.
"All of our design and prototyping happens right here," she adds. "Our engineering team is based here, and all of the ideation, R&D and testing occurs in Pittsburgh."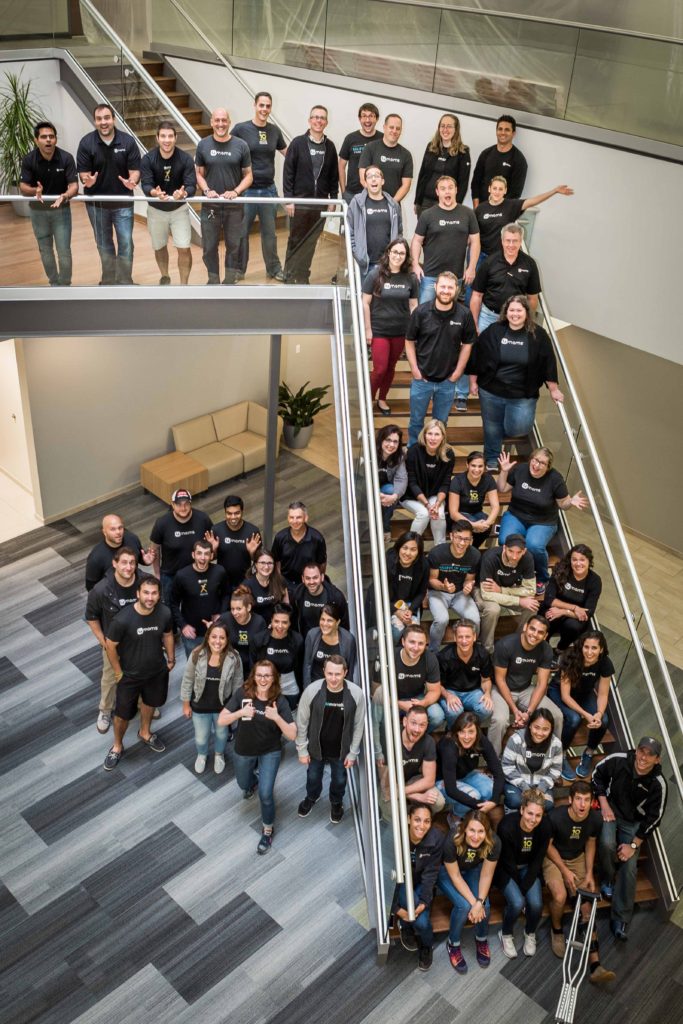 The resulting product line is sold nationwide and in over 30 countries. It includes the 4moms origami stroller which, besides folding and unfolding itself, charges a cellphone, counts miles, and sports LCD daytime running lights, pathway lights and child safety sensors. Generators in the rear wheels keep the stroller charged as it moves.
The self-installing car seat stabilizes itself by automatically leveling and tensioning, verifies the installation before every ride, and continuously monitors its status during use. Car seat safety can be extremely crucial because that is the time when parents need to focus on driving more than they can on their child, and such features can help qualify a car seat for being one of the best car seats for 3 across. The integration of technology into such products has added a level of reliability to car seats for parents all over.
The mamaRoo infant seat mimics how parents comfort babies. ("Parents don't vibrate like a bouncy seat or swing like a swing," says the company.) The product has five motions: car ride, kangaroo, tree swing, rock-a-bye and wave. It also features an LCD interface, soothing built-in sounds, an mp3 hookup, reversible toy balls and a washable seat cover. The Bluetooth-enabled seat allows parents to control the seat's motion, speed and sound directly from their iOS or Android device.
Lastly, the 4moms high chair uses magnets to attach trays — and keep bowls and plates in place — minimizing mealtime messes.
At 4moms, we design our products with parents in mind. How can we make their lives easier?Teresa Hammond
New products are always in the pipeline –Hammond promises two new launches this summer and a "commitment to the car seat space."
The company's ambitions go beyond the retail arena. Nearly ten years ago, they launched the 4moms Cares program "as a way that our team can give back to the community, both in Pittsburgh and nationwide," says Hammond. "Our mission is to dramatically impact the lives of children and families in need through meaningful product donations, hospital discounts and supporting our local communities."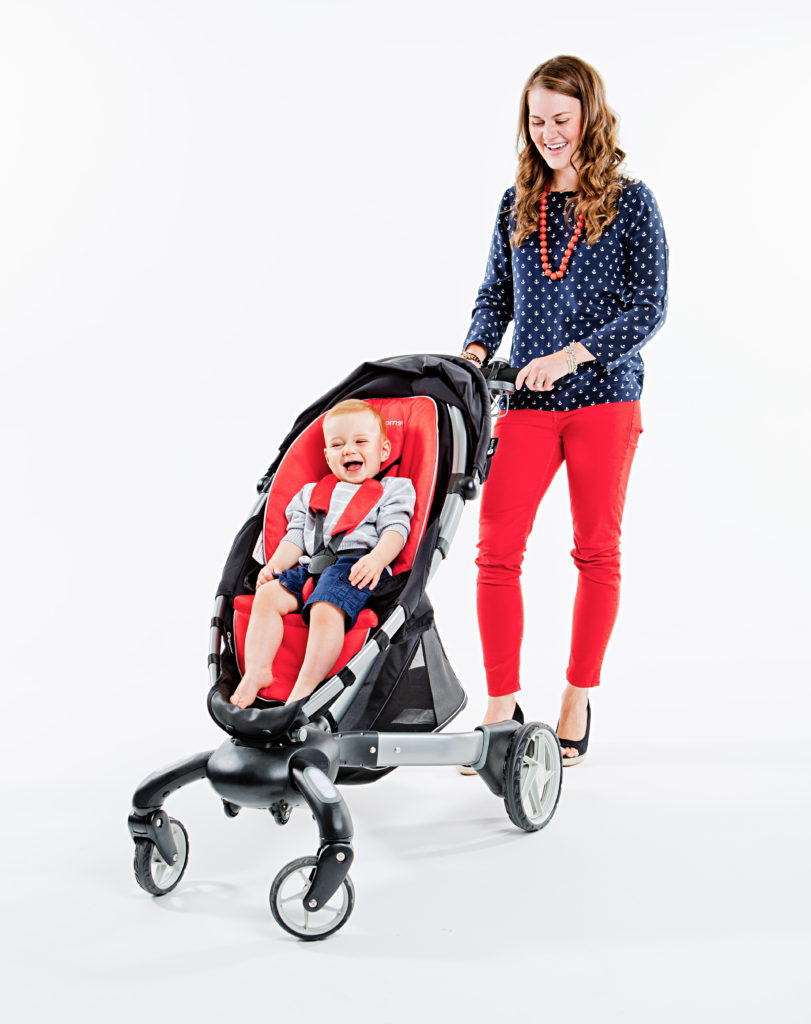 4moms Cares has donated nearly $340,000 in products to families and nonprofits, and offers deep discounts to hospitals and health care centers. The mamaRoo infant seat is used in more than 300 maternity wards, newborn intensive care and pediatric units. Doctor and nurses have found it transformational in caring for preemies and babies with severe conditions like Neonatal Abstinence Syndrome, which affects babies born to drug-addicted mothers.
In September, 4moms Care hosted an event at the Children's Hospital of Pittsburgh, donating 100 mamaRoos to the newborn intensive care unit and 50 to families about to take their babies home.
In another aspect of the program, 4moms' engineering team hosts robotics camps at the company headquarters to encourage kids to pursue robotics and STEM (science, technology, engineering and math) education.
IW's Demmler, who has observed the company's growth from the outset, says their strengths exemplify what it takes to be a successful startup: "Passionate entrepreneurs. Satisfying a real market need. Unwillingness to accept 'no' from the naysayers and belief in themselves. Courage to step out of their comfort zones, master new skills and attract driven professionals who have skills and industry experience."
Hammond ascribes 4moms' vitality to a values system that prizes innovation.
"Our philosophy on the future of technology is not in the stories of science fiction, but in products with everyday uses that are accessible and solve real world problems for consumers," she says.
ELISE VIDER is news editor of Keystone Edge.
Innovation Works is the Ben Franklin Technology Partner of Southwestern PA; Ben Franklin Technology Partners is an investor in Keystone Edge.