In 2010, Reading had a Latino population of 58 percent, up from 37 percent in 2000 (U.S. Census). So it's no surprise that the city is rife with wonderful international eateries, even if they often don't make the "Best Places to Eat in Reading" lists that focus on fine dining or restaurants outside Reading proper.
Of course finding those authentic Salvadorian, Dominican, Mexican or Caribbean spots — and knowing what to order– can prove a challenge for the out-of-towner, suburban visitor or local alike. Fortunately, there are people working to change that, including Johanny Cepeda, restauranteur and director of the Latino Chamber of Commerce; Daniel Egusquiza, owner/host of Barrio Alegria's Delicioso Food Tours; Valeria Peña, president of Reading Area Community College's International Multicultural Club; and foodie and blogger Zachary Brown.
Across from a bodega and barbershop, just a couple of blocks off of the city's main corridor, the tiny El Tronco (101 South 6th St.) has a big reputation: Come summertime, outdoor BBQ smoke welcomes regulars from the surrounding neighborhood and Greater Reading's suburbs. Inside, old-school vinyl covered chairs, simple four-top tables and cafeteria-style serving creates a relaxed atmosphere.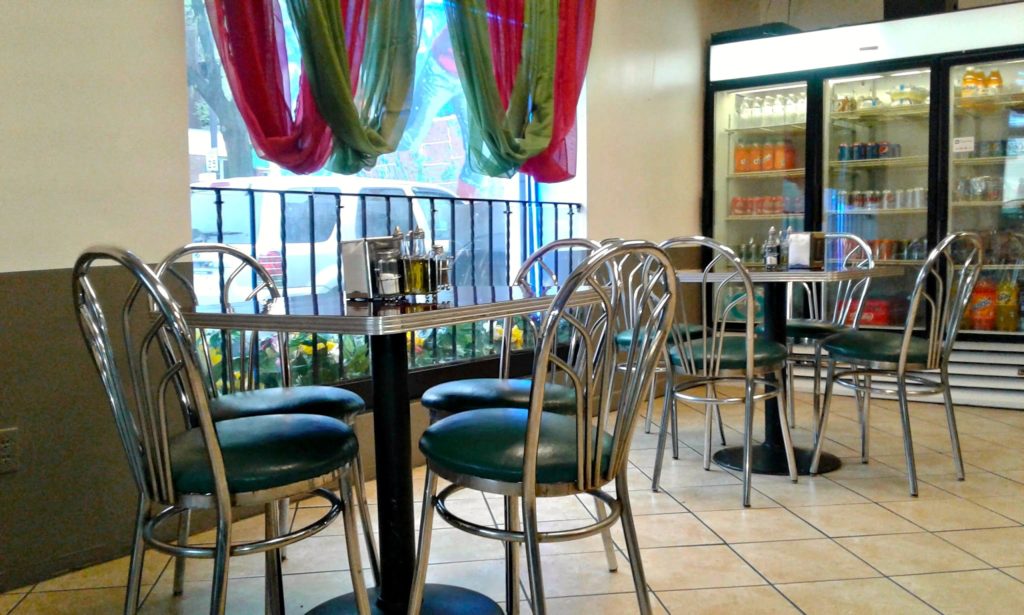 Angel Torres, a Reading resident for 13 years and former Reading Downtown Improvement District employee, moved to the city to be closer to his wife's aging mother. He eats at El Tronco regularly.
"It's clean and the food is fresh," he says. He likes to support the restaurant for another reason, too. "At the end of every day, the owner gives away leftovers to people who need it. She'll call up the neighbors she knows who are struggling and tell them to come get a hot plate."
Angel sees visitors wandering around sometimes, after a show or a game, looking for a place to eat. Because of his familiarity with downtown, he just can't resist offering a restaurant suggestion.
"If they say they like Spanish food, I point them here or El Puente on 6th Street," he says.
He notes that in the era of internet searching, there's no excuse to not dig a little deeper.
"Just Google it," adds Torres. "It's easy!"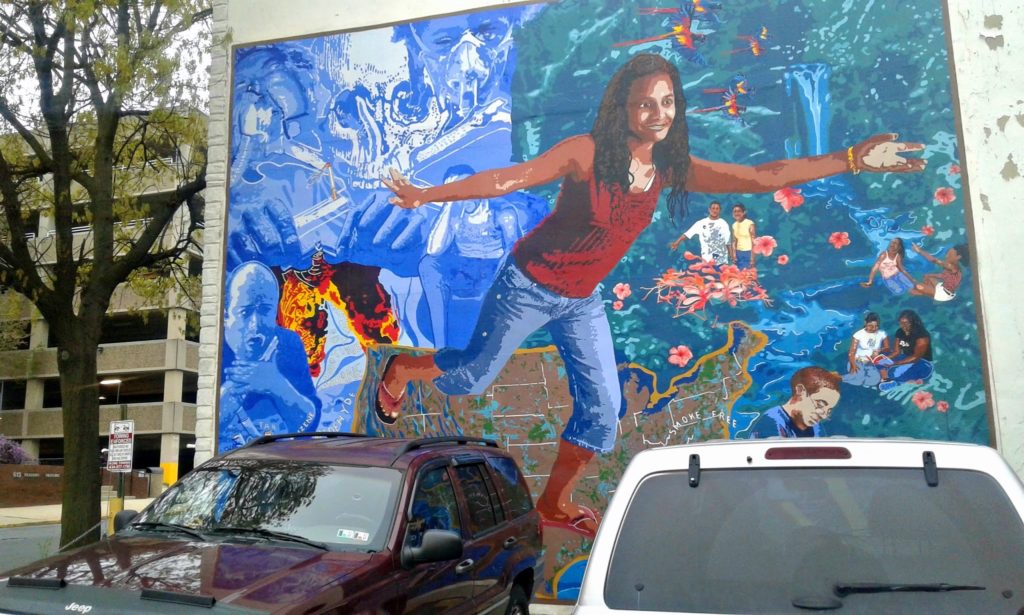 Meanwhile on a Saturday evening, Olocuilta (51 North 9th St.) — spacious, low-key and with comfortable booth seating — is filled with young families and a few quiet couples. Cecilia, 8, Alice, 12, Maria, 9, Aimee, 43 and Freisel, 41, are visiting for the first time, stopping in Reading for dinner on their way from Philadelphia to Harrisburg. They chose Olocuilta because Freisel is Salvadorian. He decrees that the papusas and cowfeet soup taste authentic. In fact, he loves the food so much he orders extra to-go.
Daniel Egusquiza, owner/host of Barrio Alegria's Delicioso Food Tours, also loves Olocuilta and recommends the pupusas — a flat cornmeal pancake traditionally stuffed with pork, beans, cheese or all three, served with cabbage slaw and salsa.
"[They] bring you the flavors of Salvadorian Cuisine," he says. "You can taste real handmade tortillas and their homemade sauce. [It] makes you feel like you're in a different world."
I think it's very important to advertise local Spanish restaurants to give visitors the opportunity to try something different.Luis Rosel, Paraiso Rosel
Meanwhile on the same Saturday evening, Casa Del Chimi (402 Franklin St.) is buzzing and scarce on seating. The small space fits about half a dozen little tables — not an ideal spot for a group outing or a quiet date — but is packed with about 30 people, including older couples and a few gaggles of young adults. It's one of the rare restaurants locally that is open until midnight and the food is served cafeteria style. There are no menus, either in print or posted on the walls.
One gets the feeling that the people who come here, come here often. Over Spanish music from the TV, customers linger around the cash register to chat with the manager, and people in line chat with each other and the behind-the-counter staff.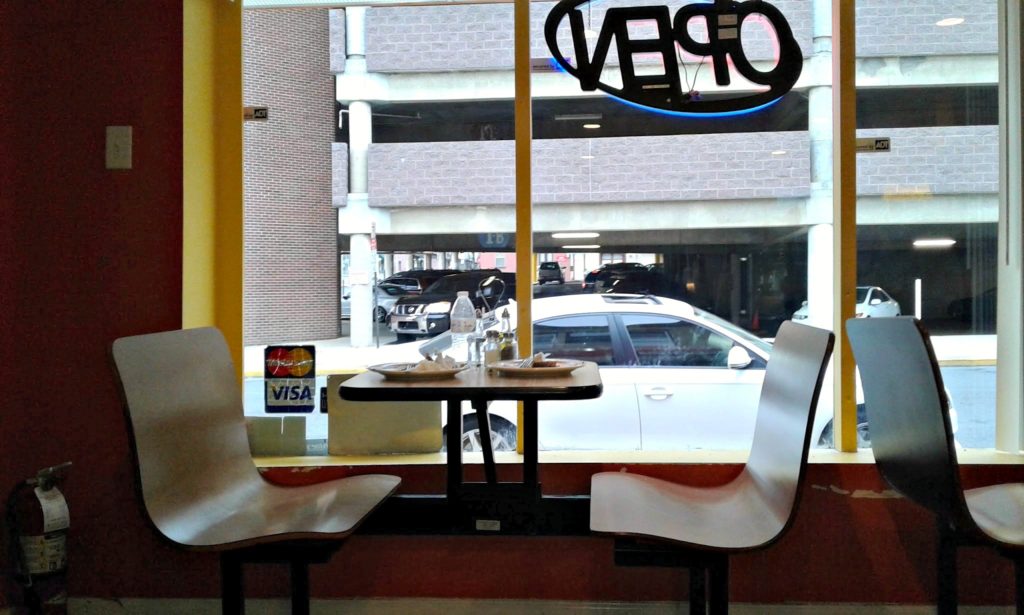 Persimmon-and-lemon walls, clean tabletops, and simple booths and tables make the space feel welcoming and bright. Located only a few blocks off of the Schuylkill River Trail, Casa Del Chimi is the perfect place to grab a bite after a trail ride or run. And it offers the perfect opportunity for culinary exploration: the lack of a menu and the cafeteria-style presentation means that diners can simply point to whatever dish makes their mouth water.
David, 24, brought his visiting relative Kevin, 29, to Casa Del Chimi because of the food quality and the customer service.
"They attend to you right away, and will explain what a new dish is if you don't know," says David. To people who feel unsure about coming in and trying something new, David tells them just to give it a shot. "If you try it, you'll like it. And the staff can help you decide what to try."
Egusquiza recommends the goat.
"Eating chivo (goat) one must like the special scent that the meat has," he enthuses. "The way Casa del Chimi makes it…the meat dissolves in your mouth and combines with the sauce it is cooked in, making it a great experience."
One diner, Larry A., 69, is a local who has fallen on hard times. As he shares his story, he uses about ten napkins to tidy up while eating some sauce-dripping ribs. He finds a way to scrape by, in part thanks to the kindness of the manager here.
"The manager told me, if you're hungry, come in and have a meal," he says.
Paraiso Rosel (119 N. 8th St.) is owned by Luis Rosel, 34, who started his restaurant career as a dish washer at the Crab Barn. He later launched a food truck before opening the brick-and-mortar shop in 2014. They serve authentic Mexican cuisine, and he recommends the Paraiso Burrito. On a Monday afternoon at the tail end of lunch, half a dozen pairs in business-casual fill the restaurant. Luis confirms that this is his typical lunch crowd: employees of the courthouse, City Hall and law offices within walking distance.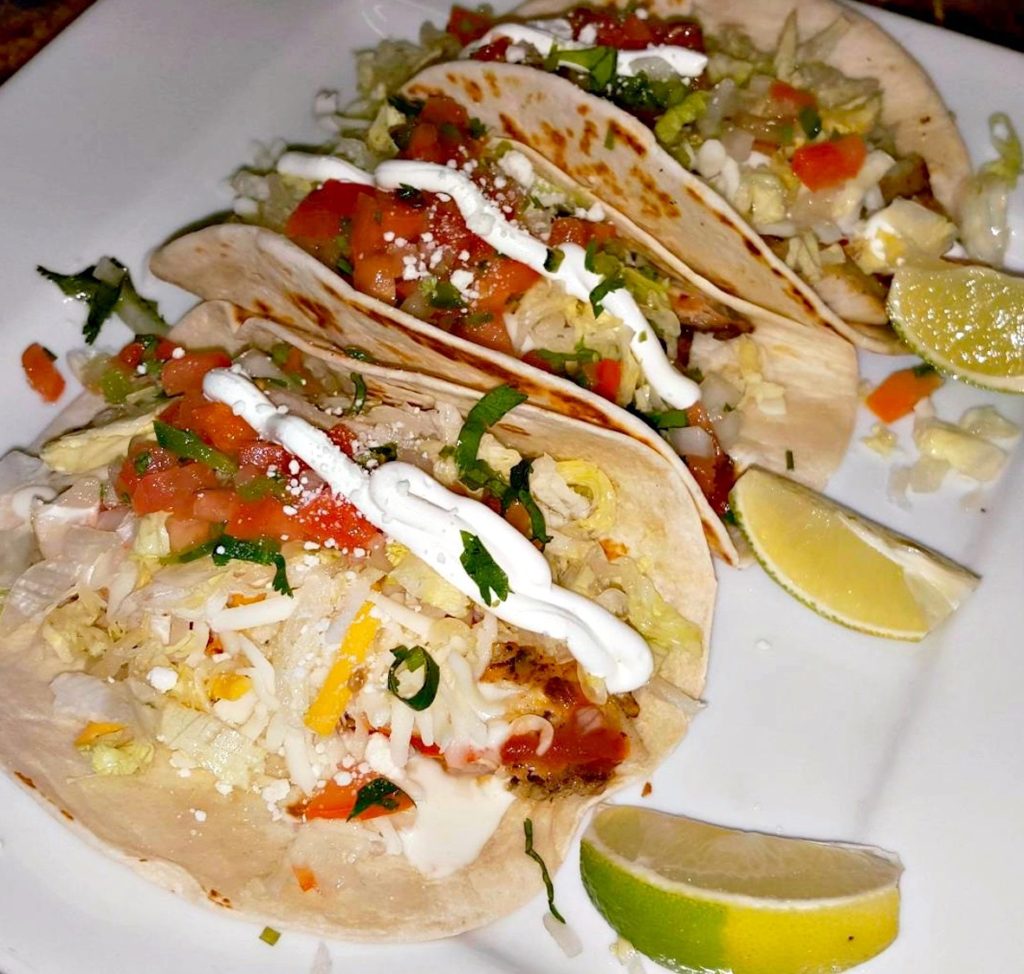 He opened a restaurant in Reading because of the low rent and high Latino population, and would love to see the city's diverse food culture more highly promoted to visitors and locals alike.
"I think it's very important to advertise local Spanish restaurants to give visitors the opportunity to try something different," he says. "It's like going to a new country, because you get to try something different."
For diners looking for pescatarian or vegetarian options, El Paiso offers both. The selections include fresh fish tacos with lime and the vegetarian burrito, bursting with produce. Both hold their own next to the more traditional meat dishes.
Perhaps the best-known Spanish restaurant in Reading is Mi Casa Su Casa (320 Penn St.). The iconic spot on the Penn Street corridor exhibits local art and owner Johanny Cepeda is a well-known community figure who also serves as director of the Latino Chamber of Commerce. Though she didn't necessarily dream of running a restaurant, Cepeda felt destined to be an entrepreneur and knew she'd move to Reading to raise a family.
"Reading combines an urban atmosphere with a lower-key pace of live, as compared to larger cities that can feel chaotic," she says.
In her role at the Latino Chamber of Commerce, Cepeda connects locals with resources in their own language.
"I'm an advocate for those business owners who don't speak English to access services," she says.
The Latino Chamber of Commerce is doing great work, but it takes everyone to work together. I want to play my part in promoting Reading's Latino businesses and food culture.Daniel Egusquiza, Barrio Allegrio
Cepeda thinks that both restaurant owners and those marketing Reading as a destination can work together to help spread the word about the vibrant food offerings.
As Gammy Nieves, creative director at Kreative Corner, LLC, enjoys a pork chop during a Tuesday lunchtime, he agrees that Reading's diversity is something to celebrate.
"It's kind of like you're traveling through the world," he enthuses. "There's opportunity for Reading to show off its food culture beyond meat and potatoes…I mean, I love meat and potatoes too, but there's so much more here to try!"
Cepeda encourages visitors who might feel hesitant to try a new cuisine to move past any stereotypes.
"I hear all sorts of things," she says. "People think that nobody at the restaurant will speak English, or the menu will be only in Spanish…or that all the food will be very spicy. It's not all spicy!"
Nieves offers words of advice, too.
"Just try something new or ask the staff for a recommendation. Don't miss out on the flavor."
And if you're still looking for guidance, check out one of Egusquiza's Delicioso Food Tours. After running a pilot program this past autumn, the owner of Barrio Alegria is ready to expand the tour schedule and the number of participating restaurants later this spring. The goal is to celebrate the richness of Reading.
"It's sort of like we're opening a space for people who have said, 'I have always wanted to try that place or that new type of food' but just didn't know how to go about it," explains Egusquiza.
One of his favorite dishes from the pilot tour was Tres Leches Cake from Josefina's Bakery.
"Having a piece of a Tres Leches cake is an experience anybody would love," he says. "I have tried this cake everywhere they offer it, but my favorite by far is the one that Dona Josefina makes. You could say she makes the cakes filled with happiness… because it is happiness that you can taste."
The second goal is to start creating and strengthening relationships between community members and local business owners. Participants not only enjoy a delicious communal meal, but also hear from the owner or chef of each restaurant — they share a little piece of their story, the story of the plate and why they chose to open their restaurant in Reading.
"The Latino Chamber of Commerce is doing great work, but it takes everyone to work together," says Egusquiza. "I want to play my part in promoting Reading's Latino businesses and food culture."
A lot of this work is about changing the narrative around downtown. Valeria Peña, a Reading High School graduate, president of the Reading Area Community College (RACC) Multicultural International Club and RACC Raven Ambassador, knows that they city often gets a bad wrap in the media. Harmful stereotypes can prevent a strong sense of community, not only on campus but out in the wider region. She believes bringing people together to enjoy food can change that. That's one goal of the International Festival that her clubs runs each year.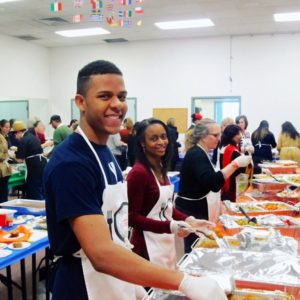 "We can change [negative stereotypes] when we all work together," she says. "People maybe haven't tried a certain kind of food but once they have, they have a different connection with each other…When you tell students there will be food at an event, they all come together."
This year's festival featured a fashion show and food from 12 countries. Proceeds benefited the Opportunity House.
For Peña, the diversity on RACC's campus has contributed to her own increased understanding and experience with other cultures. According to its website, RACC is a "Hispanic Serving Institution (HSI)" because 31 percent of its student population identify as Hispanic. That population also includes 25 to 30 international students each academic year.
"When I came here, I didn't know about a variety of food, like mangu [a Dominican dish of mashed plantains]," she says. "I learned about a variety of food from friends at RACC. We cook together or try new restaurants together."
Peña also plays her part in promoting local eateries. When she and her friends try a new restaurant, or enjoy an especially delicious meal at a favorite, they share it on social media.
"If you put a good review on their Facebook page, that helps, or tag it in your status update," she argues. As a Raven Ambassador, she gives tours to potential students and family members. "I tell them that if they want to try something other than what the cafeteria has, there's many restaurants within walking distance."
The city, like all cities, goes through phases. Today, it's Latin American cuisine from places like the Dominican Republic, Jamaica and Puerto Rico.Zachary Brown, Berks County Eats
Her favorite suggestions include 4th and Penn and Mi Casa Su Casa.
Zachary Brown, founder and author of the blog Berks County Eats, also recognizes the value of Reading's wide representation of Latino cuisines.
"There's no doubt that the most authentic cuisine is always in the city where many residents are first- or second-generation," he says. "The city, like all cities, goes through phases. Today, it's Latin American cuisine from places like the Dominican Republic, Jamaica and Puerto Rico."
He recommends the pernil — slow-roasted marinated pork shoulder — at Old San Juan Café and remembers his first experience visiting.
"I don't speak Spanish at all," he recalls. "Old San Juan was the first place I went that I was actually nervous that I wouldn't know how to order, but the staff was more than happy to help. One person spoke English and took the time to explain everything that we saw on the steam table. I think it's important to remember that these are small business owners. She certainly didn't have to take the time to help me, but she did. And I will always be grateful for that."
Brown reflects on the changing demographics of Reading and the reflection of that shift in the food scene.
"At one time, you may have seen German taverns or Irish pubs on every corner," he explains. "There are some Irish-themed restaurants in the nearby suburbs, but the nearest German restaurant is in Kempton, nearly 30 miles away. Who knows what the city will look like in the coming decades? One thing is for certain, it is always changing. And so is the food.
DANI MOTZE lives in, writes about and rides her bike around Reading, PA. She tells the stories of the people who are rewriting the city's narrative.
This feature was created in partnership with the Greater Reading Economic Partnership as part of a series of articles examining the City of Reading's residents, neighborhoods and businesses.