All too often, the greenest new homes are also the most expensive. Fortunately, a prototype of an affordable, energy-efficient home will soon rise in the heart of State College Borough.
The GreenBuild initiative, a partnership of the State College Community Land Trust (SCCLT) and Penn State's Energy Efficient Housing Research Group (EEHR), expects to begin construction this fall on its "net-zero" duplex: two units, each with three bedrooms and two baths, that will demonstrate green building technologies in a modest residence.
"SCCLT has provided affordable home ownership options to first-time homebuyers for over 20 years," says Peg Hambrick, GreenBuild's chair. "Initial affordability is important. However, home energy costs play a major factor in longterm affordability for homeowners. Our project aims to help homeowners reduce energy costs over many years."
GreenBuild got off the ground in 2013 when SCCLT approached Penn State Professor Lisa Iulo of EEHR for guidance about introducing energy-efficient technologies to about 30 SCCLT homeowners. Shortly after, SCCLT had the rare opportunity to buy a vacant housing site in State College Borough.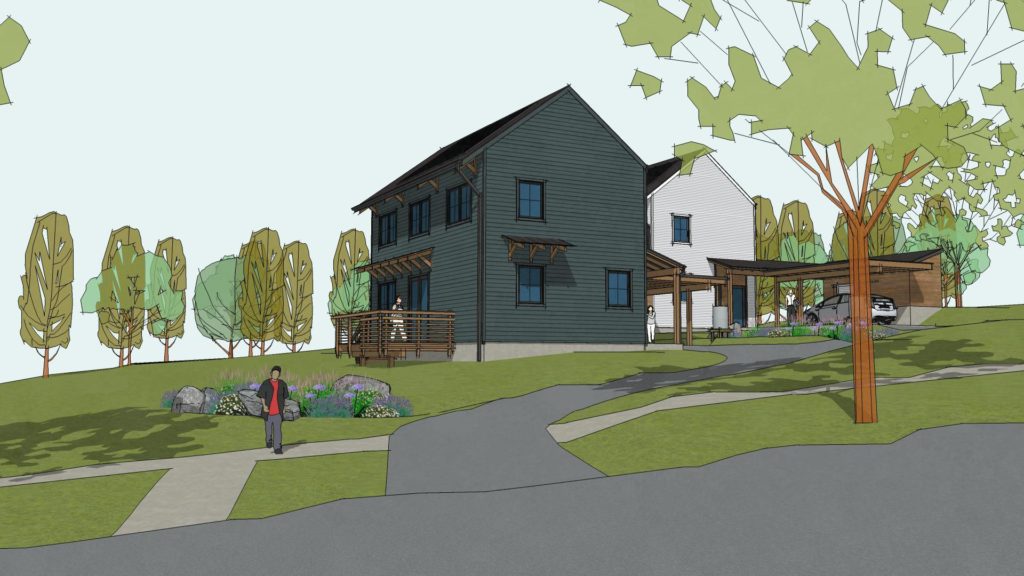 "There is very little vacant land in the borough and we saw this as an opportunity to build an energy-efficient affordable home and develop a prototype for longterm affordable homeownership" says Hambrick. "In the Centre Region, energy-efficient homes are being built for the high end of the market, above $500,000, but not at a more moderate price point. [So] in addition to benefiting two homeowners, lessons learned from building a new energy-efficient duplex could be made available to SCCLT, Centre Region homeowners and home builders."
Following a series of meetings with community members, Penn State architecture students designed the duplex as a net-zero project — that means the two houses will produce virtually all of the energy they consume. Besides solar panels and passive solar features, the houses will include low-water landscaping and rainwater catchment systems, energy-efficient appliances and lighting, sustainable building materials and finishes, energy-efficient heating and cooling systems, high-efficiency windows, and high-performance airtight wall, roof and foundation construction.
Home energy costs play a major factor in longterm affordability for homeowners. Our project aims to help homeowners reduce energy costs over many years.Peg Hambrick
Envinity, Inc. of State College is building the duplex in partnership with Henry Architecture & Design of Boalsburg and Macht Architecture of Rydal. The team is now in the process of acquiring zoning and code approvals; the hope is to have the houses ready for occupancy by late next spring.
Although the sale prices have yet to be determined, they will reflect federal affordable housing income limits. To help keep the cost in line, SCCLT is likely to partially subsidize the sales. SCCLT will also keep the land in trust, so that the buyers are purchasing only the home, not the land, resulting in a significant reduction of their monthly mortgage payments.
Meanwhile, SCLLT continues to actively fundraise for the $700,000 GreenBuild project and has received grants from State College Borough, the West Penn Power Sustainable Energy Fund (which is also providing a construction loan), S&T Bank and the Centre County Commissioners.
ELISE VIDER is news editor of Keystone Edge.