Hidden away behind a fence in Philadelphia's Fairmount Park sits the old East Park Reservoir. Thanks to almost 50 years of isolation, the reservoir has evolved into a pristine lake, and bird and wildlife hotspot. Philadelphians have long been denied access to this fascinating slice of the city.
Now big changes are coming: In September 2017, partners broke ground on the 14,000-square-foot Discovery Center, a part of the Fairmount Park Conservancy's Reimagining the Civic Commons initiative. The long-planned facility will open the site for environmental education and skill-building outdoor adventures.
That means the new center, a partnership between the Philadelphia Outward Bound School (a chartered affiliate of the national group) and Audubon PA (under the umbrella of the National Audubon Society), will be a discovery for some people, and a rediscovery for others.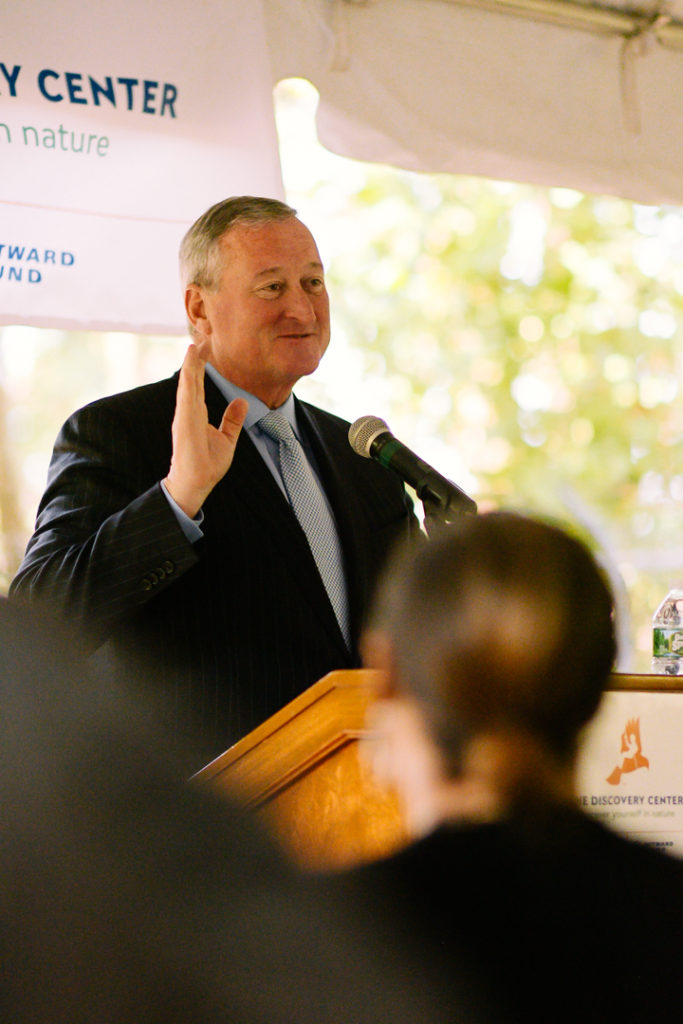 The site's history goes back to 1889, when the original East Park Reservoir opened to provide clean water to 80 percent of the city's residents. But in 1970 when the site was abandoned as a human water supply, the 50-acre parkland site was fenced off. It has since become a migratory stopover for more than 130 species of birds, including many rare varieties hard to spot elsewhere in the state.
According to National Audubon Society Vice President and Audubon PA Executive Director Greg Goldman, the organization is excited to have a new base in Philadelphia (the statewide organization is headquartered in Audubon). And for Philadelphia Outward Bound, celebrating its 25th anniversary, the Discovery Center marks a major expansion.
For years, the organization rented an 1,800-square-foot facility in East Fairmount Park on a longterm lease held by the Conservancy (in addition to a small nearby high-ropes course), but outgrew that space by 2008. It began community outreach meetings to find a new home.
After almost 50 years, the reservoir evolved into a pristine lake — and bird and wildlife hotspot — that most Philadelphians never see.
Representatives of Audubon PA came to a January 2009 meeting and the two organizations realized that their missions — environmental education, outdoor expeditions, and community and skill-building through engaging the natural world — dovetailed perfectly.
"We could take one and one and make them equal five," says Philadelphia Outward Bound School Executive Director Katie Newsom Pastuzsek of the unusual decision to partner without melding the organizations.
In 2013, the two groups formed a new legal entity for their partnership: the East Park Leadership and Conservation Center. They signed a lease for the land with the City in 2014. Groundbreaking took place on September 29, 2017 (with $18 million raised so far of an $18.4 million goal). Pastuzsek estimates the center will open in September 2018.
The adjacent Strawberry Mansion community has been integral to the project.
For residents, there's no such thing as "East Fairmount Park," says Strawberry Mansion Community Development Corporation board president Tonetta Graham. "The park is our backyard."
Graham explains that the CDC has played a crucial role as a project ambassador, through many starts and stops over the years. "Inclusivity on all levels" is vital, meaning access for all demographics, from planning to construction to programming, and "continual dialogue" to sustain the neighborhood's identity alongside this major new amenity.
Goldman also lauds the City of Philadelphia as a "tremendous partner" for funding and longterm project support.
Together, Outward Bound and Audubon PA will reach more than 15,000 students per year through the new center. Pastuzsek is excited to note that this Outward Bound chapter will soon have the capacity for expeditions as far west as Pittsburgh. Programming coming to the Discovery Center includes Outward Bound treks accompanied by Audubon naturalists, as well as a new challenge course that can ultimately serve up to 100 students per day.
Goldman says the Discovery Center "exemplifies the unity" of Audubon PA's two central missions: conservation of bird habitats and engaging diverse communities.
"We build compassionate leaders," adds Pastuzsek. "And I think it's an interesting time for that."
ALAINA MABASO is a Philadelphia-based freelance writer and the associate editor of BroadStreetReview.com, Philly's hub for arts, culture and commentary. You can visit her at her blog, where fiction need not apply.