BEN FRANKLIN TECHNOLOGY PARTNERS is a partner in Keystone Edge. They will be sharing insights from their leadership and news from their portfolio companies in the Ben Franklin On: section. 
Scranton company ChannelApe was the big winner at Ben Franklin Venture Idol, hosted by the Ben Franklin Technology Partners of Northeastern Pennsylvania (BFTP/NEP). The event took place on Tuesday, November 14 in the newly expanded Ben Franklin TechVentures West Wing.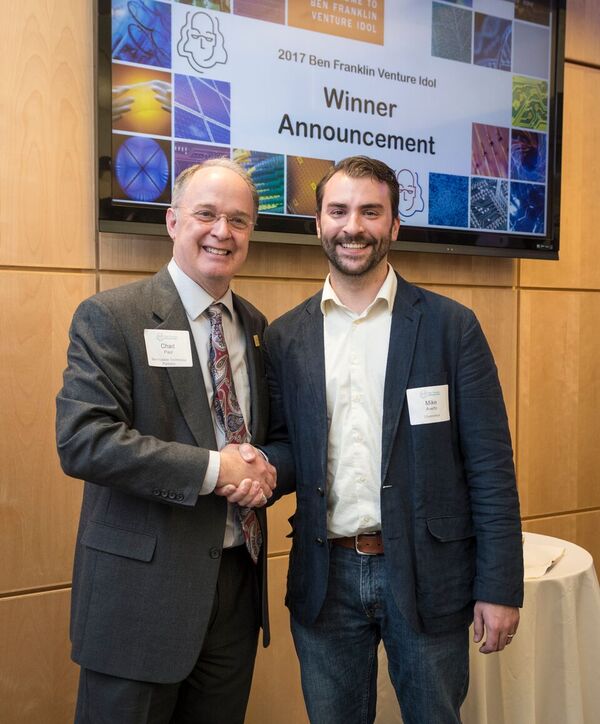 Approximately 300 guests attended Venture Idol, which included pre- and post-event executive networking receptions. Eight entrepreneurs from Ben Franklin's portfolio were selected to compete. In addition to ChannelApe, the competitors included Ethnic Beauty Store, LLC of East Stroudsburg; GiveGab, Inc. from Dunmore; Grovara LLC, based out of Ben Franklin TechVentures; Medtrics Lab, LLC of Lewisburg; PlanGuru from Wilkes-Barre; webCemeteries.com out of Fleetwood; and Xverity, based at Ben Franklin TechVentures. Three companies — ChannelApe, GiveGab and Xverity — were named as finalists after a pre-event round of judging.
Venture Idol began with a keynote address by Kirstie Chadwick, CEO and President of the International Business Innovation Association (InBIA). Ben Franklin TechVentures has earned the InBIA Incubator of the Year Award on two occasions. Chadwick identified methods for building "amazing entrepreneurial ecosystems." Ben Franklin TechVentures serves as an "entrepreneurial super hub" in that capacity, anchoring and accelerating the region's economic growth.
The three finalists then pitched their ventures to a new panel of accredited investors and the audience. After short critiques from the investors, the audience members "funded" the companies. With $100 of "Ben Bucks," each guest distributed his or her "investment dollars" to the three finalists. Based on that vote, ChannelApe emerged victorious, followed by GiveGab, and then Xverity. Ben Franklin will award $15,000 in real dollars to the companies based on the audience vote.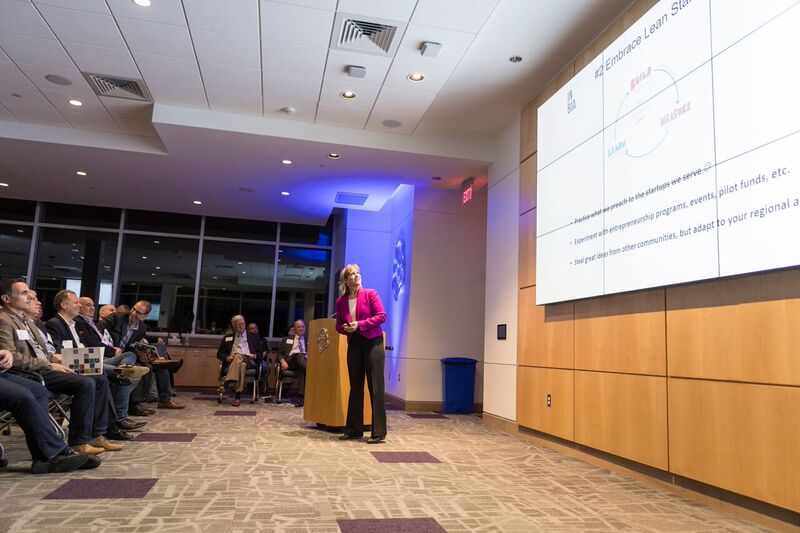 ChannelApe offers a cloud-based integration platform as a service (iPaaS) that helps e-commerce storeowners automate redundant data tasks between any two systems. The startup is targeting the 29,000 e-commerce businesses in the U.S. with at least 1,000 online orders per month. Most e-commerce storeowners waste time on redundant tasks such as product catalog, inventory, order, and fulfillment management using patched-together software, spreadsheets, and manual copying/pasting of data. ChannelApe offers the first and most flexible commerce integration platform as a service on the market.
The evening's investor panelists were James Marciano of Strategic Exit Advisors, Paul Martino of Bullpen Capital, Doug Petillo of Leading Edge Ventures and Don Yount of Activate Venture Partners.
Chad Paul, Ben Franklin Technology Partners President and CEO, hosted the event. Fred Beste, CEO of the General Partners, Mid-Atlantic Venture Funds and Ben Franklin Technology Partners Board Chairman, was the emcee.
All images by Ryan Hulvat.