Nestled in the Lehigh Valley with a population of just 5,000, Bangor is a quintessential Pennsylvania town. And for Traci McGinty and Leo Bongiorno, this little hamlet presents big opportunity. The business partners recently opened Bangor Trust Brewing Company, an ambitious spot featuring a full-service bakery, a restaurant and tasting room, and soon a craft brewery.
Longtime colleagues and partners in a brewery consulting business, McGinty and Bongiorno scoured the Lehigh Valley and Stroudsburg area for several years looking for a location for their brewery concept.
"We felt the three big cities making up the Lehigh Valley – Allentown, Bethlehem and Easton – already had numerous and really terrific craft brewery choices and we wanted to head to the outskirts," recalls McGinty. "We began looking north and east of the Valley. After exploring many buildings, and having many meetings with real estate agents, we were beginning to get a bit deflated."
They eventually found the historic Bangor Trust Building through a friend of Bongiorno's who just happened to be the landlord. It's an anchor property in the heart of downtown Bangor.
From the mid-19th through early-20th centuries, Bangor thrived at the heart of Pennsylvania's Slate Belt. The town was also a hotbed for blouse mills which provided jobs for women. But like many industrial centers large and small, Bangor fell on hard times during the mid-20th century.
Now, according to Bangor Mayor Brooke Kerzner, there is a new sense of community pride. Slate Belt Rising, a neighborhood revitalization initiative under the Community Action Committee of the Lehigh Valley, is trying to channel that energy. The organization hopes to capitalize on the history, architecture, transportation assets and natural beauty of the area — specifically the boroughs of Wind Gap, Pen Argyl, Bangor and Portland —to increase economic opportunity, eliminate blight and improve quality of life.
"With the attention turned to Bangor, I am very hopeful," says Kerzner. "We have lovely architecture in our downtown, along with large homes that were once owned by slate tycoons. We have many longstanding and new businesses, not only Bangor Trust, but also our own coffee roaster, coffee shops, chocolatier, Yoga studio, vintage and eyewear stores, an ice cream shop, a youth center and an excellent reupholstery business."
Quality restaurants encourage a strong sense of community. I know when I eat local, I will see my friends, clients, and fellow business owners out as well.Bangor Mayor Brooke Kerzner
Food and drink establishments are especially important to the economic vitality of downtown Bangor.
"Quality restaurants encourage a strong sense of community," she argues. "I know when I eat local, I will see my friends, clients, and fellow business owners out as well. It is rewarding when you go into a place and they recognize you — they know your favorite drink or your preferred appetizer. It makes you want to come back when you know your patronage matters."
If anyone is well prepared to take on the challenges of the hospitality business, it's Bongiorno and McGinty, who together have a combined 48-plus years in the industry. The pair met at a brewery where Bongiorno was brewer and quality control specialist and McGinty was marketing director.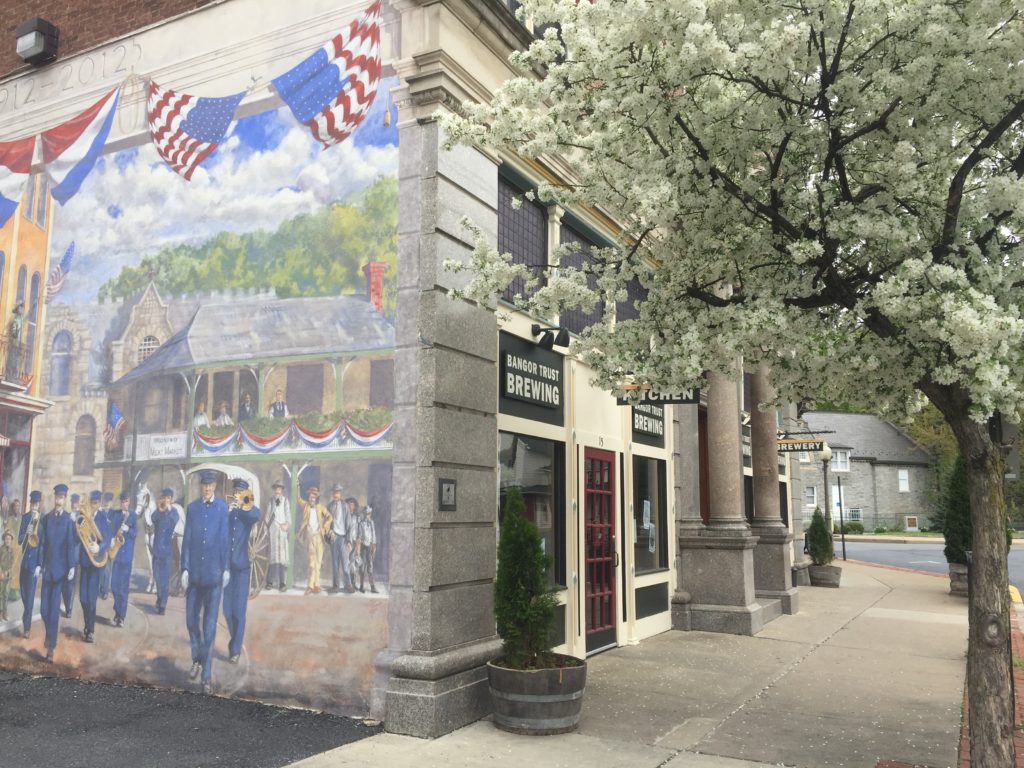 Still, they took nothing for granted.
"After numerous visits to the town, strolling Broadway, drinking pints in the local taverns, chatting with residents and other downtown business owners, exploring nearby farms and the local resources, we decided to set up shop," recalls McGinty. "It really was the small-town charm and being able to use local farm-to-table ingredients for our food and beer that determined our decision."
Another key consideration: "The purity and cleanliness on our palates" of the local tap water.
In July 2016, the pair began sprucing up the space and moving a couple of 1950s German brewery tanks and other equipment into the building. Almost immediately, there was a curveball: The adjoining Tex-Mex restaurant at 15 Broadway closed. The restaurant had been a factor in drawing them to Bangor.
Pennsylvania is a great state to set up shop, with an ample supply of local and natural resources to help you succeed, if you take advantage of them.Traci McGinty
"We were pretty bummed," recalls McGinty. "We were left with a decision: Do we risk the space remaining empty or being rented by a not-as-symbiotic business? Or do we take over the adjoining space?"
They signed the lease in January 2017, and opened their restaurant and bakery on February 2.
Fitting out the circa 1905 bank building brought its own challenges. To better accommodate electrical and plumbing requirements, they needed to flip-flop their plans, moving the brewery into the bakery kitchen and the bakery to where they were going to build the brewery. Other improvements included painting the facade, hanging new signs, painting the interiors, patching holes, scrubbing and redoing much of the commercial kitchen, opening the wall between the two spaces, and putting in new windows on the 11 Broadway side to make it easier to move tanks and equipment in and out.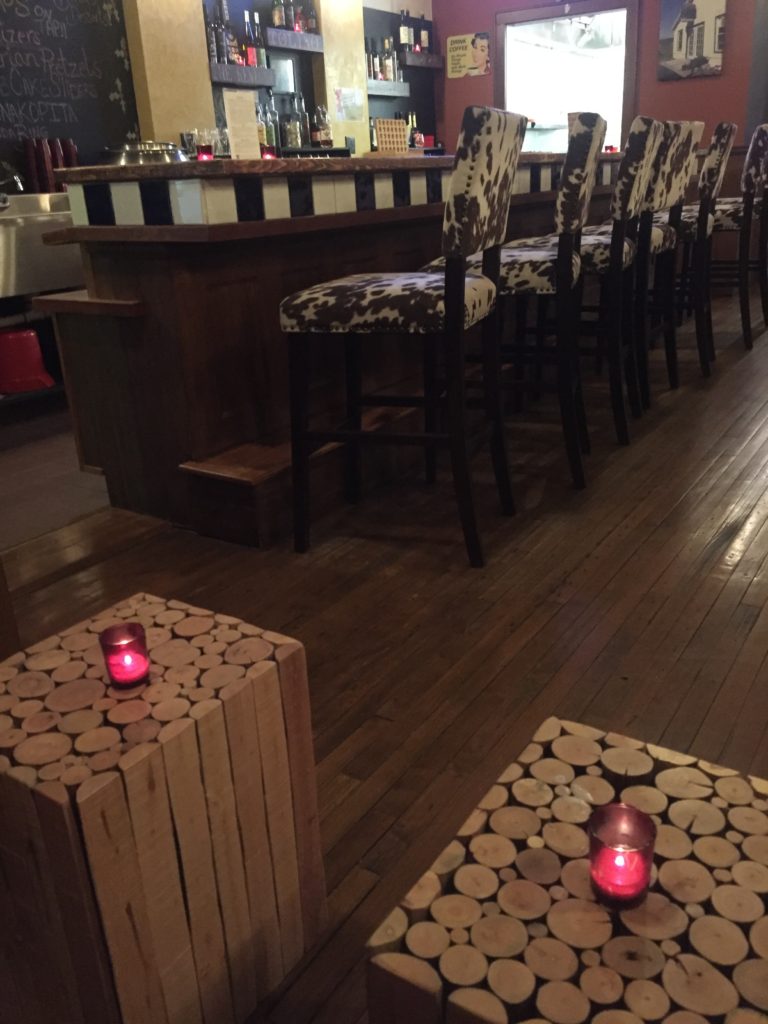 The brewery is nearly complete and McGinty says they hope to serve their first pint soon, starting with traditional styles including a Vienna alt or lager and a porter. Their vision moving forward is more ambitious.
"As soon as we acquire some quality wood barrels, we will begin an aggressive barrel-aging program," she says. "In the spring and summer, we'll be introducing seasonal brews using locally sourced ingredients whenever possible. We will also be brewing non-alcoholic beverages by the spring."
In the meantime, the drink menu is packed with local options from breweries such as HiJinx Brewing Company in Allentown, St. Boniface Craft Brewing Co. in Ephrata (Lancaster County) and Funk Brewing in Emmaus, plus spirits from Social Still in Bethlehem, and local wines and ciders from nearby Franklin Hill Vineyards, R.A.W., The Renegade Winery and Tolino Vineyards.
"Pennsylvania beers, wines and spirits are some of the very best in the country," adds McGinty. "We will proudly and happily continue to serve them at Bangor Trust."
The baked goods and restaurant offerings — think homemade soft pretzels with rosemary cheese sauce or a wild mushroom flatbread — also focus on locally sourced ingredients including meats from Nello's of Nazareth, dairy from Klein Farms of Easton, produce from McCollian Farms, and coffee from Baby Harry's in Bangor.
"The microbrewery is a perfect fit in Downtown Bangor, and it is a wonderful addition to our community," enthuses Kerzner. "The devotedness that Traci and Leo have shown to this area is reflected in their food and drink choices. They use local resources for their food and hops. I think it will further inspire people to shop local and be conscious of where they spend their money."
As a consultant to breweries and from personal experience, McGinty offers this advice to prospective brewery operators.
"Get to know the town, local government, residents and other business owners," she says. "Have an elaborate, detailed business plan with realistic projections and goals, but get ready to be creative and flexible. Most importantly, listen to your gut instincts and your closest family and friends' advice. Pennsylvania is a great state to set up shop, with an ample supply of local and natural resources to help you succeed, if you take advantage of them." 
ELISE VIDER is news editor of Keystone Edge.