"Economic Development is raising the quality of life where you live."
That was the distilled sentiment expressed by Josh Skopp, executive director of the Pennsylvania Economic Development Association (PEDA), when he addressed the crowd at Rusty Rail Brewing Company in Mifflinburg.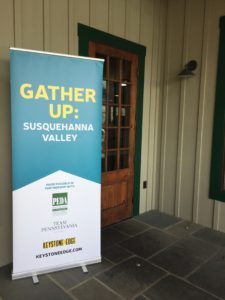 Last month, Keystone Edge teamed up with PEDA, Team Pennsylvania and the Greater Susquehanna Valley Young Professionals (GSVYP), bringing together a dynamic, passionate, curious and diverse group for Gather Up: Susquehanna Valley. Attendees enjoyed local brews along with conversation about how to move the region forward and engage young people with local community and economic development efforts.
It was a group heavy on folks from Susquehanna and Bucknell Universities, with quite a few recent transplants and boomerangs in the mix, plus representatives from SEDA-COG, the Greater Susquehanna Valley Chamber of Commerce, companies large and small, and more.
Here's just a taste of the conversations being had around the high-top tables.
Should we be coming to your region next? Email us at [email protected] to tell us why. And want to follow us on all our adventures? Follow @KeystoneEdge on Instagram.
Emily and Tyler Wagner met while studying at Susquehanna University (SU). Emily, who now works as school counselor at South Williamsport High School, grew up outside New York City, but then fell in love, both with the region and with her husband, a native of Mt. Carmel, PA.  The couple live in South Williamsport, and as Emily puts it, "Pennsylvania has my heart now."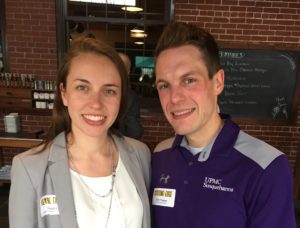 "Williamsport is kind of unique in that it's pretty rural, but at the same time there's a lot going on there" says Tyler, who works at UPMC Susquehanna. "We have plenty of higher education opportunities — Penn College, Lycoming College. There's a lot of industry here. We have major employers: the chemical industry, the gas industry, manufacturing industries. So it's a nice little mix, in the middle of Northcentral PA, for young professionals and for anyone to have a career and live a life. I love this area."
Allie Grill works at Susquehanna University as an associate director in the Career Development Center and lives in Lewisburg. Her main project is connecting students with local employers for internships and jobs.
"I'm from this area and I'm an alum of Bucknell, so I have a special place for this community in my heart," she says. "We do a lot of outreach with local employers — talking with them about the value of working with college students, the talents that they can bring. Through my office, we also have a program called Service Leaders where [students] are going out into the community and doing eight hours per week of volunteerism at a nonprofit that will eventually turn into an internship. I grew up in Berwick, about an hour east of here. It's a similar community, a lot of manufacturing, industrial and farming jobs. I went to Bucknell, then moved away for six years, and then came back here. I have a 15-month-old and another one on the way. We wanted to be close to family. We were living in Seattle, and that was too far. The job at Susquehanna University came up. I never thought I'd be back in the area or live here permanently."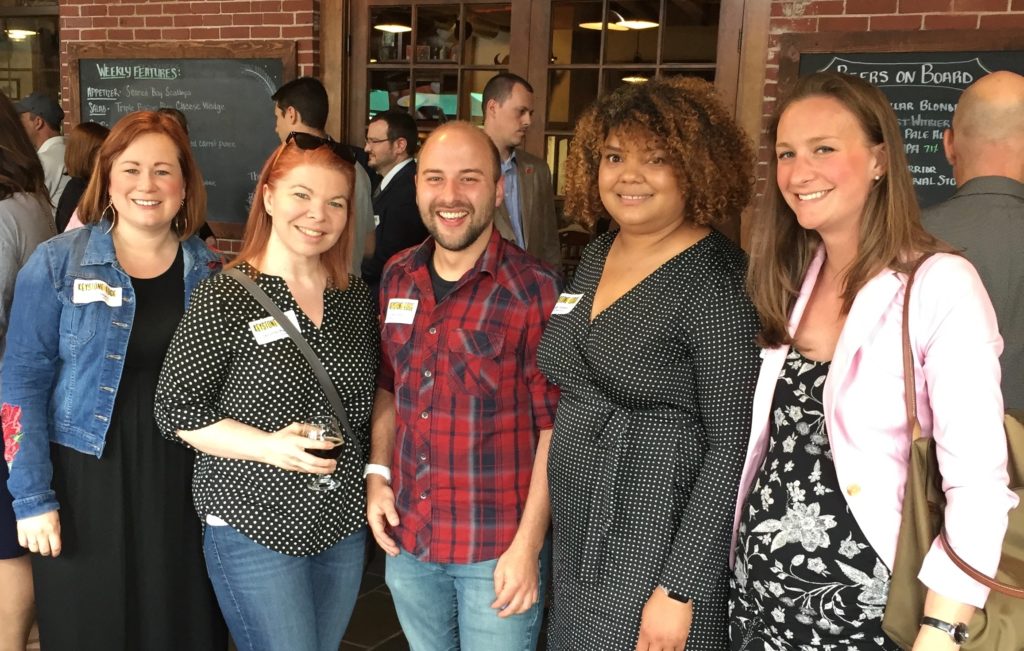 Kendy Alvares, a mortgage banker with LMC Home Loans, lives in downtown Lewisburg.
"A lot of us grew up in this area, left, came back," she says. "In the last five years, there's been more [development] in Lewisburg. I think that's happened because Bucknell has taken student housing almost entirely on-campus, so it's created opportunities for housing downtown that weren't there before."  
Sarah Farbo and Tabitha Bemis both work for Susquehanna University in the Career Development Center, and both are transplants to the region.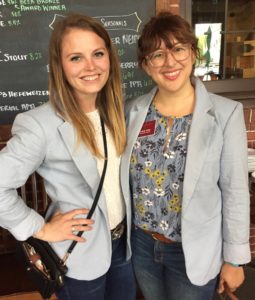 "I grew up in Lancaster," says Farbow. "I'm a Susquehanna alum, moved to Boston, lived there for eleven years, loved it, but got kind of tired of living the big city. I wanted to move closer to family and be in a place where I could really create a community and be known. I ended up at SU because I love SU and love the region. I've found organizations and people really easy and collaborative to work with. I live in Selinsgrove, close to the center of town. I can walk to work, I can walk to my cafe, and the pub."
"One of my grad school peers had gone to Susquehanna University and always raved about it," says Bemis who is from the Pittsburgh area. "I saw the opportunity and jumped on it. I moved in January so I'm brand new! I love living here. I really like the people and the community. SU is great — when I came in, it was open arms. [People said], 'You don't know the area? Here's what you should do. Here's where you should go.'"
Émilie Lebee-Thomas and her husband moved from Paris, France, to Selinsgrove a year ago when he was offered a job in the region. She works from home for a French company, and came to Rusty Rail with Austin Myers, a childhood friend of her husband's who the couple lured to the Susquehanna Valley.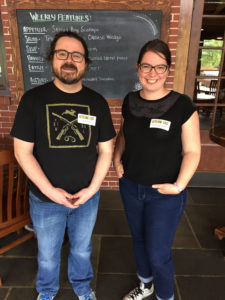 "I have a little contracting company called AK5A," says Myers. "I've been a designer, developer, creative director for hire and product designer. I mostly work with investors — people who have an idea on a napkin. I moved here because Emily's husband, who's a good friend of mine, said it was pretty, it was cheap, and it wouldn't break his heart if a friend moved up. I like how quiet it is. I like that the pace of life is slow enough that when I run into somebody, I actually get to have a deeper, more intimate conversation. There are so many academics around, just roaming the streets and grocery shopping, and you just get to run into people and have these rich conversations."
Kelly Shaw, a native of Los Angeles, is currently working as a staff psychologist at Bucknell University. She lives in downtown Lewisburg, and is finishing up her second year in the Susquehanna Valley.
"What is the common denominator that brought us all here?" she asks. "Because it's a choice. I think it's trying to find a charming small town that has a sense of vibrant community. That was the sense I got: I walked around downtown Lewisburg when I was here for my interview, and there was a just a sense of community. When people come to visit me and we walk to get takeout, I'll inevitably see someone I know. And they're like, 'You've only been here two years! How do you know people?'"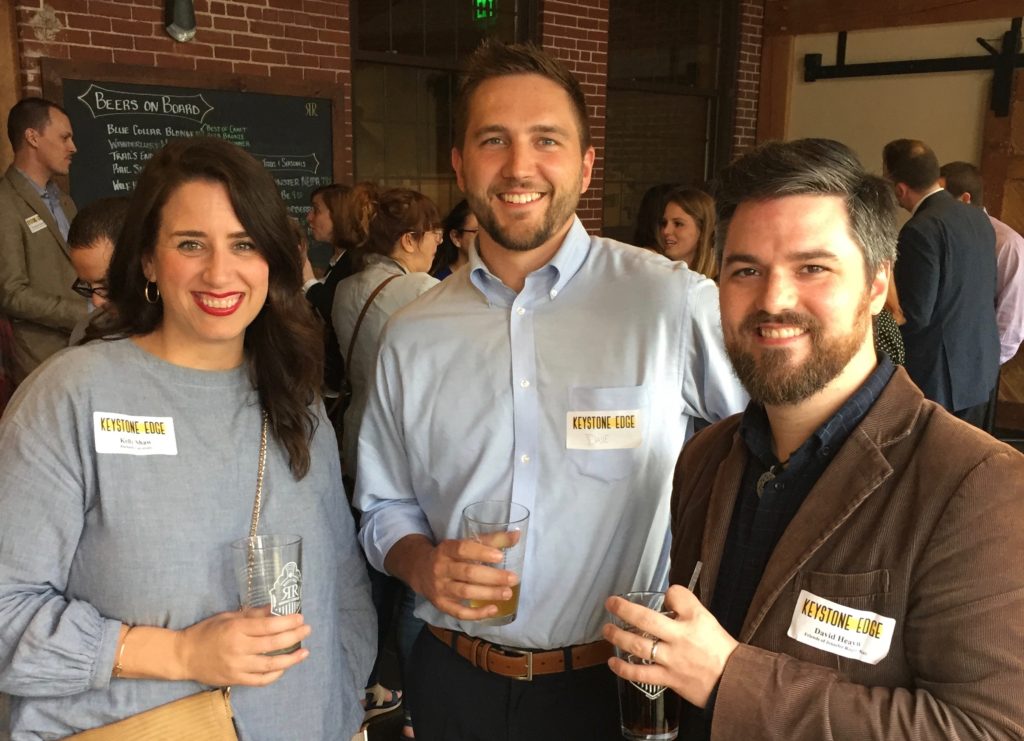 In September, Samantha Proffitt relocated to Selinsgrove from Poughkeepsie in New York's Hudson Valley — or as she puts it, "I moved from one river to another, one valley to another." She works at Susquehanna University, helping first year students get oriented.
"I've been trying to get involved in the community and connect with people," she says. "I moved here knowing nobody. The GSVYP have been really great to make those connections. I live in Selingsgrove right on Penns Creek, about a mile away from campus. It's a nice little walk down to the main strip on Market Street and I could walk to work if I wanted. There are lots of fun eateries: Whetstone Kitchen — so good! — and The Kind Cafe is always a go-to for coffee. I've been venturing up to Lewisburg recently. All Star Bagels have the best bagels outside New York City. Their everything bagel incredible."
LEE STABERT is editor-in-chief of Keystone Edge.