Scott Shirley was a Penn State football player when his father was diagnosed with a rare disease. This was back in 2003, and his team responded by raising over $50,000 for research. The experience prompted Shirley to launch a nonprofit, Uplifting Athletes, to raise money for rare-disease research on campuses nationwide.
Today, Shirley is also cofounder and CEO of Pledge It, a sport-based crowdfunding platform that ties athletic performance to fundraising for charitable causes. Teams and athletes collect pledged donations for every recorded touchdown, home run, point, goal, mile, etc. during a game, event or entire season. After results are finalized, pledges automatically turn into donations that directly benefit the fundraising campaign's cause.
Pledge It was born when former Cincinnati Bengal Devon Still's daughter was diagnosed with cancer in 2014. The ex-NFLer approached Shirley about running a "Sack Cancer" campaign.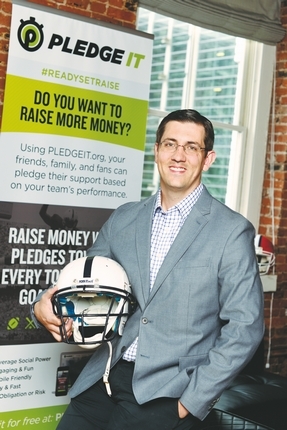 "When I tried to shop around to find a platform that would support this kind of fundraising, I wasn't able to find it," recalls Shirly. "So I created Pledge It as a new company with Devon and Uplifting Athletes as my first customers."
The Harrisburg startup just raised $1.5 million of an anticipated $2.5 million funding round, led by 1855 Capital, a new State College venture fund aimed at the Penn State community.
"As the lead investor in our current round, they negotiated the deal terms, shared their due diligence with other prospects, and continue to provide local eyes-and-ears to syndicated funds," he explains.
According to Shirley, Pledge It's revenue has grown at about 300 percent year-over-year; its community of athletes have run thousands of campaigns and raised more than $10 million for charities around the world. Uplifting Athletes, meanwhile, has doubled in size every year and now includes chapters run by football student-athletes in half the Big Ten, half the ACC, and at least one school in every major conference. 
"The idea for Pledge It stemmed from my belief in the power of sport for social good," says Shirley. "The average donation size on our site is about three times the national average for online giving, our donor conversion rate is 44 percent (compared to an industry average of 16 percent), and 86 percent of our fund recipients return to Pledge It each year."  
"Sport has the power to change the world," he adds, "whether it's professional athletes raising money for charity, teams bringing communities together, or participation teaching life skills to young athletes."
ELISE VIDER is news editor of Keystone Edge.