This summer, Keystone Edge is hitting the road to share the stories of people across Pennsylvania working in economic and community development. As you'll discover, this exciting field involves so much more than just sitting behind a desk — it requires engaging the community, forging connections, and tackling new challenges on a daily basis. The "Day In the Life" series is created in partnership with the Pennsylvania Economic Development Association and Team Pennsylvania.
It's a warm Friday in late June, and Katrina Vincent's itinerary offers a greatest hits of Erie's current economic landscape. Without her as a tour guide, it would be easy to get lost in the abandoned factories and vacant downtown storefronts, missing the budding businesses hiding in plain sight.
Like its Rust Belt brethren, Erie, Pennsylvania, has experienced significant economic struggles, but there is a shimmer of hope among the people who live there.
"It's the solid work ethic we have," says Vincent, vice president of real estate and COO of Erie County Economic Development (ECED). "Obviously manufacturing has been a large part of Erie's history, but over the last several decades there's been quite a bit of diversification. You can't really point to just one industry in this market."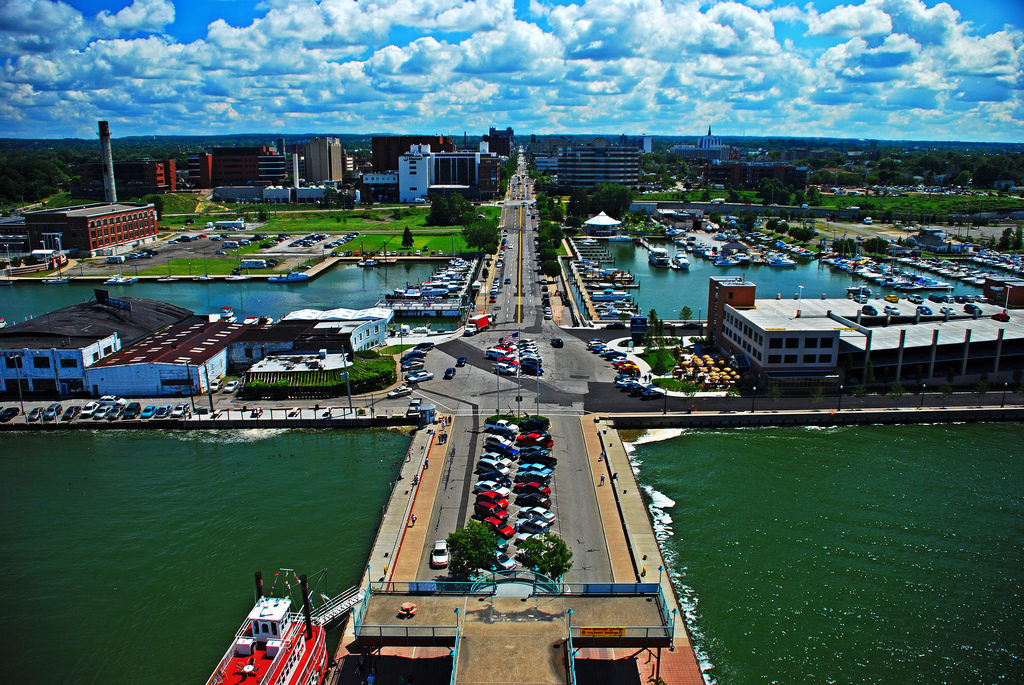 Vincent sees this moment in Erie's evolution as a crossroads, an opportunity to reignite social cohesion, champion economic change, and inspire revitalization. Because the truth is, from tech startups to traditional manufacturing facilities, the lakeside city is fit to foster a bevy of businesses.
Staying Put
Berry Plastics, a global leader in packaging and protection solutions, has a substantial facility nested in the heart of Little Italy, one of the many inner-city neighborhoods that continue to bear the brunt of local economic decline. City-Data.com shows that Little Italy has an average poverty rate more than double the state average.
At one point, Berry Plastics planned to consolidate, shutting down the Erie facility and moving its production plant to Ohio. This decision would have eliminated 140 local jobs.
But thanks to Vincent and her team, Berry Plastics Plant Manager Robert Gurthrie was able to flip the script. Vincent assisted the company in launching a $4 million expansion, securing half the funding through a $2 million Redevelopment Assistance Capital Program (RACP) grant.
I feel like if you're looking for a place with a lot to do and quality of life is important, then Erie is the full package.Katrina Vincent
These days, the Erie plant produces 6 billion bottle caps per year, employs 150 workers, and pays an average salary of $54,000. (According to the Bureau of Labor Statistics, the average annual wage for a plastics production job in Erie falls between $30,000 and $40,000 a year.) And the benefits extend to the local community: Berry Plastics received a facelift during the expansion that included the beautification of West 16th street between Chestnut and Hickory Streets.
A Tale of Two Cities
There is often dissonance between national media depictions of Erie — see headlines like this — and what is actually occurring in the city. If you ask Vincent whether Erie is heading toward resurgence or recession, she'll tell you, "A resurgence, definitely. I think we're in a good position with…Erie Downtown Development Corporation (EDDC), University of Pittsburgh Medical Center (UPMC), and Erie Insurance investing more dollars into the community."
"You know, there aren't too many other markets this size that have a philharmonic orchestra, the Warner Theater, a minor league baseball team, the Erie Otters [Erie's major-junior hockey team], and Presque Isle [the stunning state park]," she adds. "I feel like if you're looking for a place with a lot to do and quality of life is important, then Erie is the full package."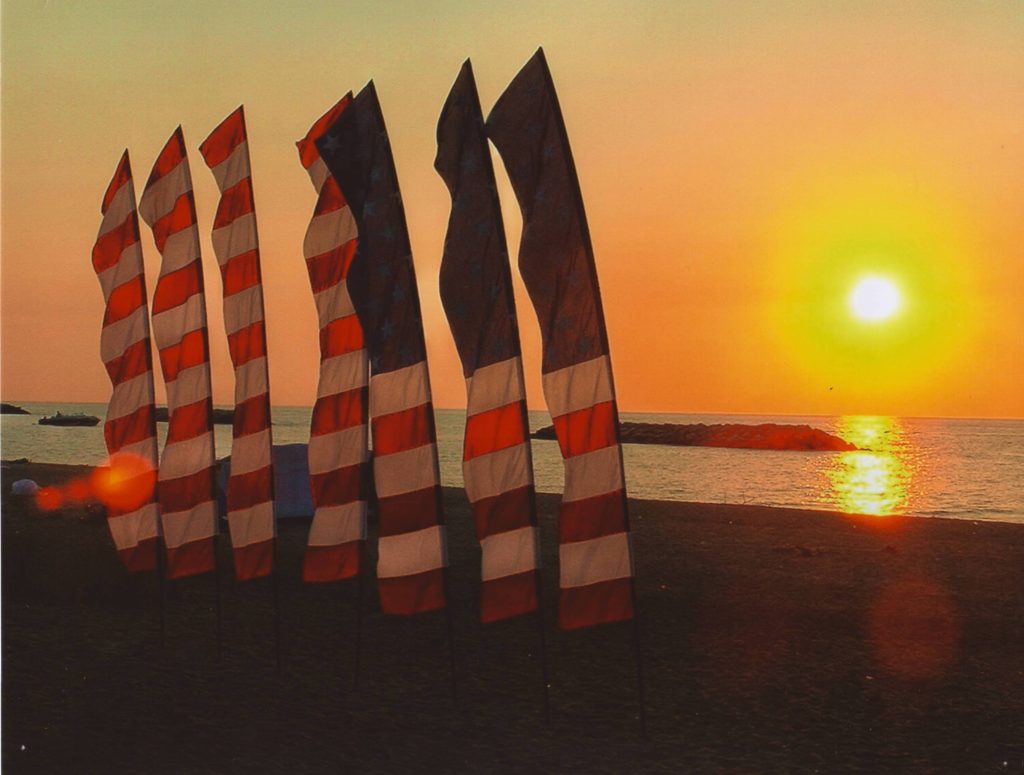 While Katrina navigates the county like a true Erieite, she is not native to the area. Born in Titusville, PA, Vincent attended Messiah College Harrisburg Campus for her undergraduate degree in political science. An internship at the State Senate ignited her interest in policy and its effects on economic development.
In 2003, Vincent moved to Erie, taking a job as an assistant in the Erie County Executive's Office. Within a few months, she landed a role as the business retention and expansion manager for the Erie Regional Chamber & Growth Partnership. Three years later, at the age of 25, Vincent was recruited to become president and COO of the Greater Erie Industrial Development Corporation (GEIDC), an affiliate of Develop Erie.
Unfortunately, in the spring of 2016, the organization hit financial turbulence and had to file for Chapter 7 bankruptcy protection. Thanks to her local reputation, it didn't take long for Vincent to bounce back. In the summer of 2016, Rick Novotny, executive director and president of real estate for the Erie County Redevelopment Authority (an ECED affiliate organization), approached her about coming on board.
Shiny and New
Whether business owners want to renovate existing factories or build state-of-the-art facilities, Vincent's expertise helps make it possible. For instance, tucked back on Robison Road in Summit Township in central Erie County is a massive 1.1-million-square-foot facility belonging to LORD Corporation, a global technology and manufacturing company.
Vincent walks confidently through the reception area, a sleek space outfitted with stainless steel accents, massive windows, and sky-high ceilings. Previously owned by Bush Industries, the once nearly-vacant furniture plant now sports a modern façade and aesthetic undertones one might expect from tech headquarters like DropBox or Spotify.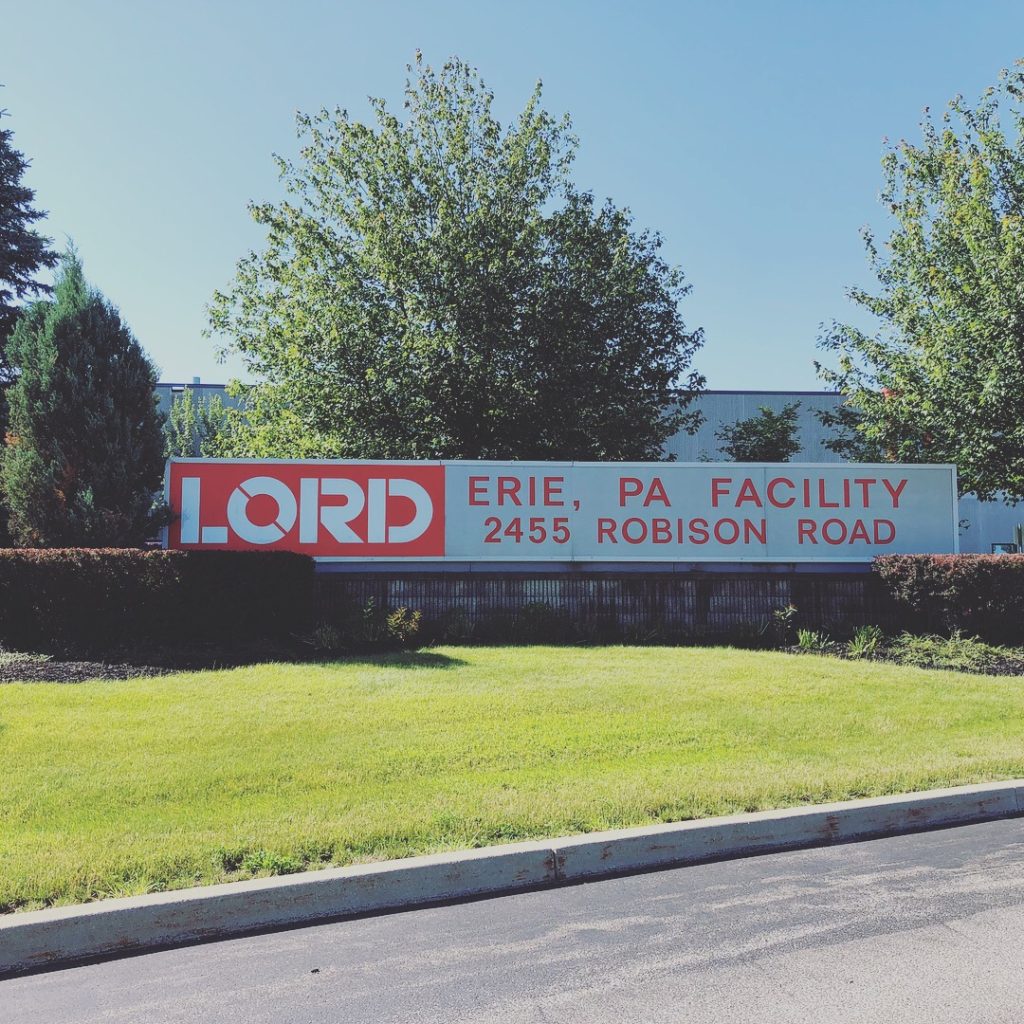 Mark Rose, director of Erie operations for LORD, leads Vincent and her team to the conference room to detail the company's accomplishments, especially those boosted by the Erie County Redevelopment Authority and ECED.
Not only did ECED help broker the deal with Bush Industries, but they also helped to secure funding from the Pennsylvania Economic Development Association (PEDA), dollars from an industrial site reuse program, a grant from the Summit Township Industrial Economic Development Authority, and — arguably the Hail Mary of business financing — tax increment financing, also known as a "TIF".
In fact, LORD Corporation is the first company to use a TIF in Erie County. Like most programs involving the public sector, persuading multiple government agencies to see eye to eye is incredibly difficult — TIFs generally require at least three local governments in a specified district to unanimously agree on a long-term strategy for economic growth.
Vincent and her team made it happen.
"It was a lot of meetings, presentations, diagrams, and repeat education to try and help [the taxing bodies] see the benefits," she recalls. "Again, the whole goal of a TIF is to focus on public improvements…But, because it was a newer tool that we never touched before, I think it was a little controversial."
I know that the role we're playing is attracting and retaining jobs here, and that's contributing to people's livelihood and helping them take care of their families.Katrina Vincent
TIFs use future property-tax revenue increases to finance projects. At first glance, taxing bodies like the city, county, and school district often think they're going to see reduced cashflow.
"[The challenge] was communicating the benefits to the taxing bodies and the general public," says Vincent. "You're not giving something up — you're going to continue collecting exactly what you have been. But you're also going to get more in the future if you implement this."
Few businesses even know that financing options like a TIF or organizations like the Redevelopment Authority exist. This means Vincent has her work cut out for her.
Water Wings
Vincent's next stop is Shearer's Foods in Waterford, PA. When the Ohio-based company purchased Troyer Farms, an old potato chip factory, there was one major problem: the water-and-sewer infrastructure couldn't handle their desired level of production.
So Vincent and her team did what they do best: They solved the problem. Through a Redevelopment Capital Assistance Program grant (which totaled $725,000), and educating municipal leaders about the benefits of such a large employer in the area, the Erie County Development Authority was able to persuade Waterford Township to extend — on Shearer's dime — their infrastructure to the old Troyer plant.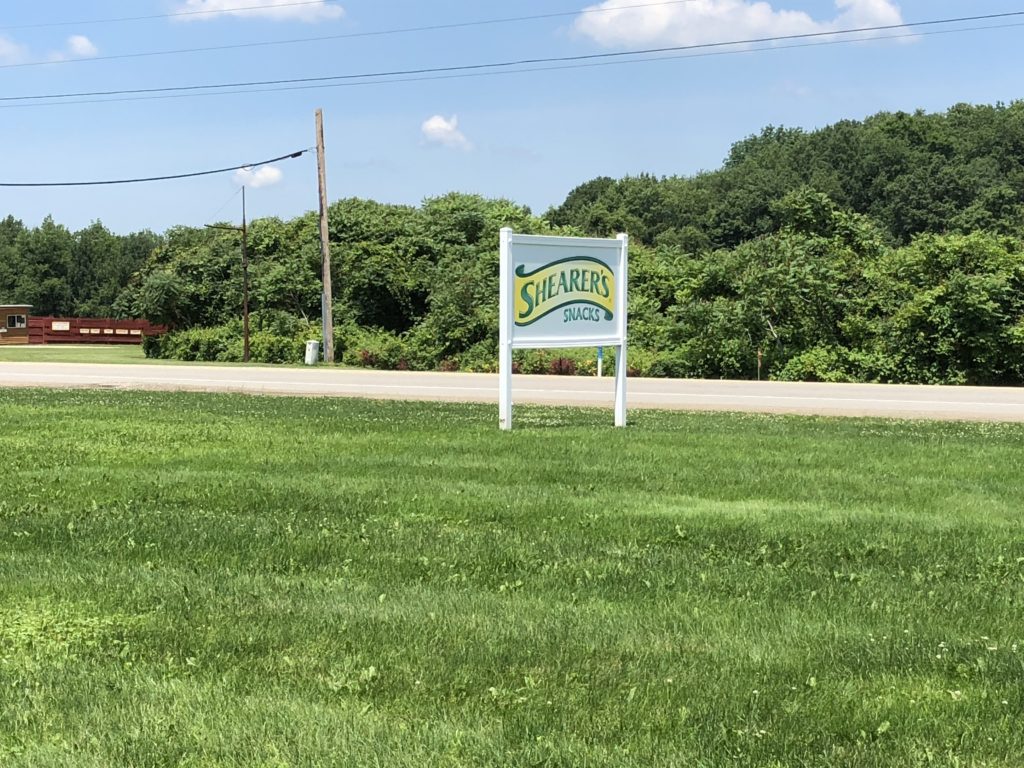 With the grant money, the company was able to build an on-site wastewater treatment system that reduced their wastewater, which previously flooded the Waterford municipal sewer, by a whopping 90 percent.
According to GoErie, the Shearer's plant currently employs 240 employees, up from 150 in 2015. That's a significant victory considering the plant remained vacant for three years. Had it not been for Vincent and her team, it's possible that those 90 additional jobs wouldn't exist today.
That's what it's going to take to revitalize Erie — creating good jobs, whether it's one at a time or hundreds at a time. And it's going to take people like Katrina Vincent, with her calming presence, self-assurance, and tireless drive. Hopping from meeting to meeting, quietly make big changes behind the scenes, she is easily able to articulate why she does this job.
"I know that the role we're playing is attracting and retaining jobs here, and that's contributing to people's livelihood and helping them take care of their families," she says. "It's the potential of Erie, and it's where I'm raising my children…We're all going to be here for the long run, and we're going to do the best we can."
MATT FLOWERS is the founding member of Ethos Copywriting, an SEO, branded journalism, and content marketing company. In his free time, the Erie resident enjoys writing music, woodworking, winemaking, drinking good beer, drinking cheap beer, taking long walks, making up words, gardening, and cooking.