Nestled in the mountains of central Pennsylvania between Harrisburg and State College lies Lewistown, the county seat of Mifflin County. Shy Bear Brewing, a local brewpub, has been serving up food and drink to the community since 2015, while also keeping the pulse of the area's burgeoning entrepreneurial scene.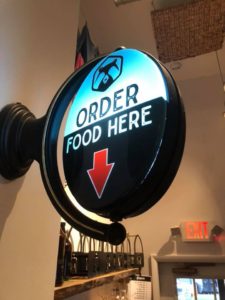 For Shy Bear owner Jason Ufema, entrepreneurship runs in the family. His father started Rich Coast Coffee Roasters in 1978 after trying his hand at background music production. Shy Bear, which is in the same complex, features 14 beers on tap, an outdoor stage for local musicians, a large array of solar panels, and a modern interior.
In late July, Keystone Edge visited the brewpub to attend an Entrepreneurial Meetup hosted by the Mifflin County Industrial Development Corporation (MCIDC) and the Juniata River Valley Chamber of Commerce. More than twenty locals gathered to share their visions for the area's future.
Attendees included Caleb and Michelle Fetter, co-owners of Five Points Screen Printing. The couple are regulars at these events and very active in the community. Michelle is a big advocate for Lewistown First Friday: On the first Friday of each month, the town promotes small businesses and showcases local art. Five Points prints t-shirts with unique designs for each one.
When small business grows, the community grows.Caleb Fetter, Five Points Screen Printing
"The networking between local businesses [is] the keystone towards revitalization of our county," said Caleb. "These meetups are a 'no competition' zone… All the advice and tips we have received from these meetups have been crucial to developing. When small business grows, the community grows."
Other businesses represented at this iteration included web development, coffee roasting, wedding planning, landscaping, and kombucha brewing.
That diverse list is exactly what MCIDC President Nick Felice envisioned in January when he partnered with the Chamber to put on these events.
"[The gatherings provide] an opportunity or place where small business owners, potential entrepreneurs and product developers can whiteboard stuff, focus group stuff, and lay it out," he explained. "For example, 'This is my idea, I have a widget, this is who I want to sell it to, this is how much I think it will cost to produce'…and then the group acts as consultants."
JOHN HOGAN is a journalism student at Penn State University.