High school student Jesse Heaton looks closely at the textbook next to him before carefully connecting a wire to a circuit board, then flipping a switch to determine if he's done the procedure properly. He is turning a small device into a microphone.
A beep signals success!
This hands-on exercise is one of many being performed by Hanover High School students in a newly formed mechatronics class. The class is part of an initiative to give students experience in fields with major career potential, and ones that boast high-demand local jobs offering family-sustaining wages.
According to David Harnish, career counselor at Hanover High School, this program is one of the few — if not the only — mechatronics curriculums offered by a school district in Pennsylvania. Upon successful completion of the class, students receive credits for a local community college or industry certification.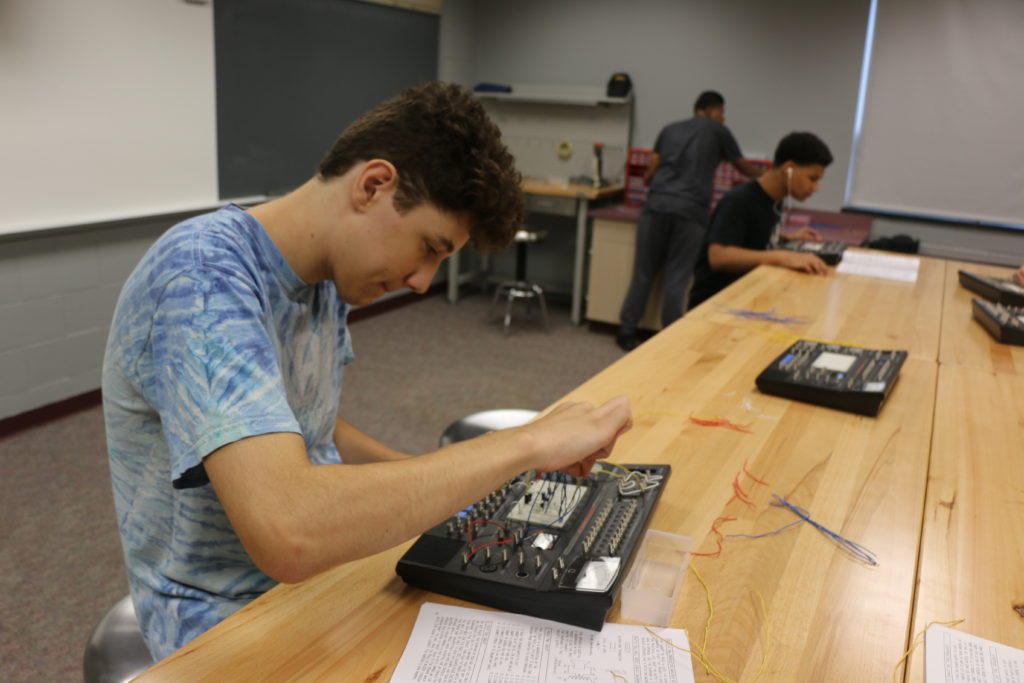 "When we can attach college credits, certification, accreditation or a certificate of completion to a high school diploma, that gives our students a competitive edge," he explains. "[That's] whether they are going to a four-year college, a tech or trade school or directly into the workforce."
The six specialty classes the district has created over the past six years have been strategically planned with assistance from industry leaders and local business groups. Superintendent Dr. John A. Scola purposefully engaged the business community to bridge the gap between education and industry.
"One of the first things he did when he arrived six years ago was to go out into the community to determine what Hanover has and what Hanover needs," says Hanover High Principal Rina Houck. "Industry shared with him their in-demand jobs…and it has been become a real win-win. Industry needs workers and our kids need careers."
Hanover's cutting-edge approach has not gone unnoticed. Their welding program was recently featured in a national industry publication, and various state officials in Governor Tom Wolf's administration have paid visits to the school to learn how the results can be replicated across the Commonwealth.
Eric Ramsay, Director of the Apprenticeship and Training Office in the Pennsylvania Department of Labor & Industry, has observed the school's NIMS Registered Apprenticeship and Pre-Apprenticeship program, which is being sponsored by the Hanover Area Chamber of Commerce and supported by local businesses. (Now in its second year at Hanover, the NIMS program is the national standard for students to obtain certifications/apprenticeships in precision machining.)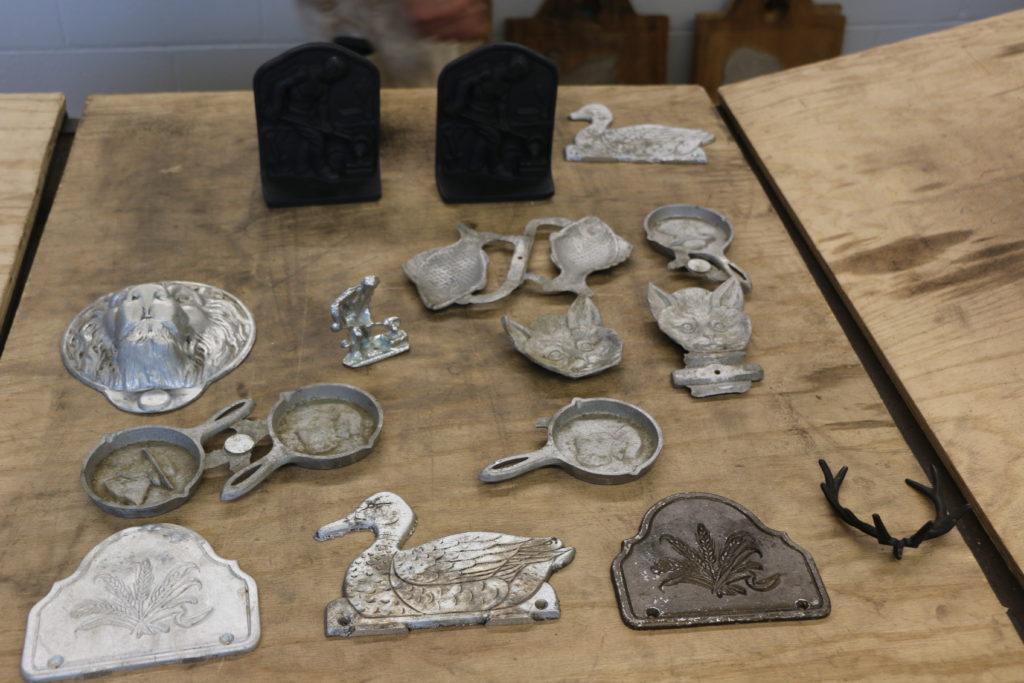 According to Ramsay, the Hanover Chamber of Commerce was the first chamber in Pennsylvania to sponsor a registered apprenticeship and pre-apprenticeship program.
"The Chamber, businesses and the school have made the commitment to say that we want our children in our schools to achieve high standards and we want them to stay here and become successful members of the community," says Ramsay. "For every dollar spent on apprenticeship, employers get an average of $1.47 back in increased productivity."
The advent of the NIMS program dovetails nicely with the recent launch of the Wolf Administration's PAsmart program. One component of PAsmart includes a $7 million increase in apprenticeship program funding. The initiative passed with the 2018-19 budget and became a permanent budget line item.
Hanover High senior Mike Minetos says the NIMS program has given him a career option while also teaching him some valuable lessons.
"It is a very difficult class because of the accuracy needed when hand drilling," he explains. "It has helped me become more accurate and taught me that it is important to pay attention to details because those things matter."
It's about exposing students to choices, and it is about the process and how you think about and plan for your future. We talk a lot in this high school about the real world. We prepare kids for careers.Hanover High Principal Rina Houck
The first class developed in cooperation with the local business community was the State Department of Education-certified Welding Technology Program. Students must log over 720 hours of welding instruction and pass the NOCTI Welding exam.
The welding program was slow to take off, but has grown in popularity as word of mouth spread through the student body. Senior Lakota McMillin and junior Meghan Stremmel have decided to pursue welding careers.
"I took the class to see what it was like and discovered that I like it and it is really fun," says Stremmel. "I want to have a career as an underwater welder, and am looking at several schools to continue my education."
McMillin already has an offer of employment after she graduates and will become a welder apprentice at her new job.
"It feels good to know that I have a secure future and that I don't have to worry about finding a job after I graduate," she says.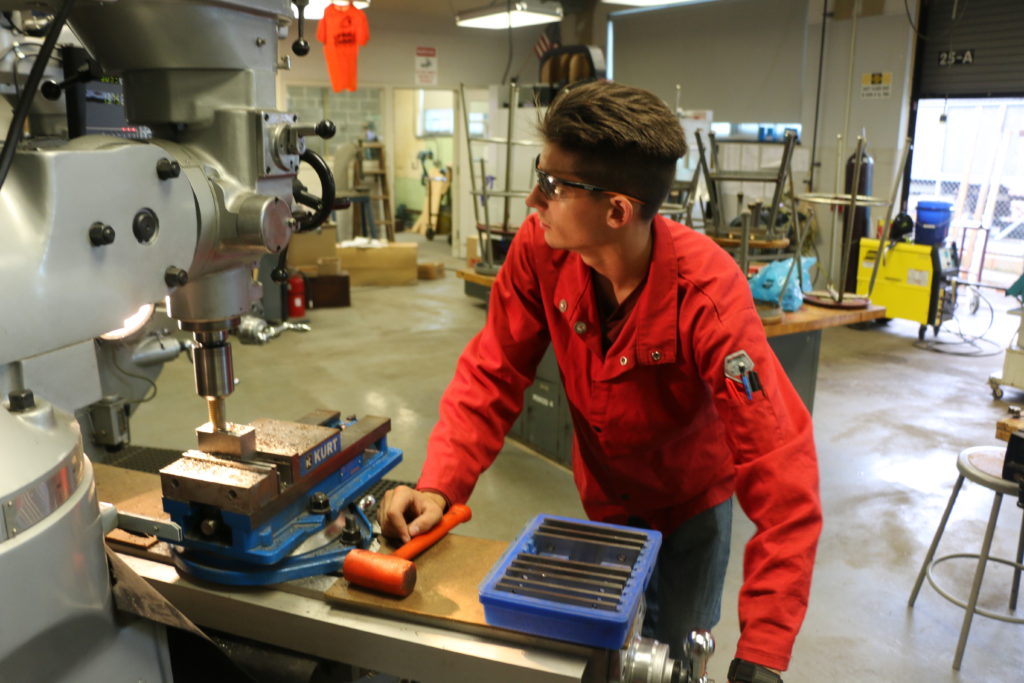 The investment the school district makes in the future of its 1,800-member student body actually begins in kindergarten, where soft skill lessons begin. By the seventh grade, they enter the Visionary Individualized Planning Process (VIPP) program and are encouraged to start thinking about a potential career. At this time, students begin taking field trips to area colleges and local employers to gain valuable exposure to potential careers.
"It's about exposing them to choices and it is about the process and how you think about and plan for your future," says Houck. "We talk a lot in this high school about the real world. We prepare kids for careers."
For Utz Quality Foods, the introduction of mechatronics at the school was another step in a longstanding partnership with the school — and a way to address an aging workforce. Utz also sponsors mechatronics at the post-secondary level.
"The opportunity to partner with the local high school to further that program makes sense from a business and community perspective," says Kevin Gulden, Utz's Plant 4 Manager. "Hanover High School has always worked well with us in other programs providing us quality candidates who come with the soft skills that employers require and are often missing from job applicants."
Three weeks in the mechatronics class has provided valuable insight into a career in electrical engineering for Heaton.
"I've always had an interest in electronics," he says. "I believe this class is steering me down the right path toward a career in electrical engineering."
JAMES MENTZER is a Harrisburg-based freelance writer and author of two books, Pennsylvania Manufacturing: Alive and Well and Bucks County: A Snapshot in Time.