This story originally appeared on CityWide Stories.
A man with light-colored hair and a small bald spot walks through Philadelphia, wearing a white shirt and pants. He's upright and unhurried, arms at his sides. The camera is behind him, so we can't see his face. He strides directly toward Swann Memorial Fountain and the pillars of the Philadelphia Museum of Art; through the streets and passages of Old City; and across Thomas Paine Plaza — all clearly recognizable, though the pictures are decades old. In a rare side-view, his face still hidden, he gets into a yellow taxi at Headhouse Square.
Who is he? What is he doing?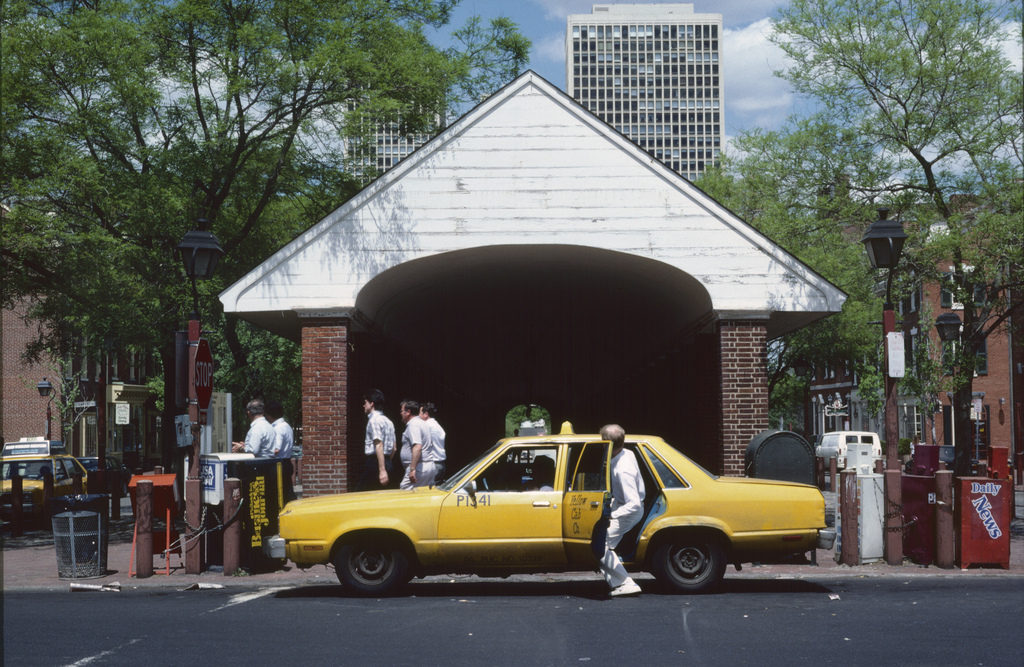 Those are two of the hundreds of questions that the Fisher Fine Arts Library hopes to answer with the Ed Bacon Photo Project, now online and open for comments from anyone who might be able to tell the curators learn more about this extraordinary collection.
West Philly native Edmund Norwood Bacon (1910-2005) was a world-famous city planner. Sometimes called "the father of modern Philadelphia," he gave his collection of research and lecture slides to the Fisher Fine Arts Library at the University of Pennsylvania the year before he died.
"We knew this would be a really important research collection for Penn, but also for Philadelphia," explains Hannah Bennett, Fisher Fine Arts Library Director.
There's just one problem: Very few of the images have any sort of identification. Bennett initially thought the man in white was Bacon himself, but on closer examination, it's not.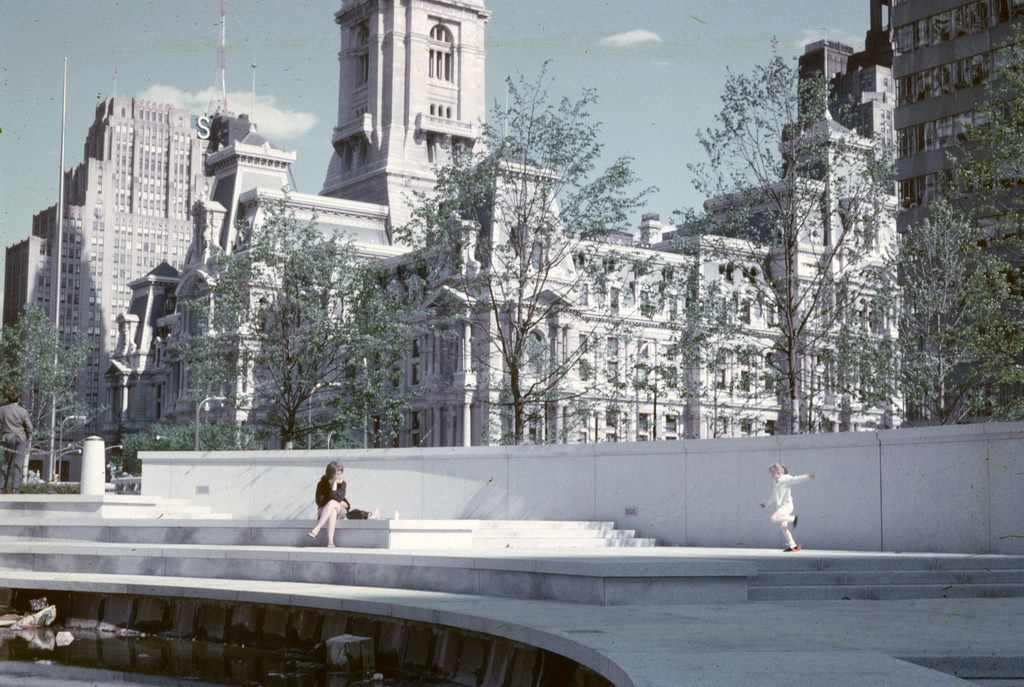 The library has digitized about 5,000 of Bacon's images, 1,000 of which are now available to view online.
"We knew this would [offer] insight into how he thought, and how he was looking at buildings and cityscapes," says Bennett, calling the collection a visual "master class in city development."
The avalanche of unlabeled images mainly come from Philadelphia, though a portion are from cities overseas. Most scholars who donate this kind of collection include some kind of shorthand annotation, but not Bacon. He did give the library a document that, according to Bennett, "kind of looks like a ransom note," listing years from 1959 through 1988, identifying months and places visited.
"I'm guessing that these correlate to the slides somehow," she says, but no one is sure how.
Born in West Philly into an old Quaker family on both sides, Bacon graduated from Swarthmore High School in 1928. He went on to study architecture at Cornell University, but the Great Depression raged by the time he graduated. Thanks to a $1,000 gift from his grandfather, he was able to backpack across Europe. With his funds almost exhausted, he got a one-way ticket to China.
According to Philadelphia's Center for Architecture, Bacon found work with American architect Henry Killam Murphy in Shanghai, and traveled throughout the country. Chinese aesthetics would influence him throughout his career.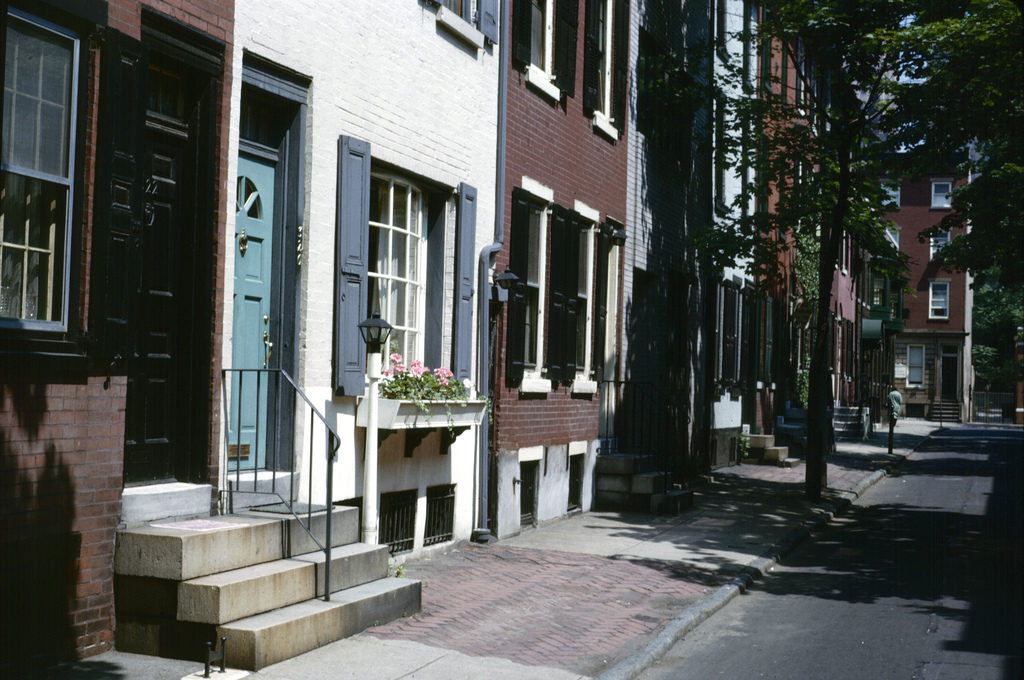 He returned to the States in 1934, and by age 26, was at the helm of an attention-getting WPA traffic survey in Flint, Michigan. He became secretary of the Flint City Planning Board and developed into a vocal advocate for affordable housing. However, he met so much opposition from the Flint City Council and business community that he and his wife, Ruth Holmes, left the city in 1939. A disconsolate tour of Europe was followed by a return to Philadelphia, and that's where Bacon's career really took off.
He helped to found the Philadelphia City Planning Commission in 1942, but left the city the following year to enlist in the Navy, serving in the South Pacific in World War II (the first servicemember in his Quaker family). After his return, Bacon became the executive director of the Planning Commission in 1948, a job he held through 1970 — a time period that covered the tenures of four mayors. The Philly Planning Commission drew nationwide attention at the time, including major features in Time and Life magazines. In the mid-1960s, President Johnson appointed Bacon to the White House Conference on Natural Beauty, where he reported directly to the president.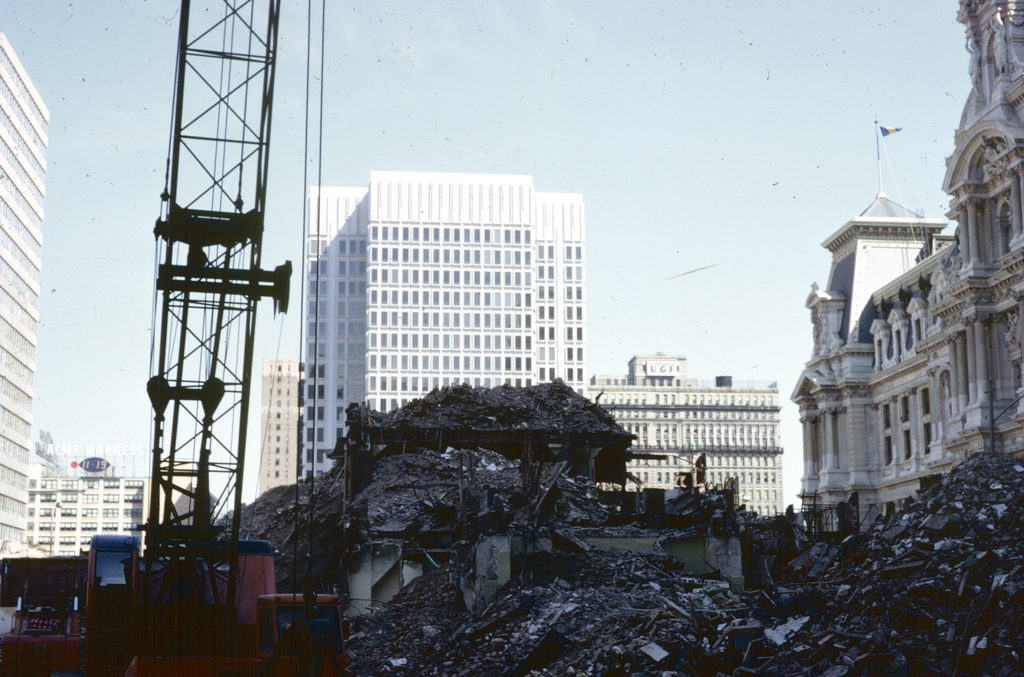 Even today, you can still see Bacon's mark on the city. He had a critical role in the design, planning and implementation of landmarks including Schuylkill River Park, Penn's Landing, the underground mass transit pathway from Jefferson Station to 30th Street, the Market East transit and retail complex (now undergoing another reinvention), Philly's Independence Mall, and the Vine Street Expressway (which fell short of Bacon's original vision, and remains a controversial legacy with its disruptive footprint dividing Chinatown). He was instrumental to the Penn Center complex and the transformation of Society Hill. He also helped to plan Yorktown, America's first neighborhood for middle-class black homeowners.
In addition, he penned an urban design text that remains a foundational today: 1967's Design of Cities. (And, yes, in case you're wondering, he and his wife had a son named Kevin who became an actor.) So it's no wonder that Ed Bacon's slides were an exciting gift to the library at Penn.
The pictures show Philly in the snow and in the summer. You can see the Municipal Services Building and Thomas Paine Plaza under construction. There's some kind of outdoor dog show with a hulking, abandoned industrial building behind it, scarred by fire, and smokestacks on the river in the distance. Mobs of square-dancers reel around Headhouse Square; the Mummers march (can you help figure out which years Bacon captured?); sculptures loom out of urban alcoves.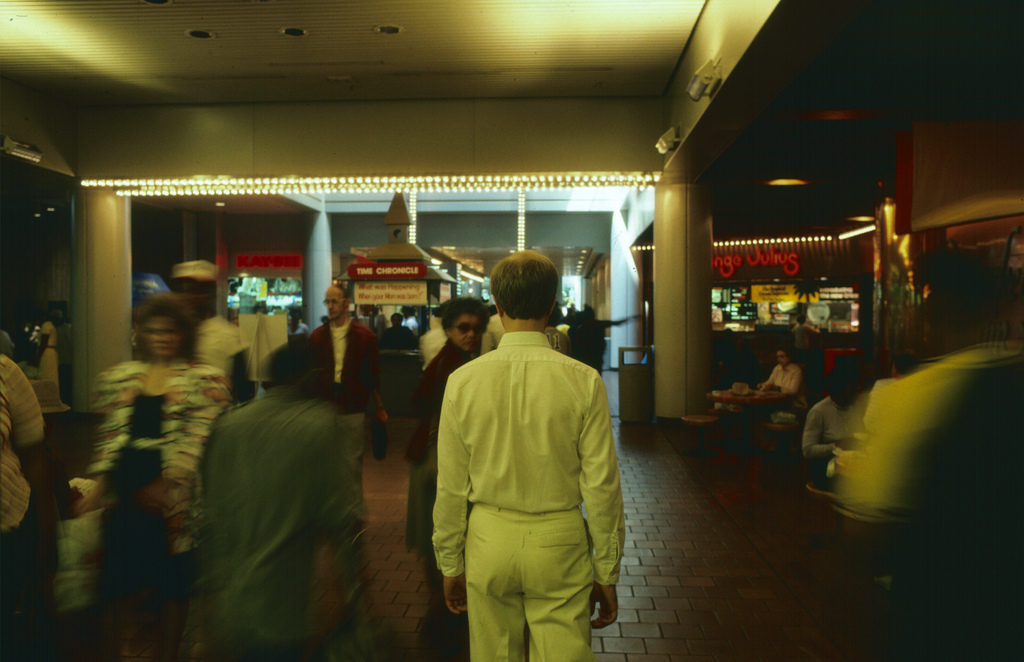 In many cases, the place where the photos were taken is a mystery. And as Bennett notes, clear subjects like the Parkway have mysteries if you look closer. When was it taken? If there are people in the photo, who are they? Are the buildings in the photo still there today? What is their architectural style?
"Even the real obvious ones are a bit of a puzzle, because if you want to identify buildings or monuments beyond the focus of the photo, it gets complicated," she says. "The city has changed so much over the course of the last several decades. It's great to see the snapshots of this visual history. People love responding to that."
Like anyone with work as prolific and influential as Bacon, he's not without detractors, and that's part of what comes from opening a collection like this to the public. But Bennett likes the opportunity to crowd-source information, and says that institutions shouldn't be afraid to do it.
"Some libraries might have been a little hesitant to take this approach, because you do open yourself up to the world," she adds. "But I think it's a really important way to unlock a collection and engage with the community."
If you want to try your knowledge on the project, you can get started here.
All photos courtesy of the Ed Bacon Photo Project and the Fisher Fine Arts Library.
ALAINA JOHNS is a Philadelphia-based freelance writer and the Editor-in-Chief of BroadStreetReview.com, Philly's hub for arts, culture and commentary. You can visit her at her blog, where fiction need not apply.