They say you can't go home again, but that is what the Camp Hill-based Smith Land & Improvement Corporation achieves with its most recent project, Neighbors & Smith. Occupying an entire block of this Central Pennsylvania borough's Market Street, the 40,000 square foot retail and office redevelopment project is just one mile away from Smith Land's first project, the West Shore Plaza, which has been a cornerstone of the community since 1953.
"We develop properties that we intend to hold for generations," says Smith Land President and CEO Rick Jordan, III, who took the reins of the company from his father in 2018. "We believe it serves as a model for bringing prosperity to our company and tenants, while enriching the neighborhoods where we have a presence."
Room with a View
The idea for Neighbors & Smith was born after the company relocated its headquarters to a historic home on Market Street. Across from the new office, a collection of aging buildings captured Jordan's attention.    
"My developer's eyes saw a mishmash of structures, many enhanced with piecemeal additions that did not exactly scream out for people to walk by and visit," he recalls. "I saw opportunity there."
One local business, a tea, coffee and gift shop called One Good Woman, has enjoyed success in Camp Hill for more than a decade in spite of its location — tucked away in a cramped, basement-level space around the corner from the main drag. The café's inauspicious site earned a mention in a 2016 report from the Urban Land Institute (ULI), the international land-use think tank. The report described Camp Hill's business district as having "evolved with little or no planning. The result is an inconsistent streetscape, a hodgepodge of signage and a retail mix that is heavy on services and light on goods."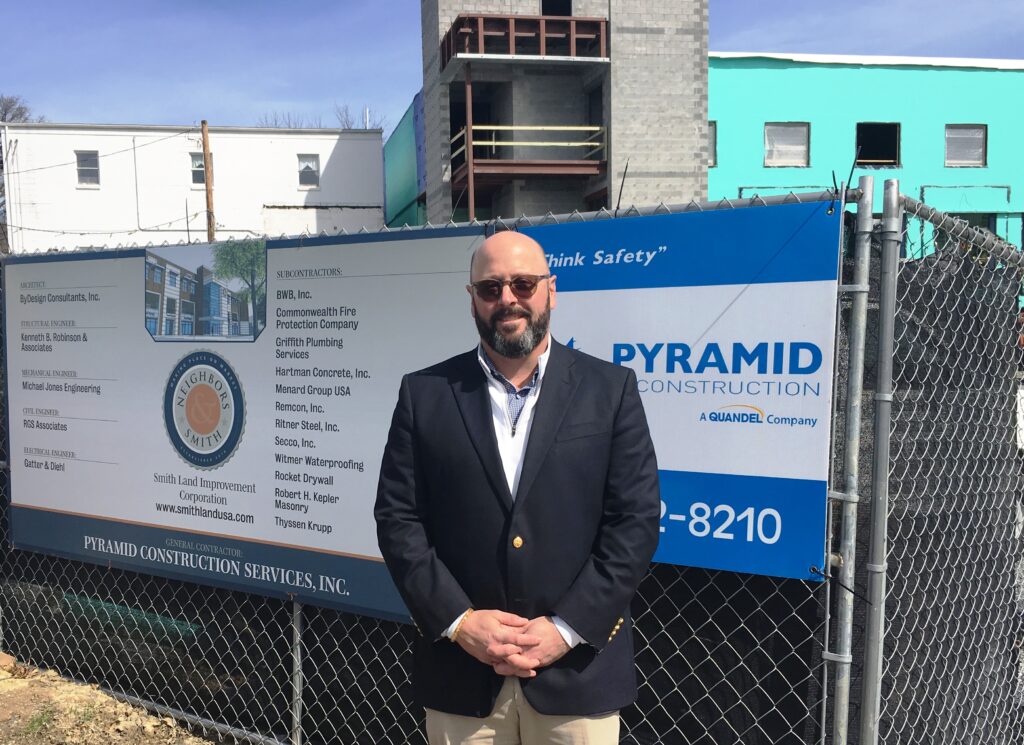 Jordan is glad to play a role in reversing that trend. Today he looks out his office window and witnesses an evolving block. Beginning with the purchase of five buildings, the project will help create a walkable downtown business district. 
Smith Land is pursuing Neighbors & Smith in two phases to accommodate tenants affected by the transition. One Good Woman, Little Black Dress and Underneath It All are settling into their new space as part of Phase 1.
"Smith Land's invitation to be part of this project, and their vision, offered an opportunity that we could not pass up," says Michele Koch, who co-owns One Good Woman with business partner Mechelle Webster. "Our long-term goal has been to move to a more visible location with a larger space to include a café. Neighbors & Smith allows us to take our business to that next level. And they have made it possible while trying to minimize disruption."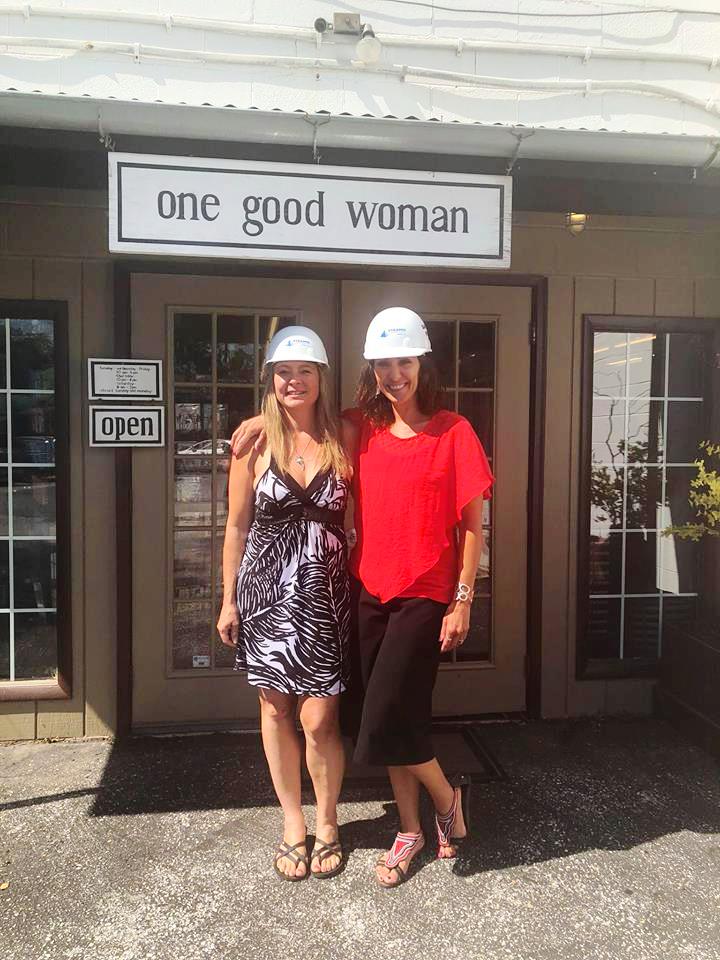 The ribbon cutting for Phase I of Neighbors & Smith will take place at 9 a.m. on Saturday, June 22, and will include business leaders, elected officials and members of the community. Phase II is set for completion during the first quarter of 2020.
Master Plan
Located three miles up the road from the Susquehanna River and the Pennsylvania state capital in Harrisburg, Camp Hill retains the charm of a small town. Settled in 1735, the borough boasts historic homes, tree-lined streets, sidewalks, big front porches and detached garages facing backyard alleys. Within its two-mile radius, residents can walk or ride a bike to local schools, a performing arts center, a stadium and sports complex, the community pool, a state-of-the-art library and a collection of restaurants, shops and other businesses. 
In contrast, drive a couple miles outside of town and witness an exponential increase in car-dependent planned communities named for the meadows, farms and woods they replaced. According to the ULI report, these neighborhoods lack "the charm and walkability that is fast making Camp Hill Borough the perfect home to local business."
In fact, ULI has specifically singled out Neighbors & Smith as meeting actions "identified as improvements, and even needs, for a healthier, more walkable and more economically vibrant community." In Camp Hill, these locally-owned, independent businesses breed more of the same.
My developer's eyes saw a mishmash of structures, many enhanced with piecemeal additions that did not exactly scream out for people to walk by and visit. I saw opportunity there.Rick Jordan, III
Now the Midtown Harrisburg-based restaurant-brewery-gallery Millworks is renovating a historic Market Street building, and will open a tasting room in late 2019. They join established businesses such as The Cornerstone Coffeehouse, Holmes Cycling & Fitness, Blooms by Vickrey and Roberto's Pizza.
Leading the Way
Neighbors & Smith follows a formula for success that has worked for Smith Land since its founding in 1961.
"We think of our shopping centers as more than retail and service destinations," says Jordan. "We invest in neighborhoods where we have a presence — through philanthropy and economic development. We care deeply about supporting our tenants and communities."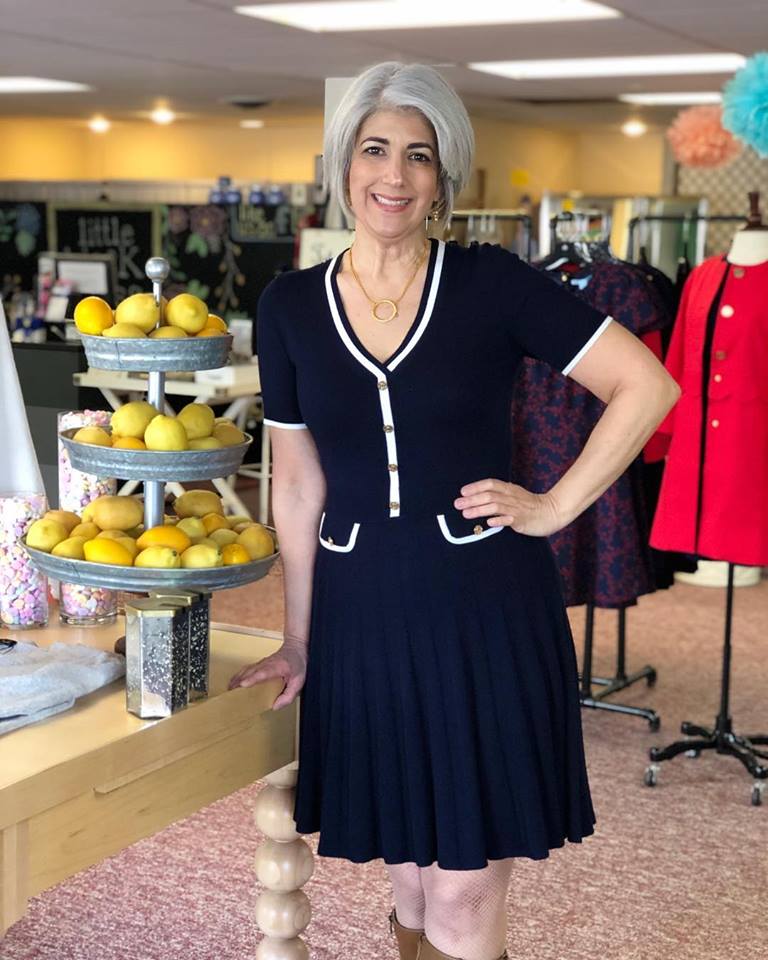 This includes hosting events around Small Business Saturday, the "Shop Local" holiday campaign, seasonal Camp Hill business district tours, and Smith Land's annual "Healthy Neighbors Fest," which features free health screenings, family friendly activities, the Bloodmobile and a pop-up fitness park.
Smith Land also prides itself on serving as an incubator for locally-owned businesses, a majority which are owned by women. According to Jordan, there are 44 women-owned small businesses located on Market Street in Camp Hill.
"The motivation for opening my store here almost five years ago was to be located near other like-minded, female-owned businesses that would complement and support each other," says Lisa Bedway DeCavalcante, owner of Little Black Dress. "I got what I wanted…to the tenth power. Shoppers can come here to buy clothes in proximity to other places that offer coffee, gifts, toys and other unique merchandise."
Smith Land oversees a portfolio of nearly 50 properties located throughout the Mid-Atlantic region. However, according to Jordan, it is not by accident that most of the company's real estate investments are concentrated in their own "front yard" of Central Pennsylvania. That is because it is rewarding to witness, first hand, the company's efforts to boost the regional economy, invest in entrepreneurs, create local jobs and, most of all, bring people together.
"We like the idea of redeveloping where we live and improving the environment for our neighbors," he adds. "We want our projects to represent who we are and make the residents proud of what we do. They know we have a reputation for doing things the right way, and if something goes wrong, we'll be here to fix it."
Lead image: An aerial shot of Camp Hill, Pennsylvania / photo: M. R. Dressler
SARA M. KAPLANIAK works as a freelance writer and communications consultant. She lives in Camp Hill.