Pennsylvania is in a golden age of craft distilling. Since 2011, when changes to state law made it much easier for these businesses to launch and thrive, the number of distilleries has gone from fewer than 10 to over 70.
The boom has been particularly powerful in Philadelphia, which now boasts over a dozen small-scale spirits makers. That shouldn't be surprising, since Philadelphia Distilling, famous for its Bluecoat Gin, was a modern pioneer — in 2005, they earned the first new distilling license in the state since Prohibition.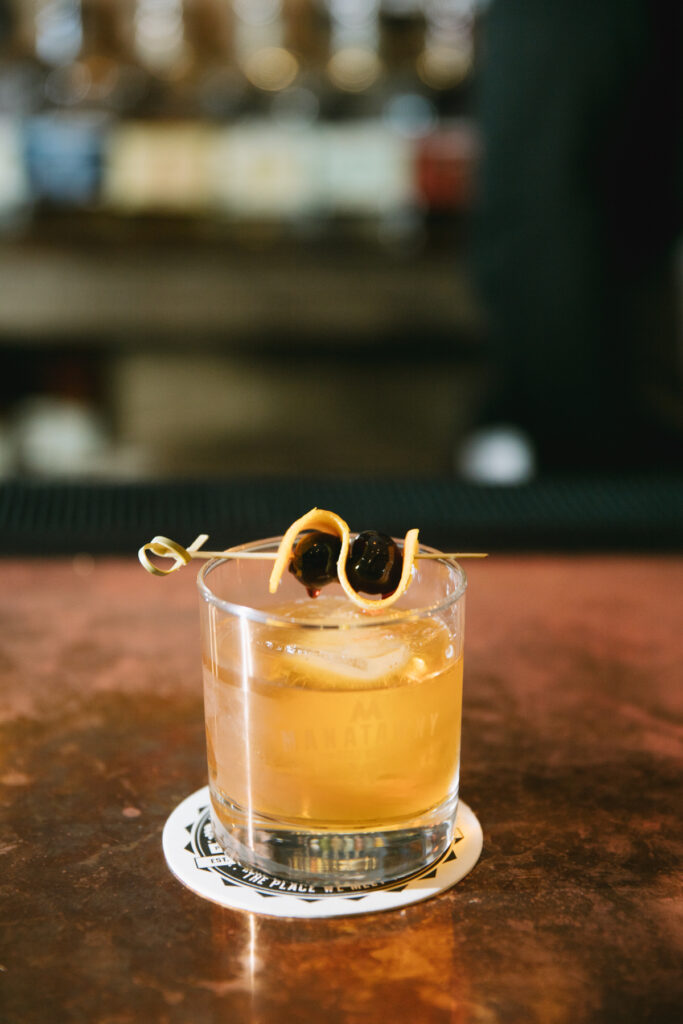 Then there is Manatawny Still Works. The Pottstown distillery has been expanding its footprint in the Philadelphia region, drawing whiskey-lovers to its tasting room and production facility in Montgomery County, while also selling bottles and serving cocktails at a satellite tasting room on East Passyunk Avenue in South Philly.
Sly Fox Brewing Company owner John Giannopoulos is a partner in Manatawny Still Works. He successfully grew a beloved craft brewery, and that 2011 legislation provided a new spark of inspiration. The laws reduce the cost of a state license to $1,500 and allow distilleries to sell their products on-site, not just in state wine and spirits stores. This leveled the playing field with breweries and wineries, which had long been able to build a following by welcoming people into their production facilities to taste.
"We started talking to [Giannopoulos] in 2012 just about generic investment stuff," recalls Derek Menaldino, another Manatawny partner who was working at a private wealth management firm at the time. "The timing was interesting because Pennsylvania had just liberalized their liquor laws to allow people to get these micro-distillery licenses. He was interested in starting a distillery."
Opening across the street from Sly Fox was an elegant way to launch quickly and affordably. The Manatawny Still Works team wanted to focus on whiskey, and the first step in making whiskey — adding yeast to malt and water, creating a "wash" — is very similar to making beer. With the existing facilities at the brewery, all they needed were stills and barrels.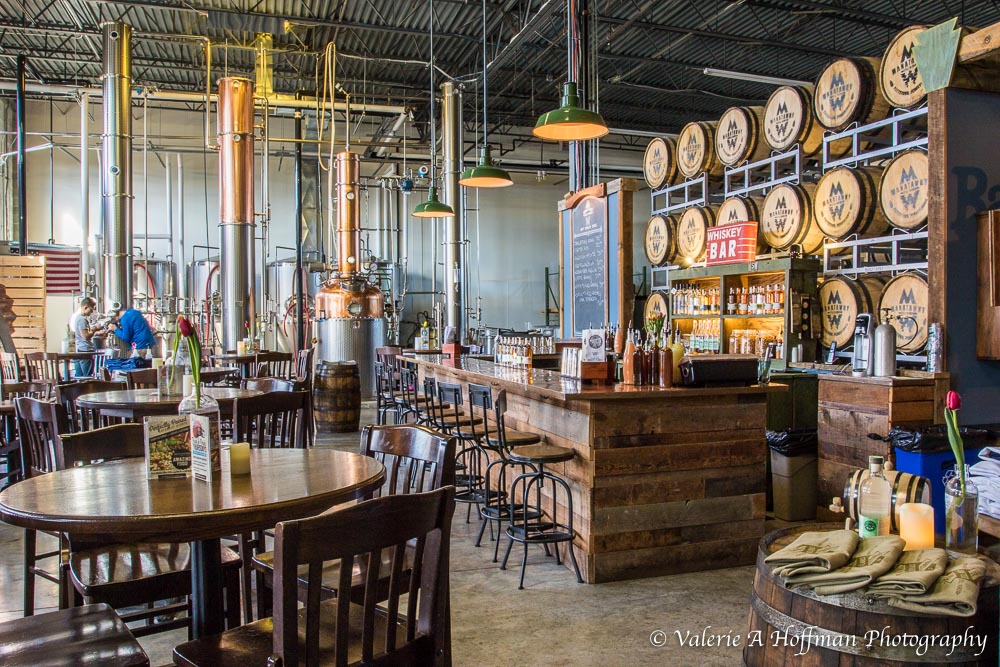 Another bonus to the close proximity was the creation of a tiny craft beverage hub in an unassuming industrial park. People often come to Sly Fox and then end up at Manatawny Still Works.
"What's difficult for any company starting out is getting the initial customers, especially when you're going into retail," says Menaldino. "So whether it's a bakery, a chocolate shop, a coffee roaster, a distillery or a brewery, if you can open a tasting room and get people to come into your production facility, you're already one step ahead of the game."
To make sure the spirits kept those people coming back, the team lured Sly Fox head brewer Max Pfeffer into the role of Director of Operations.
Instead of making another bourbon or another rye, we decided to make our own unique style of whiskey.Max Pfeffer, Manatawny Still Works
"I have a degree in chemical engineering and a certificate from UC Davis in Brewing," says Pfeffer, who has been in the job since the company launched six years ago. "I wasn't classically trained in distillation. Getting the chance to start something from the ground up and figure it out as I went was a pretty awesome opportunity."
While the distillery also makes gin, rum and vodka, Pfeffer and the partners decided that Manatawny's calling card would be its distinctive whiskey, made with four grains and no corn.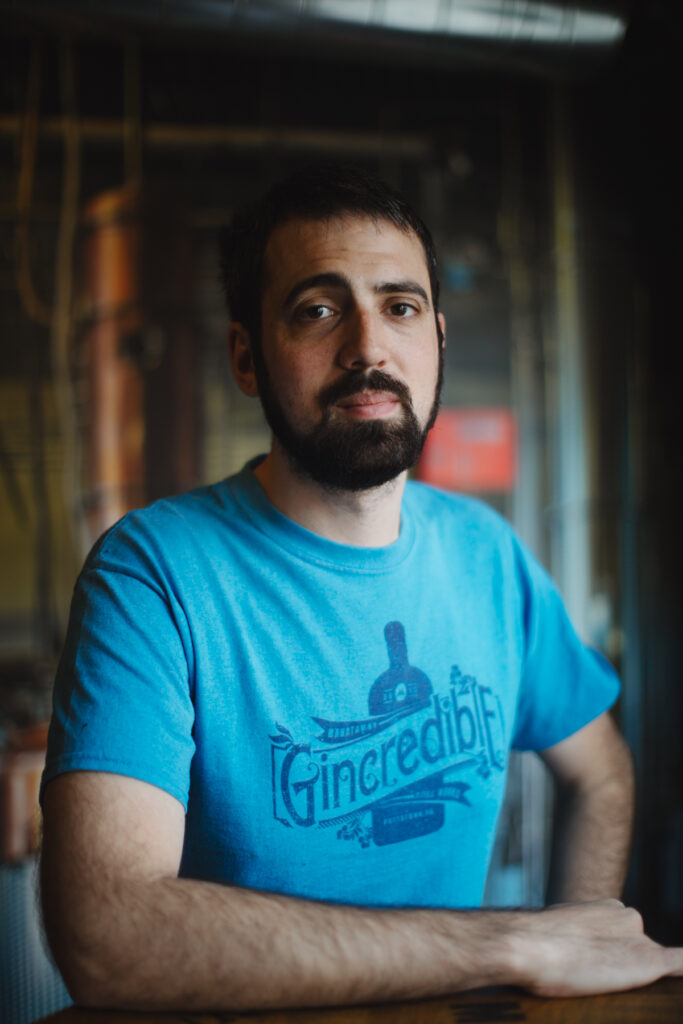 "We don't make bourbon. We don't make rye," he explains. "People ask, 'What do you make?' I say, 'American whiskey.' But when you go into a liquor store and you want to buy a bottle of whiskey, they are basically six styles: bourbon, rye, Scotch, Canadian, Irish, maybe Japanese. That's just what people know."
Pfeffer was inspired by the craft brewing industry, where small brewers drive innovation and diversity.
"Forty years ago, everyone only drank light lager, or maybe Guinness," he explains. "I think what made craft beer special was that [brewers] started making things the big guys wouldn't. So instead of making another bourbon or another rye, we decided to make our own unique style of whiskey. But it takes time to communicate that to the consumer. When we're able to speak one-on-one with a consumer, we have an instant fan. But it's a lot harder when you're on the shelf."
The tasting room is 7,500 square feet, and features two large Italian stills. Manatawny can seat about 60 people in the main room, and they also have a private event space. Earlier this spring during the distillery's five-year anniversary party, thousands of people came through the door.
"Pottstown has an untapped market of a lot of good beer drinkers and a lot of good whiskey drinkers," says Pfeffer. "We have such a local, loyal following. They're so supportive. They've been with us since the beginning, maybe even when the whiskey wasn't so good."
But while Manatawny was growing its reputation in the far western suburbs, nearby spirits-crazy Philadelphia remained an untapped market. Fortunately, Pennsylvania's favorable production laws include the ability to open satellite locations.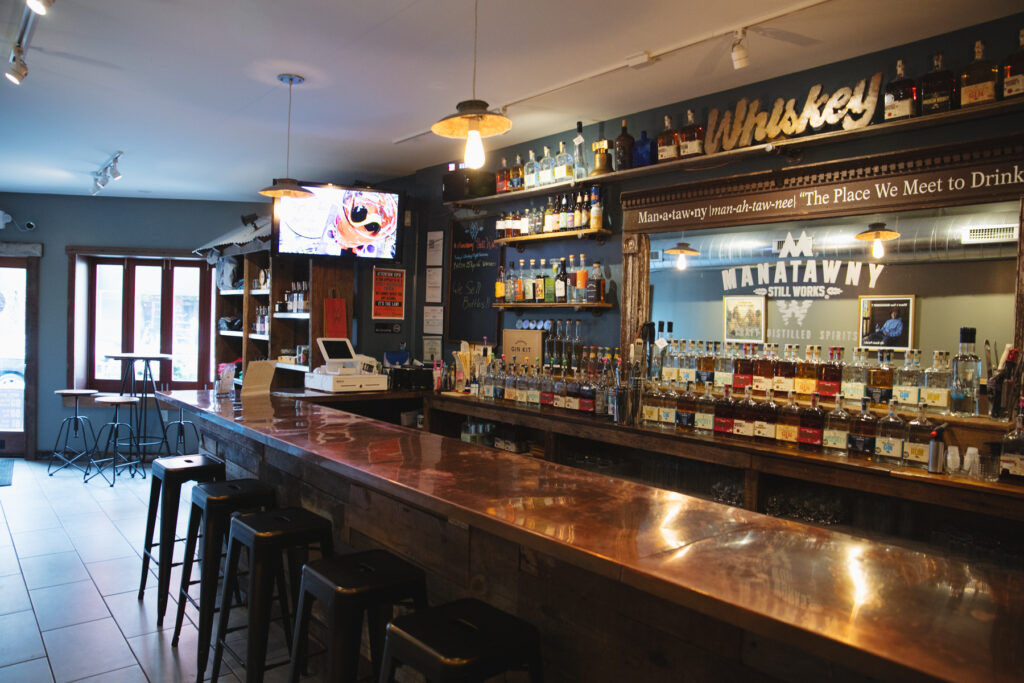 "Young people working in Philly don't really have cars — they can't get out to Pottstown — so this was a way for us to bring the distillery to them," says Pfeffer. "And it makes economic sense because we have another outlet for direct sales to the consumer. The satellite has been extremely valuable for us: It has significantly raised our profile in Philly. When people try our whiskey, they like our whiskey."
While the distillery tasting room puts the production process front and center — spotlighting the stills and the barrels — the cozy 600-square-foot bar on a trendy corridor in South Philly takes a different tack.
"They're complete opposites and that's by design," adds Menaldino. "We looked at all different neighborhoods. We found a good opportunity on East Passyunk to get into a space on a block that has some of the best restaurants in town. Because we were putting it there, we also wanted it to be more of a cocktail bar experience as opposed to just a tasting room."
The number one thing that we have to sell is the fact that we are locally made.Derek Menaldino, Manatawny Still Works
The bar serves drinks designed specifically for Manatawy's spirits, in addition to a small menu of snacks. Customers can nosh on charcuterie and cheese, alongside imported tinned seafood such as Portuguese sardines and smoked mussels. That last one is not a traditional choice, but it's one the partners hope will get people excited.
Being on a dynamic commercial corridor has led to some interesting collaborations, including popups with local artists and makers, and a coffee whiskey done in partnership with nearby Rival Brothers.
"We like being good neighbors," says Pfeffer. "One thing about whiskey drinkers — or at least whiskey makers — is that we love drinking coffee…We worked with [Rival Brothers] to pick beans and to get a flavor profile."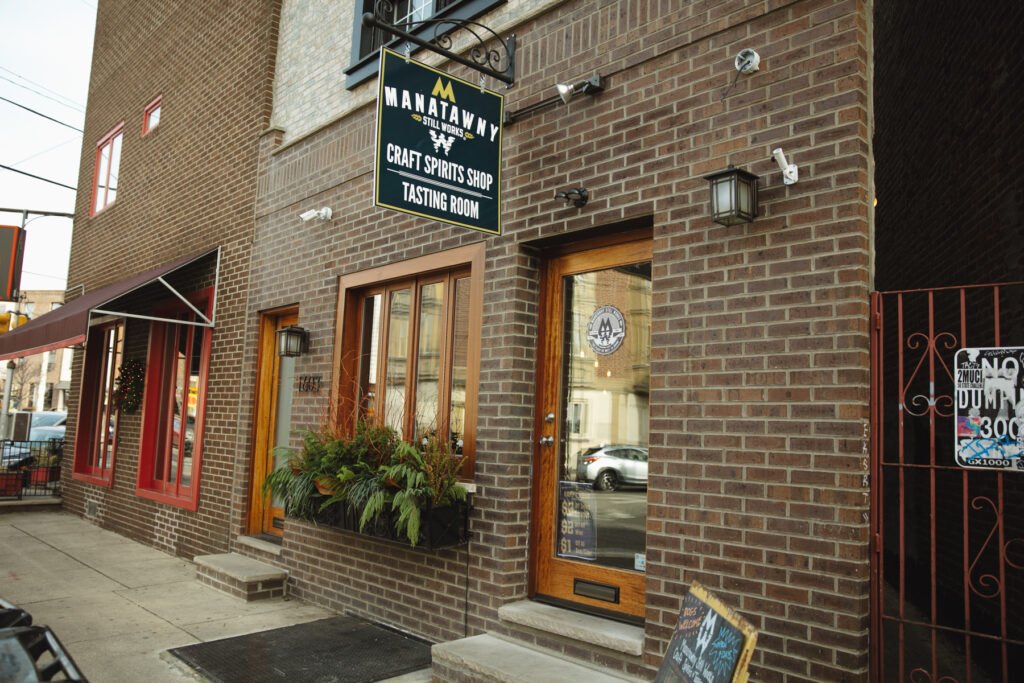 Manatawny also produces a honey whiskey — made in concert with Swarmbustin' Honey, a Chester County apiary — and a maple whiskey. The later was part of a symbiotic partnership: Whiskey Hollow Maple in Avondale, PA, used the distillery's empty barrels for a barrel-aged maple syrup. 
"The number one thing that we have to sell is the fact that we are locally made," says Menaldino. "So when we meet other people who are locally minded or have products that are made in PA, it's just a good fit. They're doing something similar and we want to support them."
The company now employs 12 people. Pennsylvanians can buy Manatawny's spirits — whiskey, gin, rum, vodka — in 30 PLCB Fine Wine & Good Spirits stores, primarily in Southeastern Pennsylvania and Pittsburgh. The distillery is looking to add another tasting room location in a different Philly neighborhood, as well as one on the Main Line.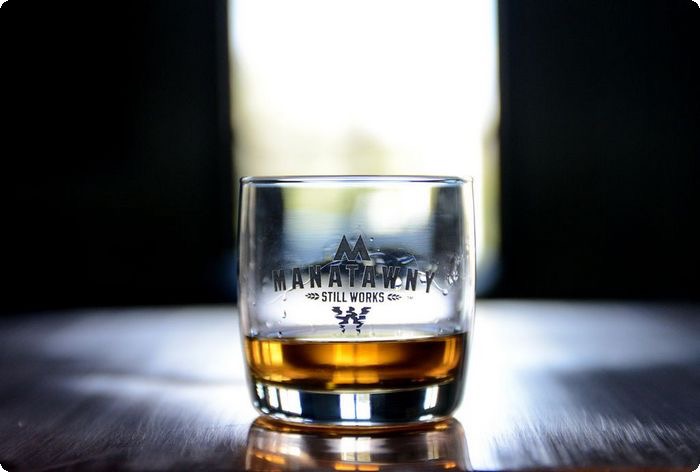 The best part: As the company matures, so does the whiskey. Manatawny won four 2019 awards from the American Distilling Institute, including Best of Category wins for their Pennsylvania Whiskey and Honey Whiskey. Last year, the distillery's Keystone Whiskey was one of only 16 spirits in a field of more than 1,000 to earn a gold medal from the American Craft Spirits Association.
"It's a really interesting business model because you basically put a ton of money into inventory, and then your inventory sits for a long time," muses Menaldino. "We put all this stuff into these barrels. You wake up in a couple years and then we'll know if it's any good… Within the next five years, we'll have a seven-year product, which is a pretty big milestone."
"I think we're really coming into our own," adds Pfeffer. "It took a couple years to figure out what I was doing. Our whiskeys are definitely going to be more mature moving forward, which we're really excited about."
LEE STABERT is editor in chief of Keystone Edge.
All photos courtesy of Manatawny Still Works.