This story originally appeared on PAWilds.com/blog.
Exciting changes are happening at Allegheny Outfitters (AO) in Warren, PA. The nature-based, veteran-owned company started in 2006 as a livery service, renting kayaks and canoes to tourists in the Pennsylvania Wilds. Now AO is on the move, combining operations from its small storefront canoe, kayak and backpacking shop on one end of Warren, and its livery operation on the other side of town, into one big downtown building right on the banks of the Allegheny River.
Now under one roof, AO is a one-stop outdoor outlet where you can buy a new kayak, rent outdoor goods, or book guided and unguided backpacking, fishing, and paddling trips lasting anywhere from a few hours to several days.
The new Clark Street facility — a former Loranger Company factory — more than doubles AO's previous floor space. According to Piper VanOrd, the company's owner, founder, and creative director, it's a big step up from the old retail location.
"There will be a conference room for workshops, an office, a shipping station, storage/repair space for all our canoes and kayaks," she says. "And it will bring a longtime dream of ours to fruition: our trip planning center. We're map people. Every great adventure I've ever taken has started with a map of some kind." 
"We're creating a space within our shop dedicated to finding resources to get out there," explains Piper. "We'll have a big table so folks can come in, sit down and start planning….The new place is a total game-changer for AO, and something we've been working towards for about eight years."
In the past, thousands of people walked through AO's busy little livery hut, but only a fraction of them actually made it over to the brick-and-mortar shop on the other end of town.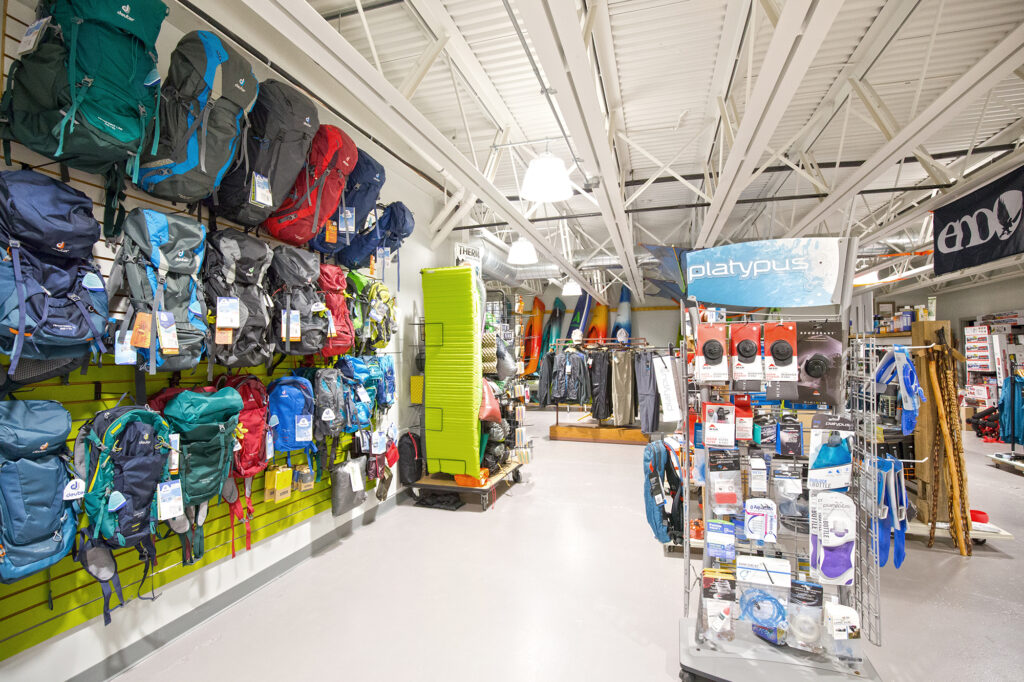 "That was always a challenge," says VanOrd. "Not to mention the challenge of a very small, uncomfortable, crowded livery space and dozens of back-and-forth trips we'd make daily between the two locations to grab this and that. Our new location will put an end to all that."
In an added bonus for visitors, the new facility will also house Warren's popular craft brewer Bent Run Brewing Company. They move in sometime this summer, and there are future plans for an indoor climbing wall designed and constructed by Goat Fort Indoor Climbing.
The new place is a total game-changer for AO, and something we've been working toward for about eight years.Piper VanOrd, Allegheny Outfitters
One of the Allegheny National Forest's biggest cheerleaders, VanOrd has deep roots along this stretch of the Allegheny River. After eight years as an air traffic controller in the U.S. Navy, she moved back home to Warren with her three children in 2006 to start up Allegheny Outfitters. 
VanOrd is certified as a Leave No Trace Master Educator by the National Outdoor Leadership School and American Canoe AssociationLevel II Kayak Instructor certified. She co-authored the Allegheny River Paddling Guide and published On the River and Down the Trail, a collection of 100 photos of her adventures in the Pennsylvania Wilds.
VanOrd is also one of the founding members of the annual Allegheny River & Watershed Clean-up, which began in 2009. Teaming up with the U.S. Forest Service and Northwest Savings Bank — as well as volunteers from over 100 businesses and organizations — the annual event beautifies and cleans a 31-mile stretch of the Allegheny and two tributaries.
"To date, more than 100,000 pounds of metal alone have been pulled from the Allegheny River and nearby Brokenstraw and Conewango Creeks," says VanOrd. "At the same time, this effort has created new volunteers and paddlers alike."
For its stewardship efforts — and its outstanding customer service — Allegheny Outfitters has won several awards, including a Governor's Keystone Tourism Award and a 2012 Champion of the PA Wilds Award. 
AO has also been honored with the Community Impact Award for northwest Pennsylvania as part of the 2015 Governor's ImPAct Awards. The honor celebrates companies that exemplify the standard of "doing well by doing good," according to the Team Pennsylvania Foundation. Winners show a commitment to the growth and development of their employees and community.
As for the expansion, the hard work, at last, is nearly over. After several months of major construction and a somewhat hectic transition, VanOrd and her team are more than ready to get back to "business as usual" — helping people enjoy life in the great outdoors.
When I take a minute to sit back and think of how we got here, it's an inspiring effort all around.Piper VanOrd
But it's also a major moment: The move is a sign of how far the local outdoors industry has come since its early days.
"A few years ago, a bunch of us outdoor enthusiasts started meeting on Mondays for lunch to throw around ideas about what we'd love to see for Warren," recalls VanOrd. "We have this 500,000-acre National Forest in our backyard and a river with numerous creeks running through our town – it's an incredible playground. This [expansion] is a direct result of the seeds that were planted at those get-togethers."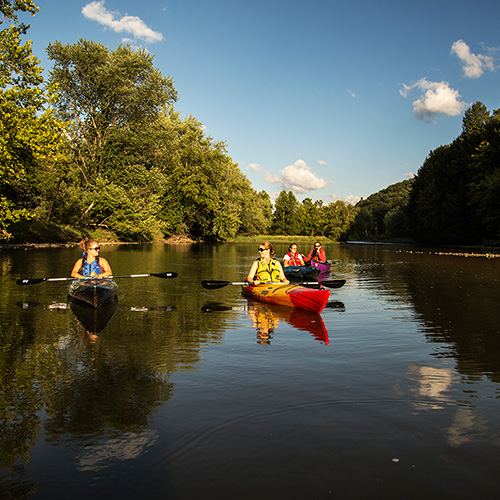 She notes that as a small, veteran-owned, independent outfitter, expansion projects like this don't happen without the help of so many.
"Our dedicated team at AO — both year-round staff and seasonal — has always played a huge role in our growth," she says. "Without our team, we would not be where we are. Folks have come out of the woodwork to lend a hand and help any way they can to bring this to fruition."
"When I take a minute to sit back and think of how we got here, it's an inspiring effort all around," adds VanOrd. "We're all here to help each other, try our best to answer questions, learn from one another and encourage that next adventure outside. I'm excited for AO, but I'm also very excited for our community as a whole. These are exciting times in Warren, PA."
Lead image: The Trip Planning Center at Allegheny Outfitters in Warren, PA. All photos courtesy of AO.