There's no graceful way to plunk your butt into the river. Get a firm hold on your tube. Wade out a bit from the stony bank. Buckle your life jacket. And in one of the Pennsylvania summer's greatest leaps of faith, just launch yourself right on in there.
You'll splash, squirm, and float, and then the river takes you, and you'll know you've made a good decision.
Every summer, thousands of Pennsylvanians and adventurers from nearby states head for the water — not "down the shore," as we say, but down the river.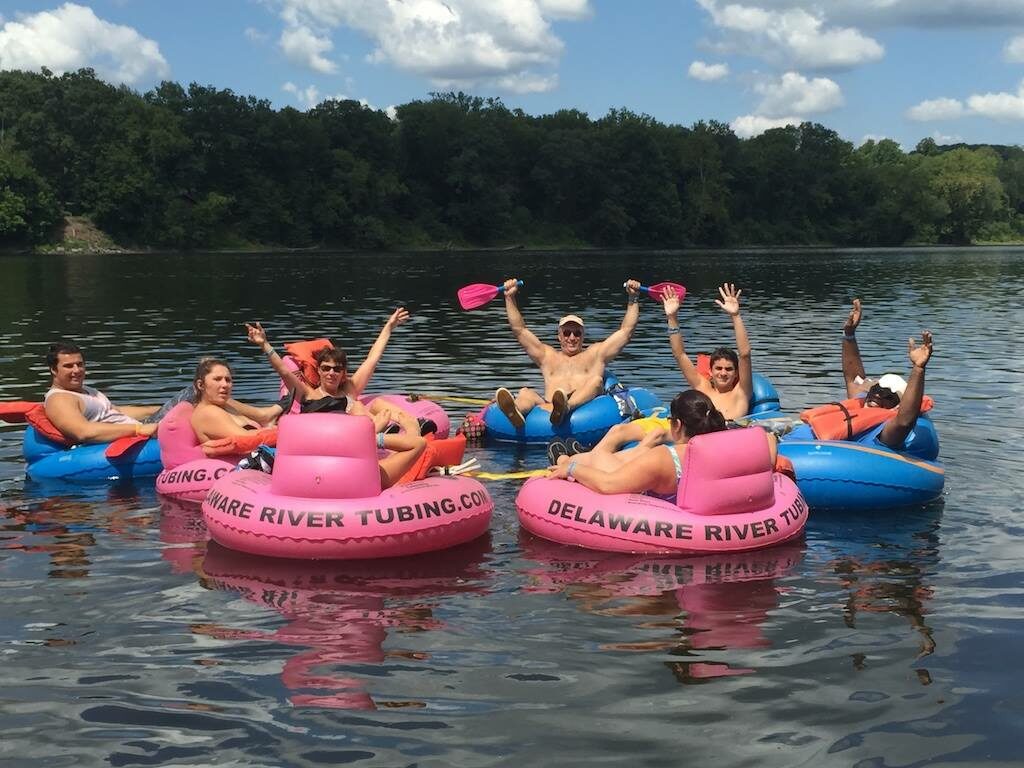 In Southeastern Pennsylvania, you've got two great options. Delaware River Tubing (DRT) is about a 90-minute drive from Philadelphia, located just north of historic Frenchtown, N.J. And Chester County's Northbrook Canoe Company puts you in the beautiful Brandywine River. Both destinations run trips May through September.
Northbrook founder Ezekiel C. Hubbard, Sr. (who goes by Zeke) estimates that about 40 percent of their annual clientele are locals, including day-tripping families, birthday parties, and camp, corporate, and church outings. And local or not, many of them are repeat customers.
At Northbrook, you can rent a canoe, kayak, or a tube, and take one of two trips. Either pile into a bus or van with your gear, ride upstream to a drop-off point, then float or paddle your way to headquarters; or get in the water at the headquarters and take your ride downstream, where you'll meet a Northbrook vehicle at a designated stop. Each trip takes up to a couple hours: be ready to unwind.
You'll splash, squirm, and float, and then the river takes you, and you'll know you've made a good decision.
According Northbrook, one of their most frequently asked questions is whether the water is wet. That'd be yes. But this is a great river for beginners: it's usually not more than a few feet deep, depending on the recent weather.
"I saw the potential of it," say Hubbard of purchasing the property in 1977, before river-trip rentals were a common business. He started his career in parks and recreation, managing Lenape Park in Perkasie, PA, for almost 20 years, but he had always wanted to start a business on the river.
"I had 38 canoes in my backyard and was looking for a place," he recalls.
Northbrook is about a 15-minute drive northeast from the charming town of Kennett Square. The site was a former feed company, and some of the buildings that house Northbrook's operations date to the 1860s. Hubbard started out with his canoes, one Ford Boss van, and part-time staff who helped carry customers up and down the river.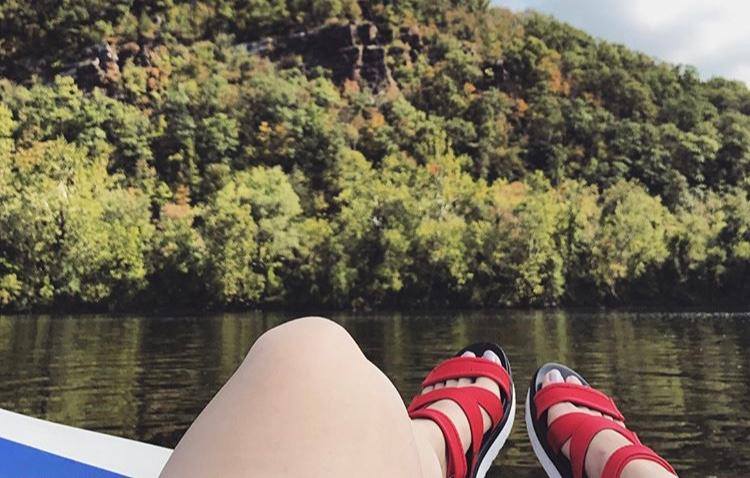 Originally, he ran a coal business at the same site to keep things afloat in the winter, but the summertime traffic expanded so quickly that Northbrook became a watersports-only destination in the mid-1980s. By then, Hubbard had 75 canoes, and a whole bunch of tubes.
"I was kinda skeptical about it," he says of adding the inflatable rides. "It's not my cup of tea. I'd rather be in a canoe."
But the tubes proved popular. Today, Northbrook boasts 97 kayaks, 155 canoes and 400 tubes. The family-run company employs nearly 30 people.
Delaware River Tubing (a perfect midpoint between Philly and New York City) had a different genesis. Founder and owner Gregory Crance — also known as "the Famous River Hot Dog Man" — starting selling barbecue by the water in 1987.
"Originally it was just picnic tables and coolers in the water," explains Kara Kitchen, a DRT staffer.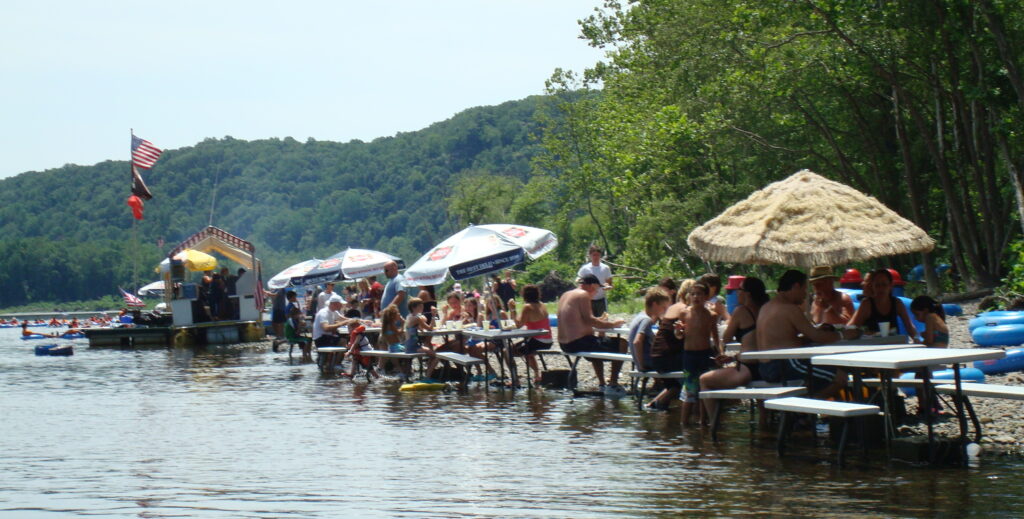 The business popped up in a few locations over the years and developed a following. In 2002, it landed in its current spot, and became a tubing and rafting outfitter. The Hotdog Man is still a mainstay of the experience, and as long as the river isn't too high, customers hit the river to find him. Lunch is served from a pontoon about halfway down DRT's waterway route, in a nook between two islands in the Delaware. It's marked by a scenic cliff called the Devil's Tea Table.
You can get hamburgers or hotdogs (or a veggie option) at picnic tables right in the water before resuming your ride. Lunch is included in the price of your trip.
DRT now serves about 15,000 riders a year via more than 100 rafts and about 2,000 tubes.
"We want to make sure everyone can go out, so we keep expanding," says Kitchen.
Many customers want to camp nearby, and DRT sends them to Ringing Rocks Family Campground, near the famous Ringing Rocks County Park in Bucks County.
The river feels fast and spacious, and you should watch for wildlife such as ducks, turtles, and deer along the shores.
If you're heading to DRT from the Philly area, exit Route 295 before you cross into New Jersey, and head a few miles up the west side of the river to Washington's Crossing, the site of George Washington's fateful journey across the Delaware in December of 1776, when the frozen and dispirited Continental Army maneuvered from Pennsylvania to a crucial victory in Trenton. The site boasts beautiful views and a visitor center.
Slow down and take the tiny bridge over the Delaware at Washington's Crossing, where two-way traffic trundles with inches to spare.
At DRT headquarters, check-in is quick, but not luxurious — changing rooms are actually built into a gutted school bus. Cover yourself in sunblock, store everything in the car, and check your keys at the counter. Choose a life jacket, grab a tether if you're floating with friends, pick your tube, and head to a large, drafty, rattling bus that takes you to your launch.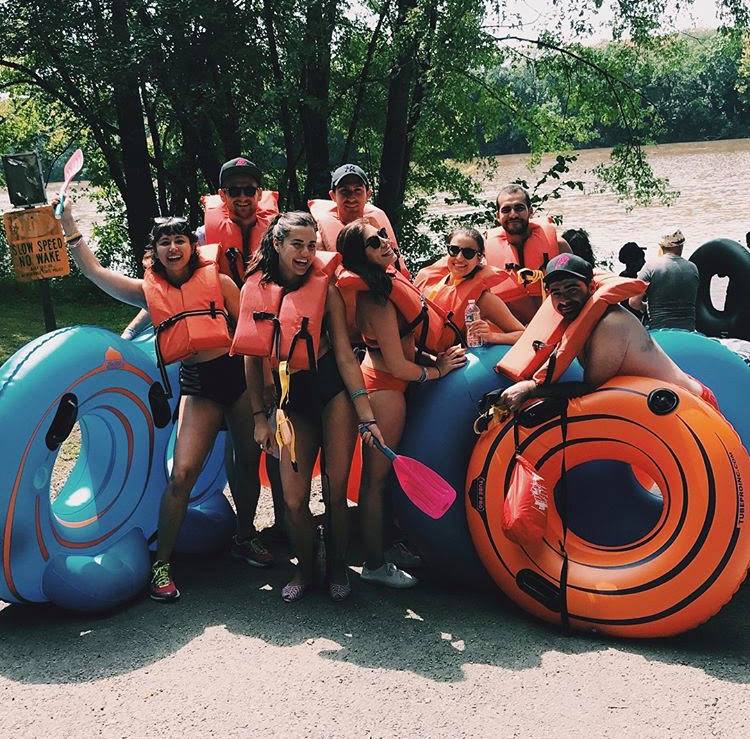 The river feels fast and spacious, and you should watch for wildlife such as ducks, turtles, and deer along the shores. The length of your trip depends on the height and speed of the river, but estimate a float time of two to three hours (longer if you stop for lunch).   
Kitchen says some folks bring their fishing gear along in the tube, and the fish aren't fools — if you want to see some, they love the picnic area.
Before the end of your ride, you'll hit some class 1 rapids, which DRT staffer Amanda O'Brien calls "just a fun little couple bumps." If the river is up, be ready for some serious splashes — perfect on a hot day.
At Northbrook on the Brandywine, things are more relaxed. The road along the river is so narrow that summer foliage whips the bus as it passes. The river itself is a much quieter affair than the Delaware, winding through nearby trees in shallow, shady greenery. Fish flash by under the surface, jewel-like dragonflies alight on your knees, and kingfisher birds swoop right past you.
Hubbard advises to look out for blue herons and snapping turtles, though keep away from the latter (nature gave them a face that says leave them alone, he says).
We've had people in wheelchairs come, and we've been able to work things out with them. We really want everyone to experience our trip and how beautiful the Delaware River is.Kara Kitchen, Delaware River Tubing
River tubing can be a rare outdoor respite for many people. If age, injuries, chronic pain, or other disabilities make activities like biking or hiking tough for you or your family, a trip on the river can be a great way to enjoy nature without stressing your body.
"We believe everyone has the right to have some fun," says Hubbard. Whenever it's safe, Northbrook has made canoes accessible to wheelchair users. "It has to be catered to the individual," the owner says of accommodating different folks. He recommends calling their office to discuss your specific situation.
"We definitely do cater to folks with different needs," says O'Brien at DRT. "We've had people with broken legs come, and we just put them in a raft, so their leg is not in the water."
"We've had people in wheelchairs come, and we've been able to work things out with them," Kitchen adds. "We really want everyone to experience our trip and how beautiful the Delaware River is."
If you're not able to make the full-length trip, staff can work with you on a shorter one, thanks to patrol boats on the river. Typically, DRT customers lift and carry a tube, get on and off a bus, and navigate relatively steep river banks, but the ride itself is physically very easy. People with injuries or disabilities who want to find out how the trip can be tailored to their needs are encouraged to call the office.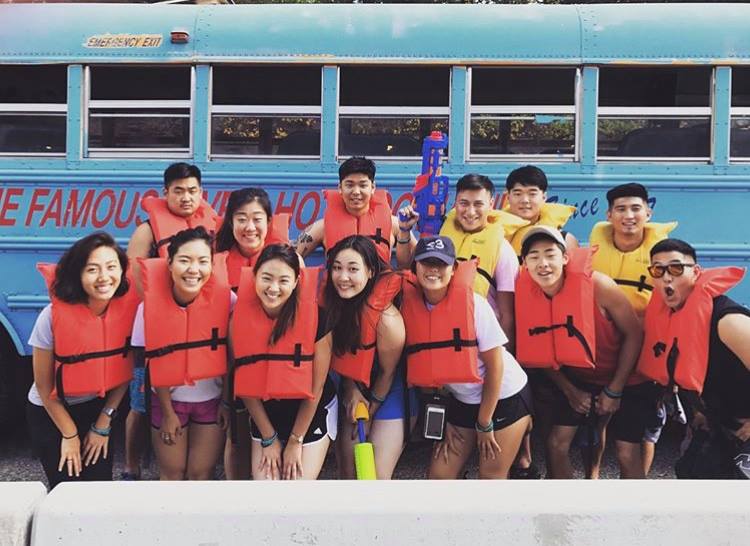 So what do you pack for a tubing trip on the Delaware or the Brandywine? A bottle of drinking water (it'll fit in your tube's cupholder). A bathing suit or clothing that can get wet and a little muddy. Sunblock. Water shoes or old sneakers you don't mind getting in the river: you'll want some traction on the banks.
And what if a summer storm comes up? If one is imminent, O'Brien says, they won't put people in the river. But if a storm rolls in after you launch, don't head for land. Better to just stay in your rubber tube: "That's actually safer than going to shore."
What do you not need on your trip? Your smartphone. Seize the chance to unplug for a couple of hours, and if you do, you'll be happy. Some folks insist they can't be separated from their devices, and "cell phones end up on the bottom of the river," says Hubbard.
After almost 40 seasons of renting river gear and helping folks enjoy a beautiful piece of Pennsylvania, Hubbard is still in his dream job.
"I love what I do," he says.
ALAINA JOHNS is a Philadelphia-based freelance writer and the Editor-in-Chief of BroadStreetReview.com, Philly's hub for arts, culture and commentary. You can visit her at her blog, where fiction need not apply.