"My impression of yoga had an emphasis on physical activity and looking good," says Heather Manning, an instructor at YOGAMOTIF, a creative wellness studio in Pittsburgh. "At the time I enjoyed that, but as my values shifted as I got older, it became a place where I didn't feel safe."
Now she, along with a local community of Black yoga teachers and entrepreneurs, is working to change that. Manning, Alecia Dawn, Felicia Savage Friedman, and Maya Savage have all built yoga practices in Steel City that emphasize social and reproductive justice. 
For these women, part of becoming a yoga instructor meant challenging some of the ingrained conventions and goals of Western yoga. 
"Yoga in the West was about contortions and being flexible, as opposed to being flexible mentally," explains Savage. 
For Dawn, despite enjoying yoga in high school, she knew something was missing.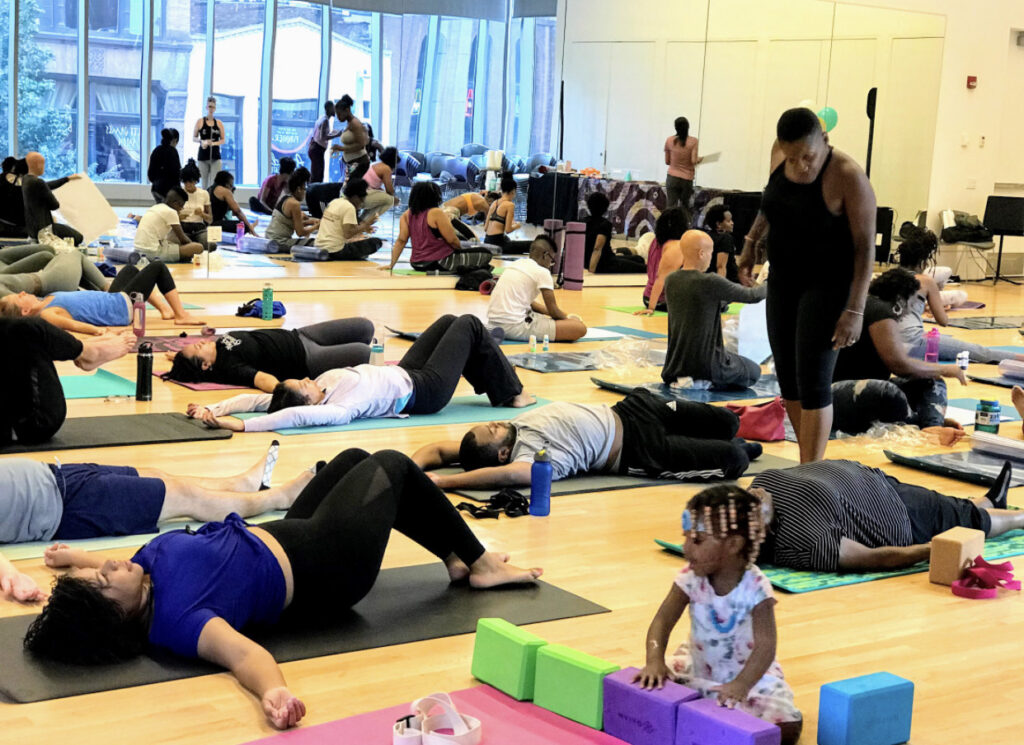 "Most of the places I studied at were white spaces with white women and that was normalized for me," she recalls. 
It wasn't until she took a yoga class at the YMCA that it clicked for her what yoga could really be. 
"I laughed a lot in the class," she says. "It wasn't just this serious space where you had to get every pose right. They were different ages, different body types, different colors and backgrounds." 
That environment was a truer reflection of Pittsburgh and its communities.
***
A certified prenatal yoga instructor, Alecia Dawn is the founder of YOGAMOTIF, which offers art and yoga classes to local youth, pregnant people, and the community at large. Holder of a masters in Arts Management from Carnegie Mellon, Dawn's work with Black-led arts and culture organizations in Pittsburgh led to a seat on the board of New Voices in Reproductive Justice, a nonprofit dedicated to supporting Black women, femmes, and girls. Via having her own children — and experiencing reproductive injustices herself — she's developed a deeply personal perspective on these issues.
The work is essential. According to Pittsburgh's 2019 Inequality Across Gender and Race report, 18 out of every 1,000 Black pregnancies end in a fetal death compared with only nine out of every 1,000 for white pregnancies. Black women's maternal mortality is higher in Pittsburgh than in 97 percent of similar cities. Black pregnancies are also more likely to have adverse outcomes including infection, admission to the NICU, and congenital anomalies such as Down Syndrome and heart disease. 
It wasn't just this serious space where you had to get every pose right. They were different ages, different body types, different colors and backgrounds.Alecia Dawn
As part of her work to improve those outcomes, Dawn's classes include prenatal yoga, pelvic floor strengthening, and postpartum yoga. Before COVID-19, she hosted yoga paint party workshops that mixed movement and creativity for an immersive, intuitive healing practice. For now, classes are online.
"I like to spend time honoring the creative practice through movement and through yoga," explains Dawn. "Making space for people to be more attuned with their own bodies and their own practices, to find what healing looks like in their own bodies." 
Heather Manning, who leads New Moon and Full Moon yoga classes with YOGAMOTIF, echoed those sentiments. Her practice is grounded in Raja yoga — a classical school of yoga that emphasizes mind and body control, with a focus on meditation and energy.
"Through punk rock, I learned about radical Black communities and got into reproductive justice at 19 [years old]," says Manning. At one point in her twenties, Manning was burnt out. "The thing we don't address in activism is that we aren't really taking care of ourselves." 
There has been plenty of discussion around rest and self-care in recent years, especially during the COVID-19 pandemic. Conversations about abolishing the 40-hour work week and looking at rest as a form of resistance may have seemed taboo even a decade ago. With activism on the rise in America, the need for balance between action and healing is imperative — even racial justice leaders like Black Lives Matter co-founder Patrisse Cullors advocates for self-care. 
Dawn argues that there need to be different kinds of healing spaces. Some people will need yoga. Others will need therapy. Knowing what you need is difficult.
***
Felicia Savage Friedman is founder of YogaRoots On Location. She has dedicated her life to community health and education, integrating trauma-informed wellness and antiracist organizing with Raja yoga. 
Her organization offers virtual yoga trainings, classes, and customized workshops for professional development that are meant to help "dismantle racism, patriarchy, and capitalism in a way that centers our histories, our present, and unconditional love." 
"I experienced a lot of backlash in speaking my truth," says Maya Savage, Friedman's daughter,  who is also a yoga instructor and director of programming for YogaRoots. Her Raja yoga practice started when her mom was diagnosed with breast cancer. "[She] needed a break and I needed to step up."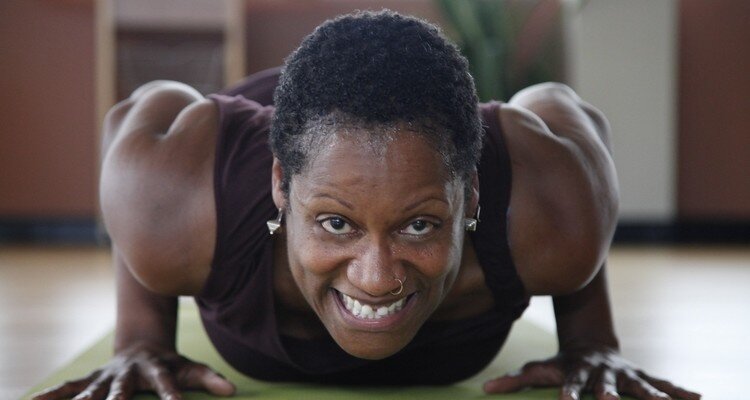 "We've had so much to overcome in this country," says Friedman. "There are systems that have kept us apart and kept us down." 
Pittsburgh's relationship with its Black residents, especially its Black women, is in desperate need of repair. In 2019, Pittsburgh's Gender Equity Commission concluded that the city is the worst place in the country for Black women in almost every indicator of livability, including unemployment and education. 
That work can't fall on the shoulders of the Black residents themselves — they need support and resources. Dawn, Friedman, Savage, and Manning are cultivating the spaces that Black women need and making it possible for people to encounter yoga classes that reflect their communities.