This feature originally ran in April 2022. 
For almost 130 years, farmers, vendors, shoppers, and diners have been gathering at Philadelphia's Reading Terminal Market. It's a food destination where locals and world travelers can pick up steamed lobster and roast pork sandwiches; sushi and shoo-fly pie; falafel, jambalaya, and a buttery stack of Pennsylvania Dutch pancakes.
But when it comes to Pennsylvania food halls, the story is much bigger. From chicken tagine at Lancaster's Southern Market, to tacos at Easton Public Market, to shawarma at Erie's Flagship City Food Fall, the state's modern food halls speak to the local flavor.
***
"Easton is a town that cares about food, [and] is interested in new food concepts," says Jared Mast, the executive director of the nonprofit Greater Easton Development Partnership (GEDP). 
Easton Public Market, just a half-block west of the city's Centre Square, is celebrating its sixth anniversary this spring. The building had many different lives before GEDP purchased it in 2013 and began to develop the 16,000-square-foot market. The organization planned the site with a wide range of offerings, including contemporary ready-to-eat options, fast-casual dining, a bakery, grocery staples, meat, and produce. 
"We talked to a number of farmers who we hoped wanted to step into a different kind of retail market than a farmers' market," he says of Highmark Farmstand, which sells local, organic goods such as fruits, vegetables, eggs, dairy, honey, and meat at Easton Public Market. "We prioritize working with regional suppliers and food hubs."
Shoppers can also patronize Saylors & Co. butchers (who recently expanded from their original Hellertown shop), a new coffee shop from ThreeBirds Coffee House, the ramen counter at Mister Lee's (a favorite since the market's launch), More Than Q Barbecue, and nine other vendors. 
The market also boasts a busy demonstration kitchen (cooking for private events, culinary presentations, and classes), a regular live music and comedy lineup dubbed Acoustic Kitchen, and kid-friendly programming. The City of Easton is building an adjacent parking garage and the plaza, and thanks to a Keystone Communities grant, GEDP is planning a whole roster of fresh events and amenities, like a public ping pong table.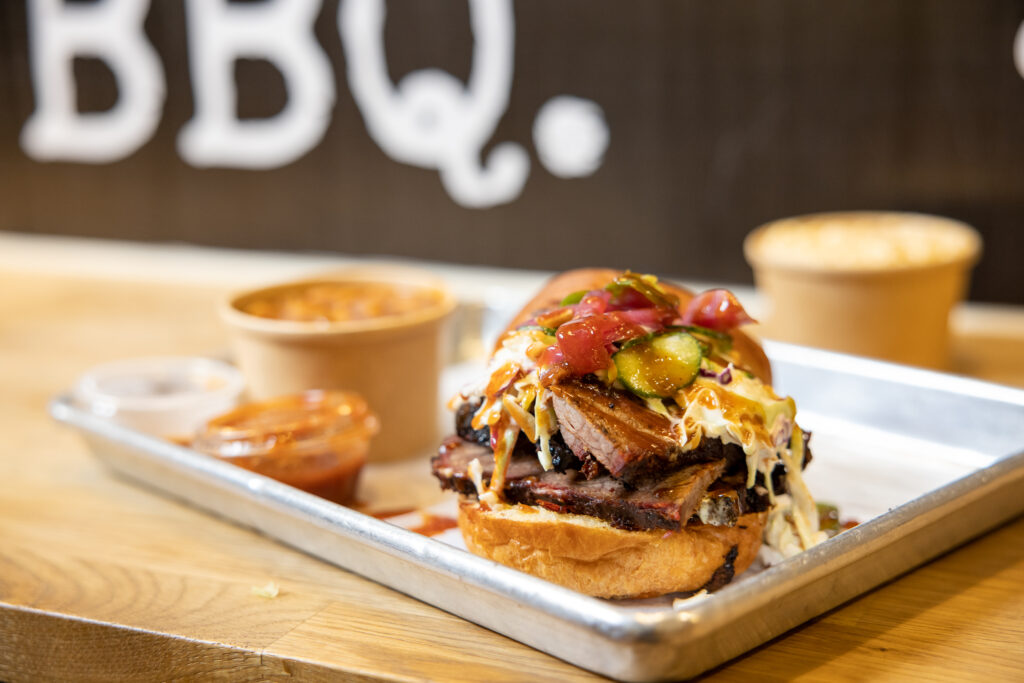 "It's easy to see a vision and sign a lease, but it's harder to manage that over time," says Mast of getting Easton Public Market to the six-year mark. According to feedback from employers and property owners, the market has supported the relocation of multiple businesses in Easton, building a strong "daytime economy" that appeals to workers. 
***
In Lancaster, operators are about to find out if the new Southern Market can become the urban hub they envision. Built in 1888 using a notable design by the 25-year-old C. Emlen Urban, the building boasts a brick Queen Anne facade and towers. It operated for about a century as a farmers' market, but activity dwindled in the 1980s. A conversion to office space brought in the Lancaster County Chamber of Commerce, City Council chambers, and ASSETS, a nonprofit supporting entrepreneurs and economic development.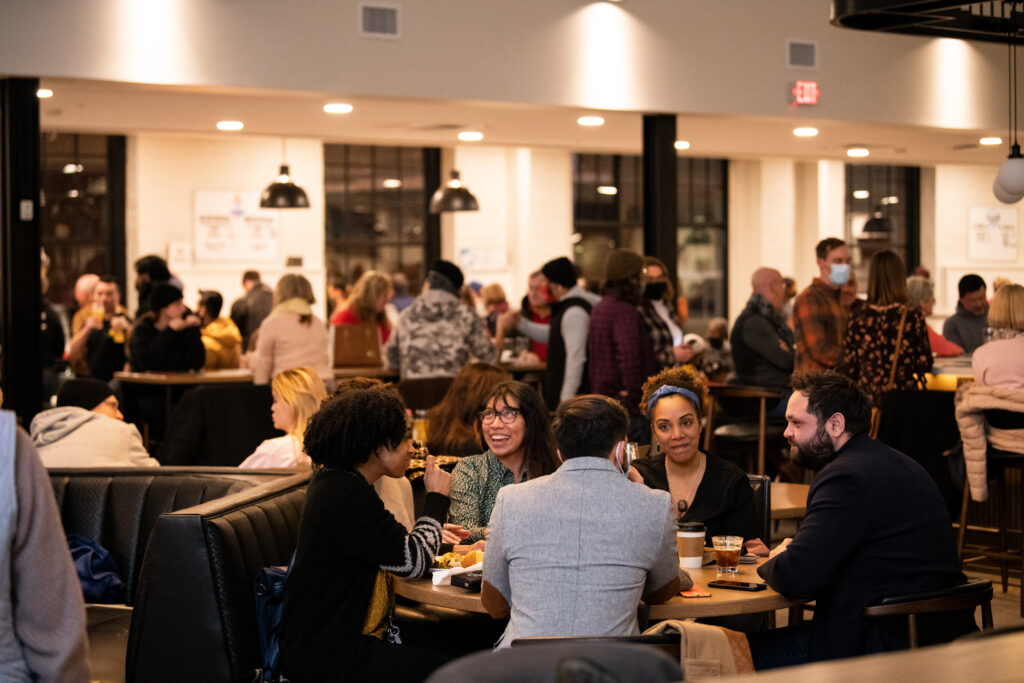 About eight years ago, a study by the Lancaster City Alliance highlighted the building at Queen and Vine Streets as an underutilized space, with ASSETS as the only remaining tenant. The city issued requests for proposals. The nonprofit consortium Lancaster Equity CDC, owner of the market, was the first to propose a food hall model. That caught the eye of Willow Valley Communities, which had been looking to expand from its senior living model. Willow Valley came on as the developer and master lease holder of the proposed market, which opened in January 2022. 
"The aspirational vision is that it's welcoming to all," says Willow Valley community relations manager Chris Ballentine. Nine vendors, serving Egyptian, Moroccan, Vietnamese, Latin, and southern soul cuisine, join the 30-seat Bar 1888 (operated by Willow Valley), which specializes in a "globally influenced, locally sourced" cocktail menu, rotating Pennsylvania microbrews, and artisanal draft wines.
Lancaster is a welcoming city — it has a wonderful refugee community… Projects like Southern Market beautifully elevate that cultural richness and diversity.Chris Ballentine, Willow Valley
Envisioned as a south-side gateway to Lancaster City's thriving corridors of shops, cafes, and restaurants, the new Southern Market has live performance space, second-story offices, and three community rooms available for an affordable rental fee, with the option of in-house catering from the vendors downstairs. 
ASSETS, which had a hand in the launch of a few current vendors, is still in the building. This mixed-income model "allows for a greater sense of resiliency from an economic standpoint," says Ballentine. The market is designed as an incubator for vendors and chefs who are ready to take the next step for their business. Envisioning a one to two-year tenancy, Ballentine hopes vendors will outgrow the market and launch their own brick-and-mortars elsewhere in the city, further diversifying the restaurant scene.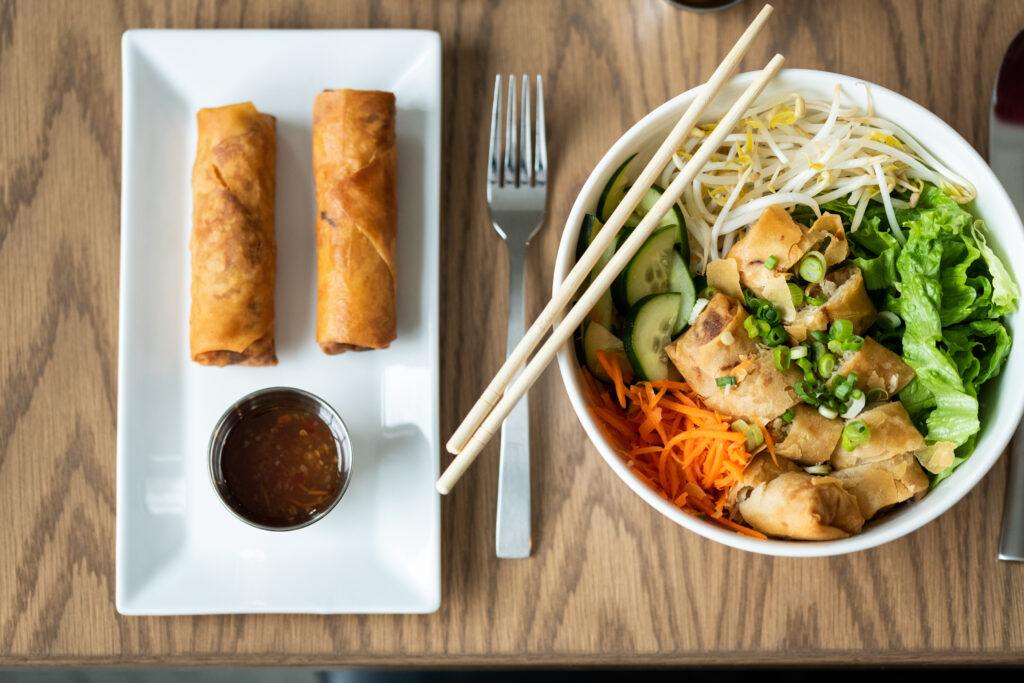 Vendors, who share a commissary kitchen, have the unusual benefit of focusing on cooking and customers, while Willow Valley takes care of logistics like building maintenance. Ballentine estimates that vendors now in residence at Southern Market could have spent up to $80,000 developing a similar footprint themselves. "Having those resources and that development done for them is a weight off their shoulders in immediate overhead," he explains.
Meanwhile, customers enjoy what Ballentine describes as "one giant restaurant with different internationally influenced flavors." They can grab food to go, or sit down with silverware and a plate in a dining room that seats up to 220.
*** 
In Erie, Flagship City Food Hall also hosts new food entrepreneurs alongside more established ones. Its genesis was a 2017 study determining that investment in Erie's downtown core was a crucial part of recruiting and retaining talent in the lakeside city. The Erie Downtown Development Corporation (EDDC) launched the same year.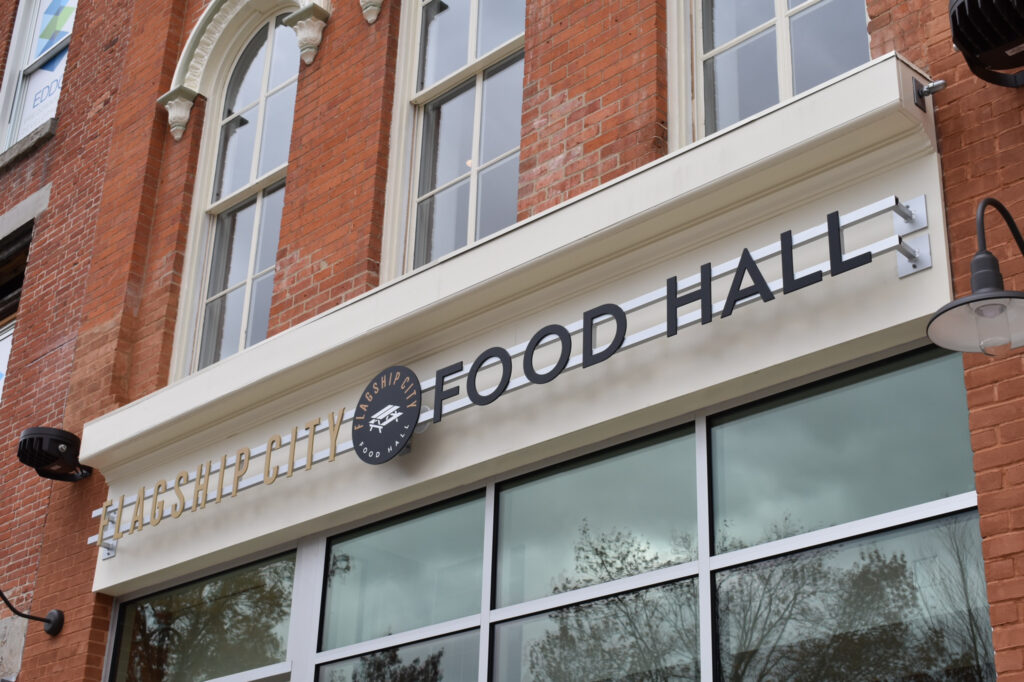 The central question was how to make investments that would encourage people to come downtown. A food hall was a natural answer. 
Flagship City opened in November of 2021 with nine vendors, including Taste of Love Southern Fusion, Dina's Authentic Dominican Kitchen, and Damascus native Bassam Dabbah's Shawarma Station. It seats up to 160.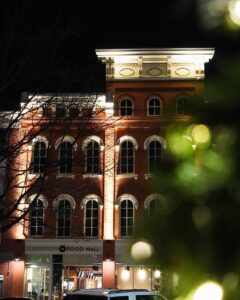 "Diversity was intentional, [as was] a broad base of food options," says EDDC director of operations and logistics Corey Cook of the community-rooted process for selecting vendors.
"Erie is kind of forgotten," adds Cook, who has spent plenty of time in Pittsburgh, Harrisburg, and Philly. He loves Erie's location, combining a burgeoning downtown with winter skiing and summer lakefront adventures. But its population has declined from 140,000 people to just under 100,000 since 1960. Reading recently overtook Erie as Pennsylvania's fourth-largest city. 
The new food hall is part of a larger story.
"We're trying to create an ecosystem downtown," says Cook. Flagship City chefs can walk down the street for their meat and produce. EDDC operates the food hall along with a much-needed new grocery store, the Erie Food Co-op, less than a block away. It's all part of a new $100 million investment in Erie's downtown.
"We're ready for growth, we're ready for development," he adds. "That's one of the larger stories that sometimes get lost."
***
Food halls were hit hard by the pandemic, especially those that were under construction when the shutdowns hit.
At Easton Public Market, vendors were able to pivot quickly to a curbside model, since ready-to-eat and fast-casual food is such a big part of the market's model. But businesses suffered on the retail side, without indoor shoppers. 
"We did have some tenant turnover," says Mast. As a landlord, GEDP worked hard to research and connect tenants with county and state support. 
"The pandemic definitely caused some challenges for us, but we weren't too far off from our initial plans for opening," says Ballentine in Lancaster. During construction, he led tours for media, stakeholders, and neighbors, building buzz.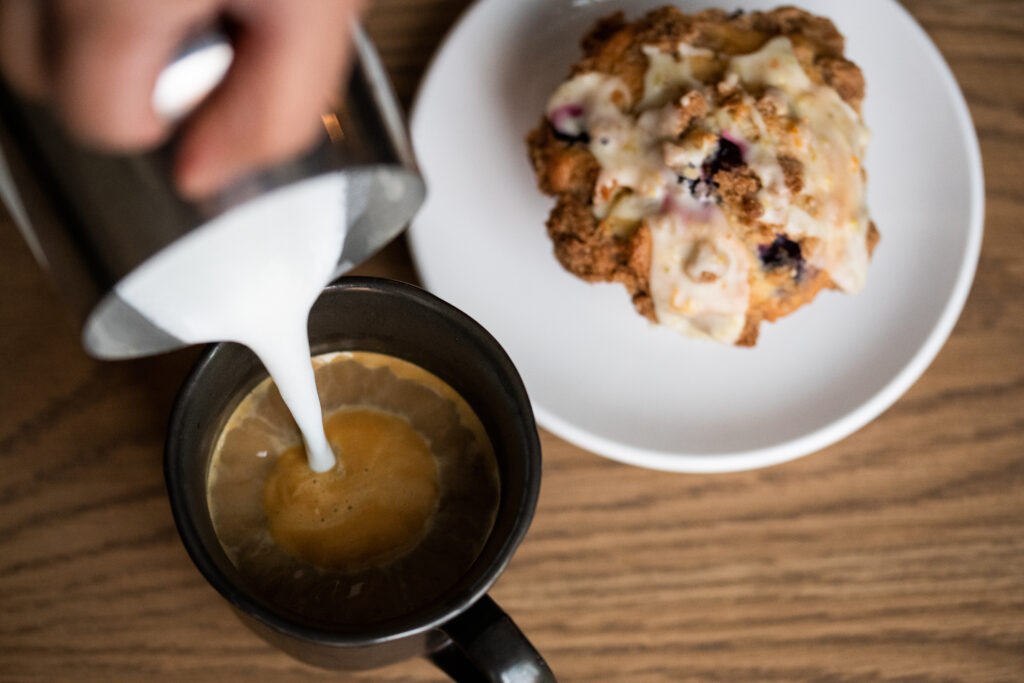 A few days before the grand opening in January, the market welcomed a guest list of local nonprofits and community groups. By the official launch, there was a line out the door. Ballentine says a strong lunch crowd, as well as busy evenings in the latter half of the week, mean "vendors are a mix of exhilarated and exhausted… It's relatively new for them, but they're definitely hitting their stride."
Flagship City was under construction when Covid hit, but the board took a long view. "We were building for the next 50 years, not the next three to four years," insists Cook. They pushed on with construction as soon as they could, and the 2021 holiday season opening was well-received. Things dipped in January and February, but that's on par with the industry. Business began to rise again in March.
In Easton, Lancaster, and Erie, each food hall taps into its home city's identity. 
We're trying to create an ecosystem downtown… We're ready for growth, we're ready for development.Corey Cook , Erie Downtown Development Corporation
EPM "helps Easton's brand as a contemporary cool spot," explains Mast. Its fast-casual options balance the existing restaurant scene. 
And the market goes above and beyond for families.
"We see hundreds of thousands of visitors a year to the Crayola [Experience]," which is right around the corner, says Mast. The market features a dedicated dining area with lower tables, a padded floor, and kid-friendly programming like Story and a Snack every Thursday.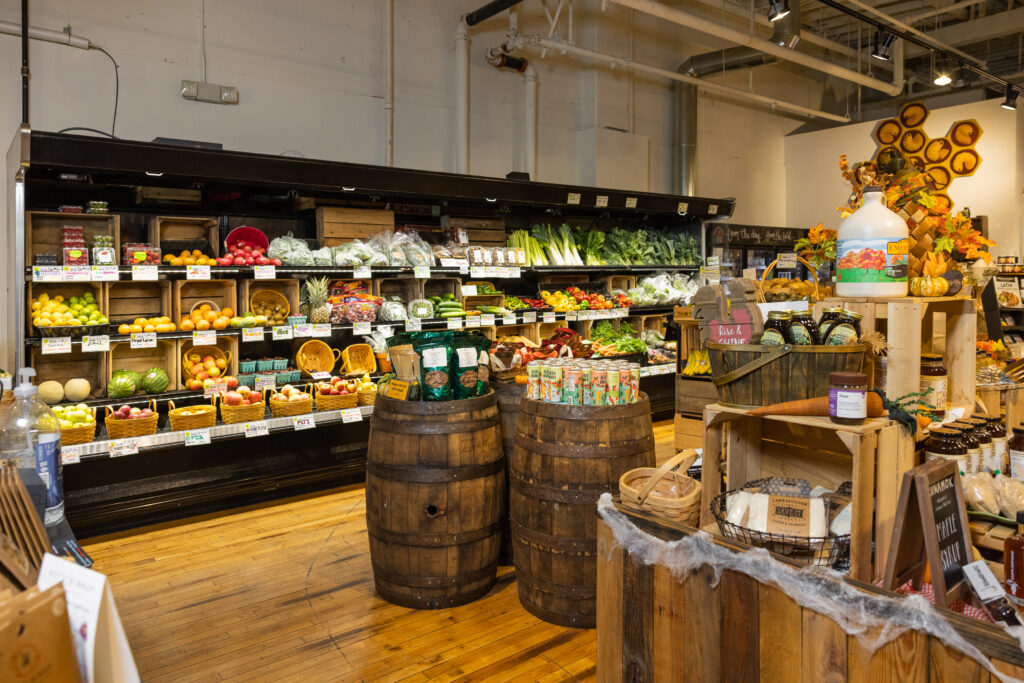 "Lancaster is known as a foodie destination," says Ballentine, but there's more to it, especially as Lancaster City distinguishes itself from Lancaster County. 
"For the longest time, you say Lancaster and people think of the Amish," he explains. But that's only one part of the city's identity. "Lancaster is a welcoming city — it has a wonderful refugee community," and a large Latino community. "Projects like Southern Market beautifully elevate that cultural richness [and] diversity."  
That is the magic of food halls: They bring an eclectic group of vendors under one roof to the benefit of both upstart entrepreneurs and the hungry public. These three new institutions are building on a Pennsylvania tradition. 
Lead Image: Southern Market food hall in Lancaster City
ALAINA JOHNS is a Philadelphia-based freelance writer and the Editor-in-Chief of BroadStreetReview.com, Philly's hub for arts, culture and commentary.