This story originally ran in spring 2022. For a list of 2023 summer concerts in Gretna, click here; and for Gretna Theatre's 2023 docket, visit their website. 
Mt. Gretna Borough is a time capsule in Lebanon County. While little has changed in the South Mountain hamlet in nearly 140 years, there are still plenty of fresh reasons to visit. 
Whether travelers come for the Tour of Homes the first weekend in August, participate in the Chautauqua summer educational programs, or attend a musical or theatrical performance, a trip to this quaint village, situated among tall pine trees and sprawling mountain laurel, is a Pennsylvania original. 
"In the early years, it was only operational in the summer because it was a resort," explains Susan Hostetter, head of the board of the Mount Gretna Area Historical Society. "Today, our governance works very hard to ensure our buildings are maintained and stay the way they always have been. In our Hall of Philosophy, we haven't air conditioned it, we haven't heated it, and the character of the buildings has remained unchanged. We still offer the summer programs, we still offer the concerts and summer theater."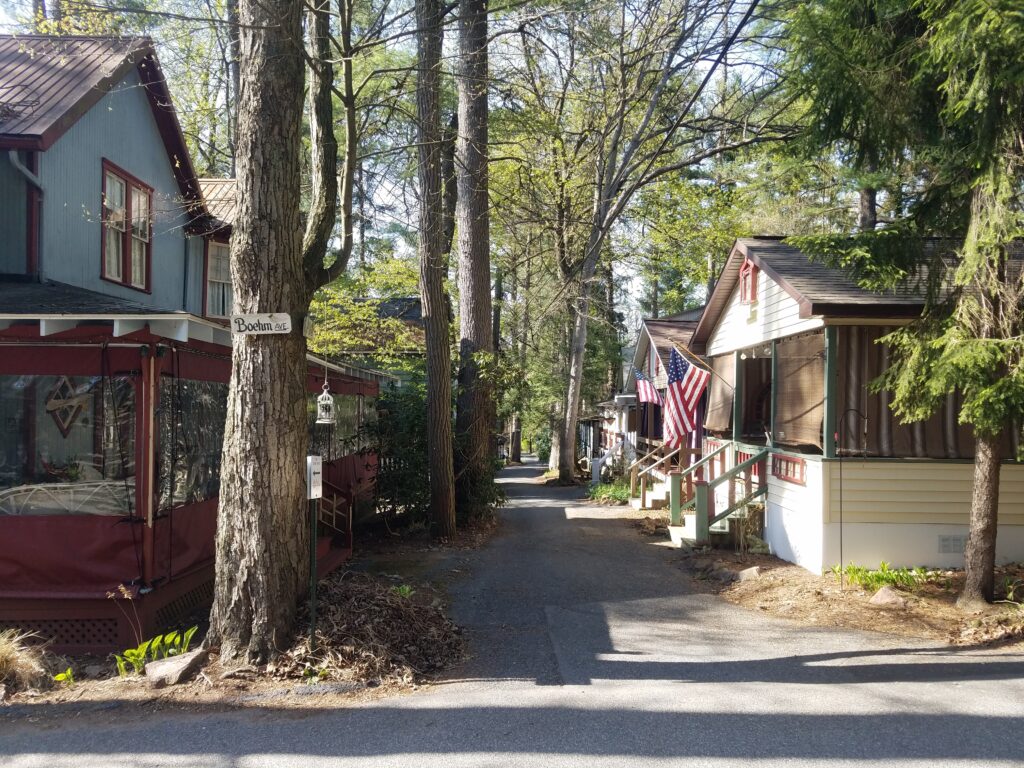 Known as "Gretna" by locals, the town's roots were established in 1883 when iron-foundry baron Robert H. Coleman built a railroad station in the woods of South Mountain along the 20-mile stretch that connected the Reading Railroad near the town of Lebanon to the Pennsylvania Railroad in Elizabethtown, Lancaster County.
In the ensuing years, Coleman built a park, donated land to the National Guard for training purposes, dammed the Conewago Creek to construct Conewago Lake (aka Mt. Gretna Lake), and crafted a narrow gauge railroad. Thousands of guests and locals still enjoy various water-based recreational activities throughout the summer at Mt. Gretna Lake & Beach.
You can see a show in any kind of weather in an open-air space where you feel you are surrounded by the beauty of nature while sitting in the middle of this small town.Michael Phillip O'Brien, Gretna Theatre
The narrow gauge train ran around the lake to the guard's rifle range and then up South Mountain to Governor Dick's Hill before returning to the station; it ran from 1889 through 1916.  
President Benjamin Harrison visited the area, and reportedly spent the day at the woodland park, which reporters noted, continued to "expand each year as the number of visitors grew, eventually sporting an elaborate carousel, a primitive roller coaster, a dancing pavilion, and other attractions of an early amusement park." The town, which officially became a borough in 1927, featured three hotels.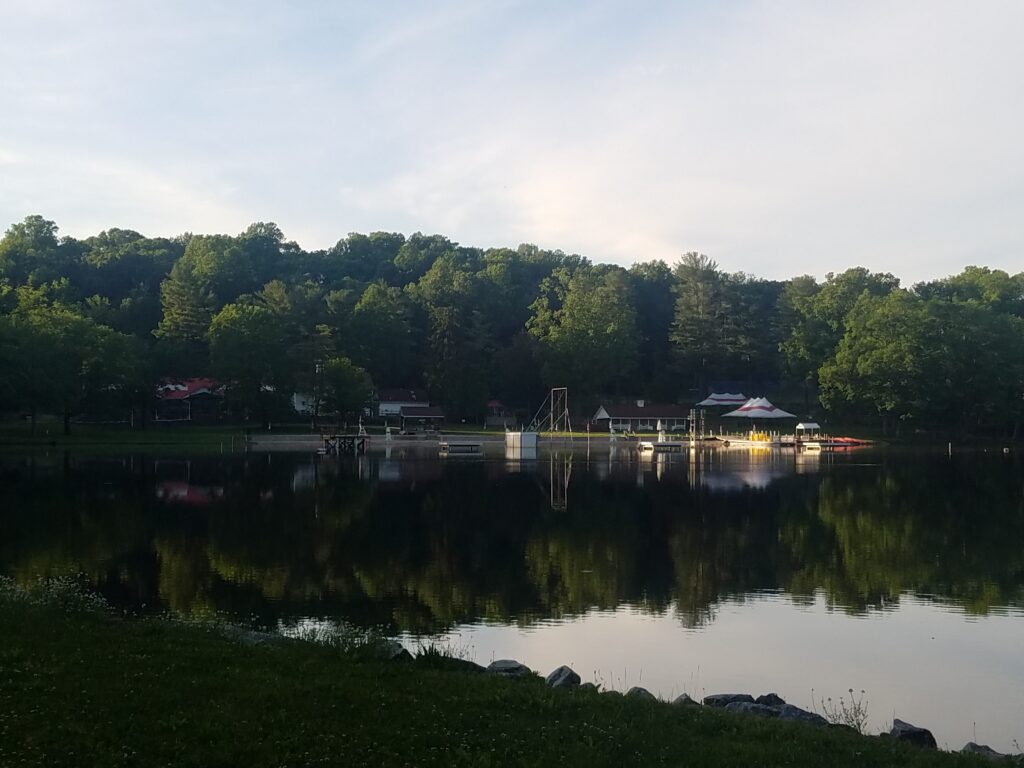 Coleman also worked with the local Grange to build a Farmers Exposition Hall for educational programs that were attended by over 20,000 farmers from across Pennsylvania for over 25 years. This farming expo was held in town until 1916, when it was moved to Harrisburg and became the Pennsylvania Farm Show. The barn-shaped expo building, built in 1890, is now home to Mt. Gretna Roller Rink.
In 1892, Coleman leased land for $1 to members of the newly organized Pennsylvania Chautauqua. The organization was part of the Chautauqua movement, a social initiative aimed at providing education and culture for the whole community by hosting speakers, teachers, musicians, showmen and preachers. Members built a vaulted conical-roofed tabernacle to host lectures, religious services, and concerts. 
Today, Mt. Gretna Tabernacle hosts free services Friday evenings in the summer, worship services at 10 a.m. Sundays from June through August, and a plethora of free concerts every Sunday evening from mid-June through the end of August.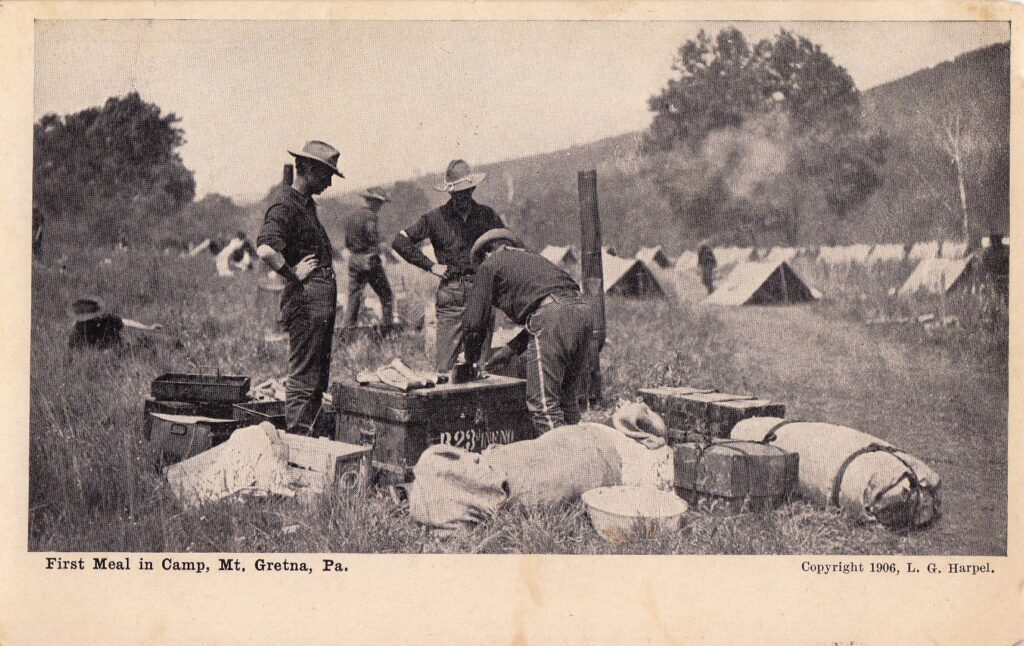 Chautauqua's four pillars  — arts, education, religion, and recreation — remain essential to the town's identity. The first Chautauquans also built summer cottages around the Tabernacle, a Hall of Philosophy for meetings, and a small wooden Greek temple for the Chautauqua Literary and Scientific Circle. These buildings are still used for the summer educational programs of Pennsylvania Chautauqua, one of 18 remaining organizations nationwide and the only one in the Commonwealth.
Around the same time that The Tabernacle was raised, a similar open-air structure was built to serve as the town's Community Center. A century later, the open-air, 700-seat Mt. Gretna Playhouse is home to Gretna Theatre, Gretna Music, and the recently created Cicada Festival, which showcases rock music over two weeks in mid-August.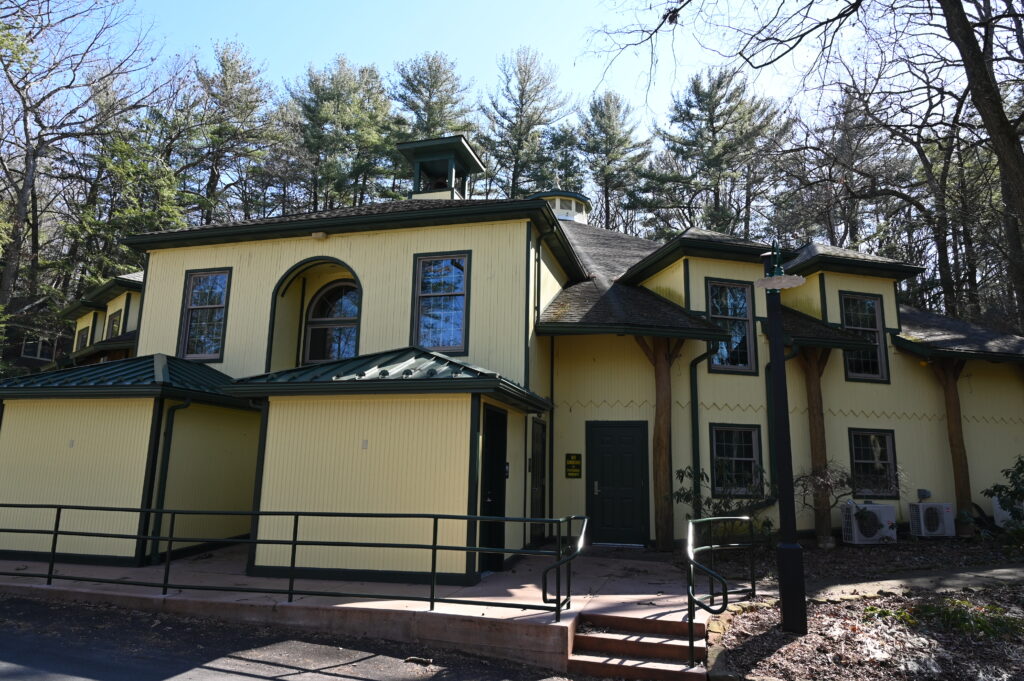 "The relationship between these three organizations is a good one," says Michael Phillip O'Brien, executive producer of the Gretna Theatre. "The theater has more dates than the other renters, but there is this dynamic that allows us to coexist and support one another. It's great that we have such diversity and a different audience base within the community and the greater region."
Attending a performance at the playhouse isn't just an event, it's an experience that few ever forget.
"You can see a show in any kind of weather in an open-air space where you feel you are surrounded by the beauty of nature while sitting in the middle of this small town," says O'Brien. "The combination of community and nature make a visit to the playhouse a special occasion."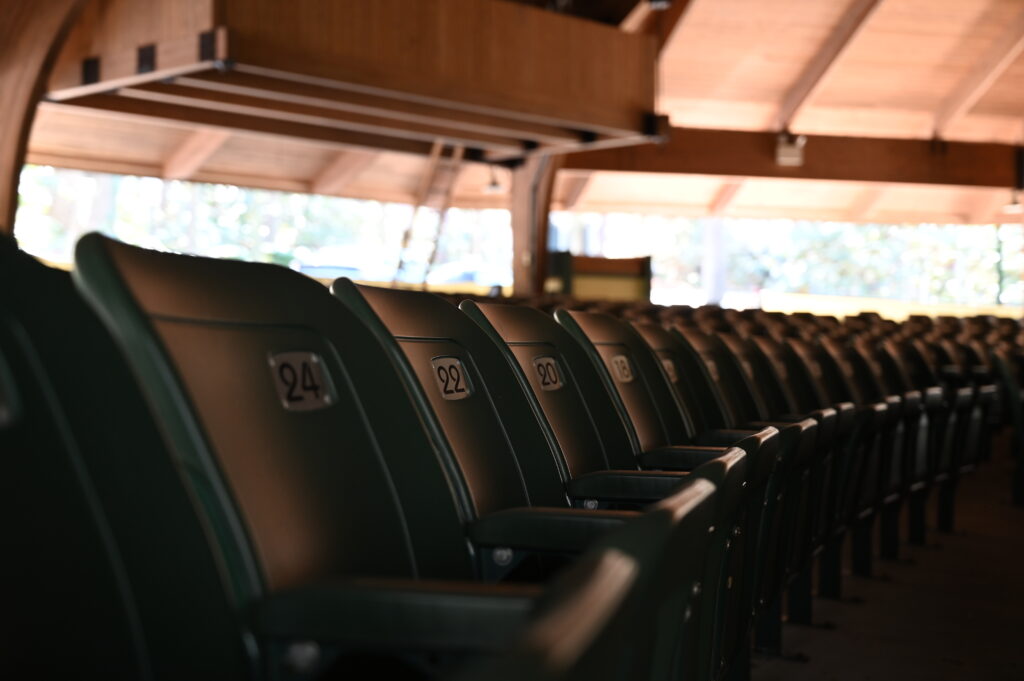 Highlights from Gretna Music's upcoming 2022 season include jazz from the Bob James Trio in June, a performance by the France-based string quartet Quatuor Danel in July, and a concert by Ladysmith Black Mambazo, the legendary Grammy-winning South African male choral group, in August.
Gretna Theatre, which is celebrating its 95th season this year, provides entertainment for the entire family. Four of the five productions this year are musicals, and the organization is also promoting its highly popular Kid Series — programming for children K-6 that's held on Saturday mornings from mid-June through early-August.
It is a hidden gem and a treasure of the Commonwealth, especially for the level of music and art and theater that comes to the region.Kerry Royer
"All of the kid's shows are based on popular children's books, so all of the kids who come to see the show walk away with a book, as well," explains O'Brien. This year's docket includes Pinkalicious, Elephant & Piggy, and Go, Dog. Go! "I have a five year old. We came last year and he was obsessed with the books he got after seeing the shows. It's really a cool experience for the kids." 
No article about Gretna would be complete without mentioning The Jigger Shop, arguably the town's best-known landmark. The ice cream parlor, which also serves light fare in a rustic setting, has been in business for over 100 years.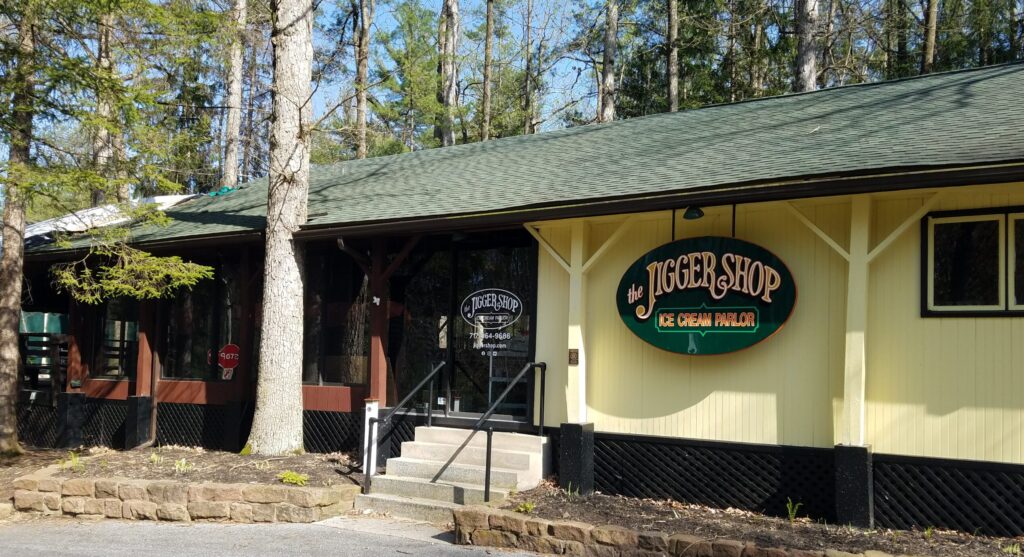 "I give historic tours of Mt. Gretna all of the time and I do a word association at the beginning of the tour," says Hosetter, "I'll ask, 'What do you think of when you think of Mt. Gretna?' Inevitably, the answer is always The Jigger Shop."
The relative "newbie" to Gretna's arts scene is the Mt. Gretna Outdoor Art Show, which will mark its 48th year the third weekend in August. The juried art show draws around 10,000 visitors annually from around the nation to a town of about 200 people. 
"It was started by Gretna artists because there's always been an artistic community that has existed here," says Show Director Kerry Royer. "Then the show has just continued to grow and grow over the years."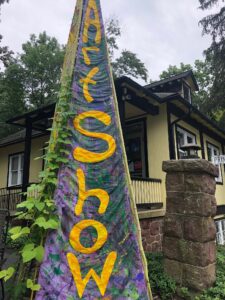 The 2022 edition will feature over 200 artists, 10 food vendors, and musical entertainment. 
"It's a very successful show for artists from all around the country," says Royer, noting that the organization receives twice as many exhibitor applications as they can accommodate.
Exhibitor booths will offer acrylic, oil and watercolor paintings, jewelry, glassware, and a host of mixed media artists, gourd art, clay and porcelain.
When she isn't busy prepping for the annual arts show, Royer is content to enjoy the peace and serenity that permeates throughout Gretna — a local ordinance prohibits construction Labor Day through Memorial Day. 
"It is a hidden gem and a treasure of the Commonwealth, especially for the level of music and art and theater that comes to the region," says Royer. "Immersing yourself in the canopy of nature and the town's history is worth a visit. Winters are quiet, fall is spectacular. It starts to open up in the spring, and then the summers just burst with the wonders of artistic creativity."
"It's so lovely and so charming," adds Hostetter, who's lived in Gretna year-round since 2013. "I know of people who have come here, spent an afternoon walking around town, and two months later they've bought a cottage because they fell in love with the community."
JAMES MENTZER is president of Mentzer Communications LLC and a freelance writer who is the author of three books, including Pennsylvania Manufacturing: Alive and Well.  He resides in Harrisburg.
Lead image by Josh Groh