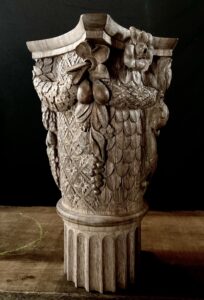 Welcome back to Prism, a podcast series produced in partnership with the Pennsylvania Council on the Arts. The goal of these conversations is to shine a light on the power of creativity in PA communities.
In this episode, we're talking about immigrants — artists who left their native countries and made the Commonwealth their home. Through their work, these two men are enriching their communities and adding to the state's bounty of public art. 
Chenlin Cai came to Philadelphia for a masters' degree. A muralist back in Beijing, his colorful new city was a perfect match for his talents. 
Our other guest, Fredy Huaman Mallqui, who you'll hear from first, is a master woodcarver whose personal life brought him from Peru to Erie. He takes a multi-pronged approach to his artistic practice — restoration, education, and creation. 
Subscribe to Prism on Apple, Spotify, Amazon, Google, and Podcast Addict. Coming soon on Pandora and Stitcher.
LEE STABERT is editor in chief of Keystone Edge.