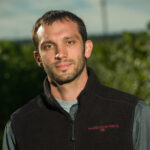 In our podcast series Key Change, we're letting Pennsylvanians tell their stories and digging deep into Commonwealth communities.
In this episode, it's time to talk wine. Pennsylvania wine to be exact. Mario Mazza is a second-generation winemaker at Robert Mazza, Inc., an Erie County stalwart preparing to celebrate its 50th anniversary. We chatted with Mario about his very special — and spectacularly beautiful — corner of the state, life in a family business, and how the local wine industry continues to evolve.
Subscribe to Key Change on Apple, Spotify, Amazon, Google, Podcast Addict, Pandora, and Stitcher.
LEE STABERT is editor in chief of Keystone Edge.
Editor's note: Keystone Edge's publisher, SWELL LLC, has done branding work for Mazza.