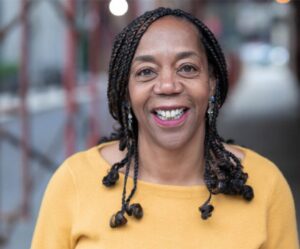 We're launching a new series called We Are Here. Created in partnership with PA Humanities, this podcast and story series is all about Pennsylvanians making their mark.
To get you excited about the conversations to come, we're chatting with Dawn Frisby Byers, the organization's senior director of content and engagement. In this short intro episode, she helps us define "humanities" and illuminates just how their work helps communities thrive. Check it out!
LISTEN HERE NOW:
Good news: You can listen to the first full episode of We Are Here right now. In installment number one, we visit Millvale, a small town across the river from Pittsburgh that is home to a spectacular set of church murals. Tackling themes such as social justice, poverty, and immigration, these stunning works of art, which are almost 100 years old, have a surprising amount of resonance in today's world — and are playing an important role in Millvale's renaissance. 
Subscribe to We Are Here on Apple, Spotify, Google, Amazon, Stitcher, and Podcast Addict.
We Are Here is hosted by Lee Stabert, editor in chief of Keystone Edge.
Funding for "We Are Here" comes from PA Humanities and its federal partner, the National Endowment for the Humanities, as part of the American Rescue Plan Act of 2021.