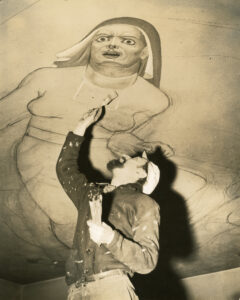 We're excited to introduce We Are Here, a new Keystone Edge podcast and story series starring Pennsylvanians making their mark. We Are Here has been created in partnership with PA Humanities, an organization dedicated to building community and sparking change. We hope these conversations will do the same.
In the first episode, we're heading to Millvale, a town of about 4,000 people right over the 40th Street Bridge from Pittsburgh. The riverside hamlet is home to an incredible series of church murals by Maxo Vanka. The Croatian-American artist explored themes of inequality, war, and justice in his intense, colorful work. Now a dedicated group of art-lovers, activists, educators, scientists, lighting designers, and parishioners have committed themselves to the preservation, promotion, and exploration of these remarkable works. It's all part of an exciting new energy bubbling up in this historic town. 
To learn about the murals, their restoration, and their impact on the community, we spoke with Anna Doering, executive director of the Vanka Murals, and Scott Wolovich, someone with deep roots in Millvale and executive director of New Sun Rising.
LISTEN HERE NOW:
Subscribe to We Are Here on Apple, Spotify, Google, Amazon, Stitcher, and Podcast Addict.
We Are Here is hosted by Lee Stabert, editor in chief of Keystone Edge.
Funding for "We Are Here" comes from PA Humanities and its federal partner, the National Endowment for the Humanities, as part of the American Rescue Plan Act of 2021.
LEAD IMAGE: Anna Doering, executive director of Vanka Murals / photo: Pawsburgh Photography