Welcome back to Prism, a podcast series produced in partnership with the Pennsylvania Council on the Arts. The goal of these conversations is to shine a light on the power of creativity in PA communities.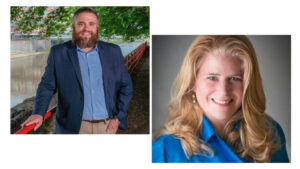 In this episode, we're talking about cultivating the fertile ground for a creative community to grow. Troops of community development professionals, government officials, grant writers, city planners, and engaged citizens are putting in the work across the state, helping nurture their local art scenes. They do this not just because they believe it improves quality of life and beautifies the built environment, but because a thriving creative sector creates jobs, boosts the economy, and brings energy back to downtowns. It's a win, win, win, win.
To explore this symbiotic relationship between bureaucracy and the arts, we welcomed two passionate civil servants: Charles Eurydice Gray from Corry, a small city in Erie County, and Silas Chamberlin from York, PA. Be forewarned: This was one of our most lively and inspiring conversations yet. We talk steam punk, graffiti-covered concert venues, first friday, and public art. Buckle up.
LISTEN HERE NOW:
Subscribe to Prism on Apple, Spotify, Amazon, Google, Stitcher, and Podcast Addict.
LEE STABERT is editor in chief of Keystone Edge.
LEAD IMAGE: A new mural in York, PA