Community leaders in Somerset had been trying for years to revive the Brinker Row Building, a 19th-century edifice sitting empty at the center of town. But there was one major problem: Reviving the historic complex would cost more than the property was worth.
"This town has been divested for decades and decades and decades," says Somerset Inc. Executive Director Regina Coughenour. A borough of about 7,000 people, the Somerset County seat is nestled right below the PA Turnpike, a little more than an hour's drive southeast of Pittsburgh (and just half an hour from the state's biggest ski resort).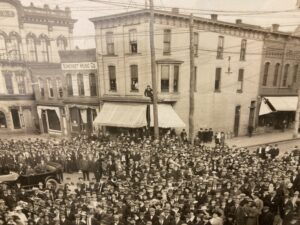 But that divestment doesn't reflect the character of the locals. "The people we grow in Somerset are awesome," says Coughenour. "Our work ethic is really good here. People who grow up here are successful in jobs elsewhere." 
She believed it was time to activate that success closer to home. A marketing campaign for the empty anchor building failed to turn up the needed investment. 
"We asked ourselves, if not us, then who?" she recalls. "And we decided the only way to make it work was to get our hands dirty to fix our own community." 
That's why Somerset, Inc., the town's nonprofit Main Street Program (an affiliate of the Pennsylvania Downtown Center, a state partner of Main Street America), launched Operation Reno SoCo. Coughenour also likes to call it "Habitat for History," because it's a volunteer-powered effort for a new anchor of Uptown Somerset. 
If we can show that this can be done on that building…with regular people and a regular budget, even though it's a lot of work, does that inspire other people to privately invest?Regina Coughenour
The Brinker Row Building stands on what was three land parcels from the original town plan — Somerset was repeatedly razed and resurrected in a series of 19th-century fires and rapid rebuilds thanks to a mix of windy weather, geography, and fire-prone industries. It's actually two buildings that look like three: a three-story brick building went up in the mid-1870s, and a two-story building (designed to look and act like two matching storefronts) was added on the west side between 1887-1897. Residential apartments occupied the upper floors. The row housed dozens of small businesses over the course of almost a century.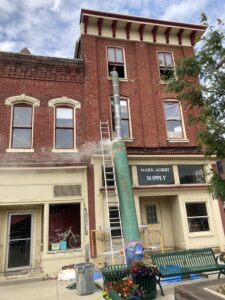 A historic structure report, commissioned by Somerset Inc. in 2011 (supported by a grant from the Pennsylvania Historical and Museum Commission) details the building's design, façade, and rental and ownership history (it also looked at four other Somerset landmarks). The name Brinker Row came from Richard Brinker, who operated an Army-Navy surplus store across the whole site for about 35 years beginning in the mid-1970s.
In the mid-1990s, a major dip in retail occupancy hit Uptown Somerset, but a business incubator and other efforts from the newly formed Somerset Inc. aided a retail resurgence a few years later. The area struggled again through a downturn made worse by the 2008 recession. In 2011, even as the Brinker complex got an exterior facelift and the study helped boost support for its rehab, it continued to sit empty. 
"The vacancy is because it's a cost-prohibitive project, not because there wasn't interest in things in that location," says Coughenour of the building's perch right on Somerset's "Diamond" (a Scotch-Irish word for town center). After a highly successful pop-up shop in the space and a big marketing push for a new owner, "interested buyers crunched the numbers, and it turned out not to be realistic."
Meanwhile, the vacancy was costing the community precious tax dollars, with prime retail and residential spaces languishing.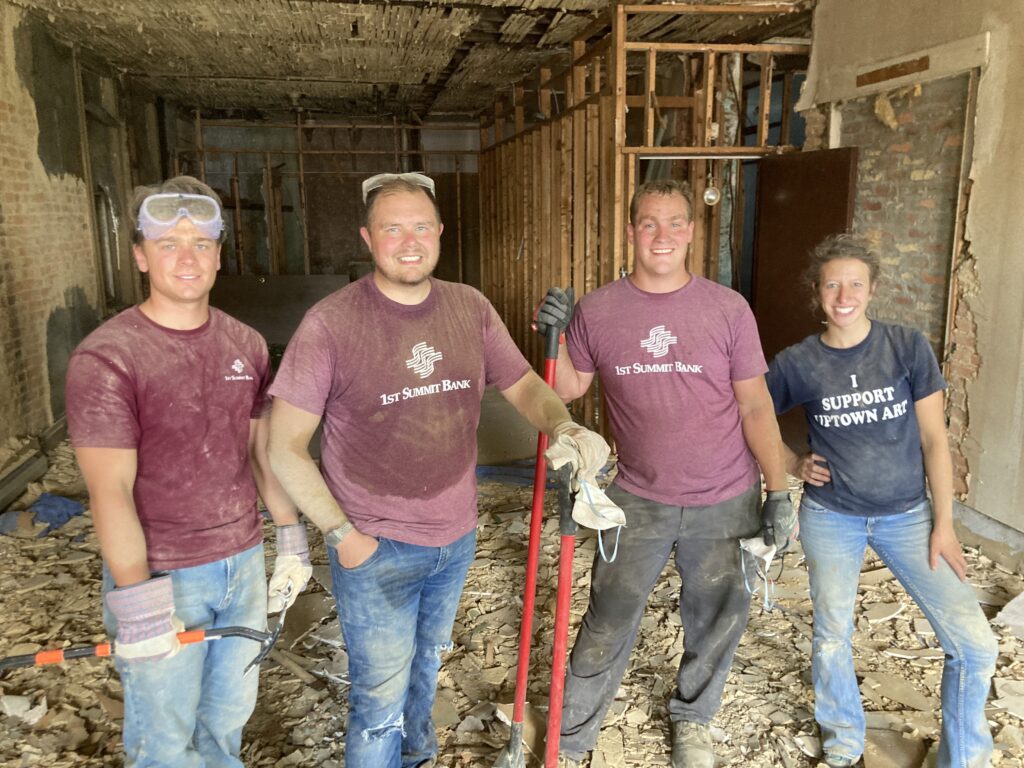 Then, in 2019, a $300,000 six-year Neighborhood Partnership Program (NPP) grant from the Pennsylvania Department of Community and Economic Development jump-started a new plan: The town would buy the building and restore it themselves. Thanks to the NPP funds — and a partial donation/partial sale deal with the previous owner — Somerset Inc. was able to take ownership of the complex in December 2020. 
NPP dollars come through a partnership with the participating economic development nonprofit and its community funders. The funders, in this case University of Pittsburgh Medical Center Health Plan, Somerset Trust Company, and Global/SFC Valve (a local maker of Navy ship valves) give to Somerset Inc., and in turn receive an annual state tax break of 80 percent for the duration of the project. 
Now that Somerset Inc. owns the complex and has completed the requisite plans, the remaining NPP funds are going primarily to materials, not labor. And that's where an army of volunteers comes in.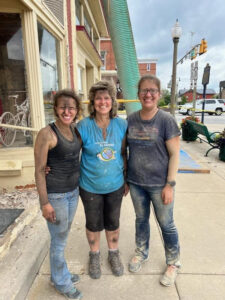 Morgan Simmons, who like Coughenour is a native of Somerset County, is the IT and facilities coordinator at Somerset County Library. He was just finishing a major five-year plan there, and with a background in construction and engineering, he got interested in Operation Reno SoCo. 
"Things sometimes speak to me that way, where I see myself as a good fit for the next steps of a particular project," he says. "Sometimes these things choose me more than I choose them." 
Now he's the lead volunteer for the project. 
They're deep in the demo stage right now, but one major point of progress is getting an expert mason on board for work on a collapsing wall, using donated mortar and bricks. In the spirit of the project, the mason is also going to teach a team of volunteers to repoint the original 19th-century brick exterior, a job that Simmons estimates will take them up to two years, but save thousands of dollars in labor. 
He hopes that continued networking and visibility for the project will bring contractors in other fields, like plumbers and electricians, to contribute in similar ways. Meanwhile, volunteer crews grow through Facebook and outreach to nearby church groups and businesses. A local workout group even donated their muscles to move piles of old coal out of the building's basement. 
Not having the funds for a traditional demolition and rebuild process is challenging, but it also makes it easier to preserve the structure's historic character. Before the purchase, early volunteers had the opportunity to salvage things like window trim, doorknobs, stairwell newels, and bricks from a blighted building next door. The hope is to put them to good use in future.
If they were paying for a traditional demo, Simmons explains, there wouldn't be time for the slow and sensitive work the volunteers can accomplish, like saving "beautiful rough-cut planks of wood" from the 1890s and the original tin ceilings. They are even collecting decades of wallpaper samples, destined for an art collage in the renovated lobby. 
There's also time to consider the fate of the "monstrosity" in the basement: a cast iron steam boiler probably dating from the turn of the century. They could sell it for scrap, but Simmons thinks it still works, and wonders if they can find a buyer for it as is. 
In the center building, hidden behind a big piece of plywood, the team recently discovered the original transom, with many of its original panes of glass intact. "A high-yield find like that suddenly makes the building look like a million bucks," says Simmons. 
The Somerset team can't pinpoint a timeline for the full restoration, but they're prioritizing the three street-level stores. Simmons thinks they might even be available to rent beginning in summer 2023. The upstairs apartments will come later. He imagines that a property manager could live in one of them. 
The plans are right in line with what excites Coughenour about being part of a main street program: investment in a locally powered economy, not conglomerates that are "designed to make that money flow upward and inward." She wants to support independent property and business owners with roots in the community. Ultimately, Somerset Inc. hopes to sell the building once the renovation is complete, and reinvest the funds in other community assets. 
"If we can show that this can be done on that building…with regular people and a regular budget, even though it's a lot of work, does that inspire other people to privately invest?" she asks. "Creativity is a necessity. That's great, because it builds community along the way." 
ALAINA JOHNS is a Philadelphia-based freelance writer and the Editor-in-Chief of BroadStreetReview.com, Philly's hub for arts, culture and commentary.
Lead image: The Brinker Row Building is under construction in Somerset.