This story was originally published by the PA Wilds Center for Entrepreneurship at WildsCoPA.org.
Picture this: A perfectly curated tablescape underneath the shade of a weeping willow. In the background, the sound of kids playing, ducks quacking, and a summer concert being performed.
It's the scene that Renea Nichols creates almost weekly through her business Spring Creek Picnics, based in Bellefonte, PA.
Luxury picnics and the companies that create them have been steadily gaining steam since the beginning of the pandemic in 2020. All over the world, companies work to create Instagrammable settings for special occasions including proposals, anniversaries, date nights and other big moments.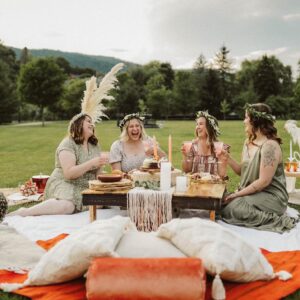 For Nichols, it's about something more.
What makes Spring Creek Picnics different is her emphasis on supporting local businesses.
"You don't need to have a reason to have a picnic other than that you want to," says Nichols. "During the pandemic, we were relegated to eating outside or eating takeout — and that's where this started."
Once Nichols had the idea, she went to work making it a reality. In early 2021, the business received funding from the SpringBoard Startup Challenge, a grant provided by Bellefonte's business incubator and coworking space to help new entrepreneurs market their ideas. According to Jennilyn Schuster, Main Street Manager for Downtown Bellefonte Inc., Nichols' emphasis on supporting other local companies was what set her application apart.
You don't need to have a reason to have a picnic other than that you want to.Renea Nichols, Spring Creek Picnics
For customers, the entire experience is customized. When someone calls to organize a picnic, Nichols discusses with them exactly what they're looking for. During that conversation, she provides a list of local restaurants that could be a good fit for their picnic. Nichols then does the hard work of hauling and setting up the tablescape, crafted with locally sourced materials. Picnikers just show up with their takeout in hand. At the end of the event, the customers walk away. Clean up is covered.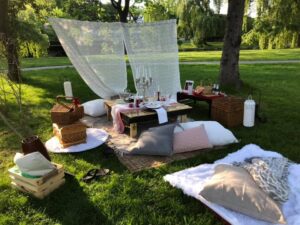 As often as possible, Nichols encourages customers to enjoy their picnic during a Talleyrand Park special event, such as Summer Sounds in the Gazebo, a concert series held each Sunday evening.
While Talleyrand Park is the most popular setting for Spring Creek Picnics, Nichols has also found ways to support local nonprofits through her business. Picnics have been set up in places like Curtin Village, a local historical site, or in the gardens behind the Centre County Library and Historical Museum. For these special locations, a "travel" fee is charged — and that fee is given directly to the nonprofit as a donation.
Nichols noted that while local residents have enjoyed picnics in the park, a large piece of her business has been from travelers to the area, all wowed by the beauty of Bellefonte, and particularly Talleyrand Park.
At the end of the day, the business is all about being a part of the community.
"I'm just doing this because I love to do it," she says. "And who doesn't love a picnic?"
To book a picnic with Spring Creek Picnics, call 814-321-5329 (preferred method) or visit springcreekpicnics.com.
Spring Creek Picnics is an Experience Maker member of the Wilds Cooperative of Pennsylvania. Learn more about the company or leave a review/recommendation on their Wilds Cooperative of PA profile.