Welcome back to We Are Here, a Keystone Edge podcast starring Pennsylvanians making their mark. This series has been created in partnership with PA Humanities, an organization dedicated to building community and sparking change. We hope these conversations will do the same.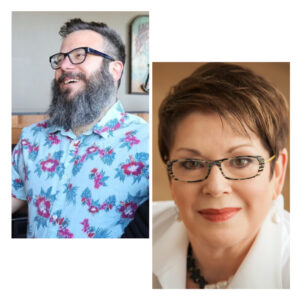 What do you think of when you think of the library? Is it being a child? Filling your arms with stacks of books that reached past your chin? Is it visiting a grand place, like the main branch of the Philadelphia Public Library, to do your first real research? Or is it eagerly attending weekly storytime with a young child, happy to be out of the house and among fellow soldiers in the parenting trenches?
But as the world changes, so do libraries. Whether it's organizing board game nights, loaning out wi-fi hot spots, or encouraging conversation — no need to whisper — Pennsylvania's libraries, and the people who work there, are ready for what's coming next. 
To discuss the continuous evolution of these essential community spaces, we spoke with John Pappas, a reference librarian at Ludington Library in Lower Merion, and Linda Capozello, Director of Advancement and Communications at Reading Public Library.
LISTEN HERE NOW:
Subscribe to We Are Here on Apple, Spotify, Google, Amazon, Stitcher, and Podcast Addict.
We Are Here is hosted by Lee Stabert, editor in chief of Keystone Edge.
Funding for "We Are Here" comes from PA Humanities and its federal partner, the National Endowment for the Humanities, as part of the American Rescue Plan Act of 2021.
LEAD IMAGE: Ludington Library in Lower Merion