It's that time of year again: Time to boost some of our favorite Pennsylvania small businesses and help readers with their holiday shopping in the process. Please feel free to comment with your own go-to made-in-PA gift ideas.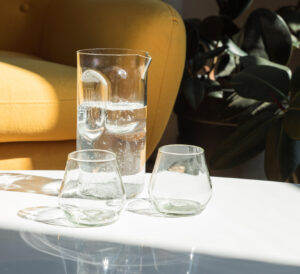 Unique glassware from Remark Glass (Philadelphia)
Our favorite gift we've given in the last few years is a pair of whiskey tumblers from this glassware company in South Philadelphia. Working out of the basement of Bok, a former trade school turned mixed-use mecca, the Remark team takes old glass bottles and transforms them into something new, whether that's vases, champagne flutes, or pint glasses. It's a sustainably-minded business that also happens to produce one-of-kind pieces of art. Literally. No two items are the same.
Elegant wines from Allegro Wines Wine Club (Stewartstown)
Pennsylvania wines have a budding reputation, and what better way to convert a skeptic than by subscribing them to a wine club from one of the state's best wineries. One of our favorites for red-wine lovers is Allegro Winery in York County. They focus on some iconic European grapes such as Cabernet Sauvignon, Merlot, Malbec, and Petit Verdot. Club orders arrive three times a year and shipments can be customized depending on if the recipient prefers dry or sweeter wines.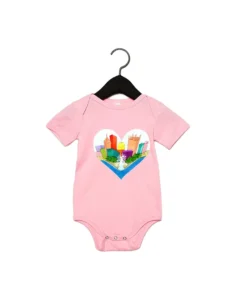 Steel City-inspired gear from Songbird Artistry (Pittsburgh)
This business is a family affair, founded by ​​Debbie Jacknin and her daughters, Jennifer and Jacklyn. The women sell their own jewelry, mosaics, and screen printed apparel alongside pieces from 40 other local artisans. We're particularly charmed by the Pittsburgh-themed onesies, an ideal choice for the little ones in your life. This is also a great place to purchase unique greeting cards to accompany your holiday haul. 
Fresh beans from Rothrock Coffee (State College)
We've spent time before singing the praises of Pennsylvania's small cafes and coffee roasters. A bag of beans from any of them would make a marvelous gift for the new parent or coffee snob in your life. But if you'd like to go above and beyond, sign them up for a recurring delivery from Rothrock Coffee in State College. Their single-origin bags can be delivered weekly, biweekly or monthly. Select a size and a grind (or choose whole bean). If you want to sample the goods, head to their cafe in Centre County.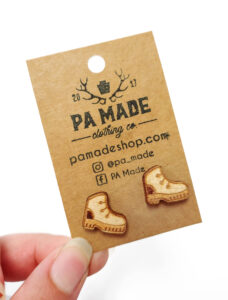 Gear or apparel from PA Made (Elk County)
Based in Elk County in the PA Wilds, this small business is a showcase for Mickayla Poland's creativity. Pick up a tee shirt decorated with iconic local sayings and sights, or grab an assortment of colorful stickers and laser-engraved keychains to use as stocking stuffers. We're particularly smitten with these hiking-boot earrings, this "small town night club" tee, and this downright sleek keystone patch baseball cap. 
A 2023 Flower Share from the Farm at Oxford (Kennett Square)
Here's a down payment on future happiness. Fresh flowers are a balm to the heart and this small farm in Chester County offers three-week-long shares of seasonal blooms. Peonies arrive in May, Dahlias in late summer, but there are also shares available throughout the summer spotlighting whatever is at peak prettiness. There are six pickup locations across Delaware and Southeastern Pennsylvania. The farm also offers workshops (including wreath-making in December) that would make a wonderful gift for green-thumbed friends.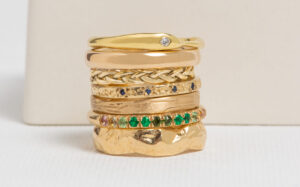 Singular styles from Bario Neal Jewelry (Philadelphia)
Time for a splurge. Whether you're hoping to gift a pair of gold-and-enamel studs perfect for every day or seeking a designer to help you create a custom engagement ring, this Society Hill studio has you covered. They're doing it all on two floors of a building on 5th Street using sustainably sourced metals and gems. The work has a certain je-ne-sais-quoi — a coolness, an effortless sense of style — which means these pieces can last a lifetime.
Podcast-Inspired Goodies (Philadelphia, Johnstown, The Poconos, Ambridge, Erie)

If you've been listening to our slate of podcasts, you know that there are incredible creatives across the state boosting the economy and making the Commonwealth a more interesting place to live. Use that as inspiration for a holiday gift. You can buy a book (or three) from Taller Puertorriqueño's Julia de Burgos Bookstore, an essential resource for bilingual literature and works on Puerto Rican culture; the organization was featured on a recent episode of We Are Here, our podcast with PA Humanities. Or you can draw inspiration from Prism, created in partnership with the PA Council on the Arts. Offer your favorite tinkerer the once-in-a-lifetime experience of working in a historic iron forge with a private lesson at Center for Metal Arts in Johnstown. Or on the other end of the spectrum — and the state — a gift certificate to Ledges Hotel, housed in an erstwhile factory building overlooking a waterfall, is a ticket to relaxation. You could also book a photo session with Erin Ninehouser aka Rustbelt Mayberry in Beaver County or purchase a piece of fine art from master woodworker Fredy Huaman Mallqui.
Lead image: Rocks glasses from Remark Glass